Recently, Hacksaw Gaming has released two amazing games, Alpha Eagle and Fruit Party. You know what that means – it's time for them to face each other in an epic battle!
Will eagles devour the fruit or does the second slot has a joker in its sleeve? Find out in the new episode of slot wars. 
Let the battle begins!
Round 1: Winning Potential
In this round, the slot revolving around mighty eagles has justified its tile and risen to the top as the true alpha thanks to its huge winning potential of up to 10,000x the bet. Set on the 5×4 grid with 20 paylines, it also features a bigger playground and high volatility. 
Therefore, its fruity rival has a smaller 3×3 grid with 17 paylines and medium volatility. All of these factors are toward winning potential that is significantly lower than in the opposing slot – the maximum prize is 3,333x the bet. 
When it comes to RTP, it varies in both slots. The general RTP in Alpha Eagle is 96.26%, but it rises when you buy a bonus and goes up to 96.44% when the Eagle Link feature is purchased. 
Similar happens in Fruit Duel where the initial 96.30% increases to 96.36%. Since the percentages are overlapping and are too close, let's say that games are equal regarding RTP. 
Round 2: Bonus Features
One of the main attractions of the Fruit Duel slot is its DuelReels feature It is triggered when the VS symbol lands on any of the reels, activates and transforms into a full reel Wild. In addition, when 2 fruit symbols land with multipliers on the reel they duel and the winner adds its multiplier value to the full reel Wild.
Three or more Scatters appearing together on reels award 10 free spins. During the bonus round, the chances of VD symbols dropping are significantly higher. Hence, players are more likely to get higher multipliers from the duel.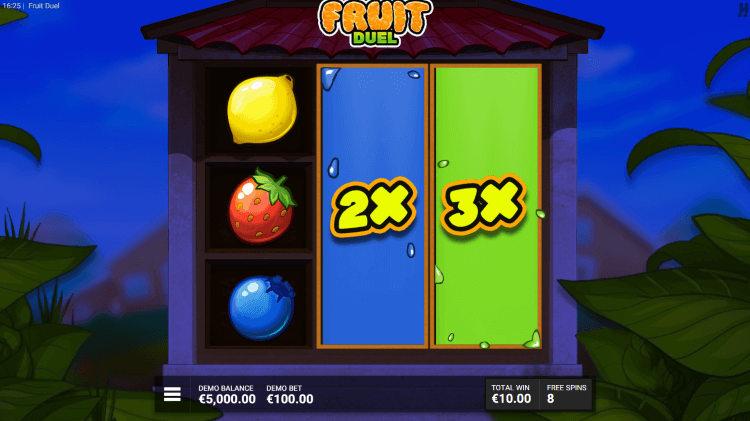 Alpha Eagle slot has more extras under its sleeve, starting with Stack'N'Sync, triggered by the appearance of an S'n'S symbol. The reel where S'n'S land is copied onto up to four other reels that become stacked with one type of symbol – regular, Wilds or FS symbols.
A golden S'n'S symbol triggers the Stack'N'Sync feature with all five reels stacked by either only high-paying symbols or Wilds. In addition, this golden card comes with a randomly selected multiplier value of up to 100x. 
Only available via the Stack'N'Sync feature, three or more FS symbols activate free spins. 
During this bonus round, the chance of hitting S'n'S and golden S'n'S symbols is increased.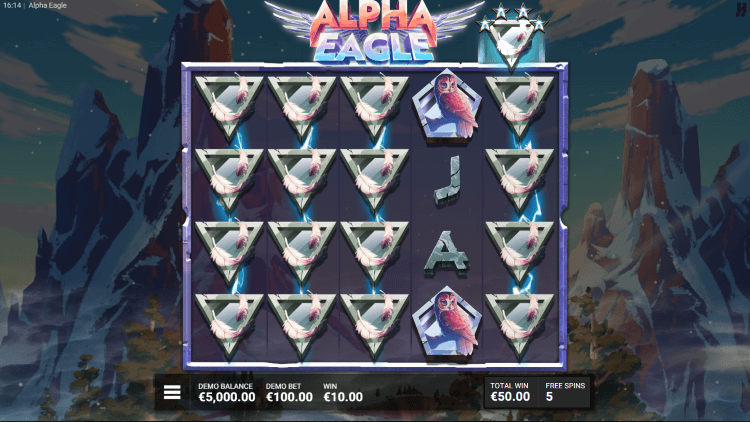 Whenever three Eagle Claw Scatters land simultaneously in the base game, they triggered the Eagle Link feature where only Eagle, Golden Eagle or valueless symbols appear. 
There are two parts of the bonus – collect and payout. Both phases have sticky Eagle and Golden Eagle symbols and start with 3 initial spins, restarted with every new symbol getting stuck.
In the second phase, every Golden Eagle activates the eagle link that connects to all Eagle symbols adjacent to Golden or another Eagle symbol already connected to the link. In addition, the payout part of the bonus has a global multiplier whose value is equal to the number of sticky Golden Eagle symbols.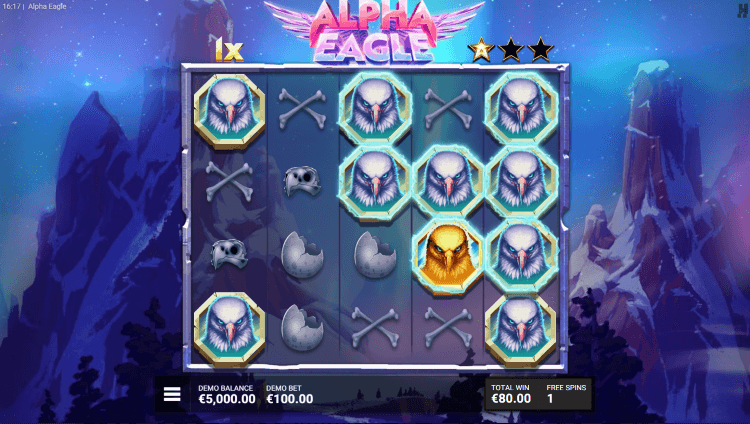 Like many Hacksaw Gaming slots, both games have a Buy Bonus option with multiple choices, depending on how much you want to spend and which feature to trigger. Due to more bonus rounds and higher winning potential that you can produce, the Alpha Eagle slot is a definite winner of this round. 
Round 3: Visual and Audio Effects
Regarding the theme, Fruit Duel doesn't bring anything new to the table as the fruity symbols are present since the beginning of the slot history. However, Hacksaw did change quite a few things, mostly in the design of cards. 
Hence, instead of recognizable fiery sevens and bells, all the symbols are different kinds of fruit in bright colors. This creates a fun and vibrant atmosphere, but it still isn't something players haven't seen before. 
On the other hand, Alpha Eagle is a stunning release when it comes to the design of visuals. The background of the semi-transparent grid is breathtaking, showing the majestic wintery mountain scene with soaring peaks, falling snow, alpine trees and cold blue clouds. 
While the theme isn't so apparent, one look at the symbols is enough to connect the dots and see that this slot is all about the mighty eagles and their habitat. There are many nature-oriented slots out there, but not so many revolving around just about one animal. Kudos to the provider for both picking this original theme and honoring it completely. 
And The Winner Is….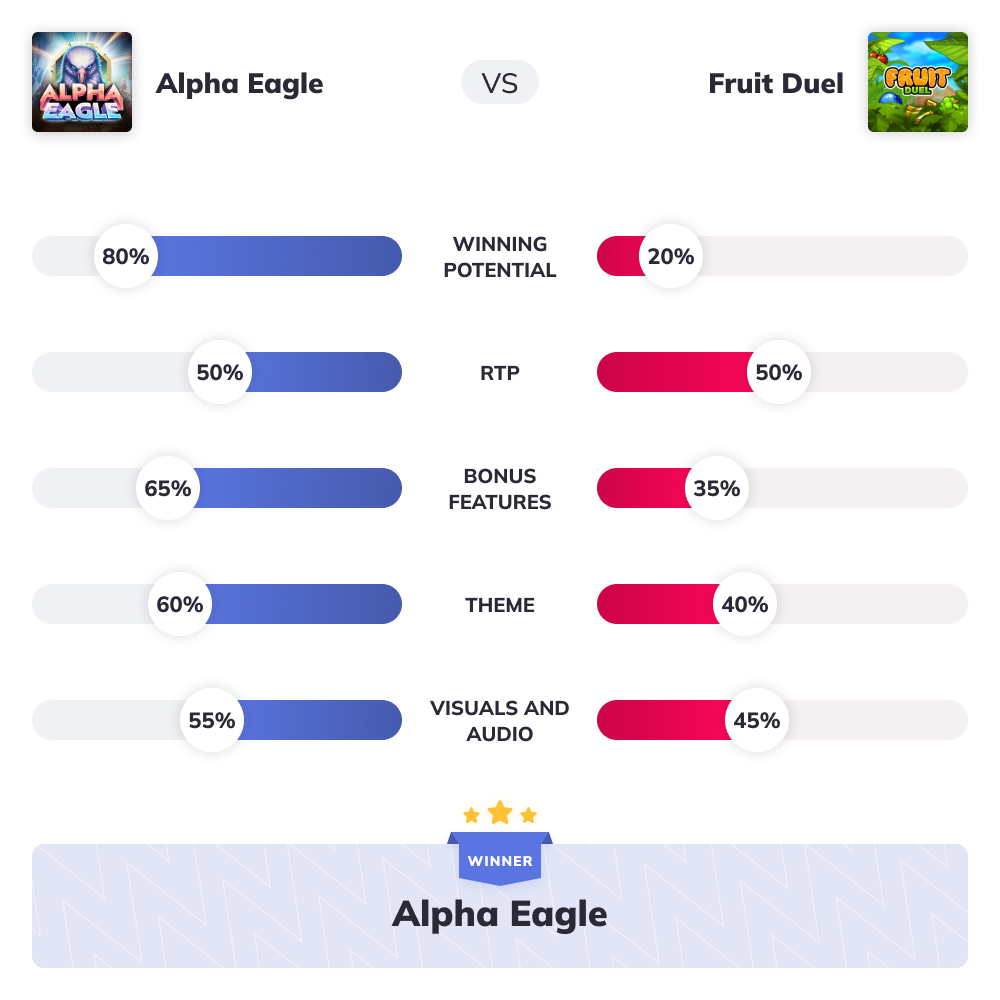 As you've realized so far, the absolute winner of this episode of slot wars is Alpha Eagle. With significantly higher winning potential, more bonus rounds and more original visuals, it raises the bar that its rival can't follow. 
However, that's not the reason not to try out Fruit Duel. It is a great addition to Hacksaw's portfolio, a fun and potentially very rewarding game quite worthy of the player's time.