The 2023 PokerGO Tour Championship freeroll in December, a season-ending event, will have a $1 million prize pool.
Last month, the 2022 campaign concluded with Jason Koon taking down the same event but with a $500,000 award in the winner-take-all format. This year, PokerGO is doubling the pot and also increasing the number of players eligible to compete in the tournament.
Read More About Koon's Win in the 2022 PGT Championship here!
PGT Championship Details
The PGT Championship will be open to the top 40 players on the PGT leaderboard, along with a select group of "Dream Seat" winners to be awarded in special events throughout the year. Last year, only the top 21 ranked players were eligible to compete. Koon, who was fresh off his win over Phil Hellmuth in the $1.6 million round of High Stakes Duel III, defeated Sean Winter heads up to claim the title.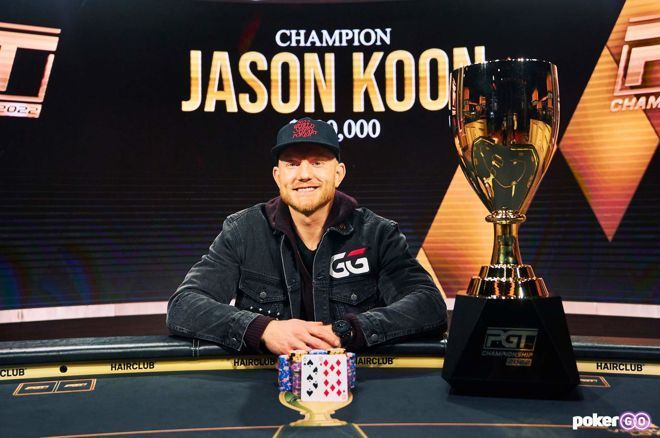 There's more than a strong possibility that Koon and Winter will both return to the PGT Championship this year. You can also expect players such as Daniel Negreanu, Alex Foxen, and Stephen Chidwick to crack the top 40, if not the top five.
"The PGT is committed to growing the game at the highest levels and celebrating the best players in the world," said Mori Eskandani, President of PokerGO in a press release. "After capping off an incredibly successful second season of the PGT, we've decided the only way to go is up. Not only will the PGT Championship see the game's best players and brightest stars compete for a $1,000,000 prize pool, but it will provide an exclusive group of PGT Championship Dream Seat winners with an opportunity of a lifetime to compete in one of poker's most prestigious events."
High Stakes Duel on PokerGO: A Comprehensive Guide
How to Win a Seat
The way to gain entry into the PGT Championship freeroll later this year is to perform well on the PokerGO Tour throughout the year, or to earn your way in via various promotions PokerGO will offer throughout the year.
It all starts Jan. 11 with the PokerGO Cup, one of the PGT's premier annual events. The PG Cup runs until Jan. 20 and features eight tournaments with buy-ins ranging from $10,000 to the $50,000 finale.
There are some new events on the 2023 schedule, including a PGT Mixed Games series starting Feb. 2. The schedule also features the annual favorites such as the US Poker Open and Poker Masters.