Ripple experienced a significant surge in XRP sales in Q1 of 2023, with net sales reaching an impressive $361.06 million, compared to the previous quarter's sales of $226.31 million. 
Additionally, on-chain activity on the XRP Ledger saw a surge, with decentralized exchange volumes increasing by 34% to $115 million in Q1, as opposed to Q4 2022. Moreover, XRP's average daily volume on centralized exchanges increased by 46%, reaching $1 billion from $698 million.
Ripple's Q1 2023 XRP Sales Surged to $361 Million While On-Chain Activity Increases and SEC Meeting Rumors Spread
Social media has been circulating rumors about an undisclosed meeting between Ripple and the U.S. Securities and Exchange Commission (SEC), with speculation that the meeting would occur on May 8. The rumors were sparked by an unconfirmed source cited in a viral tweet from Blockchain Daily, leading to a frenzy of anticipation within the XRP community.
🚨JUST IN: REPORTEDLY RIPPLE AND SEC TO HOLD UNDISCLOSED MEETING ON MAY 8TH – UNCONFIRMED SOURCE pic.twitter.com/LNrUVCloQ1

— Blockchain Daily (@blckchaindaily) May 1, 2023
However, Fox Business reporter Eleanor Terrett, who has been covering the case, clarified that the meeting is not happening and attributed it to the "Twitter rumor mill."
Ripple CEO Brad Garlinghouse has expressed optimism that his company's lawsuit against the SEC will be resolved in the first half of 2023. A favorable outcome for Ripple could significantly impact the XRP market and pave the way for further growth and adoption of digital currency.
XRP Market Price Analysis 
At the time of writing, XRP is trading at $0.464522 with a 24-hour trading volume of $924,352,963. This marks a slight decrease of -0.01% in the price over the last 24 hours, but a 0.53% increase over the past 7 days. The market capitalization of XRP, with a circulating supply of 52 billion XRP, is valued at $24,008,225,537.
In the last 24 hours, XRP has seen a trading volume of $926,578,494, a significant increase of 26.00% from the previous day. This suggests a recent rise in market activity for XRP.
It's worth noting that the lowest price ever paid for XRP (XRP) was $0.00268621, which occurred on May 22, 2014, almost 9 years ago. Therefore, the current price of XRP is 17,160.92% higher than its all-time low price.
XRP Price Prediction – XRPUSDT Technical Indicator Price Analysis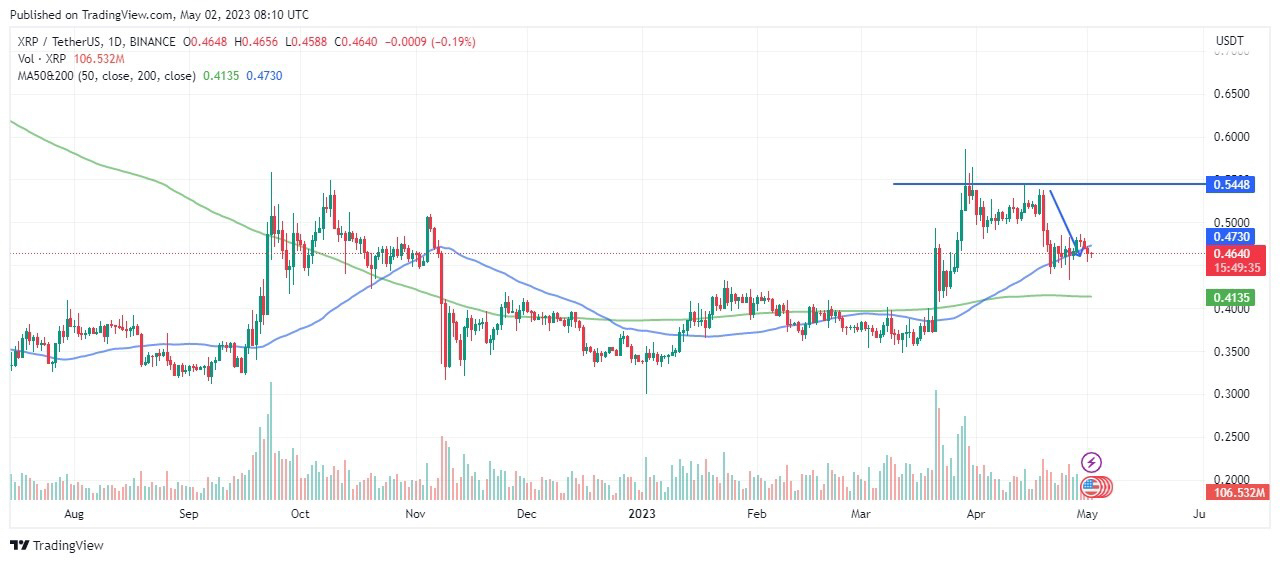 XRP has traded above the 200-day simple moving average (SMA) for the past 42 days, signaling a BUY trend since Mar 21, 2023. The 50-day SMA has also showed a BUY trend for the past day, since Apr 30, 2023.
Compared to the Bitcoin market, the most recent Death Cross occurred on Dec 23, 2022, 130 days ago while the Golden Cross occurred on Apr 03, 2023, 29 days ago.
According to the technical indicators, XRP's 200-day SMA will drop next month and reach $0.417146 by Jun 01, 2023. Meanwhile, the short-term 50-day SMA is predicted to hit $0.452152 by the same date.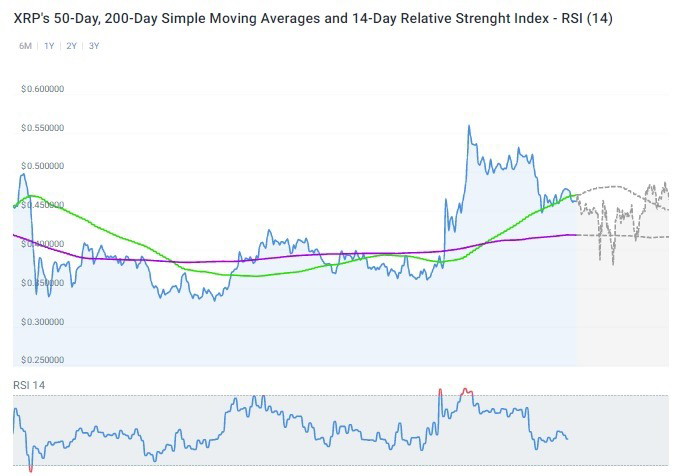 The Relative Strength Index (RSI) is a widely used momentum oscillator that helps determine whether a cryptocurrency is overbought (above 70) or oversold (below 30). Currently, the RSI value for XRP is at 45.25, showing a neutral position for the XRP market.
Our current XRP price prediction shows that we expect the value of XRP to experience a decline of -3.09% and reach $0.449830 by May 7, 2023. Technical indicators suggest that the current sentiment is bearish. In the past 30 days, XRP has recorded 14/30 (47%) green days and experienced price volatility of 4.45%.
Related
Prediction: Here's Why The Bitcoin Price Is Heading To $20k, Traders Invest In Ai Doge Instead
Bitcoin Price Falls To $28,100 – How Will DCG's Woes Affect BTC
Love Hate Inu – Newest Meme Coin
Decentralized Polling – Vote to Earn
Early Access Presale Live Now
Ethereum Chain
Mint Memes of Survey Results as NFTs
Staking Rewards
Viral Potential, Growing Community