XRP has retraced slightly from yesterday's close of $0.465 as the bears push for further price decreases. 
The general crypto market displays volatility with less than 2% gains today. However, XRP still retains the number 6 spot on the top cryptocurrencies list with a market cap of $23.66 billion.
XRP Price Action
XRP started the year modestly trading at $0.3388 on January 1, 2023, showing the effects of the 2022 crypto winter. 
It increased to $0.3858 by January 13, sparking hopes of recovery among its investors. XRP moved to $0.4133 on January 20, for the first time in 2023, before the bears drove it back to $0.3981 on February 8. 
XRP traded between $0.3 and $0.4 in February and March before moving to $0.5151 on March 28. It dropped into the $0.4 price level on April 19 and is currently trading in the $0.45 price range. 
XRP Price Prediction With Technical Indicators
XRP is in a downtrend on the daily chart as the bears act on its price. It has dropped below its 50-day Simple Moving Average (SMA), depicting a bearish sentiment in the short term. Also, The Relative Strength Index (RSI) is  41.32 in the neutral zone. However, the indicator is descending and might soon move into the oversold region of 30.
XRP's Moving Average Convergence/Divergence (MACD) is below its signal line and showing a negative value. This is a bearish sentiment and reflects the increasing sell pressure on the asset today. 
However, XRP is still trading above its 200-day SMA, implying that a long-term recovery for the asset is possible. 
XRP Support And Resistance Levels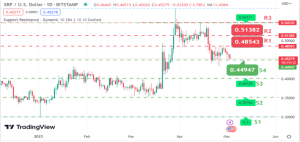 XRP is close to the $0.44947 support; a drop below this level will lead to a further price decrease. 
However, it can also be a price pivot to resume an uptrend. Other critical support levels are $0.3, $0.35154, and $0.40129.  Also, the resistance levels are $0.48543, $0.51382, and $0.54711.
 XRP will likely experience a further price decrease to rest on the $0.44947 support before it rallies again. 
Factors Influencing XRP's Price
Several factors could influence the price of XRP. These factors vary and sometimes act separately or in combination to either push a price increase or lead to a decline.  These factors include macroeconomic factors, crypto regulations, laws of supply and demand, and investor sentiment.
Latest Trends On The Ripple Network
Ripple Partners With GOSH Charity For Marathon
We kicked off our partnership with @GOSHCharity at the 2023 TCS London Marathon!🤝

Together with #TeamGOSH, we raised funds for the world-renowned children's hospital, cheered on runners and more. ⬇️ (1/4) pic.twitter.com/OjvfIhRA6p

— Ripple (@Ripple) April 28, 2023
Ripple Labs partnered with GOSH Charity at the 2023 TCS London marathon in April 2023. The marathon raised funds exceeding $1.75 million for a children's hospital. Approximately 300 runners were present, with other bystanders to witness the event.
Ripple Labs expressed excitement about their partnership with the charity and hopes to achieve more. This event highlights Ripple's commitment to giving back to the community and bettering the world.
Ripple's Lawyer Believes U.S. SEC On The Wrong Side Of History
"I'm all for clear rules and regulations to protect people. But the @SECGov is exploiting legal uncertainty about crypto to radically redefine what constitutes an investment contract and a common enterprise in the U.S." – @JohnEDeaton1 in @BLaw https://t.co/N0wk8Q7vil

— CryptoLaw (@CryptoLawUS) May 2, 2023
Ripple's lead counsel in the Ripple Labs vs. U.S. Security and Exchange Commission (SEC) case, John Deaton, recently shared some thoughts about regulatory actions. 
He pointed out that in 2017, the SEC issued the Decentralized Autonomous Organization (DAO); between 2017 and 2019, there were 57 enforcements against crypto companies.
Deaton referenced the infamous Hinman speech in 2019, where the former SEC executive stated that a token is not necessarily a security if it no longer meets the Howey test. However, he believes the SEC lacks regulatory clarity and the lack of a proper framework.
He argued that XRP, in 2014, was described as a virtual currency utilized in a decentralized payment protocol known as Ripple. He believes the SEC does not truly protect investors and has not maintained a fair and orderly market for crypto companies and investors.
The Ripple and SEC legal battle has persisted since 2020, with observers believing there will be summary judgment in 2023 or a settlement. The outcome of this case will likely impact XRP's price as a win for Ripple Labs will trigger a bull run. 
XRP Alternatives
As XRP experiences price volatility today, investors can take advantage of these top presales for profits.
yPredict (YPRED)
yPredict.ai is a modern investment and analytics platform for traders and investors to make better financial decisions. Its goal is to transform the crypto prediction market by providing traders with much-needed analytical data backed by facts.
Also, yPredict offers users exciting features for the competitive marketplace, including a trading terminal, marketplace, and revenue-splitting pools. yPredict's financial predictions rely on advanced AI technology due to the volatile nature of cryptocurrencies. 
The AI easily recognizes over 25 unique chart patterns and matches them with suitable technical indicators for successful trades. 
YPRED is the platform's native token that powers its activities and is currently on presale. Token holders access staking rewards and 10% of each new subscription, shared in a staking pool. 
The yPredict marketplace creates subscriptions for users and has a feed updated in real-time. YPredict runs on the Polygon blockchain, which is a developers' hub. 
Additionally, YPRED token holders can access its analytics platform to perform accurate analysis on several crypto coins. The YPRED presale is one of the hottest in 2023 and is currently in its closing stage. Each YPRED token is worth $0.03889, with a fixed listing price of $0.045 when it goes live on exchanges. 
Early investors are guaranteed a 15% return on investment on the tokens. Users can purchase these tokens with ETH, BNB, or MATIC. Over 20,000 users await its launch on exchanges which might translate to a rally for the token once it lists.
DeeLance (DLANCE)
DeeLance is the new freelancer marketplace connecting employers with professional freelancers using blockchain technology. The freelance industry is expanding rapidly, with a minimum of 90.1 million freelancers expected in the United States alone by 2028.
Also, the global gig market is roughly estimated to exceed $450 billion in 2023. However, most established freelance sites struggle with scammers and bot accounts taking advantage of unsuspecting clients. DeeLance offers a reliable and secure platform to counter this problem.
This platform offers solutions to payment disputes, a major challenge for freelancers. With its Escrow protection feature, funds are secure and held until all parties are satisfied. 
DLANCE is the platform's native token that grants users access to exciting features. It is on presale and worth $0.029 per token. However, the token's price will increase till it eventually lists on exchanges. Early investors can profit since a price increase is guaranteed after the listing. 
DeeLance – New Web3 Coin Presale
First Decentralized Freelancing Network
Find Employers in the Metaverse
NFT Marketplace, $100k Giveaway
Presale Stage One Live Now
SolidProof & Coinsult Audited