The XRP price is consolidating around the $0.7 mark.
Following the July 14th surge after Ripple's partial victory over SEC, XRP's price performance has been stable, with little action and little chance of providing parabolic gains. Is the current consolidation the calm before the surge?
Meanwhile, DeeLance has been making waves through its presale, gathering momentum as it races toward's the presale's conclusion.
XRP's Growth Stimied After Achieving 80% Surge
Ripple's victory over SEC made XRP embark on a growth journey, and on July 14, the token's price went up 80%. CoinMarketcap shows that the token is up 50% compared to last month, but the intraday chart show there is a slowdown in price action.
At 1:20 am EST, XRP was trading at $0.70, experiencing a mild drop of 0.34%, accompanied by a similar decrease in market capitalization by 0.37% in the last 24 hours. The token's trading volume, however, has experienced a massive surge of over 86%.
XRP and Taxes – Controversial Debate Erupts Over The Token
XRP has been adopted by many regions to provide cross-country payment solutions. Ripple dropped the news on July 26th that the XRP ledger will play an instrumental role in piloting a US Dollar-Backed Stablecoin in the Republic of Palau.
The Republic of Palau is partnering with Ripple to pilot a USD-backed stablecoin on the #XRPLedger.

Learn about the benefits for citizens and merchants and how the Ripple #CBDC Platform will be leveraged in this next phase of the Palau #stablecoin pilot.https://t.co/JRuBNn2UBy

— Ripple (@Ripple) July 27, 2023
A blog post by Ripple revealed that this program would involve government employees adopt using PSC – Palau Stablecoin – to pay to select local merchants in the region. These include Penthouse Hotel, King's Minute Mart, and Surrangel and Sons.
Amidst these developments, an interesting debate has erupted among top Ripple officials about Ripple's tax implications when it comes to cross-currency payments.
Talking about XRPL pathfinding, Fredo Ayala, an accounting and financial consultant, asserted that an XRP settlement within a single ledger that doesn't impact the buying and selling price of the asset will only have tax implications for the customers. The introduction of price fluctuations during the pathfinding process, however, could have an increase or decrease the impact on the taxable event.
#XRPL Pathfinding causes taxable events in the US.

If it settles in a single ledger and prices do not change between buying and selling then the implications are only for the customer.

If they shift while pathing then we got -/+

Europe sees crypto was gambling so this…

— Fredo Ayala 🏴‍☠️ 🪝 (@Fayala_brash) July 29, 2023
The statement came after Neil Hartner, a senior staff software engineer at Ripple, sought clarity about cross-country payments involving USD to EUR that require auto bridging USD to XRP and XRP to EUR.
Following the statement, Matt Hamilton, a former director of developer relations at Ripple, chimed in by comparing traditional banking to Ripple. Ayala responded by clarifying that, unlike banks that must report gains and losses, the XRP ledger isn't a reporting entity, arguing that the party starting the transaction will be responsible for handling tax-related matters.
XRP Price Analysis – Will it Go Up?
The daily candlestick chart shows that the XRP price has hardly budged above $0.74 since July 26th.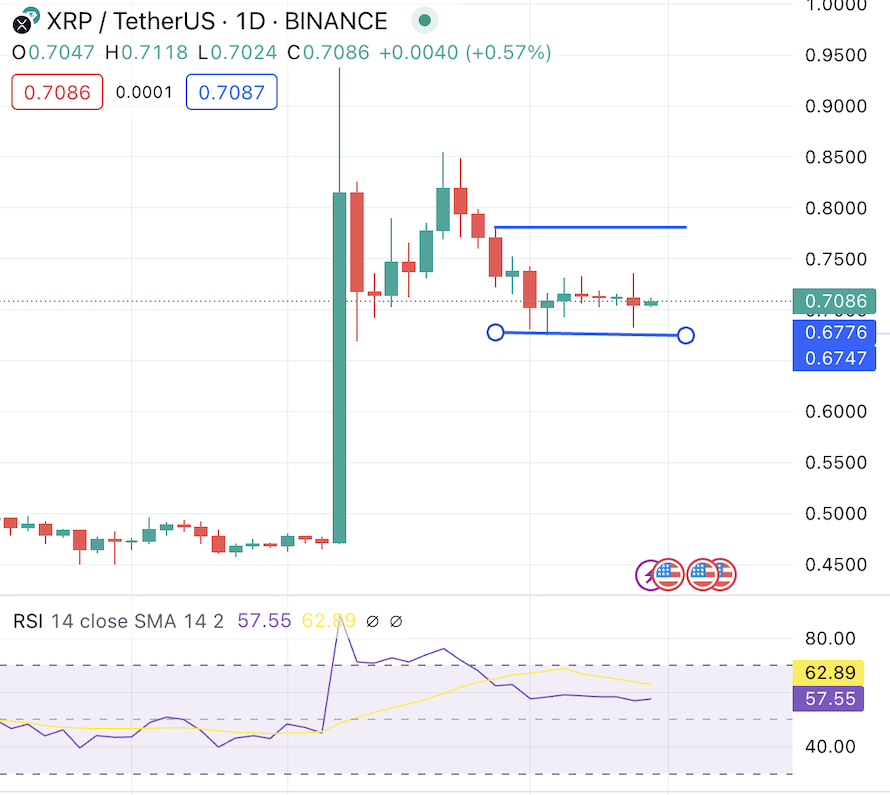 The token continues to consolidate around the $0.07 mark, with no signals indicating an uptrend happening anytime soon. The token's RSI remains in the middle. When combined with the positive MACD, this trend indicates the community's indecisiveness about XRP.
However, the XRP's price performance is now making a descending pattern, signalling a breakout in a negative direction. It is likely that the token's continued consolidation around the current price level will push its value down in the next couple of days.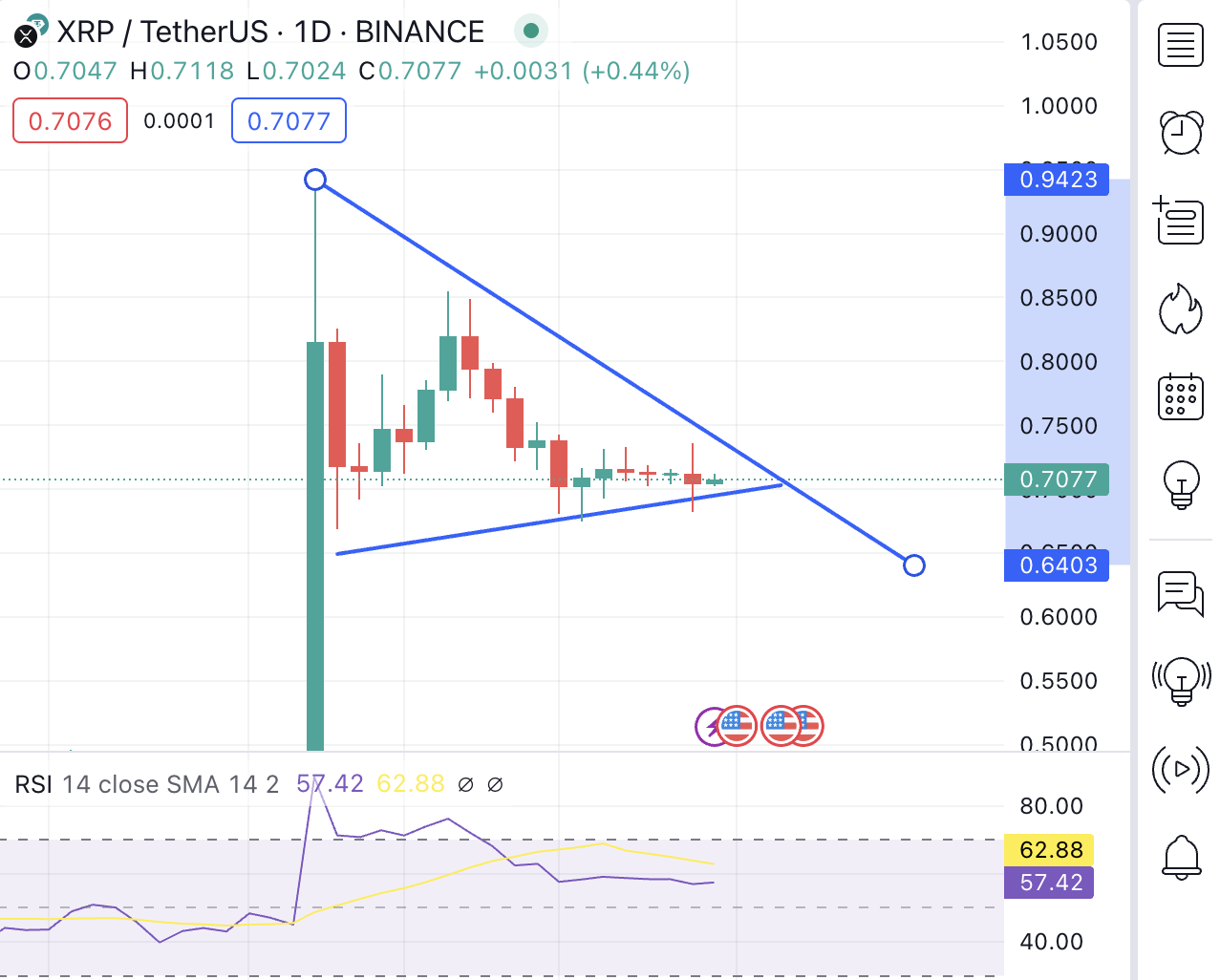 However, if the token achieves longer greens with higher lows in the next two days, the descending pattern will be disrupted, proving our current bearish prediction wrong.
Meanwhile, TradingView's technicals are showing that the "buy" sentiment around XRP still prevalent.
DeeLance Closing in On its Presale Conclusion
While XRP is consolidating, DeeLance is moving forward to close its presale. It has already raised more than $1.7 million. The target is $1.8 million, with only 19 hours and a few minutes remaining for the presale to conclude.
DeeLance is a blockchain ecosystem created for freelancers. Allowing freelancers to tokenize their projects, DeeLance offers them a way to have legal ownership of their works and lets them get paid in a fair manner through their gigs.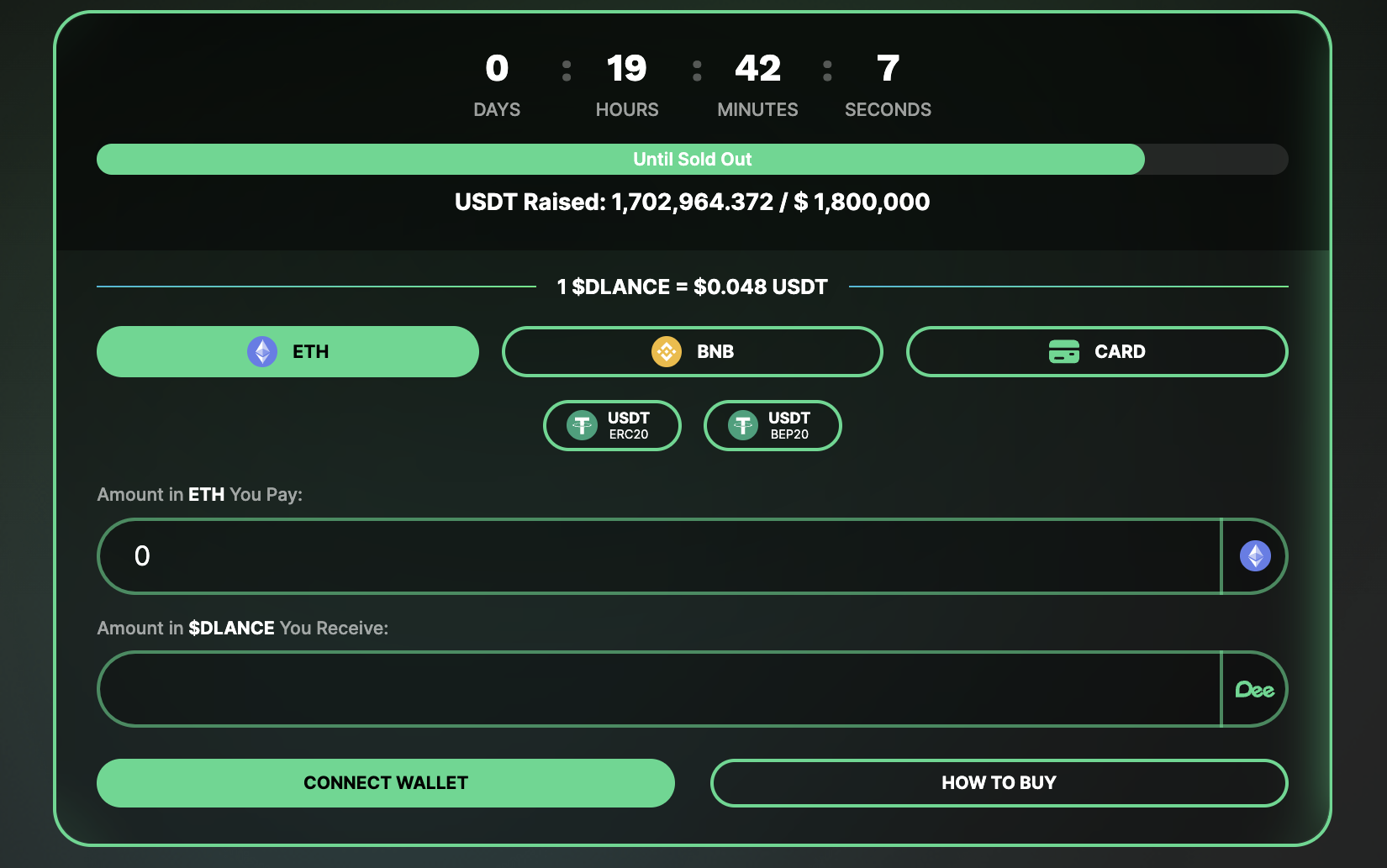 The project also features an NFT marketplace for freelancer artists to sell their work, a job hiring platform for employers, and a metaverse, which provides a virtual environment where freelancers and clients can hold meetings, complete gigs and interact with each other.
Powering this ecosystem is DLANCE, an ERC-20 token whose utilities include interacting with the NFT marketplace, buying land and offices in the metaverse, purchasing advertising banners, leasing offices, and more.
DeeLance's real-world utility has pushed its presale. While it started slow, the ICO caught momentum in July 2023, and now the presale is less than $100k away from being over.
Those who still seek early mover gains can visit deelance.com to participate. Developers have already tweeted their IDO calendar. And the token is launching on August 7th.
Hey DeeLancers! 👨‍💻

📌 $DLANCE Public Sale – IDO Calender is here 👇

💎 @Zelwin_Official – 24th July
💎 @Torkpad -26th July
💎 @Kommunitas1 – 27th July
💎 @Kingdomstarter -28th July

Stay tuned for more updates , follow https://t.co/1bdD6d8rJr#IDO #metaverse #DeeLance #Crypto pic.twitter.com/DPoM5d9TwM

— DeeLance (@deelance_com) July 18, 2023
Related
Wall Street Memes – Next Big Crypto
Early Access Presale Live Now
Established Community of Stocks & Crypto Traders
Featured on BeInCrypto, Bitcoinist, Yahoo Finance
Rated Best Crypto to Buy Now In Meme Coin Sector
Team Behind OpenSea NFT Collection – Wall St Bulls
Tweets Replied to by Elon Musk