The global economy is at a standstill, as investors from across the world are confused about the potential of almost every financial market including cryptocurrencies. However, some seem to be highly optimistic about certain long-standing projects. These surprisingly include initiatives that hold the potential to revolutionize the banking sector entirely and help mitigate a lot of problems faced by the industry today. One of the best examples of such projects is Ripple, which is one of the biggest Defi cryptos in the blockchain sector at the moment. 
This article will take a look at Ripple and its potential for growth while predicting its price action for the upcoming weeks and months. However, before making a price assumption, it is important to thoroughly understand what Ripple is all about.
What is Ripple?
Ripple is a digital currency, also known as XRP, which was founded in 2012 by Chris Larsen and Jed McCaleb. It was created with the specific purpose of facilitating fast and secure cross-border payments for financial institutions. Unlike traditional cryptocurrencies such as Bitcoin and Ethereum, Ripple is primarily designed for use by banks, payment providers, and other financial institutions. 
Its innovative consensus algorithm, known as the XRP Ledger, allows for near-instant transaction processing times and provides a high level of security and scalability. Ripple's goal is to bridge the gap between traditional financial institutions and the world of digital currencies. It offers a range of products and services, including xCurrent, xRapid, and xVia, which enable financial institutions to conduct cross-border transactions quickly and efficiently, while also providing liquidity. 
One of Ripple's main advantages is that it allows for low-cost, real-time cross-border payments without the need for intermediaries like correspondent banks. This makes it an attractive option for financial institutions looking to reduce costs and improve efficiency. 
Ripple has already established partnerships with a number of major banks and financial institutions, including Santander, American Express, and Standard Chartered. It was one of the biggest and most successful cryptocurrencies during the bull run in 2017 and has since acquired a massive community which is active on almost every social media platform today. Its native token XRP is currently the 6th largest cryptocurrency in the world with a market cap of more than $24 billion. 
Price Prediction for XRP
The ongoing legal battle between Ripple and the US Securities and Exchange Commission (SEC) has garnered attention due to the SEC's recent losses in five out of six cases before the Supreme Court. This development is seen as a positive sign for the cryptocurrency community. 
One of the most recent cases the SEC lost was against Michelle Cochran, a certified public accountant from Texas accused of non-compliance with federal auditing standards. The news was shared via a tweet by Ripple's General Counsel, Stuart Alderoty, on April 14. As the legal proceedings between Ripple and the SEC continue, the outcome of the case is being closely watched as it could have significant implications for the regulation of cryptocurrencies in the United States.
Update: The SEC has lost 5 of its last 6 cases in the Supreme Court. SEC v Cochran (4/14/23) https://t.co/SpGbRZ3V2E

— Stuart Alderoty (@s_alderoty) April 14, 2023
With an increasing public and community uproar, the government as well as the regulators are under constant pressure to deal with the case as soon as possible. However, with the odds lying in the favour of XRP, it is likely that the token will have an excellent run in the upcoming weeks, thanks to its innovative technology. 
At the time of writing, XRP is priced at around $0.47, down from its 2021 high of $1.6. While the all-time high of $3.09 currently looks like a distant possibility, investors have been speculating to see the price of XRP shoot up to the $1 range in the upcoming months. With altcoins performing well and the case nearing its end, a huge chunk of crypto investors seems to have started stocking up on XRP tokens again, which could be a very bullish signal for the project.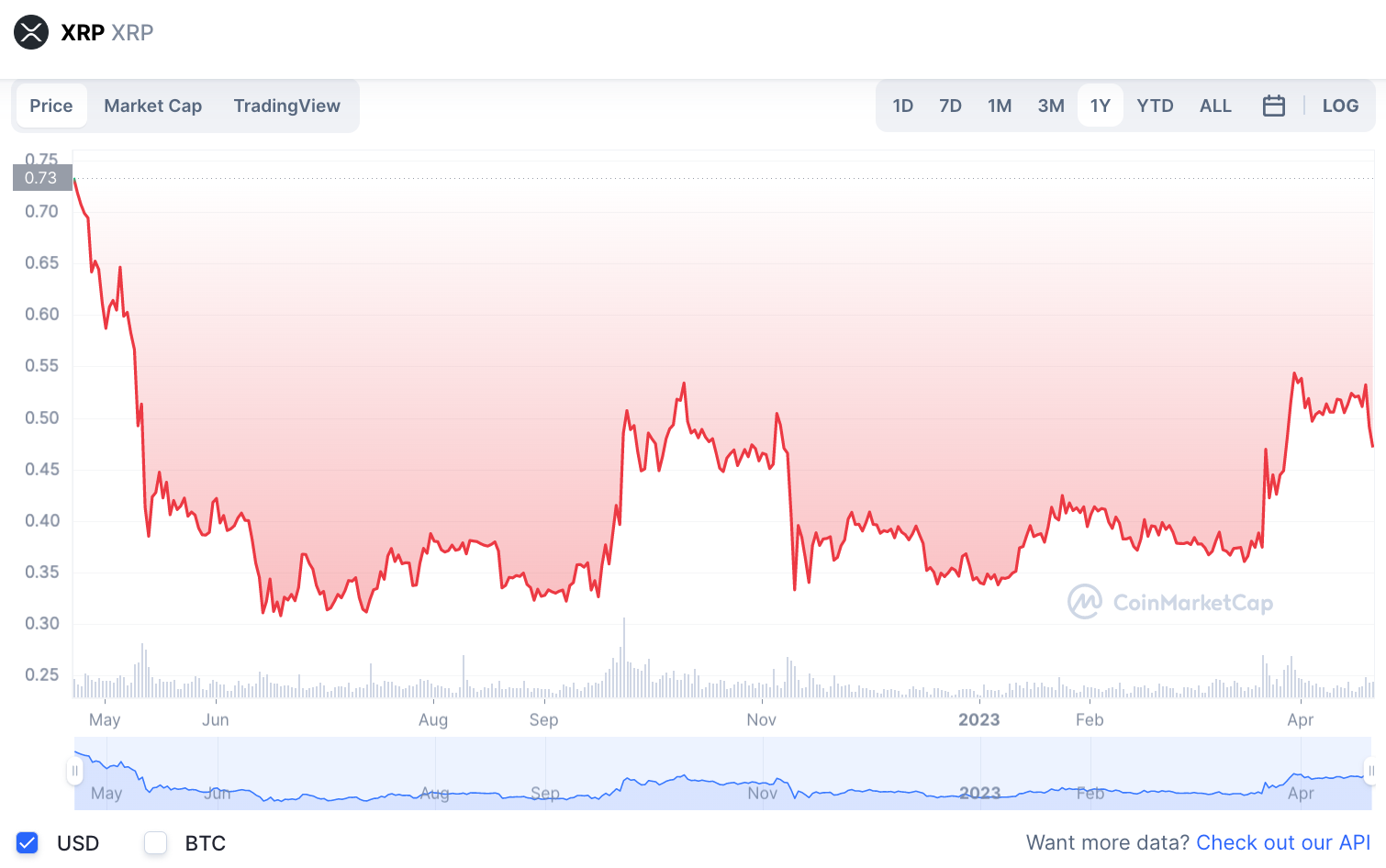 Binance Pay and CoinGate have entered into a partnership to promote the adoption of cryptocurrencies, including Ripple (XRP) and Cardano (ADA). The partnership enables Binance Pay users to make crypto payments with most CoinGate-powered merchants, while CoinGate merchants can now accept Binance Pay payments at checkout, with the feature enabled by default.
The partnership is expected to offer more flexibility to users and merchants alike, who can now easily transact in cryptocurrencies without the need for intermediaries. This move is a further indication of the growing interest in cryptocurrencies like XRP and its potential for growth in the near future. 
Conclusion
While the price of XRP may not solely depend on the ongoing legal battle, it is sure to play a very vital role in its future price movements. With a bullish market sentiment and support from its dedicated community, it may not be surprising to see XRP trading in the $1 range within the next couple of months. 
Read More:
Love Hate Inu – Newest Meme Coin
Decentralized Polling – Vote to Earn
Early Access Presale Live Now
Ethereum Chain
Mint Memes of Survey Results as NFTs
Staking Rewards
Viral Potential, Growing Community