XRP price remains defiantly bullish as the crypto community prepares for a massive rally likely to be triggered by a potential win against the United States Securities and Exchange Commission (SEC). The leading international money transfer token has generally been in the green since the New Year except for a few days. XRP price now trades at $0.3914 following almost a 3% increase in 24 hours.
Ripple CEO Optimistic About SEC Lawsuit – XRP Price Poised to Rally
The CEO of Ripple, Brad Garlinghouse told the world this week that he is "optimistic" the lawsuit against the SEC "will certainly be resolved in 2023." He opined that the case could be settled in Q1 2023. He added that he is contended with where the defense is at the moment.
"We're optimistic that this will certainly be resolved in 2023, and maybe the first half. So, we'll see how it plays out from here. But I feel very good about where we are relative to the law and the facts," Garlinghouse said during an interview with CNBC on Wednesday.
The lawsuit against his company was filed by the SEC in December 2020 alleging Ripple and its top executives sold unregistered tokens when raising funds. The blockchain startup has maintained that XRP is not a security but a cryptocurrency just like Ethereum (ETH) and Bitcoin (BTC).
Ripple and the SEC filed their final submissions in December, as they sought a summary judgment. Garlinghouse is hopeful the final ruling, whose date is yet to be set, will come "sometime in the coming single-digit months." He reckoned that he does not expect a settlement with the US regulator.
"The SEC and Gary Gensler have very outwardly said he views almost all crypto as a security. And so that leaves very little space in the Venn diagram for settlement."
John Deaton, a popular crypto lawyer says that most signs point to a potential win for Ripple. In his opinion, while responding to a speech by Ripple CEO at the World Economic Forum in Davos – Switzerland, the SEC "will be denied summary judgment" on whether Ripple executives, Garlinghouse and Chris Larsen illegally sold XRP.
(2) John E Deaton on Twitter: "The SEC will be denied summary judgment on whether @bgarlinghouse and @chrislarsensf were reckless in not knowing #XRP was a security. The fact that BG met 3X w/the SEC and never once did they say "XRP is a security" is evidence a reasonable jury could conclude he wasn't reckless" / Twitter
XRP Price Holds Above Critical Support, Is A Rally Beckoning?
XRP price's three-week bullish move pierced through all hurdles, starting with the seller congestion at $0.34, a falling trendline (dotted on the daily time frame chart), the 50-day Simple Moving Average (EMA) (in red), and the 100-day (EMA) (in blue). However, the bullish momentum slowed down reaching $0.40.
Although a retracement from the resistance at $0.40 has not been significant, XRP price is seeking support at the 100-day EMA currently at $0.3851 as part of the uptrend resumption plan.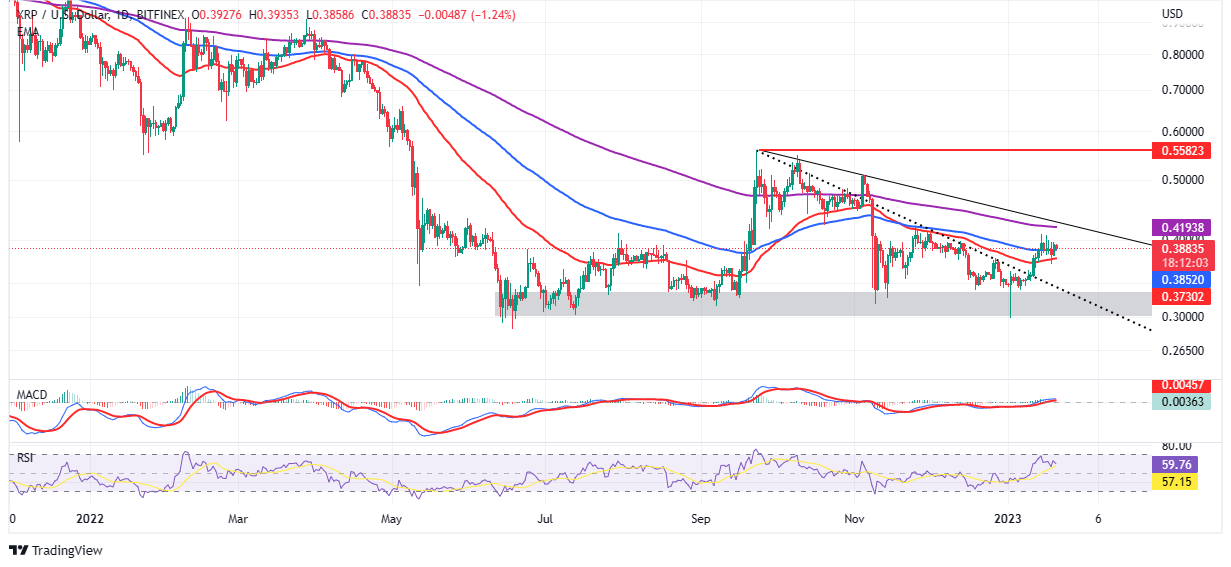 The 50-day EMA holds marginally below the 100-day EMA at $0.3729 and would be the last line of defense before XRP begins to trim gains to stronger support – possibly at $0.34 or if push comes to shove, at $0.30.
On the other hand, the Moving Average Convergence Divergence (MAC) indicator reveals that buyers still hold the reins and might push for the resumption of the uptrend during the weekend. Notice the buy signal as the MACD (line in blue) holds above the signal line (in red). Moreover, the momentum indicator is in the positive region above the mean line (0.00).
Already sidelined investors may start to place their buy orders as XRP price lifts from the 50-day EMA if not the 100-day EMA. From here, traders could eye the 200-day EMA (in purple) at $0.4193 as the first take-profit target. However, a successful break and hold beyond the upper falling trend line would open the door to another rally aiming for $0.50 and $0.55, respectively.
XRP Price in The Green but These Altcoins Offer a Better Risk/Reward Ratio
Investors could pique interest in up-and-coming, yet the best crypto presales in the market to diversify their portfolios. Some of our carefully selected projects like Tamadoge rallied by over 1,800% after listing for the first time. Like TAMA, these projects are in their presales and moving toward their initial debut on CEXs and are worth considering.
Meta Masters Guild (MEMAG)
Meta Masters Guild (MMG) is the world's first play-and-earn gaming platform that is mobile-focused and equipped with web3 solutions. Meta Masters Guild wants to offer blockchain-based games for free, unlike existing platforms like Axie Infinity, The Sandbox, and Decentraland, which require users to invest money in expensive NFTs before getting started.
Despite offering the games at no cost, Meta Masters Guild will allow players to earn rewards for their time in the games.
Players in the Meta Masters Guild's world will earn via a currency dubbed Gems, spent in various ways. For instance, a player can swap Gems to MEMAG tokens to stake for more rewards.
⚔️🛡️ Join The Guild! 🛡️⚔️

We create top-notch mobile games where members earn rewards by contributing to our #MEMAG ecosystem. 🌱

Together, let's raise the bar for in-game economies and player rewards. 🏆

Learn More ➡️ https://t.co/HzrnZe7NYC#metamastersguild #memag #mmg pic.twitter.com/VscL0da18W

— Meta Masters Guild (@MEMAGgames) January 19, 2023
The Gems can also buy in-game NFTs or cash out by swapping to other cryptos like ETH. Investors are filling their wallets with MEMAG tokens in an ongoing presale that has raised $665k so far.
FightOut (FGHT)
FightOut is a highly sought-after investment opportunity within the Web3 space, thanks to its enormous potential. This M2E project is a rare feat that very few ventures have achieved thus far. The exceptional performance of the team and its unique concept appear to be driving the demand for its native token, FGHT.
The FightOut initiative aims to inspire users to engage in physical activity and improve their fitness by offering incentives in the form of cryptocurrencies and NFTs. The team hopes to tackle issues such as lack of social interaction, exorbitant gym fees, and inadequate training plans within the fitness industry by launching the FightOut app.
It provides users with financial rewards and access to comprehensive resources and guidance for healthier living, a long-awaited solution for many. As users engage in physical activity in the real world, their NFT avatars will reflect these changes in attributes.
(2) Fight Out on Twitter: "Be an early adopter and get ahead of the game with #FightOut! By joining our community during the early stages, you'll have the opportunity to shape the future of fitness and blockchain with us. Don't miss out – Stage 1 presale ends in 5 days! 🔥⬇️ https://t.co/z34Nkx3ffi https://t.co/l3Zwg6BeRx" / Twitter
FightOut's presale is underway and has raised $3.05 million by selling 1 FGHT for 1 USDT. Investors can take advantage of a 50% bonus to buy FGHT, but it's valid until the presale hits the $5 million mark.
Related Articles:
Meta Masters Guild – Play and Earn Crypto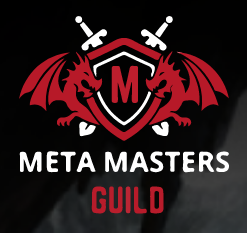 Innovative P2E NFT Games Library Launching in 2023
Free to Play – No Barrier to Entry
Putting the Fun Back Into Blockchain Games
Rewards, Staking, In-Game NFTs
Real-World Community of Gamers & Traders
Round One of Token Sale Live Now – memag.io