XRP 2.0, launched to capitalise on bullish momentum surrounding Ripple Labs, Inc.'s XRP, is up 482% since launch but down 95.2% from its all-time high.
It's a risky investment for multiple reasons that include a lack of transparency surrounding the project as it operates without a visible team or disclosed plans. The project's social media activity is also questionable, with numerous seemingly fake accounts aggressively promoting it on platforms like Twitter and CoinMarketCap.
In addition to these issues, the fact that XRP 2.0 is not listed on major centralized exchanges is a significant drawback. This limited availability restricts accessibility and liquidity, making it less appealing as an investment. Investors should thus approach the XRP 2.0 project with caution.
What is XRP 2.0?
XRP 2.0 is a recently launched cryptocurrency that combines blockchain technology with high-level encryption to facilitate secure and decentralized transactions. Its primary objective is to establish itself as a platform that facilitates quick transaction processing, enhanced privacy measures, and scalability.
A noteworthy aspect of this project is the Text to Image functionality facilitated by the XRP2.0 bot. Users can convert their written content into visual images, offering a user-friendly interface and customizable image models that make digital art creation accessible to a wide audience.
The XRP 2.0 token is positioned as a cryptocurrency at the forefront of innovation, reflecting a commitment to technological advancement. As described by its creators, it integrates advanced blockchain technology with state-of-the-art encryption algorithms to ensure the creation of a secure and decentralized digital currency.
XRP 2.0 Price Analysis

 
The recent launch of XRP 2.0 suggests that the coin has taken advantage of the favourable market sentiment towards XRP, which was boosted by a recent court ruling in its favour in the US.
At its launch, the XRP 2.0 token was trading for $0.0000000000001482, and the trading volume was $27,900. In contrast, the token traded at $0.0000000000153 at its all-time high, when the trading volume peaked at $6.17 million. 
The token's upcoming price action will entirely depend on market sentiment since there are little to no fundamentals that can aid the coin's performance.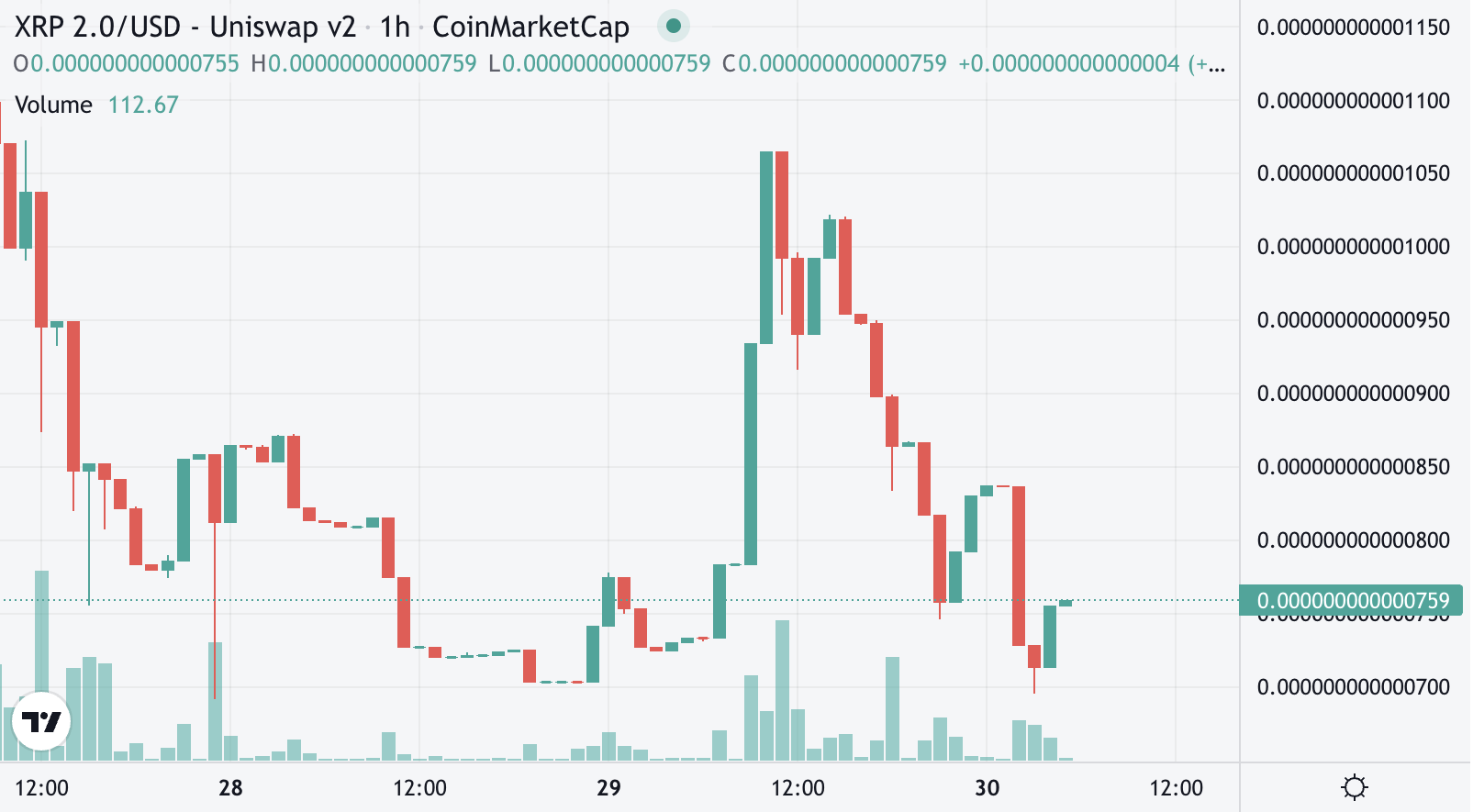 Investors likely have concluded that XRP 2.0 is a shitcoin designed to capitalize on the XRP's recent surge.
Also, the suspension of XRP 2.0's Twitter account for rule violations can create fear among investors and cause the price to drop.
#XRP2 $XRP 2.0 has launched the first staking. Lock for 1 week to get 300% $XRP 2.0 rewardhttps://t.co/4u2JamSf0H pic.twitter.com/9D03gq0jwy

— XRP 2.0 (@XRP_2Moon) July 22, 2023
The coin's price was initially boosted by excitement among investors over the XRP ruling. Its best chance of future gains may be if there's more good news for XRP after a US court earlier ruled that it is not a security when sold to retail investors, giving a boost to the entire crypto industry.  
XRP2.0's performance remains risky. Investors who missed out on capitalizing on the token's short-lived surge can explore other options that provide a better alternative and higher potential returns.
BTC20 – A Better Alternative to XRP 2.0

 
In the rapidly evolving crypto market, a new contender called BTC20 aims to recapture the early days of Bitcoin's rise but with a green twist, utilizing the Ethereum Blockchain and a Proof-of-Stake (PoS) mechanism. By combining Ethereum's technology and Bitcoin's tokenomics, BTC 20 seeks to revolutionize the crypto space.
BTC20's primary objective is to mirror Bitcoin's historical progression through its staking system while emphasizing sustainability. Operating on an energy-efficient PoS protocol, it offers token holders the opportunity to earn passive income by staking their tokens. This unique feature sets it apart from many other copycat coins that lack utility and long-term growth potential.
The staking system is designed to reward users for holding and staking their tokens, fostering community engagement and participation. A total of 21 million tokens will be minted, with 3 million available during the presale event at an affordable price of $1 per token. This mirrors Bitcoin's iconic milestone of reaching $1 in 2011, evoking nostalgia for early crypto investors.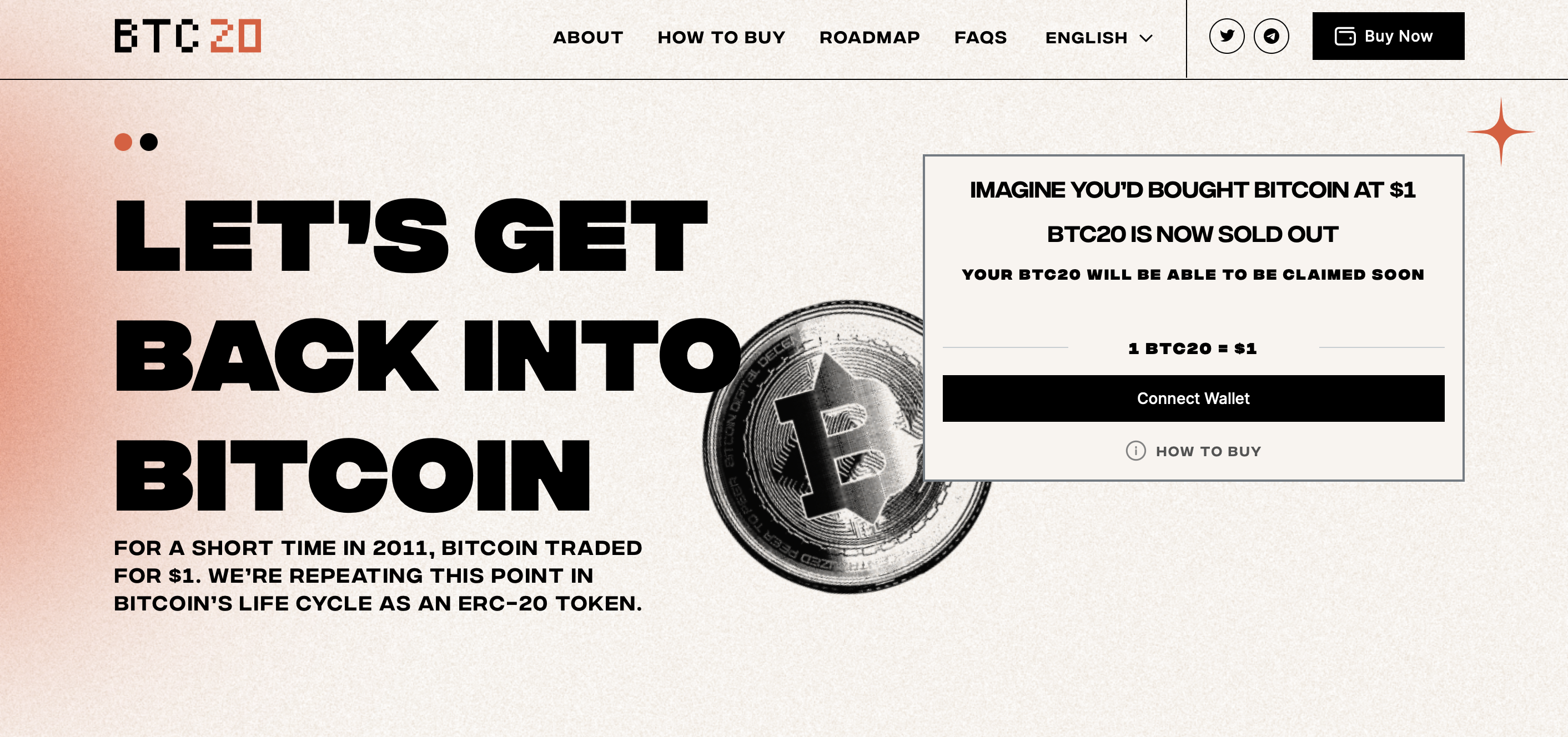 The funds raised during the presale will be vital in furthering BTC20's roadmap, enabling strategic partnerships and potential integrations with dApps on the Ethereum blockchain. This approach enhances the token's utility and value, aiming for sustainable growth in the long run.
While Bitcoin continues to dominate the market, BTC 20 presents a nostalgic investment opportunity for those who missed out on Bitcoin's early days. With its eco-friendly protocol and community-focused tokenomics, BTC 20 appeals to investors seeking potential long-term gains.
The presale is now sold out. Those who wish to claim their tokens can visit btc20.com today. And those who wish to buy it on launch day can do so on Uniswap when it lands. For updates about the launch date, join BTC20's official Telegram.
Related Articles
Wall Street Memes – Next Big Crypto
Early Access Presale Live Now
Established Community of Stocks & Crypto Traders
Featured on BeInCrypto, Bitcoinist, Yahoo Finance
Rated Best Crypto to Buy Now In Meme Coin Sector
Team Behind OpenSea NFT Collection – Wall St Bulls
Tweets Replied to by Elon Musk