The Worldcoin price hasn't faired well after peaking at $3.15, as the Sam Altman-created AI crypto is now consolidating around $2.2, which is after a 4% daily increase.
Does it mean that investors will pay more attention to BTC20 instead?
Worldcoin Price Goes Up by 4% in 24 Hours
In the last 24 hours, Worldcoin's price has gone by 4%.
The surge happened around 12:10 am EST when the token increased by 8% on the hourly charts.
At 6:48 am EST, Worldcoin was valued at $2.26, accompanied by a 4.4% increase in its market capitalization and a 4.8% decrease in its trading volume.
Worldcoin is The Most Wonderfully Creepy Altcoin – Crypto Twitter
Despite the tailwinds the token has received in the daily charts, most are not optimistic about it.
@JG_Nuke, a Commentator and YouTuber with over 16k followers on Twitter, came out on Twitter expressing his disdain for the "techno overlords at the Silicon Valley" via his video.
Worldcoin is the best worst idea ever! This is just about the creepiest thing to come out of silicon valley since…yesterday.👁️ #Worldcoin pic.twitter.com/wKzhq9zh0B

— Nobody Special (@JG_Nuke) July 24, 2023
He argued that the token's main premise, which is to allow users to distinguish between humans and AI, is a problem created by the rise of ChatGPT, a content-generation tool that, after emerging in the last quarter of 2022, turned Sam Altman and ChatGPT into a household name around the world.
Other crypto experts, like Isabella, have also taken to Twitter, asking whether a person's freedom is only worth $50.
Would you trade your freedom for 50$ worth of #worldcoin? #SmashTheOrbs pic.twitter.com/YhReUEA8hX

— Isabella⚡️ (@isabellasg3) July 28, 2023
Ethical questions aren't the only drivers that are veering people away from this token.
Experts argue that this VC-backed crypto has the potential to be extremely centralized and that its questionable tokenomics, which handles the bulk of the token WLD tokens to investors and developers, is reminiscent of other assets that dissipated during the 2022's market crash.
Altcoin Sherpa, a major crypto influencer on Twitter, has argued that Worldcoin has the same aspects as a shitcoin and will get dumped by VCs.
$WLD: A few notes on how to play these things

-Don't EVER buy this thing as a long term investment. You will get dumped on by VCs
-I haven't looked but I'm guessing the tokenomics on this are shit, prob low float and MMs having large % of supply
… pic.twitter.com/NBNmOVsKJ6

— Altcoin Sherpa (@AltcoinSherpa) July 24, 2023
Crypto-based publications, like Cointelegraph, have also showcased their distaste for this token via its article emphasizing how Worldcoin is making episodes of Black Mirror a reality.
With the official whitepaper of the project not paying emphasis to bad actors or the privacy issues Worldcoin may create, many argue that Worldcoin is "subverting Web 3's promise of decentralization to do just the opposite."
Worldcoin Can Onboard Billions into Crypto – CoinFund
While there are skeptics on one side of the aisle that – legitimately so – are intimated by the prospect of the power Worldcoin could hold in the long run, CoinFund, one of Worldcoin's venture capital partners, argued that "WLD can create a distribution of cryptocurrency that's wider than Bitcoin"
Speaking to Coindesk TV on Thursday, Jack Brukhman, the Coinfund CEO, claimed that Worldcoin can distribute more widely than Bitcoin.
Austin Barack, another partner at CoinFund, wrote in a blog post that Worldcoin can potentially board "billions of users in the crypto space".
Despite the blowback Worldcoin has received from crypto experts, including Vitalik Buterin, Dune Analytics Dashboard showed that there are close to 1 million WorldApp wallets created until press time.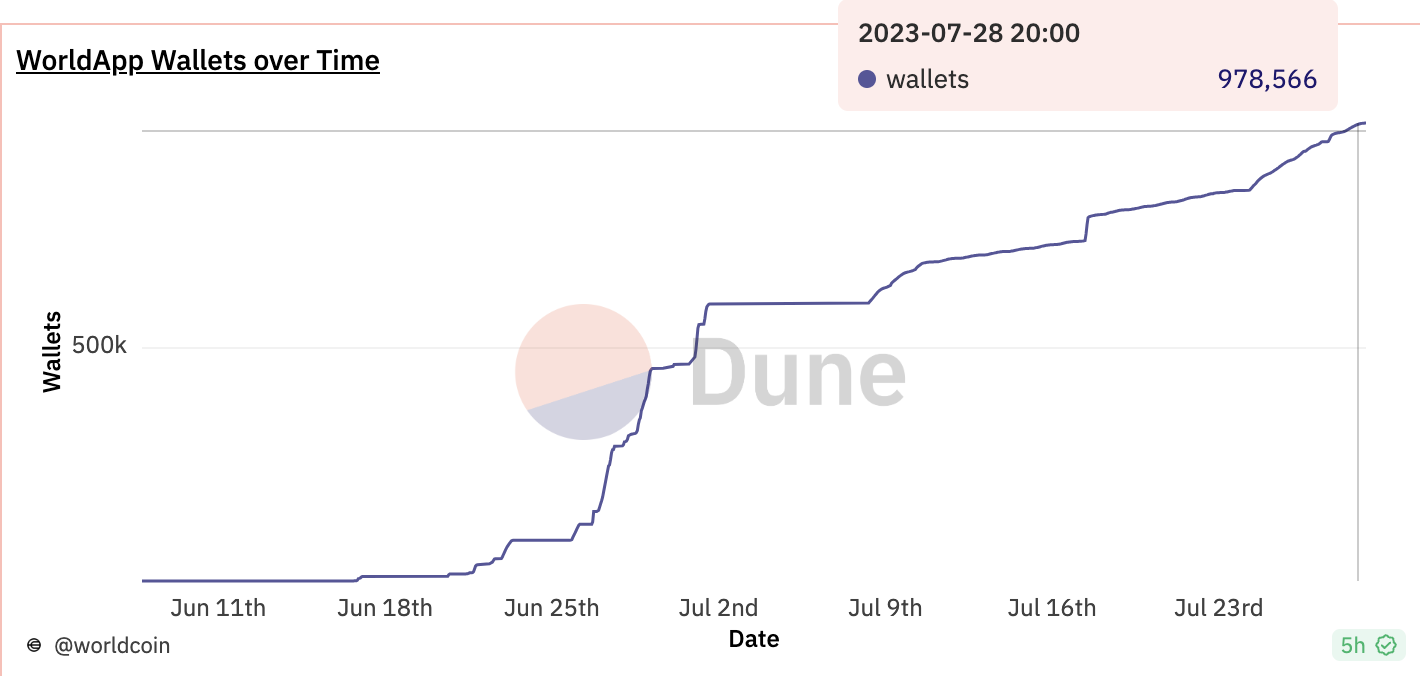 Worldcoin also tweeted that the demand for WLD tokens has surged, and a new World ID is being created every 7.6 seconds.
Since Worldcoin launched, proof of personhood demand has surged. On average, a unique human is now verifying their World ID every 7.6 seconds & new records are being set daily.

Thank you for your patience with the project as more work is done to better meet worldwide demand. pic.twitter.com/gPmr0oQWCR

— Worldcoin (@worldcoin) July 28, 2023
Worldcoin Price Analysis 
The 1-hour price chat shows that Worldcoin has been slightly moving up in a jagged pattern after it hit the $2.05 mark. The token's RSI is at the mid-point, and its MACD histogram is above zero, indicating the community's indecision about this token.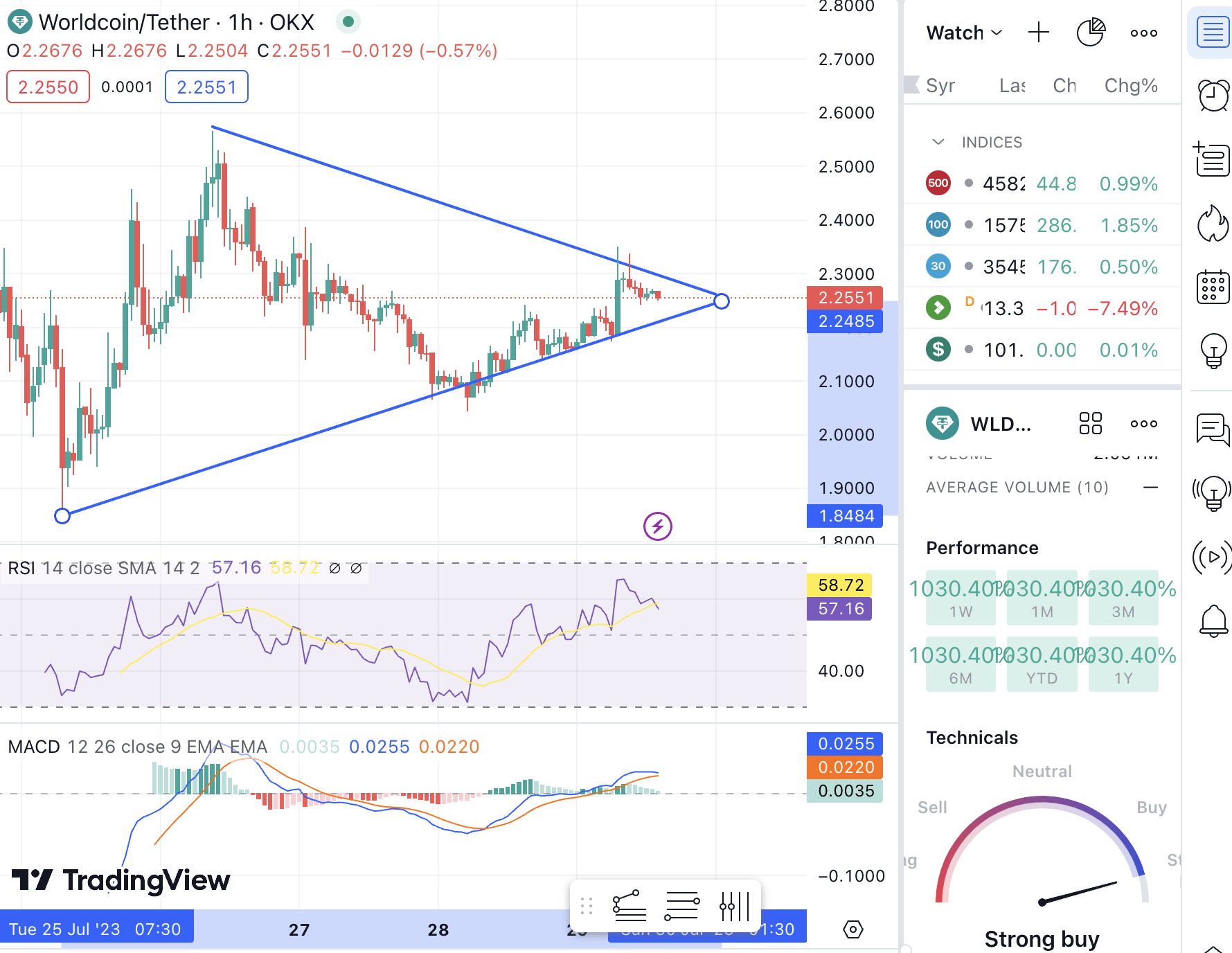 That said, the RSI is mirroring the price chart, and Tradingview's technicals show that the "Strong-Buy" sentiment is strong with this token, which means it could soon cross over into the overbought zone, triggering a downturn.
But if the RSI remains at the midpoint, the jagged pattern in which WLD's price is increasing could maintain its momentum and move up further.
Despite the criticism, Worldcoin has been expanding. The project's official Twitter page has showcased long lines of people in Seoul, Japan, and Barcelona looking to get their eyeballs scanned through the Orb and earn $50.
Learn more about the future prospects of this asset in our Worldcoin price analysis.
BTC20 – A Better Alternative to Worldcoin 
While Worldcoin's current trend oscillates between indecision and bullish, the token may also need to tackle the regulatory blowback it has received from many countries, including French Privacy Regulators that asked about its "questionable" practices.
And since many crypto experts and enthusiasts have expressed their apprehensions about WLD on social media platforms, WLD may be looking at a downturn, which makes crypto presales like BTC20 a much better option.
BTC20 is an ERC-20 asset built on the Ethereum blockchain. Bearing the same fundamentals as Bitcoin, BTC20 aims to provide the same opportunities to investors as Bitcoin did in 2011, but without burdening them with the hardware required for mining.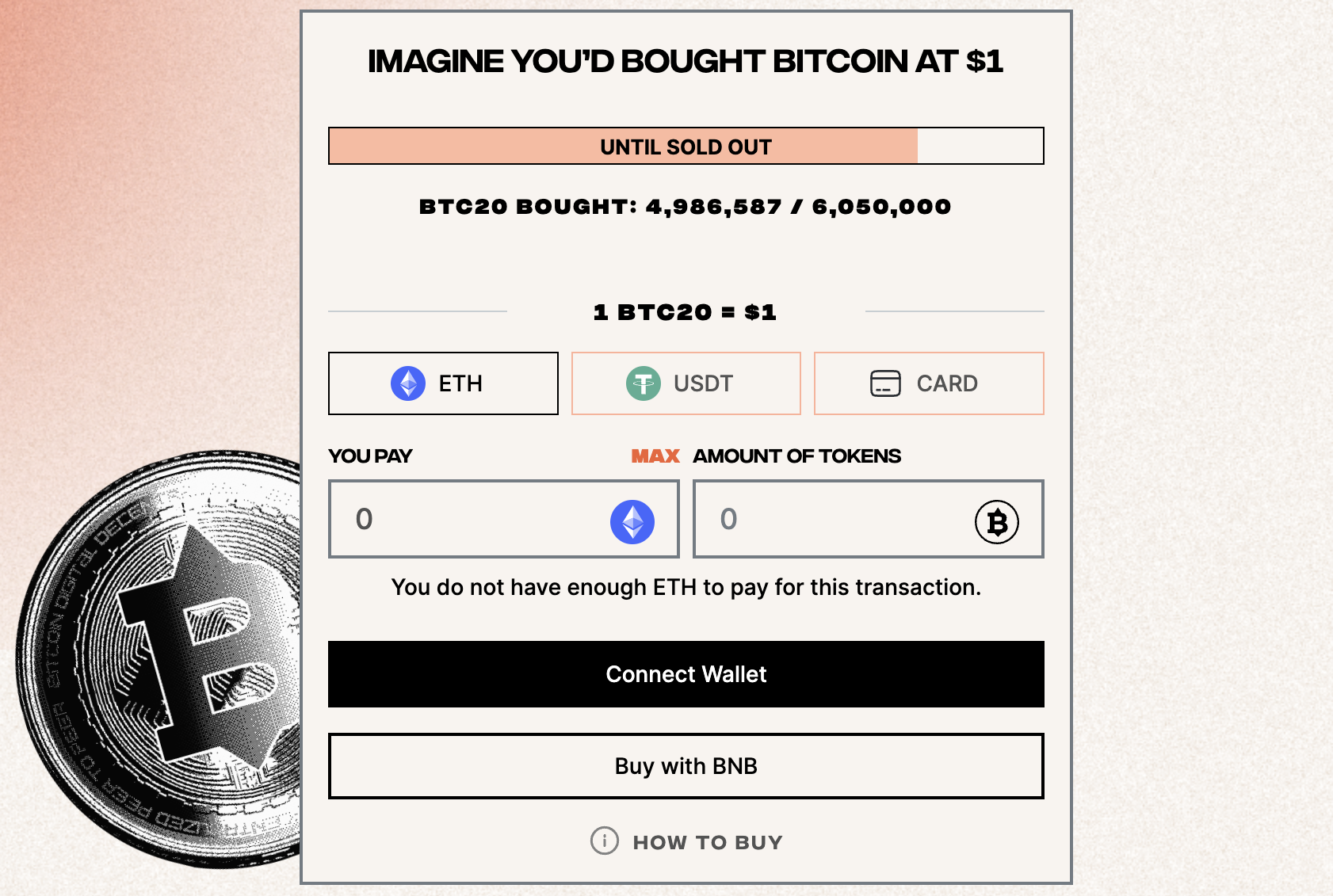 Simply put, it is giving away 6.05 million tokens via its presale, where each token is worth $1. The remaining 14.95 million tokens will be locked inside the liquidity contract, from which a set number of tokens will be released upon block execution as APY rewards that will be distributed to BTC20 stakers.
By switching mining for staking while retaining what made Bitcoin a major asset, BTC20 is providing users with a greener alternative to BTC, which could help bolster crypto adoption in a much better and less invasive way than Worldcoin.
The first 3 million tokens have already been sold out, and so far, $4.98 million have been raised. Interested parties can visit btc20.com to participate in this presale round.
Related 
Wall Street Memes – Next Big Crypto
Early Access Presale Live Now
Established Community of Stocks & Crypto Traders
Featured on BeInCrypto, Bitcoinist, Yahoo Finance
Rated Best Crypto to Buy Now In Meme Coin Sector
Team Behind OpenSea NFT Collection – Wall St Bulls
Tweets Replied to by Elon Musk