Various cryptocurrencies have made several millionaires in one hand. On the other hand, most people have lost most of their life savings. In 2021, many people quickly invested in the Shiba Inu coin, as it moved over and grew by 121,000,000%. They notably hoped for a high return. However, some are still hopeful that the coin will pump, as others are disappointed that the coin has not moved significantly.
Shiba Inu, a meme coin often referred to as a "Dogecoin killer," was created in August 2020 as an alternative to meme coins, including Doge. Shiba joins a group of meme coins, such as Floki Inu and Doge, whose creations were inspired by different dog breeds. It uses Ethereum's ERC-20 network to power its ecosystem. Notably, its emphasis is on speed and low-cost transaction fees.
When the past predicts the Future
The ongoing popularity of Shiba Inu has had a positive impact on its price. The market forecasts suggest that SHIB prices might reach all-time high records in the future. Since the debut of cryptocurrencies, SHIB has had a gradual price increase without a sudden downward trend or upward surge. Conversely, SHIB has not had any bullish or bearish curve. However, it is vulnerable to market volatility and fluctuations as a cryptocurrency.
Since October 2021, SHIB has had an enormous price pump moving from $0.000007 to $0.0008 in barely a month. However, after the straight spike, there was a sudden price drop of 50% in Shiba Inu, closing at $0.000038. Regardless of the market fluctuations and uncertainties unleashed through the pandemic, Shiba Inu managed to stabilize at the market price of $0.0000000407 in Feb 2021. This rise of Shiba Inu created massive interest among investors. Further, it led to the creation of more Shiba Inu projects.
Since the beginning of March 2023, the price of Shiba Inu has been underwhelming and not showing significant gains, leading many investors to anticipate a quiet period before a surge in altcoin prices.
Recently, a significant transaction involving Shiba Inu (SHIB) tokens caught the crypto community's attention. The transaction involved an unknown SHIB whale who transferred massive tokens totaling 3,484,812,794,902 SHIB in a single transaction. Whale Alert, a blockchain-monitoring service, was the first to report on this transaction.
🚨 🚨 3,484,812,794,902 #SHIB (40,284,435 USD) transferred from unknown wallet to unknown wallethttps://t.co/W1gioFya4q

— Whale Alert (@whale_alert) April 16, 2023
It's worth noting that Shiba Inu has shown signs of newfound life, but investors should be careful not to fall prey to false claims or scams. The SHIB developer's warning serves as a reminder to exercise caution and do their research before investing in any cryptocurrency project.
SHIB Market Price
Shiba Inu's (SHIB) price currently trades at $0.00001091 with a 24-hour trading volume of $356,191,852. The price has decreased by 5.41% in the past 24 hours and by 0.55% in the past 7 days. Shiba Inu's market cap is $6,445,074,402, based on its circulating supply of 590 trillion SHIB.
Although the price has declined by 0.40% in the past 7 days, Shiba Inu has outperformed the global cryptocurrency market, which has declined by 3.00%. However, it has underperformed compared to other cryptocurrencies in the Ethereum ecosystem, which have increased by 12.70%.
Shiba Inu is currently ranked 15 on CoinGecko. Its all-time low price was recorded on Nov 28, 2020, at $0.000000000056366, which is a staggering 19,454,571.66% lower than the current price. The all-time high price for SHIB was recorded on Oct 28, 2021, at $0.00008616, 87.27% higher than the current price.
SHIB/USD Technical Analysis
SHIB/USD Chart Analysis. Source: Tradingview.com
The price of SHIB has been on a downfall beginning the last half of April after showing signs of recovery that saw the price rise from a psychological support level. However, the price seems to be trading on a resistance line, indicating indecision between the buyers and sellers even though the buyers look like they are taking over, as shown by the small green candle.
There is a probability that the price might sore above the lower trendline and move towards the upper trendline at $0.00001200 and further $0.00001394. The ascending triangle also supports the buy move, indicating a bullish trend during trading. On the other hand, if the price goes below the trendline, we expect the price to move toward its former support level.
Love Hate Inu (LHINU)
However, to find the next Shiba Inu, it is wise to look at crucial similarities in the crypto market. For instance, investing in trending projects during its ICO and targeting low-cap projects. Let's look closely at the Love Hate Inu token, which has the most likely chance of becoming the next Shiba Inu. Love Hate Inu is offering its native token LHINU via a presale. Just like Love Hate Inu, Shiba Inu notably held an ICO, where early investors could grab SHIB tokens at a considerable discount. Additionally, one of the reasons Shiba Inu was able to generate life-changing returns is because it created hype from the word go.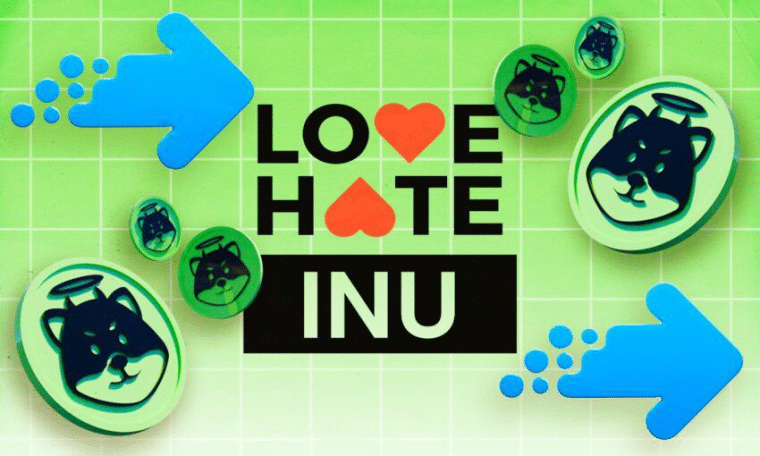 Notably, the Vote-2-Earn (V2E) platform, which the Love Hate Inu has created, allows one to vote and receive rewards. In less than a month, the new revolutionary vote-to-earn (V2E) crypto Love Hate Inu has raised $4.8 million in the public presale.
Good morning #LoveHateInu Voters!🌞

We're excited to announce that we have reached another milestone, with over $4.8 million raised!💰

A huge shout out to the #LoveHateInu Gang for their support!👏🐶

Don't wait any longer, join the #Presale today and cast your vote!🔥🚀… pic.twitter.com/mPZLREy2qE

— Love Hate Inu (@LoveHateInu) April 20, 2023
To celebrate the astounding success, the team has launched a contest to demonstrate how voting will take place on the platform. This love or hate poll allows participants to win $10,000. It is free to enter a competition that is carried out off-chain and is very easy to participate in. If you want to join the competition, visit the Love Hate Inu homepage. Below the presale contributions area, you will see the 'Vote for a chance to win $10,000' header; click the 'Vote Now to Win' button.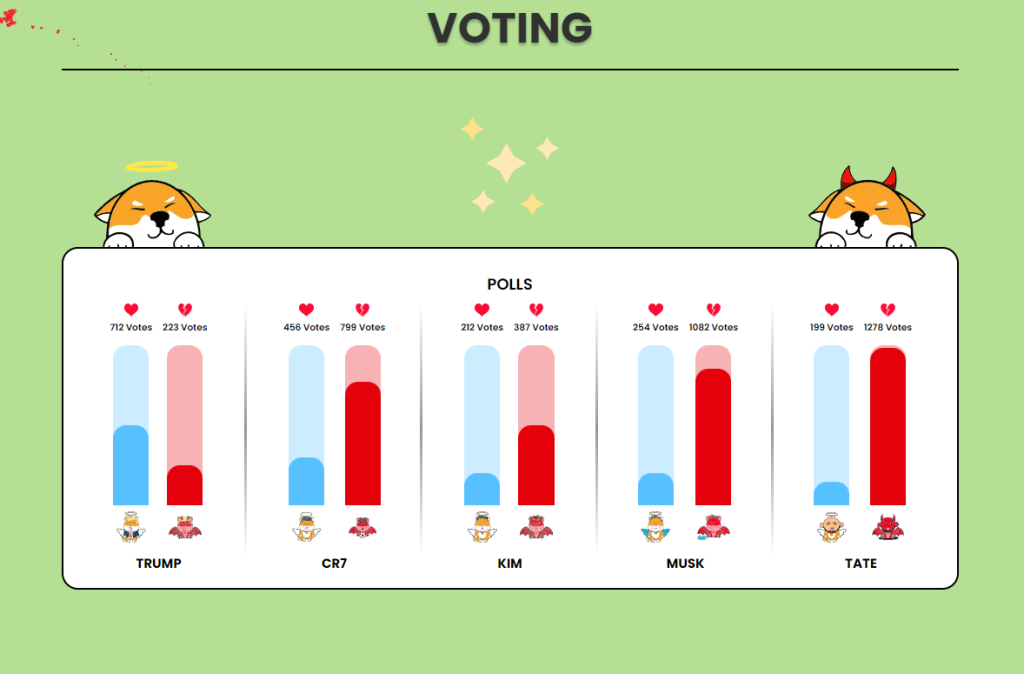 Love Hate Inu is now holding a presale of its LHINU token to raise money for the platform's growth. Love Hate Inu is soon going into stage six. Guide on how to buy LHINU tokens here.
Success in the presale is not shocking, given how popular the start-up has become on social media. Love Hate Inu's Twitter following has grown dramatically to over 34,000 since the debut of the presale. However, the early adopting investors can purchase LHINU tokens at a steep discount of $0.000115 each.
But that price is expected to increase to $0.000125. In a few weeks, LHINU's presale will conclude at $0.000145. By the time the presale is through, investors taking the bold step of investing now will have almost 30% gains.
In conclusion, LHINU is a fascinating concept that seeks to encourage community involvement through its unique vote-to-earn incentive system. LHINU has the potential to impact the crypto industry due to its community-centric strategy and unique selling characteristics. Everyone is eager to follow the development of this initiative in the near future.
More News:
Love Hate Inu – Newest Meme Coin
Decentralized Polling – Vote to Earn
Early Access Presale Live Now
Ethereum Chain
Mint Memes of Survey Results as NFTs
Staking Rewards
Viral Potential, Growing Community