In this article, we are introducing to you one of the most promising crypto projects of 2023 – eTukTuk. We will take a closer look at the underlying blockchain vision and how it supports the value of the native cryptocurrency TUK.
Tuk Tuks on EV
If you have traveled in South Asia, you don't need an introduction to Tuk Tuks. Also called auto rickshaws, these three-wheeled taxis are the backbone of public transportation in many developing economies.
But they are also a major contributor to pollution.
Approximately 270 million ICE (Internal Combustion Engine) Tuk Tuks are currently in operation worldwide, and this number is projected to reach 400 million by 2050. Since almost all Tuk Tuks use fossil fuels, they can drive us into disaster if left unchecked.
They need an intervention. And that's what eTukTuk is all about.
The eco-conscious blockchain project has been under development for more than five years and aims to foster a sustainable Web 3.0 ecosystem focused on electric vehicle transportation in developing countries.
Its goal is to gradually replace carbon-intensive vehicles on the roads. And in turn contribute to lower greenhouse gas emissions and better environmental conservation.
Although the project maintains a low-key profile, the upcoming token sale of TUK tokens has garnered significant attention from crypto investors. Both veteran investors and young retail investors are plowing in money to the presale, factoring in the financial and social prospects of the project.
The market relevance of TUK
eTukTuk's high market relevance lies in the fact that it addresses real-world challenges while utilizing blockchain technology.
Transitioning to electric vehicle (EV) transportation has long been known to be integral to climate action. But in developing economies, it's easier said than done. It is costly for most people in these countries.
Even if they can afford to buy these vehicles, the public EV infrastructure has yet to be developed. The lack of a reliable and extensive charging network further delays the adoption and usage of EVs.
EVs typically require a much higher initial capital investment compared to conventional fossil-fuel vehicles. Although they have lower operational and maintenance costs, it deters users. This cost barrier makes it difficult for the middle class and economically disadvantaged populations to make the move for themselves and the climate.
To learn more about the eTukTuk ecosystem, read the white paper. 
By focusing on this sector and introducing electric TukTuks, eTukTuk aims to make a significant contribution to reducing pollution in these countries.
To put it simply, it transforms the prevalent mode of transportation into a greener and more sustainable alternative.
It also supports the development of EV infrastructure in these economies.
And it supports everyone that holds together the network with financial rewards, as we will discuss below.
Key components of eTukTuk
We need to know the key components of eTukTuk to understand how it creates a sustainable and user-friendly ecosystem for electric vehicle transportation in developing economies.
So, let's take a look.
The backbone of the eTukTuk network is widely accessible, compact, and future-proof charging stations. They are strategically placed to ensure smooth delivery and operation of the vehicles.
eTukTuk Territory Partners play a vital role in installing and operating these charging stations. In exchange, they get rewards each time a driver of an eTukTuk or a compatible electric vehicle charges their vehicle at any of the eTukTuk charging stations.
The project has implemented a staking mechanism that enables participants to stake into the network and earn TUK rewards. Why? It safeguards the peer-to-peer (P2P) sharing economy.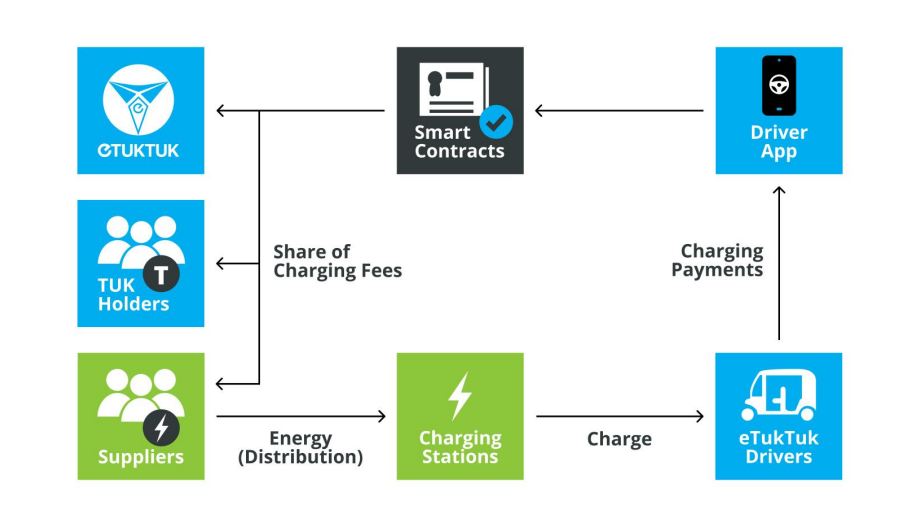 The eTukTuk ecosystem is designed to benefit everyone involved, including drivers, Territory Partners, and staking participants. Drivers can earn up to 400% more income with fuel charges out of the equation and maintenance costs lowered.
As part of expanding its network and increasing the availability of electric charging points across South Asia, eTukTuk is seeking partners in both the public and private sectors. The goal is to place more electric charging points at strategic locations, facilitating the widespread adoption of EVs in the particular region.
Reach out to eTukTuk via hello@etuktuk.io to learn more. 
Why TUK Could be One of the Top-50 Cryptos this Year
eTukTuk is one of the most forward-looking crypto projects of 2023.
eTukTuk's vision to reduce CO2 emissions is universal and thus broad in scope. But it has narrowed down its focus to the Tuk Tuk sector in developing economies for better efficiency.
This targeted approach allows the project to make more impact in the sustainability market.
Recently, eTukTuk partnered with Capital Maharaja Group (CMG) in Sri Lanka. It is a significant milestone for the project as a leading conglomerate like CMG provides eTukTuk with the necessary resources to establish a strong presence in South Asia. It will expand its network to local governments and more industry partners in the coming stages.
📢 Announcement 📢

eTukTuk is embracing a multi-chain approach to accelerate our mission to bring sustainable transportation solutions to South Asia and Africa.

Here is our statement on our recent announcement. pic.twitter.com/0L2tLa3HQs

— eTukTuk (@eTukTukio) July 22, 2023
TUK has the potential to kindle a 2000% surge on its initial exchange listing. While the token will rely on FOMO in the initial phases, its true potential will unfold in the long term with EV utility. The 40% discounted TUK community sale ends soon.