The value of MATIC, the native token of Polygon, a layer 2 blockchain built on Ethereum has skyrocketed in 30 days to trade at $1.142 at the time of writing. Since December's floor price of $0.75, MATIC price is up a colossal 52%, although the world's tenth-largest cryptocurrency has absorbed some overhead pressure from its January high at $1.195.
What's Driving MATIC Price Impressive Performance – How High Can It Go?
As a layer 2 protocol built on top of the leading smart contracts blockchain, Polygon has been the go-to platform for many projects and crypto users who want to avoid the exorbitant gas fees on the primary protocol (Ethereum) and the high network congestion.
Layer 2 projects can process transactions at faster speeds while keeping the associated transfer costs low. In other words, Polygon brings improved scalability to Ethereum thus promoting its mainstream adoption.
For instance, Polygon processes transactions off-chain – that are deemed accurate via various scaling solutions such as the commit chain (Polygon PoS), the Polygon Miden – a zero-knowledge rollup based on STARK, Polygon Hermez – an open-source zk-roll up and Polygon Nightfall – a privacy-focused rolled integrating zero-knowledge proofs among others.
The recent upswing in MATIC can be attributed to a spike in on-chain transactions, surpassing those of its anchor Ethereum network. According to data released by Token Terminal, the daily active users on Polygon have increased by approximately 340,000 compared to Ethereum's 320,000. BNB chain is the most actively used chain, with daily transactions reaching 800,000.
(2) Zack 🔺 Chief Alpha Officer on Twitter: "WOW @0xPolygon just overtook Ethereum in daily active users @sandeepnailwal imagine being bearish on $MATIC 🔥 https://t.co/MgqXDqgK8e" / Twitter
According to Polygonscan, the official platform for related blockchain data, the daily transactions on the network were almost 400,000, representing a 21% increase in just over two weeks.
Since January 1, the Total Value Locked (TVL) on Polygon DeFi has surged more than 20% to reach $1.22 billion. In the last 24 hours, the TVL of Polygon has risen by 1.56%, data from Defi Llama shows. At present, Polygon is the biggest DeFi platform after Ethereum, BSC, and Tron.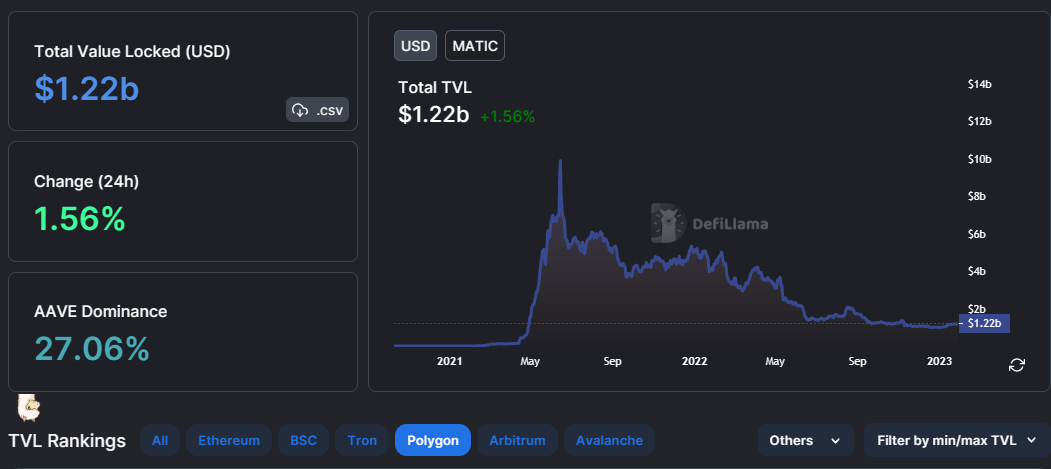 Polygonscan shows that the layer 2 blockchain processes about 3 million transactions per day; a figure significantly higher compared to Ethereum's 1 million. The Bitcoin PoW network falls further down with 300,000 transactions processed per day.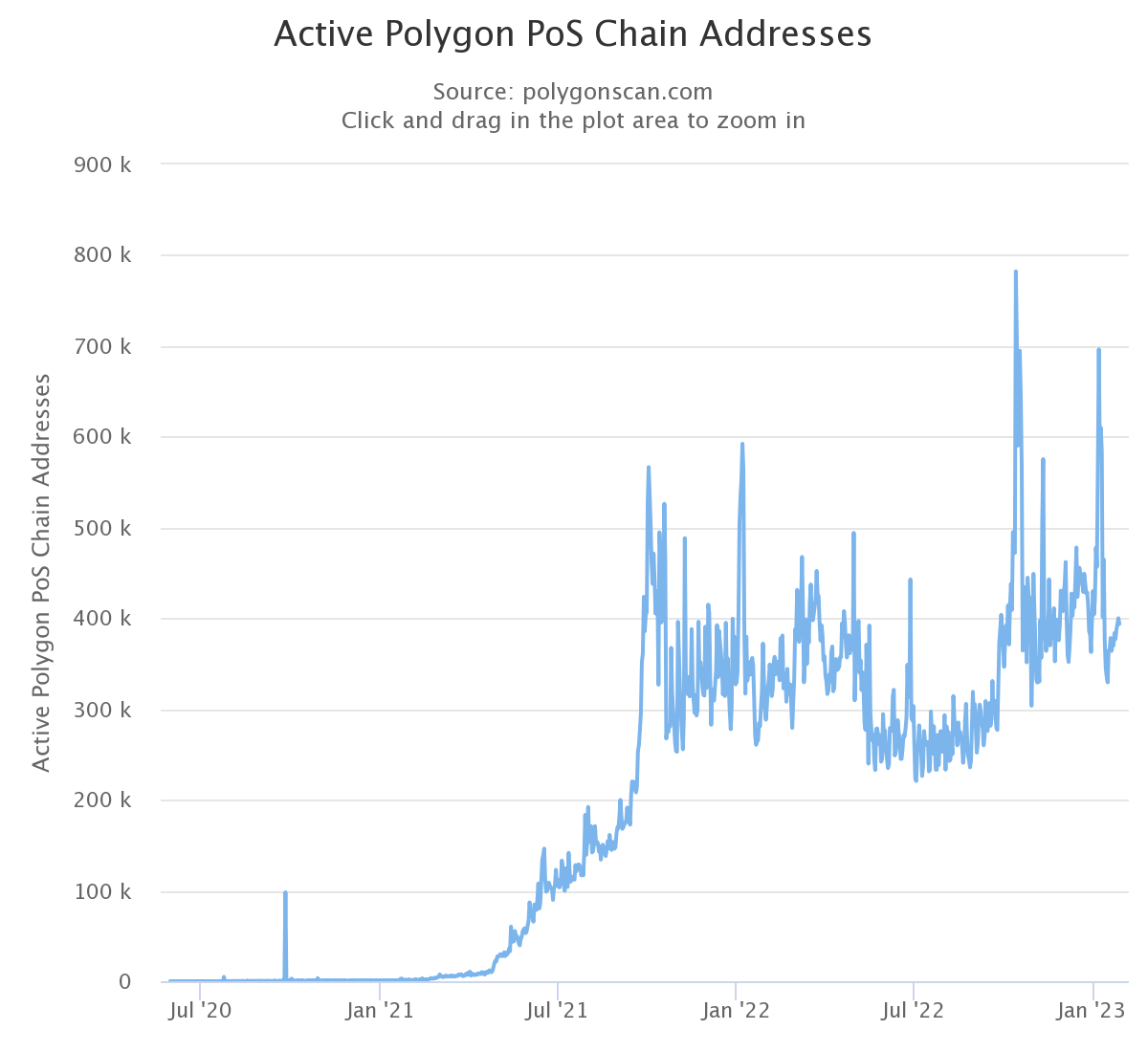 These Partnerships Uphold MATIC Price Uptrend
Polygon has bagged several partnerships this month, including the most recent collaboration with Arkham Intelligence, an on-chain analytics company. MATIC support on this platform has been scheduled for Q1 2023.
Ethereum is the only crypto asset listed on Arkham Intelligence. On January 20, Polygon announced another partnership with BitGo, a cryptocurrency exchange, which will see the latter support MATIC staking.
Mastercard, a widely used payments company, has revealed its plans to create a new program with Polygon. This Spotlight program is designed to support new musical artists by utilizing the potential of Web3 and blockchain technologies. It will give emerging creators a rare chance to access these modern technologies.
The Mastercard Artist Accelerator program is predicted to arrive in spring 2023, which will assist five up-and-coming talents from the music industry, such as DJs, producers, and musicians. These chosen individuals will be given the resources and knowledge to nurture their ambition and make an impact in the rapidly growing digital economy.
Where Is MATIC Price Headed To?
MATIC price slowed down the push to higher levels while approaching key seller congestion at $1.2. A minor correction followed the rejection from that resistance, explaining the prevailing market value of $0.142.
Polygon will likely spend the upcoming sessions searching for a higher support area where bulls can gather fresh momentum to launch another targeted attack on the hurdles at $1.20 and November's high at $1.30.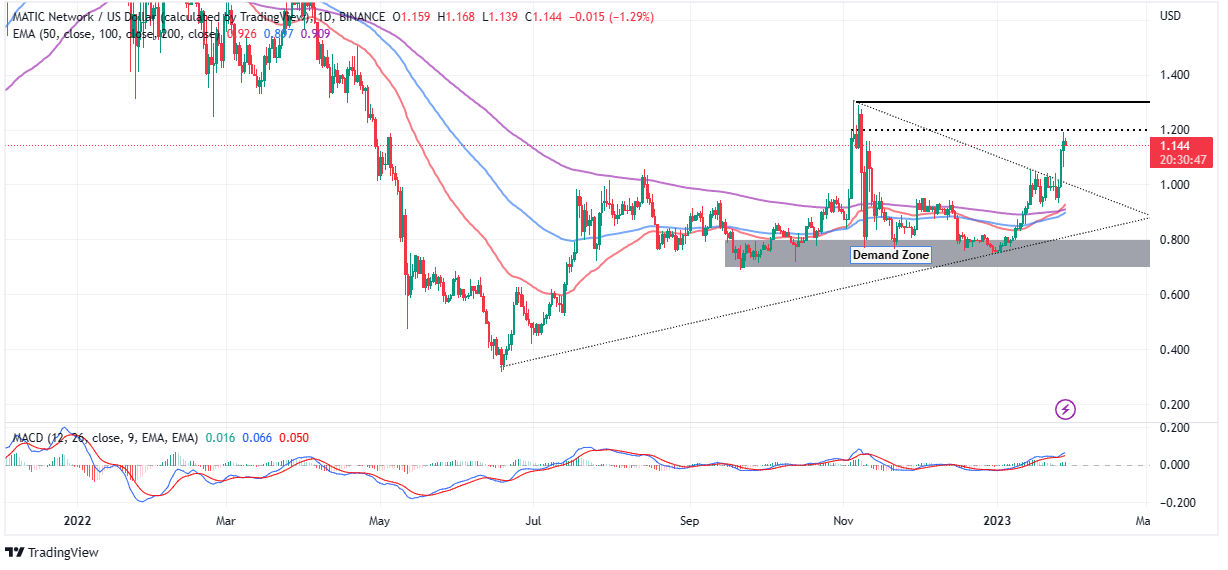 MATIC/USD daily chartIf the declines are not arrested in time, MATIC price could fall victim to selling impulses from investors who wish to lock in their gains. That said, a return to the subsequent support at $1.00 cannot be ruled out, at least for now.
It is worth mentioning that Polygon price extended the leg to $1.2 following a triangle breakout – illustrated in the chart above. MATIC also responded to a golden cross pattern formed when the 50-day Exponential Moving Average (EMA) (in red) crossed above the 200-day EMA (in purple).
Furthermore, MATIC price now sits significantly above all the applied moving averages, starting with the 50-day EMA at $0.926, the 100-day EMA (in blue) at $0.897, and the 200-day EMA at $0.909. The uptrend is bound to keep stretching to higher levels as long as MATIC sustains its position above these trailing indicators overlaying the chart.
Also reinforcing the optimistic outlook in Polygon is a buy signal that has been sustained by the Moving Average Convergence Divergence (MACD) indicator since the beginning of the month. Notice the divergence formed by the MACD line in blue above the signal line in red.
The most daunting task facing bulls is to break above two crucial hurdles: The seller congestion at $1.2 and $1.30, respectively. If successful, investors may start acclimatizing to gains eyeing highs of $1.6 and $2.0, possibly in a few weeks.
Should You Buy MATIC Today?
Polygon is a leading platform in the DeFi space and has made a name for itself as a secure layer 2 blockchain built on Ethereum. However, we would like to draw your attention to another emerging asset class – GameFi, which taps play-to-earn games that allow users to do what they like most and generate income.
Meta Masters Guild is one of these up-and-coming gaming projects reviewed by our team of experts. It has been given a green light as the fastest-growing cryptocurrency supported by an agile mobile-focused Web3 ecosystem.
Community members are rewarded in an in-game currency which they can swap for MEMAG tokens for staking purposes. The currency is versatile as it allows NFT purchases and other in-game items.
🚀 If you're not part of the #MEMAGFAM, what are you doing?? 🤯

We've already raised an impressive $1.55M in stage 3 of our presale! 💰

🪙 Buy $MEMAG now and be a part of our success story ⬇️ https://t.co/SBqVjX5mWn#presale #crypto #p2e #tokens pic.twitter.com/RcGn87IXiZ

— Meta Masters Guild (@MEMAGgames) January 27, 2023
You can find out more about the Meta Masters Guild crypto project at the link below and a guide on how to invest – so far, the best crypto presale has raised over $1.54 million in a matter of weeks.
Related Articles:
Meta Masters Guild – Play and Earn Crypto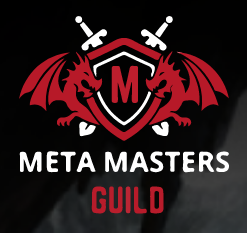 Innovative P2E NFT Games Library Launching in 2023
Free to Play – No Barrier to Entry
Putting the Fun Back Into Blockchain Games
Rewards, Staking, In-Game NFTs
Real-World Community of Gamers & Traders
Round One of Token Sale Live Now – memag.io