Vodafone, one of the world's leading telecommunications companies, is making waves in the crypto space with its upcoming launch of non-fungible tokens (NFTs) on the Cardano blockchain.
Vodafone Ventures into NFT Territory on Cardano Blockchain
Vodafone Germany teased an exciting announcement on June 27th, unveiling their strategic move to utilize Cardano's blockchain infrastructure for their non-fungible token (NFT) initiative. During the announcement, a representative from Vodafone highlighted several key factors that influenced their decision.
They emphasized the strong and vibrant community surrounding Cardano, as well as the blockchain's sustainable features and its ability to connect with other chains seamlessly. These compelling reasons solidified Cardano as the preferred choice for Vodafone's NFT venture.
While the project is still in its early stages, Vodafone has wasted no time in engaging its community. The first 1,000 members of the Vodafone Discord community will be rewarded, although the exact nature of these rewards has yet to be determined.
Hints about Vodafone's NFT plans had been circulating on June 27 when the company's Twitter account shared a link to its Discord server, creating anticipation for the upcoming announcement.
The confirmation of Vodafone's entry into the NFT space highlights the intersection of telecommunications and blockchain technology. With this move, Vodafone aims to tap into the immense potential of NFTs on the Cardano platform.
This announcement follows the growing trend of global corporations exploring the opportunities presented by blockchain and NFTs. Cardano's unique sustainability attributes and strong community base have positioned it as an attractive choice for enterprises seeking to venture into the world of blockchain technology.
Vodafone's foray into the NFT landscape will be facilitated by NMKR, a renowned NFT creation platform. Patrick Tobler, NMKR's founder, and CEO, confirmed that his company would play a pivotal role in minting the NFTs for Vodafone's collection.
It's official: @vodafoneservice is coming to @Cardano.

Minting with @nmkr_io. pic.twitter.com/YhSDdRMkWG

— Patrick Tobler (@Padierfind) June 28, 2023
Vodafone's venture into the world of non-fungible tokens (NFTs) further highlights the growing acceptance and utilization of this innovative technology.
As the ninth-largest telecommunications company on a global scale, Vodafone's involvement in NFTs presents a substantial opportunity for participants in the cryptocurrency industry.
Also, see our list of best NFTs to buy in 2023.
Lacoste Breaks New Ground with Revolutionary NFT Expansion
In related news, French fashion brand Lacoste has made a bold move in the digital world by expanding its non-fungible token (NFT) ecosystem. The brand has introduced a unique rewards and co-creation feature for its UNDW3 community.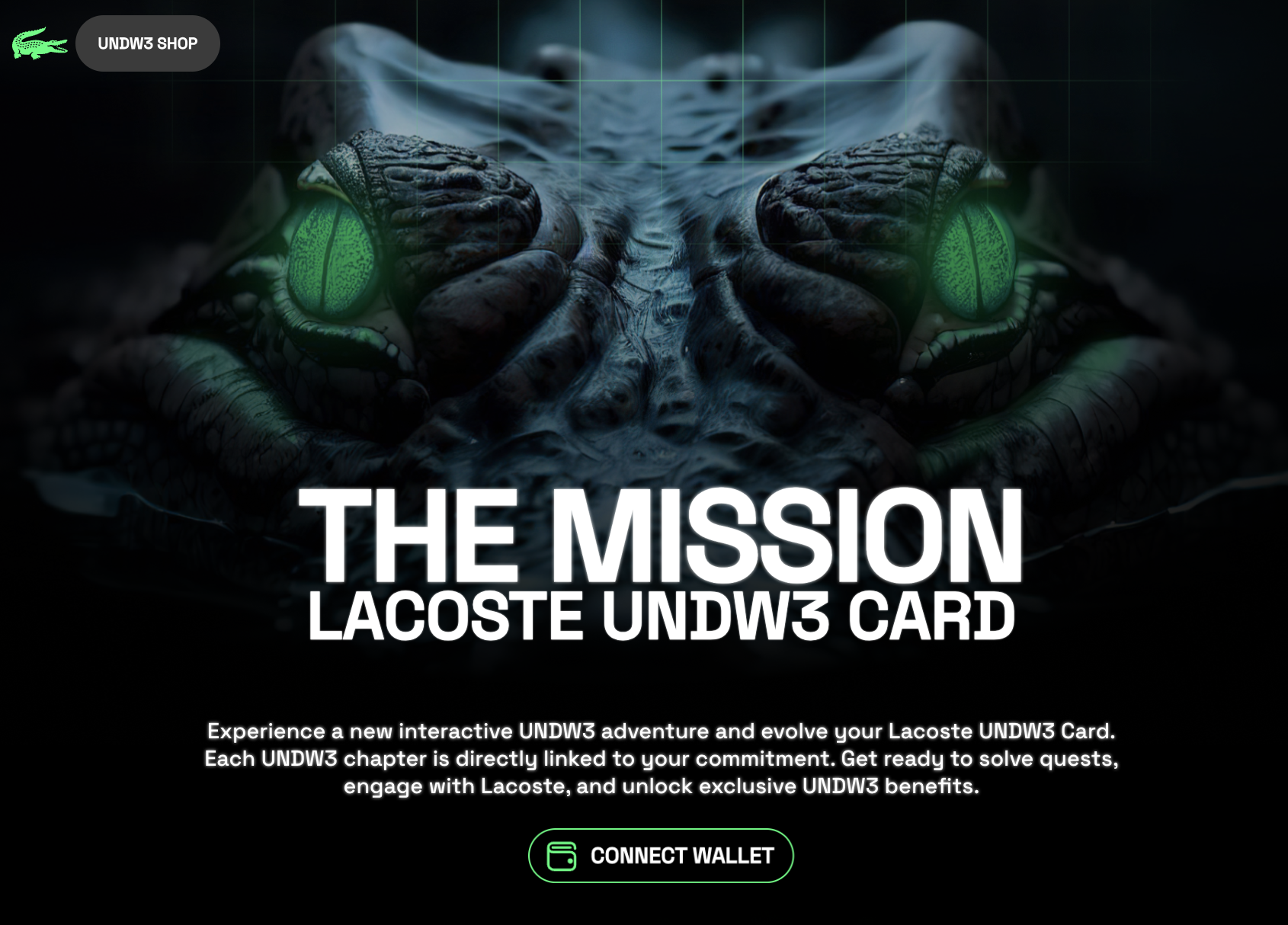 Lacoste initially unveiled its UNDW3 collection in June 2022, consisting of 11,212 profile picture (PFP) NFTs. The collection offered "Genesis Passes" to its community, granting access to exclusive merchandise and real-life community events. Each NFT was minted for 0.08 ETH, around $95 at the time.
True to their promise, Lacoste surprised NFT holders with crocodile-themed PFPs in September, hinting at the forthcoming expansion of an "experiential, interactive, and co-creative universe."
The latest update allows Genesis Pass holders to convert their NFTs into an UNDW3 card and connect their wallets to a dedicated site. This unlocks a range of interactive features, including creative sessions, contests, video games, and engaging conversations.
The platform also rewards user activity with points, offering a chance to secure a spot on the leaderboard and increase the rarity of their NFT.
Catherine Spindler, Lacoste's deputy CEO, expressed the brand's long-term vision, stating, "Pioneering the concept of a dynamic NFT within our industry is a testament to our bold vision. Beyond the fleeting trends surrounding NFTs and the metaverse, we see blockchain as an accelerator, ushering in a more inclusive and experiential digital realm. By rewarding co-creators and fostering horizontal relationships with our customers, we invite them into our creative process."
Lacoste's expansion into the digital landscape aligns with its previous endeavors in collaboration with Roblox to offer digital clothing items. This move follows similar steps taken by other prominent fashion brands like Nike, Adidas, Dolce & Gabbana, and Gucci as they expand their NFT offerings.
Lacoste's foray into the digital world solidifies its position as a trailblazer, combining fashion and technology. By immersing its community in the ever-evolving Web3 universe, Lacoste continues to redefine the possibilities of NFTs in the fashion industry.
Related Articles
Wall Street Memes – Next Big Crypto
Early Access Presale Live Now
Established Community of Stocks & Crypto Traders
Featured on BeInCrypto, Bitcoinist, Yahoo Finance
Rated Best Crypto to Buy Now In Meme Coin Sector
Team Behind OpenSea NFT Collection – Wall St Bulls
Tweets Replied to by Elon Musk