The wider crypto market has gained 0.73% over the last 24 hours, to stand at $1.20 trillion. Cryptos prices have displayed a drab price action with Bitcoin oscillating around the $29,000 level.
This could be attributed to the generally gloomy outlook of the U.S. financial sector following reports of another bank losing more than 50% of its share value.
The pressure on the financial sector has also been reinforced by the U.S. Federal Reserve raised interest rates by 0.25%, bringing the total increase to 5%.
Despite the financial tumult, the market sentiment remains positive as bulls remain resilient. According to data from Alternative, a firm that analyzes "emotions and sentiments" around cryptocurrencies shows that the Crypto Fear and Greed Index was in the "Greed" zone.
Alternative says that when this index is "Greed", the investors are buying more, which is a bullish sign.
Crypto Fear and Greed Index
As such, investors are moving their funds into altcoins like Pepe (PEPE), Floki Inu (FLOKI), BitDAO (BIT), and SpongeBob (SPONGE) which have been performing well over the last few days.
Their price actions will be analyzed in this article alongside the performance of other top cryptos in presale such as AiDoge, yPredict, Deelance (DLANCE), and Ecoterra. 
Pepe Coin ($PEPE) Market Cap Reached $1.2 Billion
PEPE is nearing the three-week mark since its launch, still rising on its absurd origins. The meme coin is now beginning to find more support from one of the biggest mainstream crypto players, which facilitated new heights for the cryptocurrency.
Rising by more than 2000% in the span of 24 two weeks, Pepe coin is now trading at $0.0000038. Apart from the general bullish frenzy surrounding the altcoin, a major catalyst in this rally was a series of listing announcements from major crypto exchanges including Binance.
The biggest crypto exchange in the world stated that it would be adding PEPE coins with USDT and TUSD pairs on the platform starting May 5. 
#Binance will list @pepecoineth $PEPE and @RealFlokiInu $FLOKI in the innovation zone.

➡️ https://t.co/yxcINj0whc pic.twitter.com/o4UTvWZkHj

— Binance (@binance) May 5, 2023
This listing has basically legitimized the meme coin leading to the PEPE coin market capitalization crossing the $1 billion mark, booking its position amongst the top cryptos by market value.
At the time of writing, PEPE was valued at a total of $1.2 billion, as was positioned at #42, according to CoinMarketCap ranking.
The Relative Strength Index (RSI) and the moving averages were facing up. The price strength at 63 suggested that the buyers were in control of the PEPE price.
PEPE/USD Four-hour Chart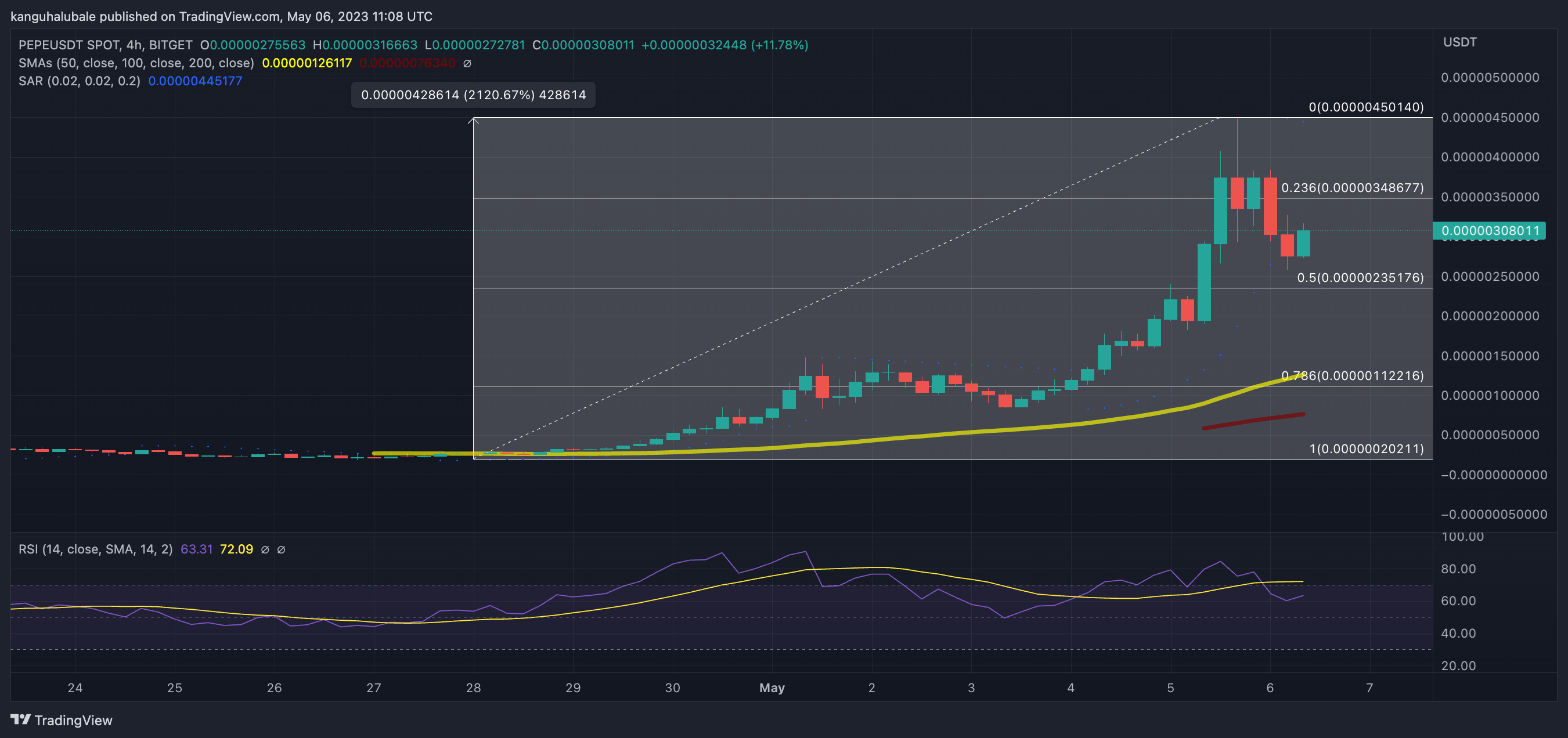 Buyers will now attempt to push the price higher, first toward the $0.0000036 level, embraced by the 23.6% Fibonacci retracement level and later the $0.0000045 swing high.
On the downside, a daily candlestick close below the 50% retracement level at $0.0000235 would see PEPE drop toward the 50-day Simple Moving Average (SMA) at $0.00000126.
Floki Inu Price Rallies 80% In 24 Hours
FLOKI has been displaying strength over the last few days, rising as much as 80% from $0.0000319 to set a swing high at $0.00005794 on Friday.
At the time of writing, the meme coin is down to 13.9% in 24 hours, and 87.4% below its all-time high price of $0.0003437 recorded on November 4th, 2021.
FLOKI/USD Daily Chart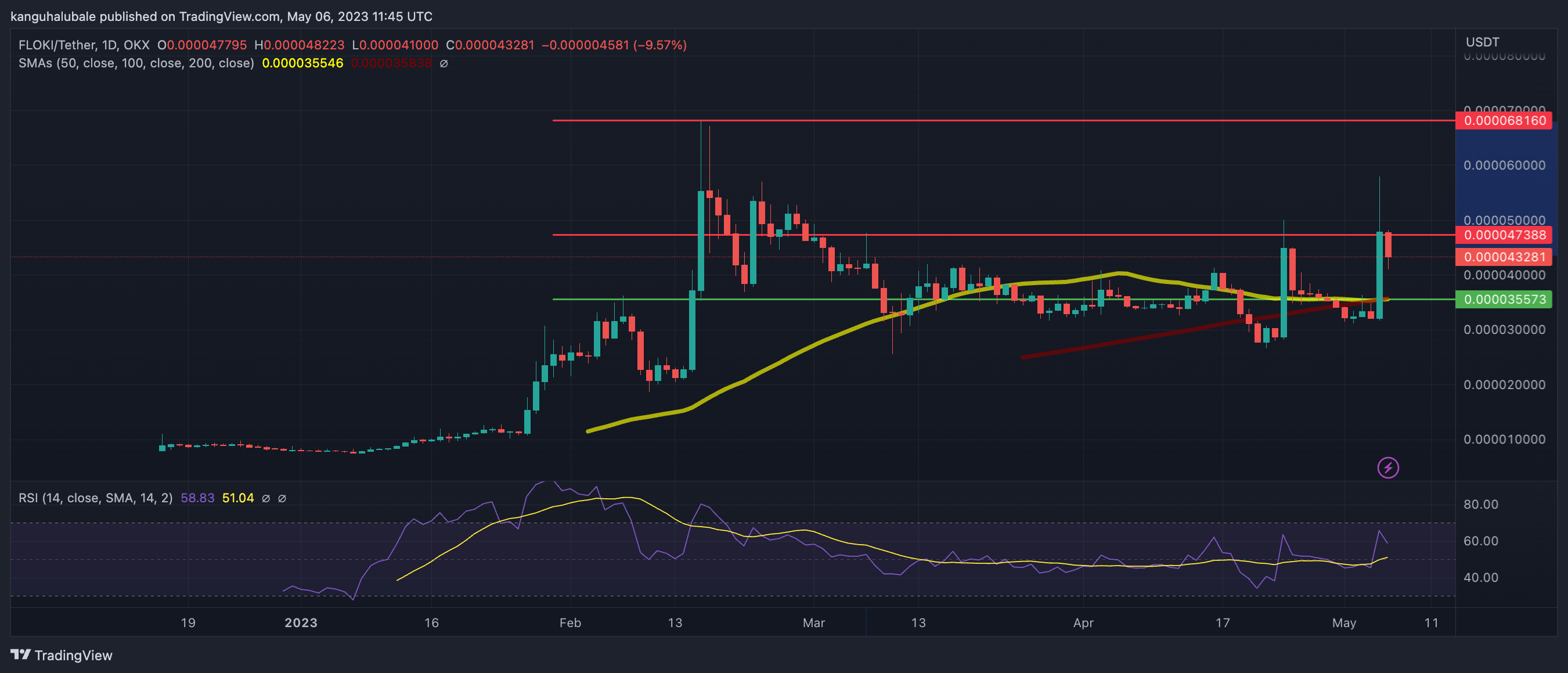 FLOKI is trading above the 100-day and 50-day SMAs which appear to be converging at $0.000035, respectively, signaling a bullish market.
The RSI sits at 58, indicating that the FLOKI market is within the positive zone, as earlier indicated by the Crypto Fear and Greed Index.
Nonetheless, $FLOKI boasts an impressive trading volume of $334 million, which has more than doubled in the last 24 hours (up 109%). This points to increasing investor interest in the meme token.
With an anticipated bounceback in sight, FLOKI is expected to turn up from the current level to confront resistance from the $0.000047 level. Overcoming this barrier would see a return to the $0.000068 range hugh, representing a 55% uptick from the current price.
Conversely, the RSi was facing down meaning increased selling pressure from the current price may extend the ongoing correction taking the Floki Inu price below the SMAs at $0.0000355 toward the $0.000030 psychological level.
AiDoge – A Revolutionary
AI-driven Meme Generator
AiDoge (AI) ranks among the top crypto gainers today due to its dynamic integration of advanced artificial intelligence (AI) into the cryptocurrency sphere, which has boosted its popularity and market value.
Unlike meme tokens that rely solely on media hype but lack utility, AI aims to provide intrinsic use cases for internet memesters through its ecosystem, AiDoge.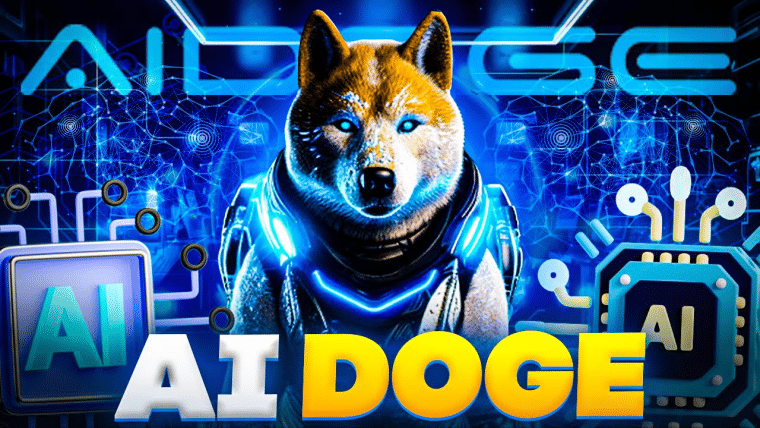 AiDoge is a decentralized meme project that leverages generative artificial intelligence (AI) technology to help individuals create high-quality memes. 
To generate a meme, users simply enter the desired meme content, and the sophisticated generator automatically produces high-resolution memes informed by current cryptocurrency news and trending meme datasets.
Users who produce the most engaging memes receive $AI tokens as a reward for their inventiveness, and can also stake these tokens on the platform to earn passive income.
What do you get when you combine AI and #MemeCoins? ?#AIDoge – the perfect mix of utility and innovation! ?

Seriously. You don't want to miss out on $AI.?

Join the #Presale today! ??
? https://t.co/5j5tt4smcs$PEPE $FLOKI $SHIB $DOGE $BONE $ELON $QUACK $VOLT #PepeCoin pic.twitter.com/NpHccEOWdS

— aidogecrypto (@aidogecrypto) May 5, 2023
Staking offers advantages not just for crypto investors but also promotes long-lasting engagement and sustainable ecosystem growth.
The ongoing presale of $AI has already drawn considerable attention from investors worldwide, raising over $1.76 million.
Crypto enthusiasts from across the globe are taking notice of the $AI token the project, AiDoge, seeks to disrupt the internet meme sector and harness the expanding potential of the artificial intelligence ecosystem.
To join the ongoing presale, interested traders need to have ETH, USDT, or funds on their bank cards to acquire $AI tokens.
At present, the digital asset's price is set at $0.0000264 but is expected to increase to $0.0000268 when the new presale phase commences in five days.
Visit AiDoge here for more details on how to participate in the presale.
Ypredict – Presale Raise Crosses The $575K Mark!
Another one on our list of top crypto gainers today is the yPredict's native token, YPRED. This digital asset is enjoying a successful presale program, raising over $575,000 from investors in a short period.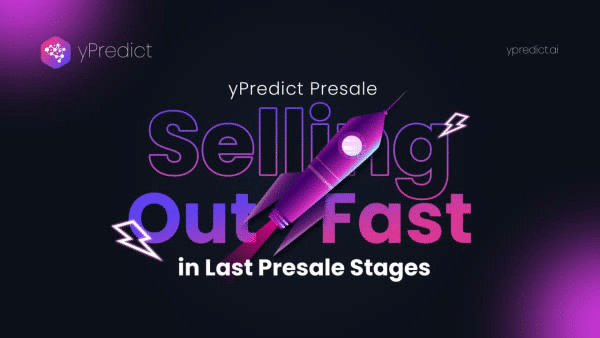 The $YPRED crypto is currently auctioning at $0.05 USDT and will rise with each stage of the presale. Due to its strong value proposition and the 140% ROI when the token sells for $0.12, yPredict is anticipated to soar.
yPredict.ai seeks to close the gap for traders left with extreme noise and no statistical edge due to the complexity of the financial market.
The cutting-edge platform also significantly provides access to data-driven insights, validated analytical metrics, and a prediction marketplace.
This contrasts with relying on news, public opinion on social media, and trading signals from dishonest signal providers.
Here, financial data scientists can offer the outcomes/signals produced by their predictive models as a monthly subscription service.
? Unleash the power of yPredict! Access thousands of crypto price predictions ?, AI-driven analytics ?, a developer marketplace ?, and a sophisticated trading terminal ?. Elevate your trading game and harness the future of AI-driven tools! #YPRED #Crypto #TradingSuccess pic.twitter.com/WNxGQpfhzd

— yPredict.ai (@yPredict_ai) May 4, 2023
In addition, model predictions can be sold as a service on yPredict platforms, including the marketplace.
As a result, users can utilize their skills without having to deal with trading operations or find a market for their predictive analytics.
Although there are several prediction markets in the crypto space, none provide the comprehensive set of AI-powered actionable insights that the yPredict ecosystem gives.
The platform uses AI and machine learning (AI/ML) to give traders and quants a competitive edge.
Furthermore, the YPRED token will be a source of passive income for data scientists and machine learning engineers, adding yet another dimension to the token's core functionality.
Visit yPredict here for more details on the project and the presale.
DeeLance – Blockchain-Powered Freelance Recruitment
The gig economy is experiencing a substantial transformation with the increasing prevalence of remote work.

A report by the World Economic Forum (WEF) revealed that a remarkable 65% of employees now favor full-time remote work and they do not want to go back to working from the office.
This leads to the anticipated growth of the global gig economy, which is expected to surpass $450 billion by 2023. The freelancing industry alone is forecasted to exceed $12 billion by 2028.
In the midst of this rapid growth, web3 technology is unlocking unparalleled possibilities within the freelancing sector.
DeeLance, an innovative web3 freelancing platform, is leading the charge in this widespread workforce transition, redefining how freelancers and clients engage in a decentralized, transparent, and secure setting.
Hey DeeLancers! ?‍?

Join the revolution in freelancing with DeeLance! Simple signup, low fees, and fast, secure payments with crypto and an escrow system???

Presale is live – Grab some $DLANCE today! ⬇️https://t.co/XHnTqVzMLN#Presale #Crypto #DeeLance pic.twitter.com/5bJmDyKlZi

— DeeLance (@deelance_com) May 5, 2023
Traditional Web2 freelancing platforms, such as Fivver and Upwork face Issues like limited data control, high commission fees, and prolonged payment cycles.
DeeLance leverages Web3 technology to offer a solution to these challenges, providing a decentralized, transparent, and secure freelancing experience.
DeeLance will be built upon three core pillars: Non-Fungible Tokens (NFTs), the Metaverse, and the recruitment platform.
NFTs play a crucial role in guaranteeing secure digital work ownership, allowing freelancers to tokenize their work and safely transfer ownership to clients.
The Metaverse will offer a virtual space for collaboration and networking, where freelancers can have virtual office spaces and interact with clients through digital avatars.
As a recruitment marketplace, DeeLance will connect professionals with top-notch job opportunities, streamlining the hiring process.
DeeLance's fast-selling presale has raised over $621,000, implying growing investor confidence in the utility token, $DLANCE, and its potential to revolutionize the freelancing economy
Visit DeeLance here to know how to participate in the DLANCE presale.
BitDAO Price Analysis – BIT Eyes A Return To $0.57%
BIT price has been performing amazingly well over the last few days, painting four consecutive candlesticks on the daily chart between May 2 and 5. 
This price action puts the BitDAO token amongst our top cryptos today with the expectation that the positive trajectory will continue over the next few days.
At the time of writing, BIT was trading in the red at $0.506 and was fighting immediate resistance from the 50-day SMA at $0.51.
Failure to produce a daily candlestick close above the 50-day SMA would signal continued profit booking by the bears with the ensuing overhead pressure pulling the governance token below the %o.50 psychological level toward the $0.474 support floor.
A drop lower could see BIT retreat toward the 200-day SMA at $0.4567. This would resent an 8.5% drop from the current price.
BIT/USD Daily Chart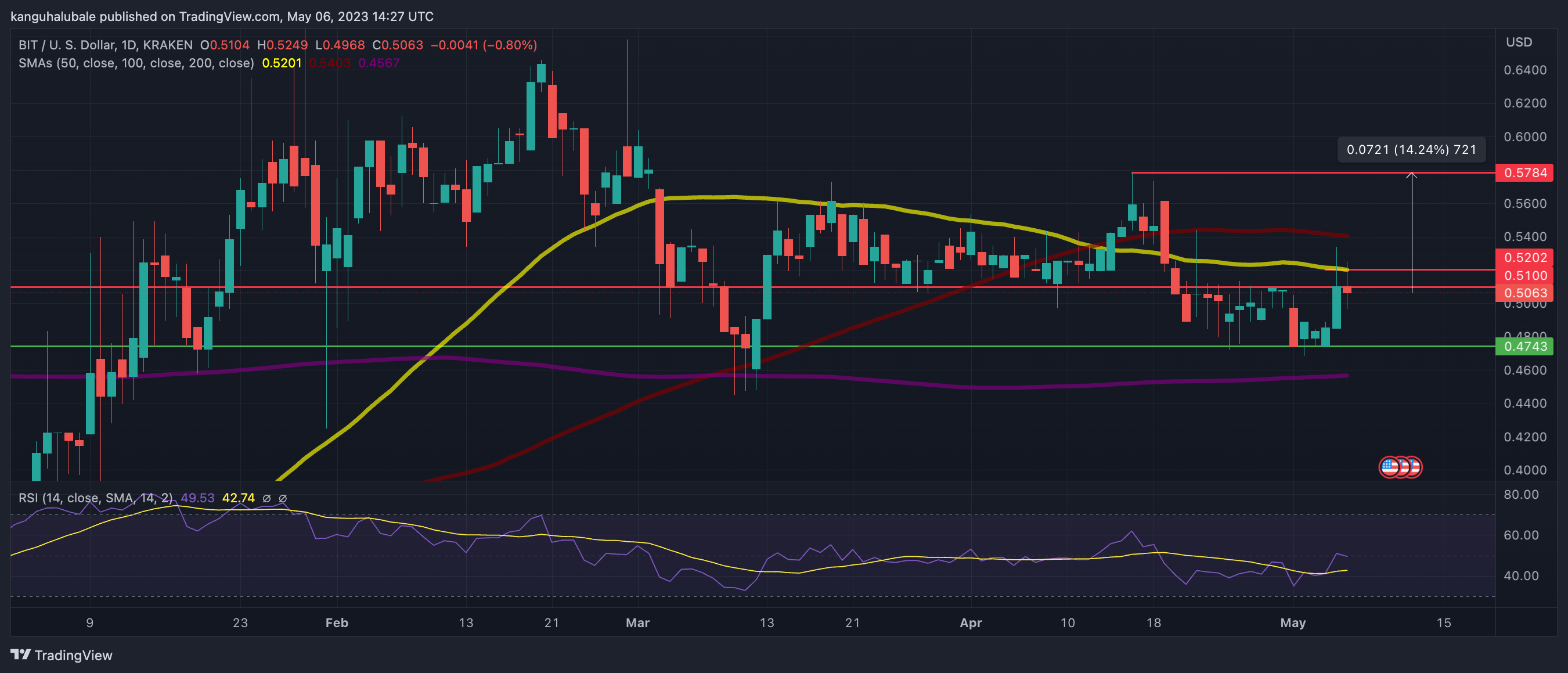 On the upside, the current retracement may give late buyers an opportunity to get in on the dip with the accompanying buying pressure pushing the BitDAO token first toward the 50-day SMA and later the 100-day SMA at $0.54. 
In highly ambitious cases, BIT may shatter the resistance provided by the 100-day SMA paving the way for a 14.4% uptick toward the $.57845 range high.
Ecoterra – Introducing The Recycle-to-earn Era
Another top crypto today is ECOTERRA, the native token of Ecoterra. This eco-friendly project uses blockchain technology and an innovative recycle-to-earn (R2E) model to incentivize members to participate in effective waste management.
The R2E reward system encourages users to become more environmentally conscious and provides them with an opportunity to participate in programs that would help them reduce their carbon footprint.
Here is 3 way you can help protect the environment:

?️ Switching to reusable bags
? Biking or walking
? Purchasing $ECOTERRA

It's quick and easy – Join the ecoterra #Presale now!https://t.co/1fYkPOsPYG pic.twitter.com/896Xadj7rD

— ecoterra (@ecoterraio) May 5, 2023
The platform's robust application is one of the features that has piqued the interest of investors. The ecoterra app's recycle-2-earn feature allows members to earn ECOTERRA tokens for each item they recycle – glass bottles, silicon cans, and plastic.
Additionally, the tokens users earn can be staked, spent, or saved in a crypto wallet. This will attract more manufacturing companies looking to recycle used products to facilitate a more cost-effective manufacturing process.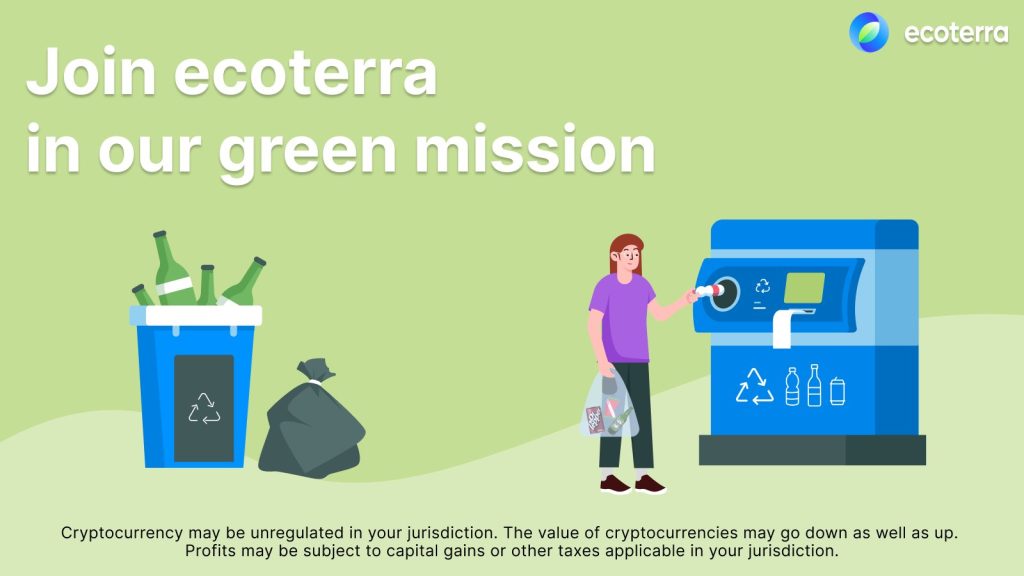 Ecoterra is paving the way for others to follow by demonstrating how decentralized technology can improve the world.
Although not yet listed on public exchanges, ECOTERRA has received significant attention through its ongoing presale, with over $3 million raised from global investors.
??️Great news!

We've raised over $3 MILLION in our $ECOTERRA token #Presale!

Thank you to everyone who has supported our mission towards a greener future ??

Join us today and be a part of the movement! https://t.co/1fYkPOsPYG#Crypto #GreenFinance pic.twitter.com/Ehrku0fLcF

— ecoterra (@ecoterraio) May 5, 2023
At press time, 1 ECOTERRA is trading at $0.007 USDT and is expected to rise as the presale progresses.
Visit Ecoterra here to find more about the project and its presale.
Spongebob Price Explodes $2700% On DEXTools 
Rounding up the list of top crypto gainers today with the most upside potential is SPONGE, a soaring sensation set to anchor the popular cartoon character Spongebob.
Already, the crypto community is ablaze with mainstream excitement following the recent surge of meme coins, with the incredible 10,000% spike of $PEPE being a prime example.
SPONGE/USD Hourly Chart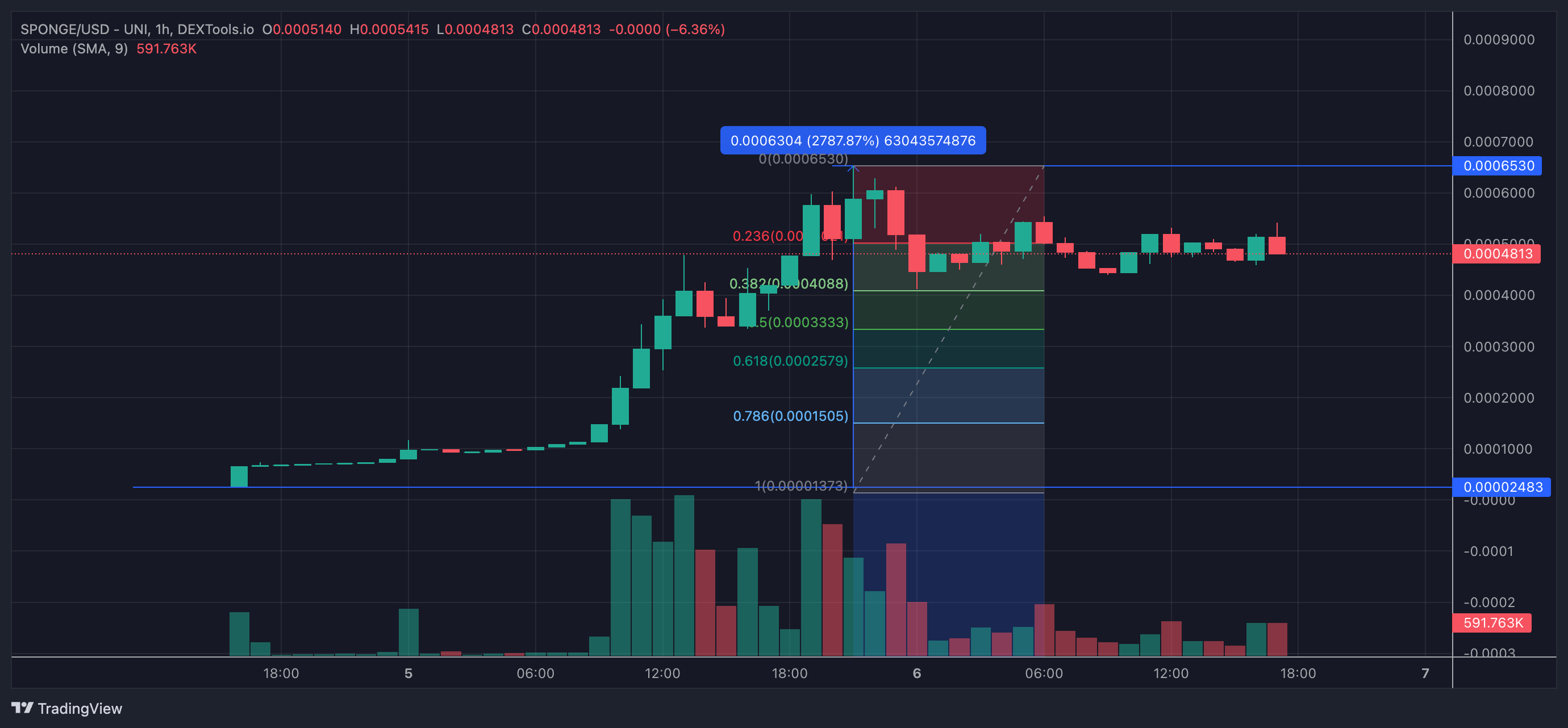 SPONGE is designed to be the next explosive crypto asset as it captures the squeaky voice of the Bikini Bottom dweller, Spongebob, and boasts of a stunning $20 million market cap, two centralized exchange listings and more than 3,500 holders at press time.
First 48 hours of $SPONGE

20m Market Cap

Holders 3500+

2 CEX Listings https://t.co/ufr7HhJ1oT

— Pumpcoinbets – Crypto & NFT (@pumpcoinbets) May 6, 2023
The token debuted on May 4, with a listing price of $0.00007261 on CoinMarketCap. Since its debut, the innovative token has recorded over 2700% price pump in less than 48 hours.
Now priced at $0.0004813, financial experts believe the SPONGE ecosystem is poised to replicate the run of $SHIB and PEPE. Early-bird investors can take advantage of the current low price of the next meme king, which is expected to skyrocket.
Related News:
DeeLance – New Web3 Coin Presale
First Decentralized Freelancing Network
Find Employers in the Metaverse
NFT Marketplace, $100k Giveaway
Presale Stage One Live Now
SolidProof & Coinsult Audited