Bitcoin and cryptos are regaining strength after the United States Federal Reserve hiked interest rates by 25 basis points in a case that market watchers are referring to as "sell the rumor, buy the news." Although the hike was anticipated and mostly priced in, bulls reinforced their grip on the largest crypto, now trading slightly above $29,000.
Ethereum gained 2% in 24 hours to trade at $1,903 on Thursday with Solana (SOL) and TRON (TRX) coming up stronger with %4.8 and 6.8% in intraday gains. Investors would be digressing toward altcoins like Render Token (RNDR), Woo Network (WOO), Curve Dao Token (CRV), and Rocket Pool (RPL), which have all been performing remarkably well over the last few weeks.
Crypto Investors Overreact to FED's Decision
According to Santiment, a leading on-chain data analytics platform, traders in anticipation of the Fed decision on interest rates may have sold the rumor while buying the news.
However, a few hours after the regulator's announcement, prices have been gaining momentum. Such decisions by investors are driven by similar events in the past that have led to negative outcomes.
Still, after the actual event or news occurs the market tends to recover as the hostile event turns out to be less severe compared to market expectations.
🤑 Was this latest #Fed rate hike all just one massive "sell the rumor, buy the news" phenomenon for #crypto traders? We can often overreact to a repeated news event when previous ones have correlated with drops. Read our insight on our optimistic outlook. https://t.co/P32mYwUpx3 pic.twitter.com/2Lb5zFzfqC

— Santiment (@santimentfeed) May 4, 2023
Despite Bitcoin erasing the recent losses to $28,000, it remains uncertain if the uptrend will last with a much-awaited climb above $30,000. For that reason, investors may want to be ready by considering some of the best crypto presales to diversify their portfolios.
Presales have become the most affordable investment option for early adopters. Up-and-coming projects like AiDoge (AI), Love Hate Inu (LHINU), DeeLance (DLANCE), and Ecoterra (ECOTERRA) solve real-world problems using Web3 and artificial intelligence technologies.
Participating in presales gives you early access to new projects that aren't yet available on public exchanges. This can give you an edge in securing tokens at a lower price before they become widely available.
Render Token Stable Above $2
Render Token (RNDR), a decentralized blockchain infrastructure that enables fast, secure, and low-cost 3D rendering services, solving the problem of costly and time-consuming rendering while making it more accessible and efficient for creators and artists, soars 5% on Thursday after confirming support at $2.
Although RNDR is trading at $2.22, it climbed to test resistance at $2.5 before pulling back. Consolidation is expected between the two key levels at $2 and $2.5 in the coming sessions.
Notably, a break above $2.5 has the potential to help focus the uptrend on higher targets at $5 and $10, respectively. However, the position of the Moving Average Convergence Divergence (MACD) indicator implies buyers must leave nothing to chance and push aggressively. Otherwise, a trend reversal is likely with the MACD line in blue crossing beneath the signal line in red.
On the bright side, Render Token sits above all the major applied moving averages, including the 50-day Exponential Moving Average (EMA), the 100-day EMA, and the 200-day EMA. If declines overwhelm bulls below $2, the same moving averages would come in handy to prevent losses beyond $1.3.
Woo Network Price Poised For A Massive Rally
Woo Network is a top crypto gainer today bolstered by a 12% bullish move to $0.29. The decentralized platform that aims to bridge the gap between traditional finance and DeFi, has been on the offensive lately, growing from $0.12 at the beginning of the year.
After a spectacular performance in April, WOO stalled under $0.35, allowing bears to hold the reins for almost three weeks. Support at $0.25 has, however, changed the technical picture this week.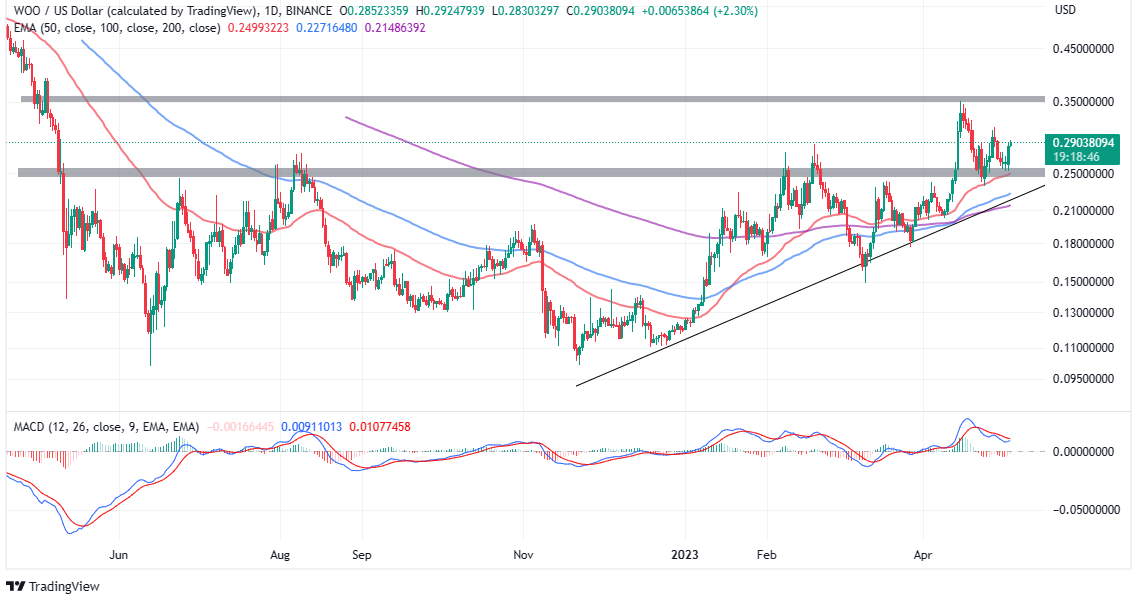 Key levels that are likely to determine where WOO is headed are the short-term resistance at $0.3, support at $0.25, and the upper range seller congestion at $0.35.
A bullish outcome is highly probable with the MACD about to send a buy signal. Traders would be looking out for the MACD line in blue to cross above the signal line in the red to ascertain the validity of the uptrend.
Moreover, WOO could unlock immense liquidity on breaking above $0.35 as such a move has a higher chance of convincing investors to stay put and trust the uptrend eyeing $1.
On the downside, we cannot rule out the possibility of support at $0.25 weakening and culminating in fresh dips to $0.21 and $0.15, respectively.
It is worth mentioning that with its key features including cross-chain compatibility, low fees, and fast transaction processing, WOO provides solutions to the limitations faced by current DeFi platforms.
WOO also offers efficient on-chain governance and a user-friendly interface to enhance the overall DeFi experience.
AiDoge – AI Innovation in Meme Generation Triggers Excitement
AiDoge is an innovative meme initiative that integrates a cutting-edge AI-driven meme generator, enabling users to design top-quality memes utilizing text prompts.
The AiDoge environment boasts its native crypto token, $AI, which can be used to buy platform credits, text prompts, and access the AI-powered meme creator.
To generate a meme, users simply enter the desired meme content, and the sophisticated generator automatically produces high-resolution memes informed by current cryptocurrency news and trending meme datasets.
Don't let @Cobratate down and grab some $AI today! 😂👑

The #AiDoge platform will feature a public wall showcasing the latest community created memes.

Get ready to share your creations and engage with the community through voting! 😎📨

👉 https://t.co/5j5tt4smcs#Crypto #Web3 pic.twitter.com/2VONJVSGdw

— aidogecrypto (@aidogecrypto) May 3, 2023
At the heart of AiDoge is the implementation of AI technology, aimed at transforming the online meme production landscape.
Members responsible for the most engaging memes receive $AI tokens as a reward for their inventiveness, and can also stake these tokens on the platform to accrue passive income.
Staking offers advantages not just for crypto investors but also promotes long-lasting engagement and sustainable ecosystem growth.
The ongoing presale of $AI has already drawn considerable attention from investors worldwide, accumulating over $1.18 million in investment.
Crypto enthusiasts from across the globe are taking notice of the $AI token the project, AiDoge, seeks to disrupt the internet meme sector and harness the expanding potential of the artificial intelligence ecosystem.
To join the ongoing presale, interested traders need to have ETH, USDT, or funds on their bank cards to acquire $AI tokens.
At present, the digital asset's price is set at $0.0000264 but is expected to increase to $0.0000268 when the new presale phase commences in five days.
DeeLance – A Cutting-Edge Web3 Freelancing Platform
The gig economy is experiencing a substantial transformation with the increasing prevalence of remote work.
A remarkable 65% of employees now favor full-time remote work, leading to the anticipated growth of the global gig economy, which is expected to surpass $450 billion by 2023. The freelancing industry alone is forecasted to exceed $12 billion by 2028.
In the midst of this rapid growth, web3 technology is unlocking unparalleled possibilities within the freelancing sector.
DeeLance, an innovative web3 freelancing platform, is leading the charge in this widespread workforce transition, redefining how freelancers and clients engage in a decentralized, transparent, and secure setting.
Hey DeeLancers! 👨‍💻

Ready to take your #Metaverse journey to the next level?

Hold #DLANCE token to unlock special privileges, premium features & discounts on gig deals in the Metaverse! ✨🙌

Join #DLANCE Presale today! ⬇️💎https://t.co/XHnTqVzeWf#crypto #Presale #cryptocoin pic.twitter.com/V1AcqBeIwX

— DeeLance (@deelance_com) May 2, 2023
Traditional web2 freelancing platforms, such as LinkedIn and Upwork, have been the go-to choices for freelancers and clients. However, these platforms come with limitations.
Issues like limited data control, high commission fees, and prolonged payment cycles have impacted the web2 freelancing experience.
Web3 technology offers a solution to these challenges, providing a decentralized, transparent, and secure freelancing experience.
DeeLance is a new crypto ecosystem aims to leverage web3 technology to create a user-centric platform that empowers both freelancers and clients. DeeLance will be built upon three core pillars: Non-Fungible Tokens (NFTs), the Metaverse, and the Recruitment platform.
NFTs play a crucial role in guaranteeing secure digital work ownership, allowing freelancers to tokenize their work and safely transfer ownership to clients.
Hey DeeLancers! 👨‍💻

Step into the #Metaverse and explore the world of #NFTs with DeeLance NFT Showcase. Get unique NFT paintings and 3D models with just a click. 🙌🚀

Take advantage of the low price. Join $DLANCE Presale Now ⬇️https://t.co/XHnTqVzMLN

#cryptoart #Crypto pic.twitter.com/IQTC3xyjXa

— DeeLance (@deelance_com) May 3, 2023
The Metaverse will offer a virtual space for collaboration and networking, where freelancers can have virtual office spaces and interact with clients through digital avatars.
As a recruitment marketplace, DeeLance will connect professionals with top-notch job opportunities, streamlining the hiring process.
DeeLance's fast-selling presale has raised over $598,000, implying growing investor confidence in the utility token, $DLANCE, and its potential to revolutionize the freelancing economy.
Curve DAO Token Up 6% After Stablecoin Deployment
Curve DAO Token (CRV) is trading 6% higher a day after the protocol deployed crvUSD smart contracts. According to a tweet sent by the team, the deployment "is not finalized yet because UI also needs to be deployed."
As many figured – deployment of crvUSD smart contracts has happened!

This is not finalized yet because UI also needs to be deployed. Stay tuned!

— Curve Finance (@CurveFinance) May 3, 2023
The much-anticipated native stablecoin – crvUSD executes on the Ethereum blockchain. Based on blockchain data on Etherscan, the token has so far minted a cumulative $20 million in crvUSD tokens in 13 transactions since its launch on Wednesday.
Blockchain analytics firm Arkham Intelligence said that a crypto wallet, identified as belonging to the Curve.Fi Team took out a $1 million loan in crvUSD. To secure the loan, $1.8 million worth of frxETH, a derivative of ether (ETH) created by DeFi protocol Frax Finance, was utilized. This transaction took place after the initial issuance of tokens.
Experts in the industry have lauded the move as a significant accomplishment for a highly anticipated stablecoin, now available to the masses. With approximately $5 billion in assets under its management, Curve has been an influential player in decentralized finance.
In 2020, the firm announced that it would be creating its stablecoin, which is backed by the US dollar. This launch signifies a major milestone in Curve's commitment to providing a secure and transparent platform for its users.
Meanwhile, Curve is trading at $0.955 at the time of writing after the uptrend fell short of testing $1. The 200-day EMA (in purple) and the 50-day EMA (in red) must come out of the way for CRV to steady in its bullish move currently targeting highs above $1.2 and $2, respectively.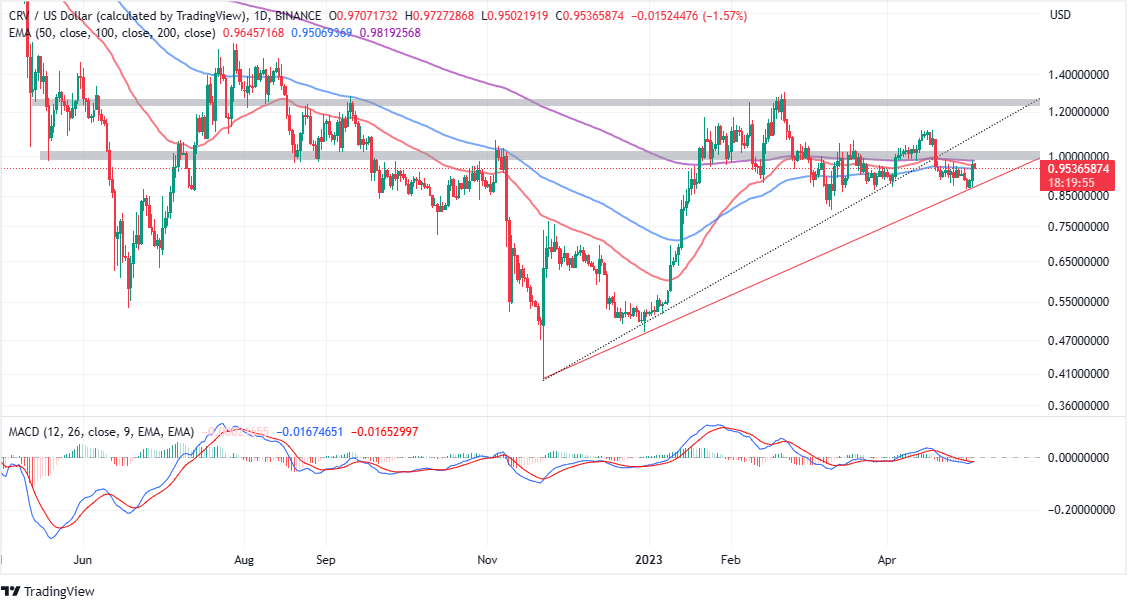 The 100-day EMA provides much-needed immediate support while an incoming buy signal from the MACD could keep investor interest intact. The next major swing above $1 would release more liquidity to support the climb above $1.2.
The ascending trendline (in red) would help bulls prevent a seemingly dangerous spiral if resistance at $1 is not broken. Other support areas to keep in mind are $0.75 and $0.65.
Ecoterra – Building Sustainable Recycling Habits with Crypto Rewards
Ecoterra is an innovative recycle-to-earn (R2E) cryptocurrency designed to foster and encourage recycling among individuals and businesses through a unique web3 platform.
🌱🌍💰 At ecoterra, our #Crypto #Community and sustainability enthusiasts drive us forward

With $ECOTERRA tokens, we're proud to offer innovative solutions for environmental issues

Build a greener future by participating in our #Presale today! 🌱🌍https://t.co/1fYkPOsPYG pic.twitter.com/sHrqJW5UuS

— ecoterra (@ecoterraio) May 3, 2023
The groundbreaking all-in-one Ecoterra application aims to incentivize users with ECOTERRA crypto tokens every time they recycle, provide a carbon offset marketplace to simplify the carbon footprint reduction process for people and companies and establish a recycled materials marketplace to facilitate the purchase of recycled goods using ECOTERRA or other digital currencies.
Moreover, the application enables users to monitor their eco-friendly initiatives, which may assist businesses in enhancing their brand image and fostering customer loyalty.
To finance the development of this groundbreaking platform, Ecoterra is hosting a presale of its ECOTERRA tokens that will be essential to its application.
Out of the 2 billion total supply, 50% will be made available during the presale, while 20% will be allocated for ecosystem liquidity, 10% for listings, 10% for marketing, 5% for the development team, and 5% for corporate adoption.
Within just a few weeks since the presale's launch, the project has already raised an impressive $2.9 million, and its momentum is likely to continue as the project gains further attention on social media.
ECOTERRA tokens are presently priced at $0.007 each in the presale, but prospective investors should act swiftly, as the price will increase to $0.00775 in under three days.
Love Hate Inu – A Sensational Vote-to-Earn Platform
Love Hate Inu (LHINU) has received notable attention from Anonymous, the online activist collective, which views the coin as a potential rival to the second biggest meme coin SHIB.
Right this is both amazing and scary.

YES I know they don't have a Facebook. But they take note. And would shut it down.

The @LoveHateInu presale will sell out now in 24 hours 😱

No I'm not going to tag them…

😍😈😍😈😍😈😍😈😍😈😍😈😍 pic.twitter.com/FOSUddhdBG

— Carl Dawkins (@CarlDawkinz) May 1, 2023
The LHINU platform enables users to cast votes on a variety of topics, such as popular individuals and current trends, using a safe and open voting system, the most appealing feature.
Furthermore, the project offers staking incentives, exclusive benefits, and rewards for top meme makers.
LHINU's presale model is exceptionally equitable, providing equal chances for investors, with 90% of the total supply of 100 billion tokens available to the public. There is no vesting period, no private sale, and the minimum purchase quantity is 10 LHINU.
Given its robust utility, secure voting, and community-centric mindset, Love Hate Inu is on track to become one of the most sought-after meme coins this year.
The Love Hate Inu presale concluded successfully, raising over $11 million, thus exceeding the presale goal of $10.2 million. The $LHINU token can now be acquired at its listing price of $0.000145.
Hey #LoveHateInu Crew! 👋

Although the final stage of the $LHINU #Presale is over now, don't worry! 🙅‍♀️

You can still get yourself some tokens! 💰

Buy now at list price! 💸

If you haven't already, then this is your last chance! ⏳

Link in Bio… 🔗#AltCoins #MemeCoins

— Love Hate Inu (@LoveHateInu) May 4, 2023
Rocket Pool Bulls Double Down on The Uptrend
Rocket Pool (RPL) has been battling to come out of a tailspin that occurred after the Ethereum Shanghai upgrade-triggered rally to $65. The liquid staking platform fell victim to a buy-the-news narrative as investors booked positions only to dump the tokens a few days after the upgrade.
It was anticipated that liquid staking platforms like Rocket Pool and Lido will rally significantly on the possibility of investors withdrawing from the Beacon Chain smart contract in favor of protocols that allow them to access liquidity even after staking ETH.
Following the pump and dump, RPL found relief at $44.5 but attempts to push for recovery were mainly capped under $50.
The latest spike to $53 could imply that investor interest in RPL is growing again. However, as InsideBitcoins.com reported on Wednesday, network activity was substantially down.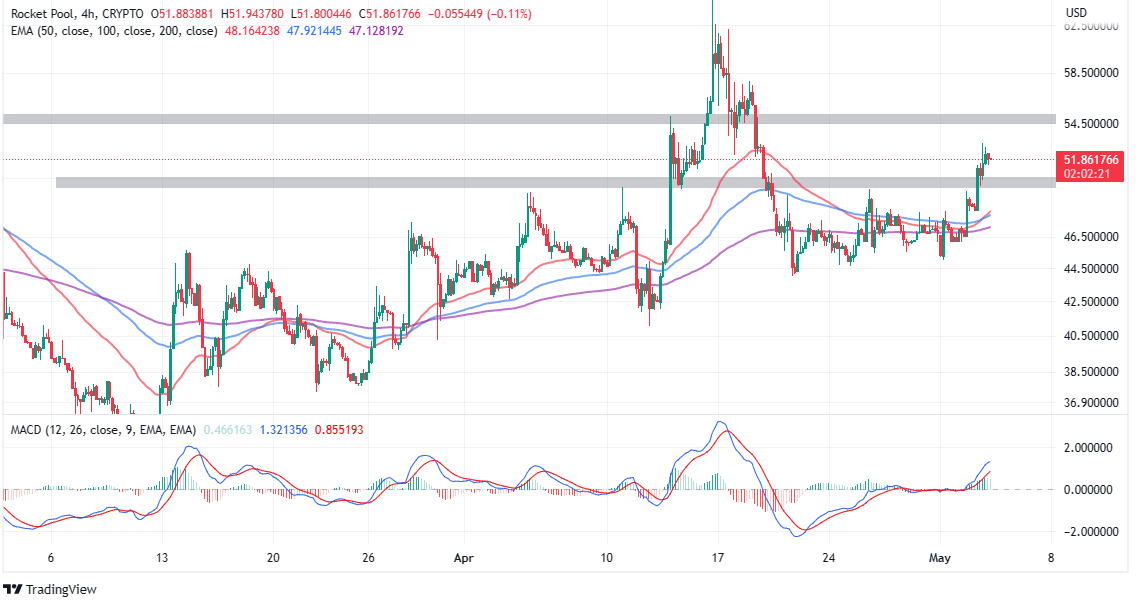 Traders looking forward to new buy orders may want to wait until RPL conforms support at $50 and starts to rebound. For such positions, $54.50 would be a viable point to cash out but stubbornly bullish investors may want to wait for $58.50 and $62.5.
The MACD is in a buy position at the moment and with the 50-day EMA crossing above the 200-day EMA, the path with the least resistance will likely remain to the upside. Nevertheless, it would be prudent to prepare for a potential pullback below $50, which means short positions may become profitable toward $46.5 and $44.5.
Related Articles:
Love Hate Inu – Newest Meme Coin
Decentralized Polling – Vote to Earn
Early Access Presale Live Now – Ends Soon
$7 Million Raised
Featured in Yahoo Finance, Bitcoinist
Mint Memes of Survey Results as NFTs
Staking Rewards
Viral Potential, Growing Community