After enduring a gruesome week with Bitcoin's pullback to $27,500, crypto investors now face another uphill task—to hold prices steady. The most prominent cryptocurrency trades at $29,000 on Thursday after a bullish comeback on Wednesday. ETH, the token powering the largest smart contracts platform, Ethereum is also in the green, up 2% to exchange hands at $1,900.
Crypto Market Overview
Despite BTC and ETH's mid-week uptick, the majority of altcoins are stuck in the red and lagging in their recovery except for these selected four, Render Token (RNDR), Nexo (NEXO), Casper (CSPR), and MultiverseX (EGLD), passing as the top crypto gainers today, April 27.
The sudden Bitcoin price bounce back above $29,000 comes amid growing concerns for the banking sector in the United States.
Regulators and politicians alike are concerned about a heightened capital flight from the country's community banks to giant banking institutions, posing a significant economic threat to common Americans.
While the banking crisis in the US may have started with the collapse of three banks in March; Silicon Valley Bank (SVB), Signature Bank, and Silvergate Bank, it certainly did not end with them despite the government and regulators doing everything they could to dodge the bullet.
"Indeed, the need for transparency from the Federal Reserve is greater than ever. In the weeks following SVB's meltdown, the American people lost a great deal of trust in the Federal Reserve, and the SF Fed in particular, Ohio Senator Jim Jordan said in a statement addressed to San Francisco Federal Reserve Bank President Mary Daly.
Meanwhile, positive sentiment is building in and for the digital asset market, with industry experts saying the "crypto winter is over, and spring has sprung," analysts from the renowned NY investment bank H.C. Wainwright.
Keeping that in mind, investors must intentionally prepare for the crypto bull run by diversifying their portfolios with new crypto tokens offering an ideal risk/reward ratio.
Projects like Love Hate Inu (LHINU), DeeLance ($DLANCE), and Ecoterra ($ECOTERRA) have been given a buy rating by researchers at InsideBitcoins.com in addition to being voted the best crypto presales to buy for 2023.
Assessing Render Token Profitability Ahead of The Weekend
Investors who may have missed Render Token (RNDR) bounce back this week from $1.62 have another chance to buy in as long as the newly established support at $2.2 holds. RNDR is up 12% in 24 hours and trading at $2.3.
Although isolated among its peers, Render Token's bullish outlook this week has been fueled by growing interest among investors, which explains a 110% increase in trading volume to $462 million.
As reported on Wednesday the community is in full support of the implementation of the BME model on Solana blockchain.
Render Network on Wednesday revealed the conclusive results of its research projects, RNP-002 and RNP-003.
The announcement, communicated via a Twitter post, disclosed that the Render Foundation has granted the green light for the deployment of its newly developed Burn-and-Mint Equilibrium (BME) mechanism on the Solana blockchain. Backing the move, an investment of roughly 4.8 million RNDR was designated for RNP-002.
Check out the recently published Medium blog post with final results and next steps:https://t.co/HGJlnmFk69

— Render Network | RNDR (@RenderToken) April 26, 2023
In the meantime, RNDR needs to uphold support at $2.3 to deepen investor confidence in the bullish outlook. As per the Moving Average Convergence Divergence (MACD) indicator, the path with the least resistance is to the upside, with $3.5 as the short-term target and challenging all-time highs of $8.78 as the bulls eye.
If support at $2.30 weakens mainly due to profit-booking activities, traders can prepare to buy again at $1.62 as the RNDR will likely respect support provided by the ascending trendline.
MultiversX Price Topside Bias Steady As EGLD Jumps 30%
MultiversX is the biggest bullish contender on Thursday, breaking out in fireworks style, up 22% to trade at $47.87. In 24 hours, the native token, EGLD has seen a 655% spike in volume to $154 million in addition to a 26% increase in its market share to $1.2 billion.
It is worth noting that MultiversX (EGLD) offers fast and secure transactions, a strong decentralization system, and interoperability with other blockchains.
MultiversX also provides smart-contract capabilities and token issuance options. Its innovative solution provides a solution to common problems found in the crypto industry, such as slow transaction speeds, high fees, and limited scalability.
In recent years, MultiversX has grown to support NFTs, even launching the world's first state-governed marketplace in collaboration with selected government institutions in the EU.
Today is an important day for crypto.

The first NFT transaction involving a EU 🇪🇺 governmental institution has occurred.

A historic precedent for other institutions, states and companies to follow, and a great adoption milestone for @MultiversX $EGLD.https://t.co/AoLTGrv6XO pic.twitter.com/KLUcmYICOK

— Beniamin Mincu | MultiversX.com 🔥🛠️ (@beniaminmincu) April 26, 2023
Investors welcomed the new NFT marketplace to MultiverseX by buying EGLD tokens in droves and triggering a spectacular bullish move. Before the upswing, the token held onto dear life at $37 following declines from 2023 highs of around $54 in February.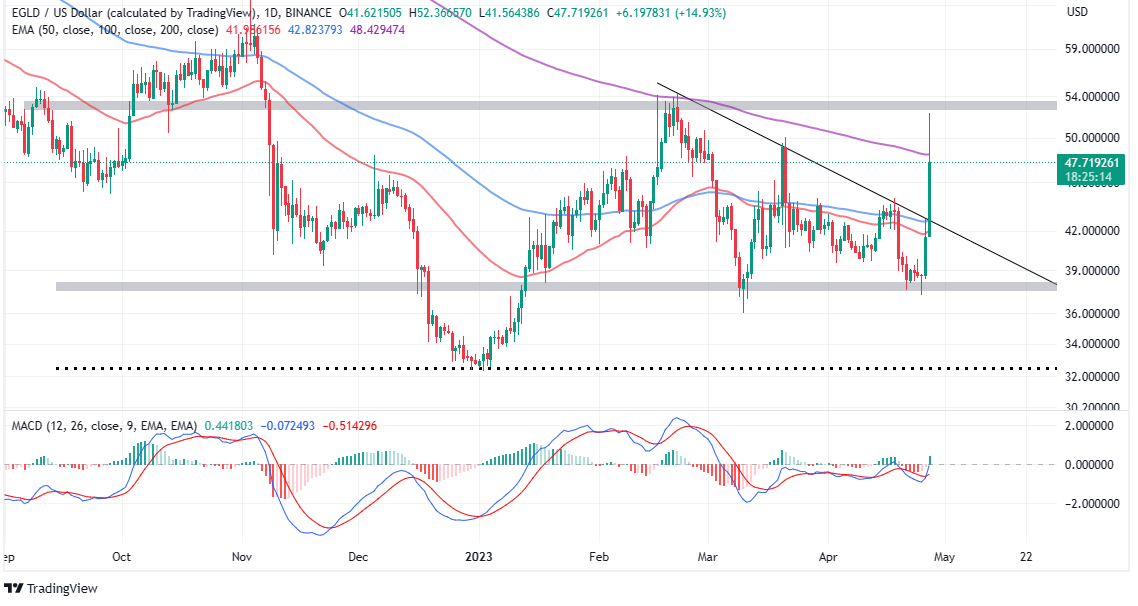 Trading at $47.87 on Thursday, EGLD bulls are battling acute seller congestion at the 200-day Exponential Moving Average (EMA) (line in purple) at $48.43. This hurdle must come out of the way to keep investor sentiment positive and in line for gains above $54.
The MACD recently confirmed a buy signal on the daily chart. As the momentum indicator steps above the mean line at 0.00 odds are bound to favor a continued bullish outcome.
If resistance at the 200-day EMA does not budge, investors may begin to acclimatize to a rollback, possibly to sweep through fresh liquidity around $42, a move that will allow already sidelined investors to book their positions in EGLD ahead of the next rally.
Love Hate Inu – Combining the Meme Coin Hype and Web3 to revolutionize the Survey Market
The emerging crypto ecosystem, Love Hate Inu, is gaining traction with its $LHINU token, which is anticipated to generate substantial returns for early investors, much like its forerunners Shiba Inu (SHIB), and Dogecoin (DOGE).
Utilizing the cutting-edge Ethereum blockchain, the token ecosystem incorporates an exceptional vote-to-earn (V2E) mechanism, allowing individuals to voice their opinions on contentious and trending topics through surveys and polls in turn, earning rewards in the form of LHINU tokens.
Boasting a flexible blockchain, Love Hate Inu ensures voting procedures remain secure, transparent, legitimate, and impervious to tampering.
The platform's distinctive voting feature is poised to infiltrate global industries, piquing the curiosity of retail and institutional investors looking to discern target audience perspectives on product satisfaction and more.
As mentioned, participants in surveys/polls get rewarded with $LHINU tokens, as well as products, merchandise, and non-fungible token (NFT) art from various brands.
Carl Dawkins, CEO of Love Hate Inu and advisor to the UK All Party Parliamentary Group on Crypto and Digital Assets, recently expressed his belief that the $LHINU token presale would surpass its $10 million hard cap.
The Love Hate Inu ecosystem encompasses several crucial components, such as a user interface for wallet integration and real-time vote monitoring.
Additionally, the Vote Submission Platform allows the community to put forth and endorse poll suggestions, while the Management Dashboard offers a transparent insight into the voting process.
LHINU, as the primary token within the ecosystem, activates the vote-to-earn mechanics for investors. To join Love Hate Inu polls, users are required to stake their $LHINU for a minimum of 30 days, which helps prevent spam and vote manipulation.
Furthermore, the platform encourages user involvement and participation by rewarding those who stake more tokens with increased voting rights and earnings.
With $7.5 million raised since the presale launch, Love Hate Inu has been voted the best presale for 2023.
The next stage of the presale is fast approaching, which means interested parties should act quickly as the token price will rise to $0.000135 in 7 days from the current $0.000125 paid for 1 LHINU token.
DeeLance – The Web3 Solution The Fast-Growing Freelance Industry Needs
DeeLance distinguishes itself as more than a mere freelancing platform—it represents a decentralized metaverse for commerce, utilizing cutting-edge Web3 technology.
Unlike traditional platforms, such as Upwork and Fiverr, DeeLance employs NFTs to guarantee the ownership of work, offering clients the reassurance they require in a digital marketplace.
Moreover, DeeLance's metaverse enables users to engage as avatars, purchase virtual land, advertise, and collaborate with business partners in a captivating and interactive environment. Accessible to everyone, the DeeLance metaverse fosters an ecosystem that supports commercial activities in their entirety.
Hello DeeLancers! 👨‍💻

Ready to take your #Metaverse experience to the next level?🚀

Unlock Metaverse VIP access to premium virtual land, office space, & brand awareness advertising opportunities with $DLANCE tokens.

Join the #Presale now!⤵️💰https://t.co/XHnTqVzeWf#Crypto pic.twitter.com/PNNUwyF4Ak

— DeeLance (@deelance_com) April 26, 2023
Within this virtual domain, cultivating trusted relationships becomes more straightforward, and decentralized peer-to-peer networks ensure both trust and security.
DeeLance's overarching vision encompasses various commercial models, rendering it a flexible and scalable solution for businesses and individuals alike.
Dommeti Kiran, the founder of DeeLance, emphasizes the platform's competitive edges, such as reduced fees, cryptographically protected escrow, NFT-based ownership verification, and a groundbreaking metaverse experience.
Kiran expresses gratitude towards early investors and assures them of DeeLance's commitment to transforming the recruitment landscape and commerce.
The $761 billion global recruitment services industry presents a vast scope for disruption from DeeLance. The platform's metaverse, cost reductions, and advanced Web3 and NFT security protocols minimize risks while presenting an enticing value proposition.
The entire freelance ecosystem relies on its network token called $DLANCE, which runs on the Ethereum blockchain.
Within a few weeks of the presale, DeeLance depicted impressive success. Trading at $0.029 USDT per token, early investors have raised more than $488,000 so far.
However, interested investors should act fast before the price per token rises to $0.033 in 17 days. $DLANCE is considered to be the world's most advanced token available via an ongoing presale.
Nexo Nurtures Bullish Outlook as Bears Scatter
Nexo is building a formidable bullish attack on critical resistance levels in a gradual, but steady manner. Bulls first defended support at $0.63 following a trend reversal from the stubborn seller congestion zone at $0.76.
Declines had weighed down the native exchange token since it achieved a new 2023 high of $0.87 in late January. At one point, NEXO plunged to $0.56 but made a strong rebound to $0.76 in the second week of March.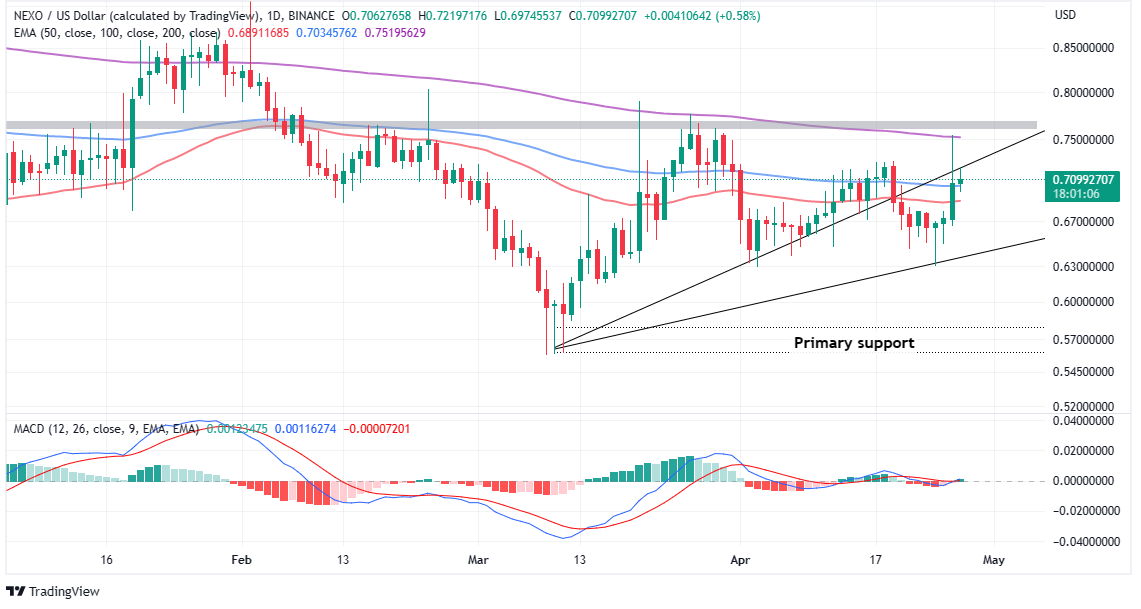 Recovery has been challenging since the aggressive bullish push in January with $0.76 as the biggest stumbling block.
Now that Nexo has reclaimed higher support at $0.7 and is trading at $0.71, bulls will be looking at dispersing sellers at $0.76 to open the door for gains to $0.78 and $1, respectively.
The 100-day EMA (line in blue) at $0.7034 provides much-needed short-term support. If upheld, bulls can use this level as a springboard to take the fight to $0.76.
Before that, they are required to boost NEXO above the upper ascending trendline, whose support was lost during last week's correction.
The 200-day EMA is another important milestone as bulls strengthen their control in the market. In case of losses below the 100-day EMA, the 50-day EMA, and levels at $0.67 and $0.63 will come in handy to absorb the selling pressure.
Ecoterra – Where Brands and Consumers Meet to Battle Climate Change
Ecoterra is developing an all-encompassing application that rewards users with ECOTERRA tokens for recycling, presents a user-friendly carbon offset marketplace for individuals and businesses, and provides a platform for businesses to purchase recycled goods using ECOTERRA or other cryptocurrencies.
The Recycle-2-Earn app from Ecoterra motivates users to participate in environmentally beneficial activities that have a positive impact on our planet. The Web3 app functions as an accessible portal to recycled material and carbon offset markets and allows users to track their ecological efforts via an impact profile.
Ecoterra has received substantial support during its presale within German-speaking nations, where there is a strong dedication to creating a sustainable economy focused on renewable energy and recycling.
The project has already started integrating well-known consumer brands, including Vittel, San Pellegrino, Heineken, and Dr. Pepper, into its app's catalog of scannable recyclables.
What sets Ecoterra apart is its inventive use of non-fungible tokens (NFTs) to track and trade eco-friendly actions. By converting these actions into tradeable NFTs, the platform encourages users to contribute positively to the environment.
To finance its groundbreaking platform, Ecoterra is hosting a presale of the ECOTERRA token, which will power the app.
Half of the total 2 billion token supply will be released during the presale, with the remaining tokens allocated for ecosystem liquidity, listings, marketing, development, and corporate adoption.
Since the presale's launch a few weeks ago, the project has already raised an impressive $2.44 million. This momentum is expected to intensify as the project garners more attention on social media in the coming weeks.
Casper Price Up 60% in 30 days – Has CSPR Exhausted the Uptrend?
Casper (CSPR), a decentralized blockchain project that aims to provide high scalability and security for enterprise-level applications, is trending higher on Thursday while trading at $0.054.
CSPR has been one of the strongest bullish contenders in 2023 with the latest break above $0.045 building optimism behind the token among investors.
For the first time since May, Casper climbed breaking above resistance at $0.06 around mid-April. However, bulls quickly run off steam, and CSPR rolled back to $0.045 during last week's trading.
Casper price now faces another challenge in its recovery attempt, targeting movement beyond $0.06 to $0.1. The immediate seller congestion at $0.055 must come out of the way to clear the path to $0.06.
Such a move would also keep investor sentiment positive as the larger crypto market tries to change the narrative back to bullish.
Traders may want to wait until the Relative Strength Index (RSI) flips above the moving average while heading toward the overbought region before activating new buy orders. On the downside, support is expected at $0.045, $0.04, and $0.035 levels, respectively.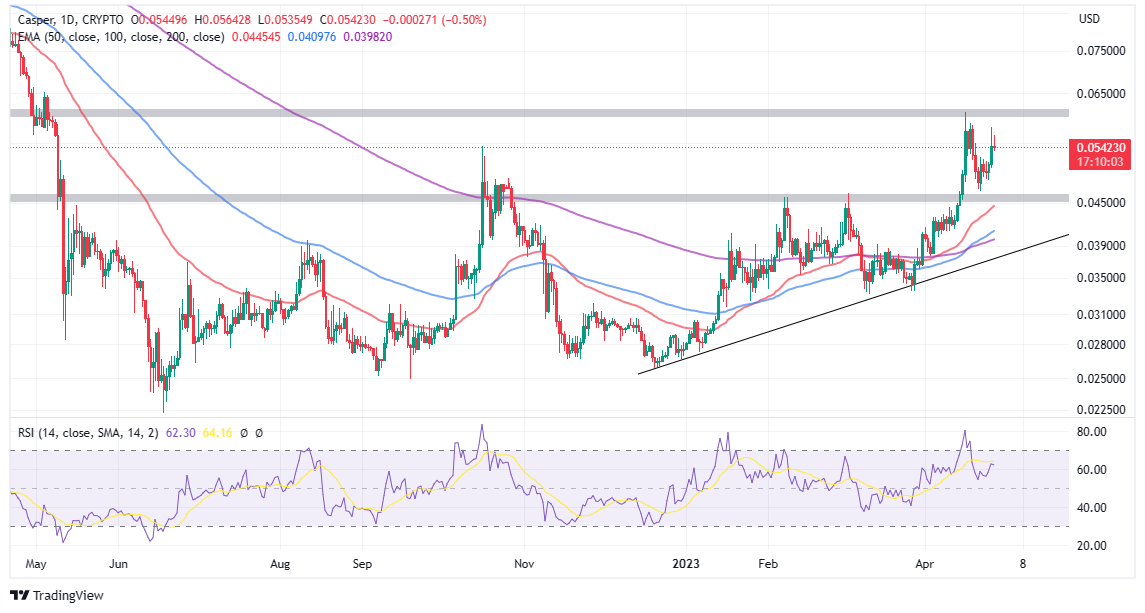 Investors new to Casper will find that the protocol is designed to be highly efficient while ensuring maximum protection from common blockchain vulnerabilities.
Casper uses a hybrid consensus model, combining Proof-of-Work (PoW) and Proof-of-Stake (PoS) algorithms, resulting in faster transaction processing and lower energy consumption.
Its unique features include a gasless transaction model, which eliminates the need for users to pay transaction fees, and a robust smart contract platform that supports various programming languages.
Related Articles:
Love Hate Inu – Newest Meme Coin
Decentralized Polling – Vote to Earn
Early Access Presale Live Now – Ends Soon
$7 Million Raised
Featured in Yahoo Finance, Bitcoinist
Mint Memes of Survey Results as NFTs
Staking Rewards
Viral Potential, Growing Community