The crypto market is dotted mainly in red on Tuesday as Bitcoin retreats further below $30,000. Analysts attribute the pullback, which is impacting the majority of altcoins to the latest crypto crackdown in the United States and according to Bloomberg "a more sober assessment of the outlook for Federal Reserve policy."
Bitcoin lost 1.6% of its value in the last 24 hours to trade at $29,500 on Tuesday in the wake of another 3% drop on Monday. This is BTC's biggest drop since March 9 in the heat of the banking crisis in the US.
The Securities and Exchange Commission announced on Monday that Bittrex Inc., a cryptocurrency platform, violated its rules for years, adding to the increased regulatory scrutiny placed on digital assets since the implosion of FTX and the recent crisis in the banking sector.
In addition to that, the possibility for the Federal Reserve to reduce interest rates is leading to a decrease in investor interest.
Market watchers like Tony Sycamore at IG Australia Pty, see Bitcoin sliding to $27,000 if "the market continues to take out some of the 60 basis points or so of rate cuts still priced into the year-end."
Keeping that in mind, investors may want to digress towards select altcoins exhibiting the immense potential to rally in the coming weeks and months.
Some of the tokens listed here are performing well on Tuesday while the rest are up-and coming-projects offering investors discounted entry prices.
Render Token Price Swings To $2 As $3.5 Beckons
Render Token (RNDR) price has recovered to tag $2 for the first time since February. The ecosystem's native token RNDR stalled at $2.2 in early February as crypto generally gave back some of the gains accrued since early January.
At the time, the Fed had hiked interest rates by 0.25% dampening the aggressive momentum witnessed in January. Render Token trimmed the gains massively before bouncing off support at $1, reinforced by an ascending trendline.
The 100-day Exponential Moving Average (EMA) and the 200-day EMA strengthened RNDR's bullish outlook at $1, allowing bulls to take back the reins and push for an aggressive recovery.
Render Token's latest move to $2 does not by itself guarantee the coveted uptick to the next critical resistance at $3.5. However, investors who heed the buy signal from the Moving Average Convergence Divergence (MACD) indicator could help build the required momentum to sustain the uptrend.
Meanwhile, it would mean a lot to RNDR buyers if the token consolidated the gains above $2 to allow them time to execute the move to $3.5.
On the other side of the fence, profit booking at $2 will likely increase the pressure on Render Token, which may result in a trend correction to test support at $1.5 and $1, respectively.
Injective Price Upholds $9 Support – Time To Buy INJ?
Injective (INJ), the protocol that powers a decentralized exchange (DEX) built on Cosmos for the transfer and trade of Ethereum tokens holds as one of the best altcoins to buy for 2023.
Over the last 30 days, INJ, the network's primary token saw its value grow by more than 104% to exchange with the dollar at $9.24 on Tuesday.
The attention Injective is getting from investors could be attributed to its deflationary status, with 60% of all fees from dApps being used to buy and burn INJ tokens forever.
INJ has many use cases including community governance, derivatives collateralization, protocol security, and staking.
Injective price seats on top of a crucial multi-month descending trendline (upper line on the chart). After fighting to weaken this resistance, INJ stalled short of $10 earlier on Tuesday.
Now, bulls must come out in masses to defend the newly found support at $9, strengthened by the falling trendline.
With this support intact, buyers may want to focus on the seller congestion at $10, which if broken could ignite the next INJ recovery phase to $20.
The MACD upholds the optimistic outlook for INJ with a buy signal on the same daily chart. However, it might be prudent to wait for Injective to break the hurdle at $10 before going all-in for a move to $20.
Love Hate Inu: Introducing Crypto Stake-to-Vote with LHINU
The crypto market's short-term outlook is optimistic, but it's always wise for investors to diversify their portfolios.
For that reason, interested high-risk investors can find great potential in lesser-known, low-cap cryptocurrencies, which often yield significant returns similar to what happened with Shiba Inu (SHIB) in 2021.
Many of these promising options are not yet available through exchanges, but rather in the presale offering by emerging crypto projects.
Analysts at InsideBitcoins believe Love Hate Inu, a dog-themed ecosystem is one of the best crypto presales to buy for 2023.
Hey #LoveHateInu Gang!👋🏼

Our #Presale raise has surpassed $4.3 million!🤑🎉

Thank you so much to all our voters and future creators!🙏🏼

Join us today and become a part of the best #MemeCoin ever!💯

Get yourself some $LHINU and cast your vote!🗳️💰https://t.co/Pu2Bo8WOUy pic.twitter.com/pVfW69BNPN

— Love Hate Inu (@LoveHateInu) April 17, 2023
Love Hate Inu is a social media voting platform that has gained rapid popularity in recent weeks. Its innovative stake-to-vote and vote-to-earn system is expected to become widely popular in 2023, allowing users to engage in debates and vote on controversial issues.
Using the LHINU crypto token, community members can share their opinions on polarizing personalities like Elon Musk, Cristiano Ronaldo, and Donald Trump, as well as Andrew Tate.
Love Hate Inu is currently running a presale for its LHINU token to finance the development of the revolutionary platform.
The presale has been incredibly successful, having raised nearly $4.47 million, and is expected to transition to stage 5 soon.
Investors can secure LHINU tokens for $0.000115, which is greatly discounted, but the price is said to increase to $0.000125 in under three days.
The presale, set to end in a few weeks at $0.000145 will see those who invest now get a 30% profit before the actual LHINU listing on exchanges.
DeeLance: Empowering The Global Freelance Market with DLANCE
DeeLance is a project powered by Web3 aiming to provide a digital freelance marketplace for creatives and employers to work together, exchange services, and pitch ideas for commercial purposes.
The project is built on three pillars: an easy-to-use recruitment hub, non-fungible token (NFT) technology, and the metaverse world, which aims to disrupt the $761 billion recruitment industry by enabling transparent and simplified contract ownership.
Unlike conventional platforms, DeeLance is the first of its kind to be built on Web3, allowing for an open, secure, and accessible freelancing and recruitment platform for people all over the world.
Hey DeeLancers!👨‍💻☄️

We believe everyone should have control over their work, from having maximum control of their funds to possessing work ownership through #NFTs and occupying a commercial office in the #Metaverse💪

Join $DLANCE Presale today! 💰⤵️https://t.co/XHnTqVzMLN pic.twitter.com/bW6WaBPV9O

— DeeLance (@deelance_com) April 14, 2023
DeeLance charges significantly lower fees than competing platforms, with freelancers paying 10% and employers paying 2%.
Payments are locked in smart contract-powered escrow and disbursed automatically when the designated service or task objectives are completed and approved by recruiters.
In the metaverse, recruiters and creatives are provided with NFT avatars to interact with other members of the platform's virtual sphere, allowing for the scheduling of meetings and interviews, and the distribution of gigs to qualified candidates.
Freelancers can also publicize their portfolios and skill sets to attract employers and recognition from their peers.
DeeLance's ecosystem is powered by the native $DLANCE token, which runs on the Ethereum blockchain.
$DELANCE can be used to purchase assets such as NFTs, land, and offices within the metaverse.
The world's most advanced token is still in its presale stages and is trading at $0.025 USDT per token. Early investors have already contributed over $242,000 in just a few weeks but interested investors must hurry before the price per token increases to $0.029.
Avalanche Price Up 1.2% Strengthening Bullish Outlook
Avalanche price is among the few altcoins portraying a vivid bullish stance on the day. The move to $21, its prevailing market value comes after AVAX rebounded from support around $14.3 and was supported by an ascending trend line.
Meanwhile, Avalanche is a smart contract-capable blockchain platform that aims to address the blockchain trilemma of scalability, security, and decentralization.
Launched in 2020 by Ava Labs, the platform allows for the creation of decentralized applications (dApps) and supports Solidity compatibility.
From the daily chart, Avalanche price will depend on some key levels to sustain the much-anticipated move to $30. The first and most important is the support provided by the 200-day EMA (line in purple) at $19.08 but if push comes to shove, the buyer congestion level at $17.50 would come in handy.
Both the 50-day EMA (line in red) and the 100-day EMA (line in blue) coincidentally meet at $17.50, making this a significant confluence point.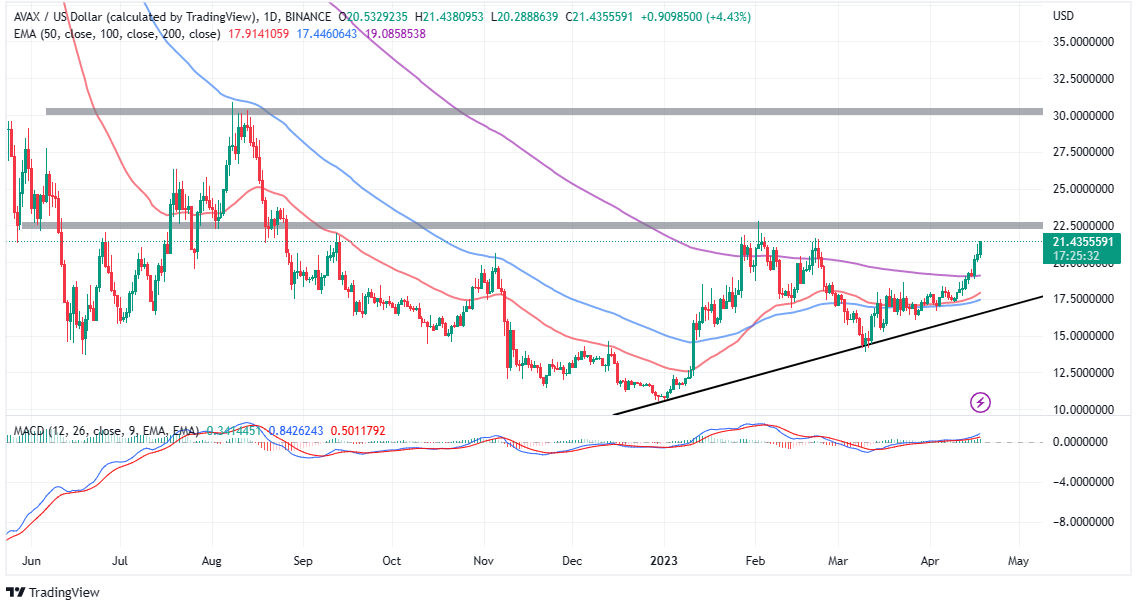 Avalanche price needs to break and hold above the next critical resistance at $22.5 to validate the upswing to $30.
Currently, the path with the least resistance is to the upside, reinforced by the MACD's positive outlook above the mean line at 0.00.
Ecoterra: Recycling Meets Rewards To Combat Climate Change
Ecoterra is paving the way for eco-conscious investments in the crypto sector and aims to reach the $4 million milestone during the ongoing presale.
The Ecoterra ecosystem is built on three key elements: an impact profile, a recycled materials marketplace, and a carbon offsets marketplace.
Although launched a few weeks ago the company's Web3 app, "recycle-2-earn," has been making waves with its presale bringing in over $1.46 million.
The presale, which has a minimum target of $2 million and a maximum cap of $6.7 million, is steadily progressing toward its soft cap, thanks to the innovative "recycle-to-earn" program.
Ecoterra's innovative recycle-to-earn app allows users to scan barcodes of recyclable items and earn $ECOTERRA tokens as rewards.
To expand its catalog of recyclable products, Ecoterra has partnered with major brands like San Pellegrino, Vittel, Dr. Pepper, Heineken, and supermarket chain Dehaize (Lion).
Furthermore, the Ecoterra app features two marketplaces that facilitate a circular, low-carbon economy.
The first marketplace enables users to invest their $ECOTERRA tokens, earned from recycling, in carbon credits from green energy projects. The second marketplace is a B2B platform for recycled materials, where companies can purchase materials using $ECOTERRA, other cryptos, or fiat currency.
Climate change is not a problem for the future – it's happening right now❗

But by taking action today, we can mitigate its worst effects and build a more sustainable future for all 🌍🌱💪

Join ecoterra's #Presale today and start making a difference ⬇️https://t.co/1fYkPOsPYG pic.twitter.com/HRlgezX1Su

— ecoterra (@ecoterraio) April 17, 2023
The biggest obstacle in the realm of sustainability is the lack of transparency. However, Ecoterra aims to tackle this issue by providing impact profiles that disclose a company's sustainability strategy.
These profiles will include information on the percentage of recycled materials used by a company through the Ecoterra ecosystem and the amount invested in carbon offset credits.
Such transparency will enable consumers to make informed decisions and support companies that prioritize sustainability.
Investors are purchasing discounted ECOTERRA crypto tokens in an ongoing presale that has raised more than $1.46 million.
DYDX Price Blast Past $3 As Demand Surges
Investors are starting to pay more attention to DYDX, a leading decentralized exchange (DEX) platform that offers perpetual trading for over 35 popular cryptocurrencies including Bitcoin (BTC) and Ethereum (ETH).
In the last 24 hours, DYDY has seen its value grow 4% to slightly above $3. The daily chart shows how bulls took advantage of the support established around $2.5 to strengthen their position in the market.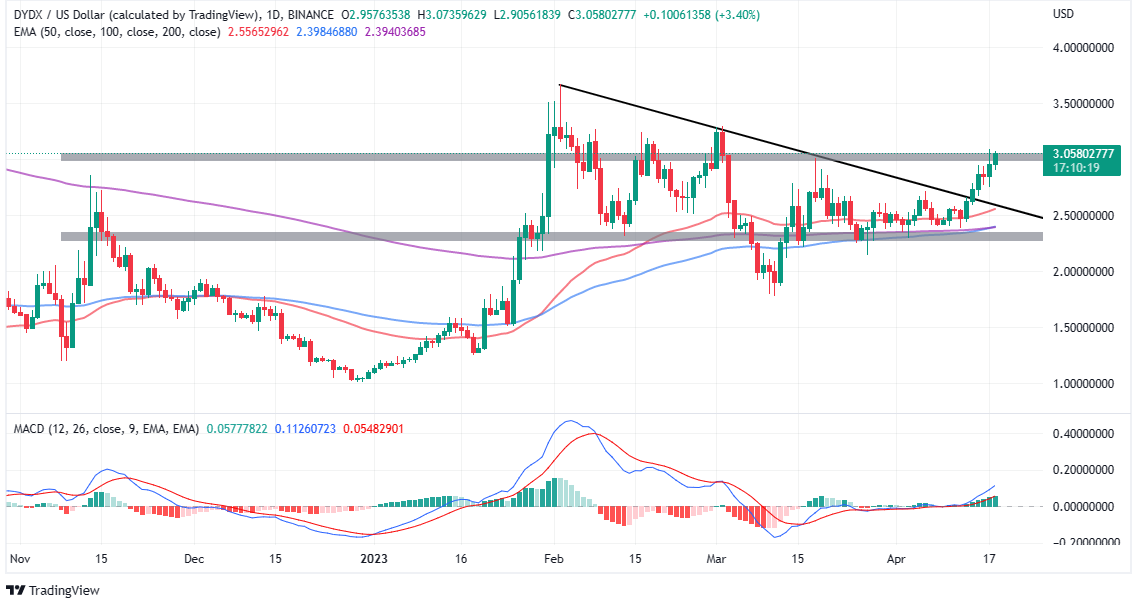 DYDX's climb to $3 also capitalized on fresh momentum after the token carefully navigated resistance at the descending trend line.
All eyes are now focused on DYDX's position at $3, which in its own measure, has been stubborn and elusive since early January.
Buyers must uphold support above $3 to ensure they have enough time to execute the next climb to $3.5 and $4 levels, respectively.
If DYDX price steps back under $3, the token might drop further to sweep through liquidity at $2.5 and if push comes to shove at $2.
Related Articles:
Love Hate Inu – Newest Meme Coin
Decentralized Polling – Vote to Earn
Early Access Presale Live Now
Ethereum Chain
Featured in Yahoo Finance
Mint Memes of Survey Results as NFTs
Staking Rewards
Viral Potential, Growing Community