Investors are anticipating a volatile week following the Bitcoin price pullback below $30,000 on Sunday. Ethereum slipped marginally below $2,100 while XRP and ADA lost 1 and 2% of their values, respectively.
Despite these retracements, some selected crypto tokens depict strength including RPL, CSPR, INJ, and ROSE. Similarly, investors may want to consider the best crypto presales for 2023, starting with LHINU, DLANCE, and ECOTERRA.
Rocket Pool Price Soars 13% – Tops $60
Rocket Pool is teetering slightly above $60 following a massive bullish outlook since Thursday. RPL, like many Ethereum liquid staking tokens, steadily gained traction amid the hype around the Shapella upgrade, which went live on April 12.
Ethereum liquid staking platforms are specialized platforms that allow holders of Ethereum (ETH) to earn rewards while still retaining their initial investment in the cryptocurrency.
Liquid staking refers to the process of staking cryptocurrencies without locking them up, which allows users to enjoy the benefits of staking without sacrificing flexibility or liquidity.
In the case of Ethereum, liquid staking platforms permit users to convert their ETH into a staked version of the currency, known as stETH. This staked ETH can then be used to derive additional yield, such as through loans or trades on decentralized exchanges.
Additionally, stETH holders may also receive rewards in the form of additional ETH or other tokens.
The value of tokens native to Ethereum liquid staking platforms, like RPL has grown impeccably since April 12. For the first time since the network's transition to a proof-of-stake (PoS) consensus mechanism, stakers can withdraw their Ether and the rewards earned.
Meanwhile, all eyes are on RPL and if it will uphold support at $60. A daily close above this pivotal level would improve investor confidence in the uptrend targeting $100.
The position of the Relative Strength Index (RSI) shows that buyers have the upper hand, which means they can quickly deal with the subsequent resistance at $64 and $70, respectively.
However, failure to keep support at $60 in place could put RPL in danger of trimming the accrued gains. That said, investors cannot rule out a possible trend correction to $56 and $48, respectively.
Casper Price Spikes To $0.06, But Bearish Signals Emerge
Casper price is up 5% in the last 24 hours to trade at $0.055 on Monday. CSPR's bullish outlook commenced at the beginning of the year with the rest of the crypto market. However, the initial uptrend stalled at $0.045, culminating in a reversal that tested support at $0.33.
As support at $0.33 absorbed the selling pressure, buyers reclaimed the reins and ignited a much bigger uptrend to $0.06. From the daily chart, the magic started as soon as the seller congestion at $0.04 was weakened.
That resistance, now support, is an important region holding the 50-day Exponential Moving Average (EMA) (line in red) and the descending trendline.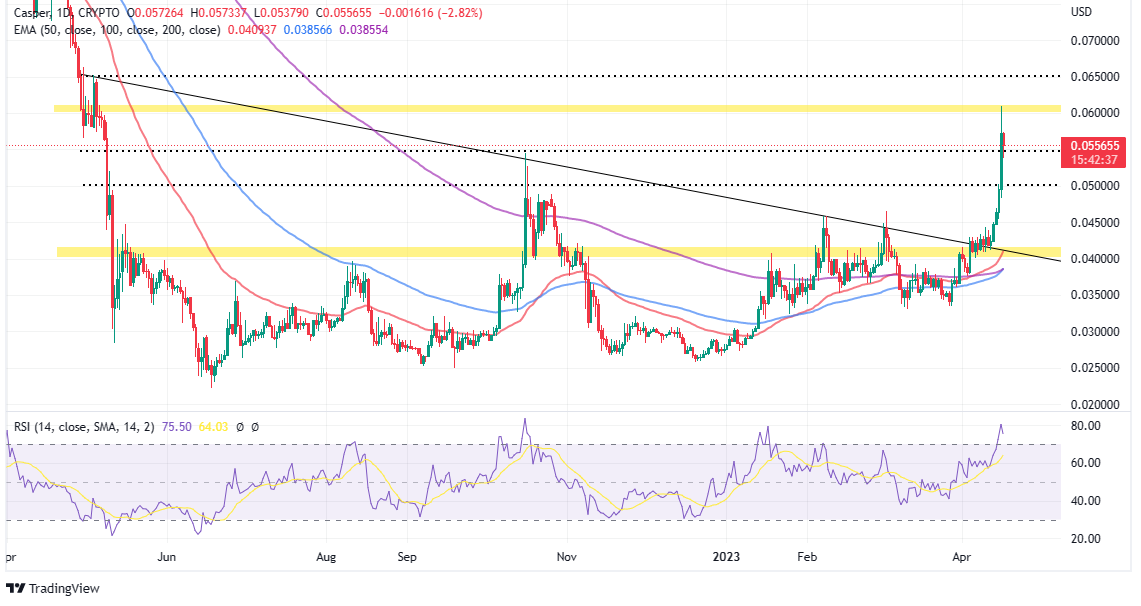 Traders may want to book profits as Casper price pulls back from resistance at $0.06. Declines may increase if the RSI drops into the neutral zone from the overbought region.
In that case, support at $0.05 will come in handy, but if push comes to shove, investors may start to acclimatize to the CSPR revisiting the confluence support at $0.045.
Casper's potential nosedive to $0.045 may fail to pull through if its immediate support at $0.055 does not budge. Traders may increase their exposure to CSPR while eyeing a possible move beyond $0.06 to $0.1.
Love Hate Inu (LHINU)
Love Hate Inu leads the pack among the top crypto presales for 2023. The highly ranked LHINU has captured investors' attention, presenting a groundbreaking vote-to-earn system within the cryptocurrency realm."
This cutting-edge stake-to-vote platform enables users to interact within a community of like-minded people and voice their opinions on trending global discussions through blockchain-based polls.
Powered by the dog-themed LHINU token, Love Hate Inu is at the forefront of the meme coin craze.
Holders of LHINU tokens can participate in debates on various subjects and topics, such as their admiration or disdain for Elon Musk, Donald Trump, or Andrew Tate.
By requiring users to stake their tokens before voting on any topic, Love Hate Inu ensures that the voting process is secure and without influence from bots and spam accounts.
The Stake-to-Vote model allows users to earn LHINU tokens every time they voice their opinions on topics on the poll dashboard.
The $LHINU staking mechanism is secured by smart contracts.🔒

This means the voting process is both verifiable and anonymous.👥🗳️

So, rest assured that your vote counts and your voice will be heard!🙌🗣️

Join our #Presale today and become a part of the #LoveHateInu Gang!💰🚀

— Love Hate Inu (@LoveHateInu) April 17, 2023
Love Hate Inu's model allows individuals to create polls, provided they supply a predetermined amount of LHINU tokens as incentives for voters. To be eligible to vote, users must stake their LHINU tokens for a minimum of 30 days.
Love Hate Inu's developers emphasize that their voting system, built on blockchain technology, ensures fairness, transparency, and security throughout the entire process.
To minimize the risk of rug pulls, Love Hate Inu plans to distribute 90% of the presale tokens, which amounts to 100 billion in total, among the investors.
The remaining 10% of the tokens are allocated for purposes such as ensuring liquidity, incentivizing the community, and facilitating exchange listings.
LHINU is selling at $0.000115 in the ongoing presale, which has so far raised $4.37 million. Investors must hurry to take advantage of the discounted price before the next hike to $0.000125 in seven days.
The team intends to list Love Hate Inu on exchanges after the presale at $0.000145, ideally in Q2 2023.
DeeLance (DLANCE)
The rapid expansion of the global freelance market, outpacing predictions made by Upwork just five years ago, can be attributed to factors like the pandemic's impact on the economy and the rise of remote work.
Technological advancements in blockchain and artificial intelligence are also significant drivers of this growth.
Currently, platforms like Upwork, Fiverr, Freelancer, Toptal, and Flexjobs dominate the freelance and recruitment scene.
Between 2018 and 2020, the global freelance platform market rose from $2.35 billion to $3.39 billion. However, these platforms represent only 1-3% of the total workforce, suggesting substantial room for future growth.
Despite an already crowded market, existing platforms are hindered by outdated web2 technologies, leading to high fees, payment delays, and difficulty in finding qualified freelancers.
However, this is about to change with the launch of DeeLance, a cutting-edge Web3-based freelance marketplace designed to connect freelancers and employers worldwide.
DeeLance aims to disrupt the $3.39 billion industry (according to Absolute Reports) with its innovative features supported by blockchain and Web3 solutions.
DeeLance has within a few weeks of existence generated a lot of buzz in the freelance space, with employers and freelancers eager to try out the new web3-powered platform to boost their businesses and careers.
The future of work the world over is freelance and remote, which means DeeLance couldn't have come at the best time. Investors can start engaging with DeeLance in an ongoing presale, where they can buy DLANCE tokens at a discounted price.
"The e-learning and freelancing sectors will be major drivers of market growth due to the scope of web3 technology. With web3, there will be a high level of collaboration between customers, clients, and blockchain technology," DeeLance's whitepaper reads in part.
Because DeeLance is a web3 freelancing platform, users enjoy a lot more benefits including a simple signup process, transparency, and security, instant crypto payments, ai chatbots for customer care, on-chain KYC – used to avoid bad actors, low commissions, and staff recruitment.
Hey DeeLancers!👨‍💻☄️

We believe everyone should have control over their work, from having maximum control of their funds to possessing work ownership through #NFTs and occupying a commercial office in the #Metaverse💪

Join $DLANCE Presale today! 💰⤵️https://t.co/XHnTqVzMLN pic.twitter.com/bW6WaBPV9O

— DeeLance (@deelance_com) April 14, 2023
Working on DeeLance offers an unmatched experience for both employers and freelancers. Some of the features that help DeeLance stand out from its peers include having a simplified platform, where users take less than a minute to post a job or apply to offer services.
DeeLance is poised to emerge as a frontrunner in the rapidly expanding freelance sector. By investing now in DLANCE, individuals can take advantage of the world's most pioneering recruitment platform.
The current presale has attracted significant attention, amassing $237,000 in just a few days. At present, 1 $DLANCE token is selling for $0.025, but the price is set to increase to $0.029 in six days.
DeeLance intends to debut on exchanges for the first time at $0.037, ensuring early backers bag considerable potential gains.
Injective Price Rally Stops Short of $10
Injective has been one of the best-performing altcoins since the beginning of the year, accruing 70% in gains over the last year.
INJ exploded 78% in the last two weeks to trade at $9.17 on Monday. The token powers the Injective ecosystem, a decentralized exchange platform that allows users to trade all kinds of assets across various blockchains without the need for intermediaries.
INJ is primarily used for transaction fees, staking, governance, and liquidity provision. As the demand for decentralized finance (DeFi) continues to grow, Injective Protocol has positioned itself as one of the cutting-edge solutions providing a scalable and efficient infrastructure for decentralized trading.
According to the weekly chart below, Injective price has since the beginning of the year printed only five red candles, with the fifth seeking support at $9. Reinforcing this area is the falling upper trendline.
Injective bulls are required to hang onto support at $9 as if their lives depend solely on it to avert a potential extended trend reversal aiming for $6.
Slightly below the buyer congestion at $6 is the 100-day EMA (line in blue) in line to absorb the selling pressure if declines intensify.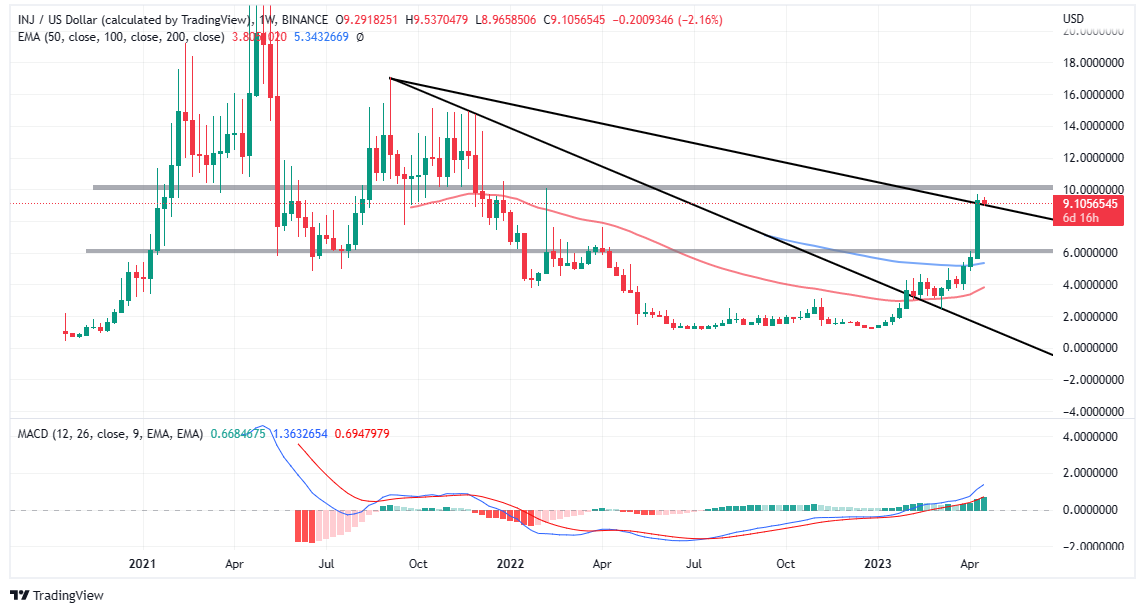 The Moving Average Convergence Divergence (MACD) indicator's outlook above the mean line implies that buyers largely hold the reins. However, they must push past $10 to confirm the continuation of the uptrend and make good of the buy signal sustained by the MACD since July.
Ecoterra (ECOTERRA)
Climate change continues to be a major worldwide issue, and the green crypto ecosystem, Ecoterra, aims to support eco-friendly recycling habits.
Ecoterra's Web3 Recycle-to-Earn (R2E) program is gaining traction in the crypto world, with its rapidly advancing presale already exceeding $1.29 million.
The Ecoterra presale, which started just a few weeks ago, is in its third stage, where investors can buy an ECOTERRA token at $0.0055.
With only nine days left until stage 3 begins, potential investors should move swiftly to seize this opportunity at the current discounted price, as the fear of missing out (FOMO) could further hasten the presale.
Ecoterra is an innovative green crypto initiative that not only promotes recycling to reduce environmental harm but also facilitates the sale and transfer of carbon credits.
As plastic waste is expected to dramatically rise by 2060 and the volume of plastic pollution is projected to double yearly, recycling is increasingly crucial.
🤔 Here are the 4 main components of ecoterra:

📱 Recycle-2-Earn Application
🌍 Carbon Offset Marketplace
♻️ Recycled Materials Marketplace
🔍 Impact Trackable Profile

Check out our #Presale and learn more about our environmental commitment🌿https://t.co/1fYkPOsPYG pic.twitter.com/Nmlif6spbx

— ecoterra (@ecoterraio) April 17, 2023
To encourage recycling, Ecoterra's groundbreaking platform rewards individuals with ECOTERRA tokens for responsible waste management.
Users can scan barcodes of recyclable materials and deposit them at nearby Reverse-Vending-Machines (RVMs), earning ECOTERRA tokens through the Recycle-to-Earn system.
"Ecoterra wishes to focus on rather some businesses-level strategies and individual choices by the help of which its users can fight against climate change," the team backing Ecoterra said via the whitepaper.
Evaluating Oasis Network Profitability This Week
Oasis Network (ROSE) is trading at $0.735 after bulls demonstrated their might over bears during the weekend. ROSE almost brushed shoulders with resistance at $0.08 but stopped at $0.07936.
This bullish move came after ROSE pierced through a stubborn seller congestion at $0.065 early last week.
The ongoing pullback may be attributed to profit-booking activities and the need for ROSE to sweep through fresh liquidity at lower price levels in order to build the required momentum to take on the next resistance at $0.08 and $0.1, respectively.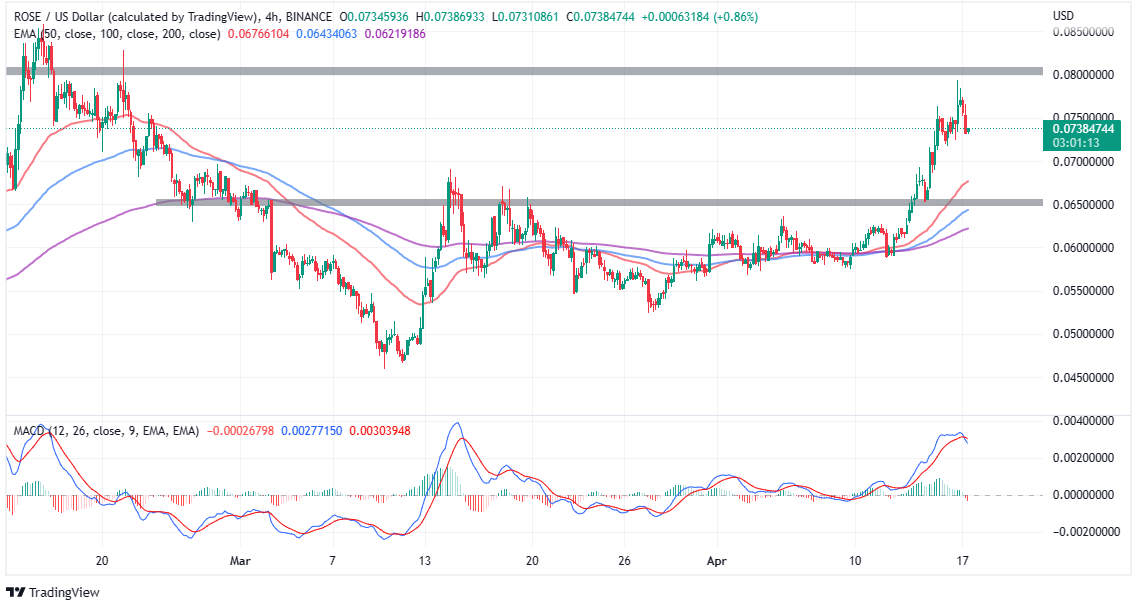 Based on the current position of the MACD, traders may want to wait before they go long on ROSE for gains targeting $0.08 and $0.1.
Notice a sell signal in the MACD on the four-hour chart which if sustained could start a sell-off to $0.07 and the major support at $0.06.
For now, it would be prudent for traders to closely follow ROSE's movement around the immediate hurdle at $0.075.
A break above this area may pave the way for the expected upswing. On the other hand, odds will favor a pullback to $0.07 and $0.065 if overhead pressure overwhelmed bulls under $0.075.
Related Articles:
Love Hate Inu – Newest Meme Coin
Decentralized Polling – Vote to Earn
Early Access Presale Live Now
Ethereum Chain
Featured in Yahoo Finance
Mint Memes of Survey Results as NFTs
Staking Rewards
Viral Potential, Growing Community