The total crypto market value has crossed the $1.3 trillion mark as the bull run beckons. Bitcoin is trading above $30,000 for the first time since June. Investors are likely to be dealing with FOMO (fear of missing out) as they rush to book their positions before the moon-bound rocket lifts off. For that reason, in this article, we will dive into the top crypto gainers of the day (April 15), including some of the best crypto presales to buy for 2023.
Crypto Market Update
The total market value holds slightly above $1.32 trillion after factoring in a 1% dip over the last 24 hours. More than $60 billion in trading volume has come in across the board.
Bitcoin dominance is at 44.5% of the total market value. It has been increasing since late last year, implying that altcoins are still relatively depressed and that the altcoin season is yet to start.
Crypto-focused companies and businesses are walking on eggshells, especially in the United States as regulators remain adamant on the call for clear rules. The Securities and Exchange Commission (SEC) Chair Gary Gensler insists crypto is not special and should operate under the oversight of existing securities rules.
His counterpart at the helm of the Commodities Futures Trading Commission, Rostin Behnam maintains Ethereum (ETH) and all stablecoins are commodities, which contradicts the SEC's stance.
Executives in the crypto market are at loggerheads with regulators in the US amid the push to have a clear framework for cryptos. It is unclear when the stalemate between state agencies and the crypto industry will resolve.
Nevertheless, the crypto market led by Bitcoin (BTC) and Ethereum (ETH) has remained resilient, emerging even stronger from the banking crisis in the US.
Injective Price Pumps 12% to $8
Injective price is trading at $8.00 after climbing a whopping 12% in 24 hours. The token has been on the offensive since the beginning of the year as bulls push to reclaim the ground lost during the crypto winter.
INJ's first significant breakout occurred around mid-January when buyers flipped stubborn hurdles in form of moving averages, including the 50-day Exponential Moving Average (EMA) (the line in red), the 100-day EMA (in blue) and the 200-day EMA (in purple).
With this newly found momentum, the daily chart shows how Injective price blasted above the next two hurdles highlighted by the lower descending trendline and the most recent breakout at $6.00, shown in the lower gray band.
Injective was forced to take a breather marginally above $9, although bulls targeted a substantial swing beyond $10. Investors should not panic, as the Moving Average Convergence Divergence (MACD) indicator affirms the optimistic outlook for INJ. Hence, the next breakout could reach $16 and $20, respectively.
If the immediate support at $8 gives in, Injective might drop to collect more liquidity at $6 before regaining enough momentum to rally.
Arbitrum Price Blasts to $1.7 as Crypto Flash Green
Arbitrum price continues to cancel the squabbles between the community and the Arbitrum Foundation regarding the allocation of funding worth around $1 billion. The token that was dumped massively after the March airdrop, consolidated losses above $1.1 although its upside was capped under a falling trendline until Wednesday.
ARB is trading 5% higher on the day after blasting through several seller congestion zones at $1.35, $1.5, and $1.70. With the MACD donning a vivid buy signal on the daily chart, ARB may keep its uptrend sustained throughout the weekend.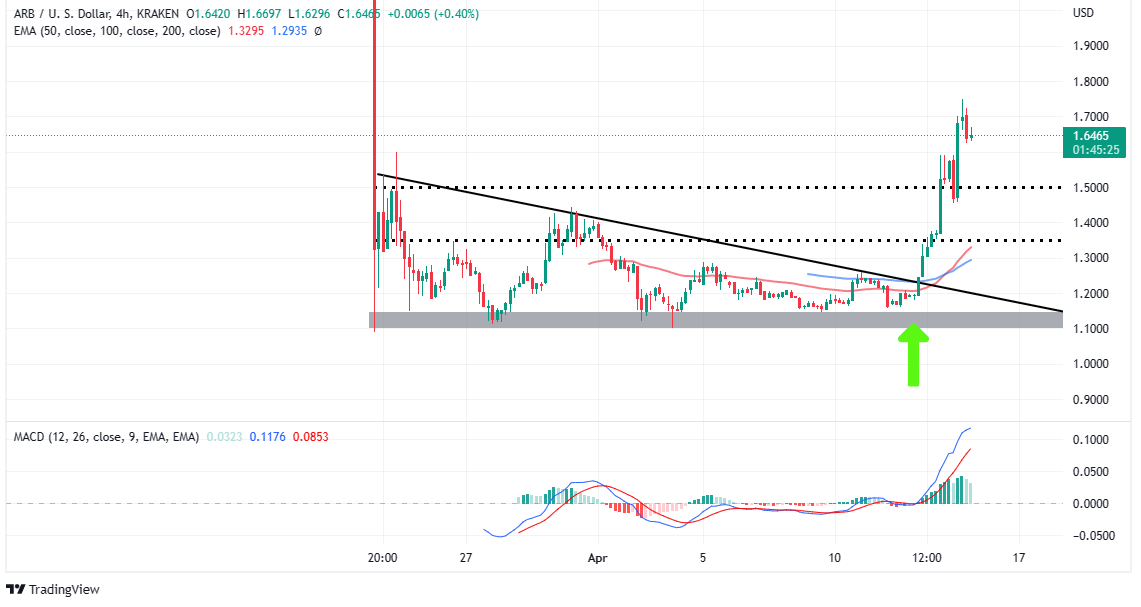 Traders who bought ARB earlier in the week may want to book profits before triggering fresh orders above $1.70. From here, Arbitrum price would be looking for gains above $2 as part of the ultimate push to $10.
Love Hate Inu (LHINU)
Love Hate Inu tops the list of the best crypto presales for 2023. Investors have been showing immense enthusiasm for LHINU, a top-rated cryptocurrency project introducing an innovative vote-to-earn ecosystem.
This cutting-edge stake-to-vote platform enables users to interact within a community of like-minded people and voice their opinions on trending global discussions through blockchain-based polls.
Powered by the dog-themed LHINU token, Love Hate Inu is at the forefront of the meme coin craze.
Holders of LHINU tokens can participate in debates on various subjects and topics, such as their admiration or disdain for Elon Musk, Donald Trump, or Andrew Tate.
Who's seen the spectacular #LoveHateInu dashboard?🤔👀

It's a wonder to behold, enabling our users to create polls, track their rewards, keep up with the hottest trending votes, and much more. 📈📊

Join the #LoveHateInu community and get some $LHINU tokens now!🔥🚀#Presale

— Love Hate Inu (@LoveHateInu) April 14, 2023
By requiring users to stake their tokens before voting on any topic, Love Hate Inu ensures that the voting process is secure and without influence from bots and spam accounts.
The Stake-to-Vote model allows users to earn LHINU tokens every time they voice their opinions on topics on the poll dashboard.
Love Hate Inu's model allows individuals to create polls, provided they supply a predetermined amount of LHINU tokens as incentives for voters. To be eligible to vote, users must stake their LHINU tokens for a minimum of 30 days.
Love Hate Inu's developers emphasize that their voting system, built on blockchain technology, ensures fairness, transparency, and security throughout the entire process.
To minimize the risk of rug pulls, Love Hate Inu plans to distribute 90% of the presale tokens, which amounts to 100 billion in total, among the investors.
The remaining 10% of the tokens are allocated for purposes such as ensuring liquidity, incentivizing the community, and facilitating exchange listings.
LHINU is selling at $0.000115 in the ongoing presale, which has so far raised $4 million. Investors must hurry to take advantage of the discounted price before the next hike to $0.000125. Love Hate Inu intends to start trading on exchanges soon at $0.000145, the listing price.
DeeLance (DLANCE)
LinkedIn, Upwork, and Toptal are among the leading Web2 entities in the freelancing world, providing various services such as pre-vetted projects, round-the-clock customer assistance, and secure payment systems.
However, these services often fall short of expectations, while leaving individuals with little control over their data ownership and usage.
Third-party marketing companies regularly exploit user information, making it a profitable resource of revenue for centralized Web2 freelancing platforms.
By introducing backend innovations, the web3 freelancing ecosystem will revolutionize the future of work, reshaping how it is perceived and conducted and DeeLance is at the center of it all.
Transition to Web3 is no longer a fast-mover advantage, it is a necessity for many sectors of the global economy.
As a Web3 platform, DeeLance runs on emerging data, bolstered by a decentralized approach which makes the crypto project more open, safe, secure, and safe for use by anyone around the world.
Users on DeeLance can forget about greedy intermediaries and their centralized operations. With the use of NFTs, employers have the benefit of getting complete ownership of their work.
Freelance sellers have the opportunity to make the most out of their revenue due to the low fees charged by DeeLance and fast crypto payments.
Using the metaverse, DeeLance believes it can foster the growth of micro-communities that nurture interactions between workers and employers.
Hey DeeLancers!👨‍💻☄️

We believe everyone should have control over their work, from having maximum control of their funds to possessing work ownership through #NFTs and occupying a commercial office in the #Metaverse💪

Join $DLANCE Presale today! 💰⤵️https://t.co/XHnTqVzMLN pic.twitter.com/bW6WaBPV9O

— DeeLance (@deelance_com) April 14, 2023
Recruiters will for the first meet freelancers to discuss ideas, network, and form lasting bonds. One of DeeLance's main objectives is "streamline processes and make conducting business smooth and efficient with digital work ownership," the project's whitepaper states.
Investors are already engaging with this forward-looking crypto platform via an ongoing presale. In a matter of days, DeeLance has raised $1122k to become one of the best crypto presales for 2023.
Discounted DLANCE tokens are selling at $0.025, which means investors are looking at a substantial paper gain ahead of the expected launch price of $0.053.
As one of the best crypto presales in the market for 2023, analysts say DeeLance has the potential to reach $1 billion in market capitalization within a short time of the token's listing on exchanges.
WOO Network (WOO)
Investors may want to consider WOO Network for their portfolio diversification as cryptos try to ignite the next bull market. After consolidating between $0.15 and $0.25 since early February, WOO exploded again this week.
The decentralized platform designed to offer secure and fast transactions for digital assets boasts 45.5% in cumulative seven-day gains and trading at $0.3 on Saturday. Based on the MACD, there is a high probability WOO will sustain the uptrend through the weekend, possibly starting the subsequent week above $0.35.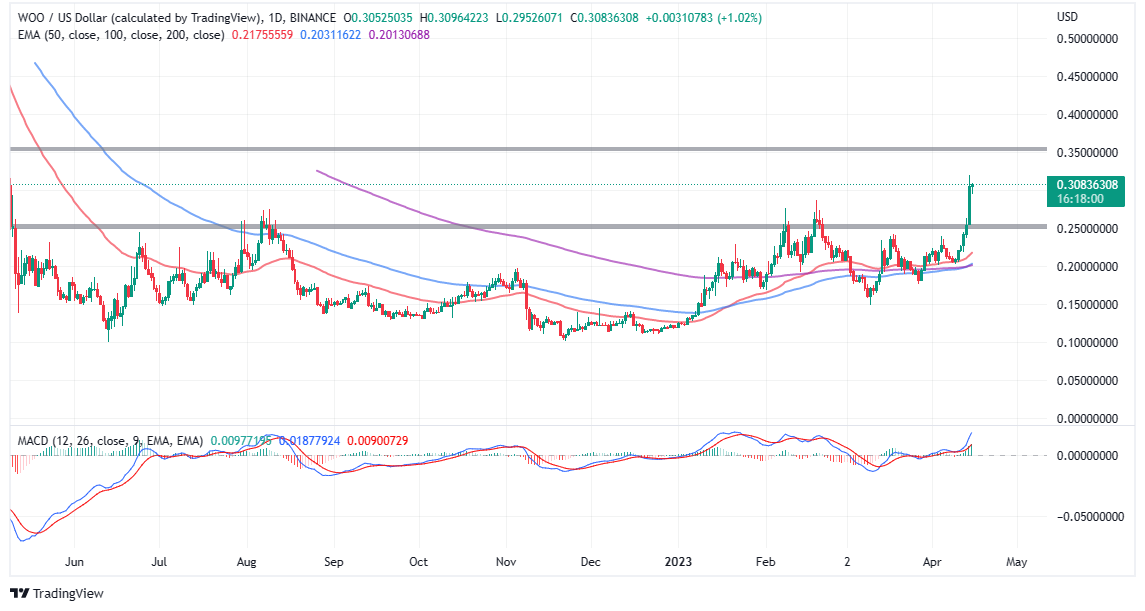 If support at $0.3 fails to hold, investors may start acclimatizing to a pullback to $0.25. However, they should consider avoiding panic-selling, as dips often provide new entry positions for investors which helps to build the momentum for the next upswing, eyeing $1.
Ecoterra (ECOTERRA)
Climate change remains a significant global concern, and the green cryptocurrency ecosystem Ecoterra aims to promote sustainable recycling practices.
Ecoterra's Web3 Recycle-to-Earn (R2E) initiative is making waves in the crypto community, as its rapidly progressing presale has already surpassed $672,000.
Though the Ecoterra presale began merely a few weeks ago, it is quickly approaching stage 3, where investors will purchase one ECOTERRA token for $0.0055.
With only nine days remaining before stage 3 commences, the fear of missing out (FOMO) may expedite the presale. As a result, interested investors should act quickly to benefit from the current low price.
Ecoterra is a pioneering green cryptocurrency project that encourages recycling to lessen our environmental impact while also facilitating the sale and transfer of carbon credits.
Plastic waste has been predicted to surge dramatically by 2060 with the volume of plastic entering the environment doubling each year.
As global plastic waste is predicted to increase tremendously by 2060, and the amount of plastic entering our environment is estimated to double annually, recycling becomes more critical than ever.
The innovative blockchain startup, Ecoterra, motivates individuals to recycle by providing them with ECOTERRA tokens as incentives, fostering a culture where proper waste management translates to financial rewards.
Ecoterra platform enables users to scan barcodes of recyclable items and deposit them at a nearby Reverse-Vending-Machine (RVM).
Through the Recycle-to-Earn system, they can then redeem their well-earned ECOTERRA tokens.
Rocket Pool (RPL)
Rocket Pool price pulled back slightly after testing strong resistance at $56. The liquidity-staking token now trades at $51.45 on Saturday, while bulls focus on dealing with yet another immediate resistance hurdle at $52.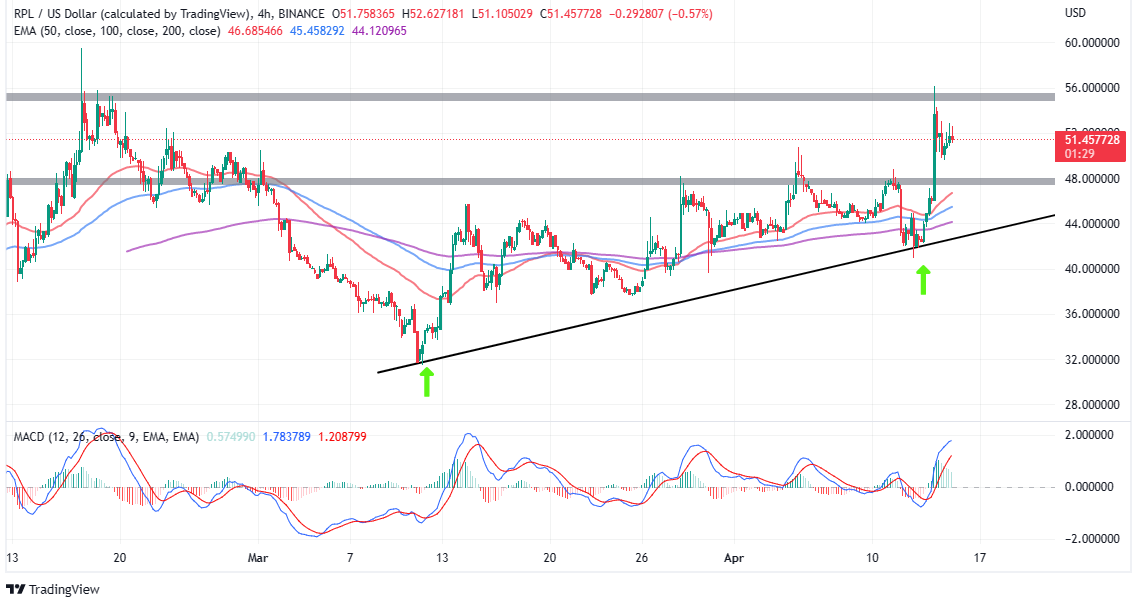 Traders would be watching two key levels going forward, including the pivotal resistance at $52 and the major hurdle at $56.
With that in mind, a break and hold above the immediate resistance at $52 may open the door for the much-coveted upswing above $56 and $60, respectively.
On the other side of the fence, failure to weaken the seller congestion at $52 would mean a spike in overhead pressure. In that case, Rocket Pool might resolve to seek liquidity at $48.00 to allow bulls to aggressively push to $60.
Related Articles:
Love Hate Inu – Newest Meme Coin
Decentralized Polling – Vote to Earn
Early Access Presale Live Now
Ethereum Chain
Featured in Yahoo Finance
Mint Memes of Survey Results as NFTs
Staking Rewards
Viral Potential, Growing Community