The US stock market is currently in the red zone, although the greed and fear index signals investors are piling up on investments.
On the other side, the crypto market is still going strong. So far, the emerging industry has gained 2.05% and hit a new milestone at $1.25 trillion. This continued bullish momentum only suffices that more buying activities are ongoing in the decentralized ecosystem.
With cryptocurrencies becoming more attractive to investors, what are the best digital assets to add to the portfolio?
This article covers some of today's most promising and exciting top crypto gainers based on technical analysis, utilities, and gain potentials.
NEAR Protocol ($NEAR)
Beginning our lineup of top crypto gainers to buy today is NEAR, the ecosystem token for the Near Protocol.
A layer-one blockchain protocol, NEAR is one of the new generation smart contract networks that aim to resolve issues around scalability and decentralization plaguing older networks.
The platform uses Nightshade technology which significantly boosts its transaction throughput, enabling a near-instant development hotbed for decentralized applications (dApps).
NEAR Protocol is also unique in the way it approaches its operational framework. Instead of using cryptographic wallet addresses, a major staple across the crypto market, the NEAR network offers users human-readable account names.
This way, the chances of assets being transferred to the wrong wallet address are significantly limited, thereby boosting asset security.
It also runs on an in-house developed consensus algorithm called 'Doomslug,' which is unique.
NEAR's strong Web3 appeal has led to multiple integrations with other crypto-native protocols. A recent addition is integrating with mobile-native non-fungible token (NFT) marketplace Rove.
The platform is making its first multichain launch.
A step towards a multichain future.

Rove World v2 integrates with @NEARProtocol

This new partnership marks another exciting chapter of the Rove World journey.

Big things to come 💫 pic.twitter.com/xIteMLHU8a

— R💫VE (@RoveWorldApp) April 12, 2023
This fundamental, alongside a broader market rally, has seen $NEAR join the bull wagon.
At press time, the crypto asset is up 4.4% and trading at $2.19. This bullish streak is also present in its long-term performance, as the crypto asset is up 7.79% in the past week and 7.31% in the last 30 days.
WOO Network ($WOO)
An alternative altcoin grabbing several investors' attention is the $WOO token.
The digital asset serves the Woo Network, a deep liquidity network. The network connects traders, institutions, and decentralized finance (DeFi) protocols to censorship-free liquidity and trading execution for a fraction of the cost they would be charged when using traditional means.
This way, institutional clients can access better liquidity than most top exchanges with tighter bid/ask spreads.
First incubated in 2019 by Kronos Research, Woo Network has continued to expand its liquidity offerings and has added a decentralized exchange (DEX) known as WOOFi. The DEX provides DeFi protocols and dApps to deep-lying on-chain liquidity on Binance Smart Chain (BNB Chain) and the Avalanche networks.
The protocol's popularity has seen it listed on some of the world's top crypto trading hubs. A recent one is Kraken Pro which has added WOO to its perpetual futures contracts.
This largely shows the immense interest $WOO token has been getting from investors in the last couple of months.
No easter slackin' with $WOO perp on Kraken https://t.co/kMyY3GuV5W

— WOO X (@_WOO_X) April 8, 2023
Turning out sight to its recent price performance gives more clarity on the digital asset's immense potential.
WOO token is trading at $0.26, up 15.5% in the past day. A seven-day bullish streak has seen it rise 14.39% and 34.17% in the last month.
Love Hate Inu ($LHINU)
The hallmark of savvy investors is their ability to recognize promising projects in their infantile stages.
While not on the open crypto market, the $LHINU token possesses the ability to become investors' favorite once it launches.
The crypto project is a meme coin that is introducing a new vote-to-earn (V2E) concept into the crypto market.
Users are allowed to voice their opinions on various public polls concerning national policies, societal issues, fiscal frameworks, and even more mundane tasks, such as which celebrities should be accepted and which should be called to order.
The token is the native token of the Love Hate Inu network, allowing users to vote either 'love' or 'hate' on any of the abovementioned issues.
In return for their services, users earn the project's token.
Love Hate Inu is also targeting the traditional online survey market, which is currently projected to be $3.2 billion.
With this V2E framework, users get to have their say on any issues without fear of sanctions, given that it operates on the Ethereum blockchain.
In addition, Love Hate Inu will also feature sponsored polls that will reward users with $LHINU, non-fungible tokens (NFTs), and other metaverse-themed collectibles.
The project's appeal has not been lost on investors, given the mass indulgence of meme coins and the fact that Love Hate Inu principally focuses on the social media landscape, which is the playground for the young.
Morning #LoveHateInu Fans!💪

Update alert!🚨

We have passed the $3.8M milestone!🎉

Thank you to all contributors!🙌🤝

Join the #Presale now for the hottest #MemeCoin of the year!💰🚀

Get your $LHINU today!👍😎https://t.co/Pu2Bo8WOUy#AltCoins #TheGodfather #LHINUFamily pic.twitter.com/nZF5S8TACN

— Love Hate Inu (@LoveHateInu) April 13, 2023
So far, $LHINU has raised an astronomical $3.98 million plus since making its debut less than a month ago.
Early-bird investors can get their voting tokens for $0.000105 now before it jumps to $0.000115 in the next couple of hours.
DeeLance ($DLANCE)
Blockchain technology has become firmly associated with disruption, and this is where the DeeLance project comes into play.
DeeLance, which debuted last week, is a decentralized freelance and recruitment platform.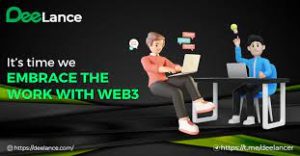 The innovative platform provides a decentralized template where freelancers and employers can collaborate in real time.
DeeLance also offers much more in its ecosystem. The platform allows freelancers to tokenize their work as non-fungible tokens (NFTs) and retain full control until the requisite payment is made for them.
Even more unique, it features a metaverse concept that allows freelancers and employers to execute tasks together in the virtual reality landscape.
📢Attention Deelancers!

Just crossed the $100,000 milestone!🎉

But time is running out – only 4 days left until #Presale stage 1 ends. Don't miss this opportunity to get in early

Join $DLANCE presale now!⬇️https://t.co/XHnTqVzMLN#crypto #Metaverse pic.twitter.com/ogZJvXGKzf

— DeeLance (@deelance_com) April 12, 2023
DeeLance is out to provide a cost-efficient, censorship-resistant, and more viable recruitment environment than is currently available for freelancers.
So far, its $DLANCE token has been one of the breakout stars in an ecosystem full of promising projects.
The ERC-20 token has already crossed the $100,000 mark and has so far net $118,000 plus in presale funds. Investors can buy the token for $0.025 before the next price hike in 72 hours.
Immutable X ($IMX)
Today's list of top crypto gainers would not be complete without mentioning an Ethereum-based scaling solution.
Called Immutable X, the Ethereum-focused decentralized solution is a layer-two blockchain solution for rapidly minting and selling non-fungible tokens (NFTs) on the often wise slow Ethereum network.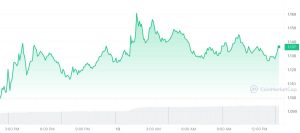 The platform addresses issues around scalability, poor user experience, illiquidity, and slow developer experience.
This way, Ethereum users and developers alike can buy, sell, and mint NFTs at record speed and for a fraction of the costs it would incur if using the original blockchain.
Immutable X has remained one of the top choice scaling solutions with its reliance on STARK zk-rollups.
So far, Immutable X has continued to snap up major integration in the blockchain space.
A recent one is its integration with game title development company iLogosEurope. This sees Immutable directly exposed to the 460+ clients the Web2 native company has under its belt.
Welcome @iLogosEurope to the Immutable family!

With 16 years of exp bringing game titles to life & over 1.5B game installs for @supercell @Ubisoft @EA and more, iLogos will help us onboard the next billion users into web3 #onImmutable pic.twitter.com/O03UZ17kvI

— Immutable – $IMX (@Immutable) April 12, 2023
Price-wise, Immutable X's native token, $IMX, has been on the green side of the market. The digital asset has surged 3.8% and is trading at $1.13 in the last 24 hours. A week's rally has seen IMX post an average 3.26% increase.
Ecoterra ($ECOTERRA)
One of the most talked about issues in the world is climate change, with more concerns cropping up in the day.
So far, several world governments are incentivizing logistics and vehicle manufacturers to move their product lineup to green technology. A new climate-focused effort is on the breakout and is called ecoterra.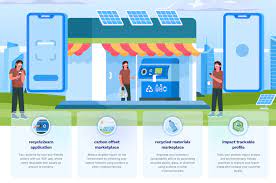 Ecoterra is an all-in-one recycle 2 earn marketplace that allows users to earn recycling tokens when they properly dispose of their materials.
The platform offers consumers a lifeline to impact their community with environmentally-friendly actions.
The crypto project is a growing line of efforts aimed at properly incentivizing the public on global warming and climate change.
With users able to earn from doing the needful, more actionable steps can be achieved to stop needless carbon emissions.
Like all the recent additions, ecoterra is still in its presale stage.
The $ECOTERRA token has so far raised more than $628,000, making it an ESG-friendly investment that users can support.
Internet Computer (ICP)
Rounding up our best altcoins to buy project is the ICP which powers the Web3-focused Internet Computer.
Launched in 2016 by the DFINITY Foundation, Internet Computer prides itself as the next generation of the Internet as we know it.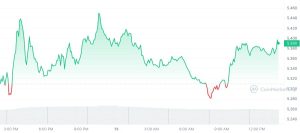 It allows developers and users to access Web3 solutions while retaining full control of their internet experience.
Users can access decentralized content at a web-based speed. It aims to become the first 'world computer' that is permissionless and secure.
The Internet Computer protocol has been building out its blockchain-native computing resources using special devices called routers.
These devices contain canister smart contracts functionality that offers regular web experiences for users in a decentralized manner.
The project recently celebrated the milestone deployment of over 270,000 canister smart contracts, which is remarkable for a first-time blockchain computer.
Over 270K #ICP Canisters!!!!! 🔓📈

This is Epic

The climb towards 300k CONTINUES 🙌 pic.twitter.com/rjwNauo8Sb

— Internet Computer (@ICPinfinite) April 12, 2023
So far, the ICP token has followed the same trend as the broader crypto market. The digital asset is trading at $5.4, up 1.8% in the past day.
Conclusion
This article reviews the seven best crypto gainers to purchase today, along with technical and fundamental analyses, concepts, use cases, and massive gain potentials.
On the other hand, the crypto market remains volatile and is easily influenced by unexpected events in the financial and technology sectors. We urge traders to conduct extensive research on tokens before investing.
Related News
Love Hate Inu – Newest Meme Coin
Decentralized Polling – Vote to Earn
Early Access Presale Live Now
Ethereum Chain
Featured in Yahoo Finance
Mint Memes of Survey Results as NFTs
Staking Rewards
Viral Potential, Growing Community