The first quarter of 2023 was a tricky one for the crypto market. Major cryptocurrencies rallied in March, and Bitcoin, Ethereum, and other digital assets had one of their steepest bearish phases.
A spate of negative events occurred, including the collapse of crypto-centric investment banks such as Silvergate Capital and Silicon Valley.
This is followed closely by strict U.S. regulators lawsuits against top crypto exchanges like Binance, Coinbase, and KuCoin, and financial market volatility triggered by the surprising fall of USD stablecoin (USDC) as it failed to anchor the U.S. dollar in March.
Looking ahead to April, crypto traders and investors are solely focused on the predominant development of the industry regarding core areas, including liquidity, regulatory development, and the next batch of high inflation in the labor industry.
However, there've been signs that the crypto market will retain its truest form, with Bitcoin hitting the $30,000 price mark in the last 24 hours.
In this article, we've collated the best crypto gainers that are solid investment options based on technical analysis, core utilities, and huge gains potentials. Keep reading.
Render Token ($RNDR)
The Render network ranks number one on our list based on its vast role in the graphics and motion creative sector.
The project is a blockchain-powered platform that allows users to contribute unused Graphics Processing Unit (GPU) power from their home devices to help projects render diverse graphics and visual effects.
In exchange for this task, users will receive incentives in the form of $RNDR, the project's utility token.
By creating a seamless, efficient, and versatile peer-to-peer (P2P) network that enables individuals and institutions to access a well of underutilized computational power, the Render project simplifies the process of streaming 3D environments and other visual effects, which is usually complex.
As a result, the blockchain project and token have become an essential building block for digital products and services deployed in the metaverse.
As detailed in CoinMarketCap, $RNDR trades at $1.58 per token, with a stellar 24-hour trading volume of $174 million and a circulating supply of 361 million.
The motion graphics token has recorded a significant growth of 1.67% in less than 24 hours and is ranked the 82nd biggest crypto based on an astounding market cap of $568 million.
According to the technical analysis indicators, the $RNDR token trades above the simple moving average (SMA) 200-day and the 50-day mark of $0.85 and $1.33, respectively.
The relative strength index (RSI) oscillator value is 63.10, which signals that the RNDR market is gearing towards an overbought zone which will trigger a price increase.
Solana ($SOL)
Solana is a decentralized blockchain project built for scalable decentralized applications (dApps).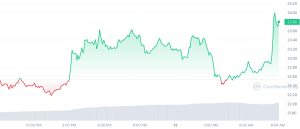 The project asserts to improve transaction scalability through its immersive proof-of-history (PoH) consensus mechanism that uniquely combines with its chain network's underlying proof-of-stake (PoS) protocol.
Apart from its fast transaction throughput, the Solana network embeds a "low-cost driven" platform in terms of transaction fees (known as a gas fee) compared to rival chains like Ethereum.
Because of its hybrid consensus model, the open-source network enjoys adoption from retail and institutional investors. The project remains keen to crate a permeates of decentralized finance to global industries.
At the heart of this innovative platform is its native token, $SOL. The innovative token recorded up to 12,000% gains in 2021 and is tipped to repeat the same feat this year.
At press time, $SOL is priced at $23.80 and ranked as the 10th biggest crypto with a market cap of a staggering $9.2 billion.
In the last 24 hours, the Solana market has recorded a 5.32% price increase and $1.2 billion in trading volume.
The technical analysis shows that $SOL is trading above the 200-day and 50-day simple moving averages (SMA) of $21.46 and $21.39, respectively. The relative strength index (RSI) indicator sits at $61.27, showing the $SOL token is nearing an overbought zone.
If the immersive dApp platform incorporates more utilities and upgrades and thrives in adoptions, the Solana market will enjoy a massive growth phase.
Love Hate Inu ($LHINU)
Love Hate Inu represents the crypto meme coin genre. Meme cryptos are perceived to thrive through hype but feature little utility necessary for longevity.
While this is factual, Love Hate Inu asserts to change the narrative through its stacked-up utility beneficiary to a myriad of global industries.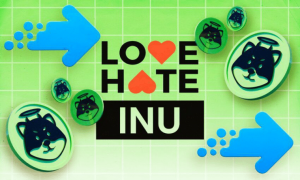 The new meme sensation is a revolutionary web3-powered platform that infuses a dynamic vote-to-earn (V2E) model, enabling users to share their unparalleled opinions on controversial topics and earn commercial ventures for participating.
Unlike traditional media voting platforms like Twitter and Facebook, Love Hate Inu creates a sanctionless hub accessible to everyone. Opinions can be shared on sensitive topics in politics, religion, sports, education, socialization, climate change, celebrities, etc.
What's up #LoveHateInu Gang!🐶💪

Boom!🚨

Another round of insane news, we've smashed past $3.7M in our #Presale!🎉

Massive thanks to our entire community!🙌🤝

Get some $LHINU today and be a part of the best #MemeCoin ever!💰🚀https://t.co/Pu2Bo8WOUy#AltCoins pic.twitter.com/u8oexJHQJQ

— Love Hate Inu (@LoveHateInu) April 12, 2023
The platform is powered by the versatile Ethereum blockchain, which brings core transparency, legitimacy, and security to voting processes and recorded results.
Although its native token, $LHINU, is yet to list on exchanges, investors can purchase the meme token at a discounted price via presale for 0.000105.
So far, the project aims to attract adoptions from vast sectors and industries keen on processing a secure voting process for respective audiences based on satisfaction with products or opinions on innovations.
This vision has piqued the interest of investors with oversight for massive returns on the low-priced asset. Already, $LHINU has raised over $3.71 million from early backers.
Surging to be the hottest meme crypto of 2023, investors can lock into potential stellar gains.
DeeLance ($DLANCE)
It has been proven that only crypto assets with core utility that solves steep challenges can withstand the fluctuations of the crypto markets.
One such is the revolutionary DeeLance project.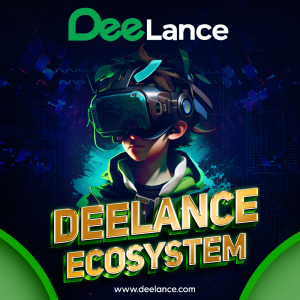 DeeLance is an exciting open-source platform that leverages Web3 technology to disrupt the traditional recruitment industry by providing a digital hub where employers can connect with freelancers seamlessly and efficiently.
Although there are diverse digital workspaces such as LinkedIn, Upwork, Fiverr, and Flexjobs, they face challenges in contract ownership, inconsistent employment, and unsecured payments due to their Web2 structure.
DeeLance solves these problems by providing a recruitment hub integrated with non-fungible token (NFT) technology and the metaverse.
The impeccable project transforms the freelancing landscape to facilitate smooth connection, pitches, and exchange of services for financial gains.
Freelancers can tokenize their services as NFT to signify ownership which can only be transferred to employers when payment is released.
📢Attention Deelancers!

Just crossed the $100,000 milestone!🎉

But time is running out – only 4 days left until #Presale stage 1 ends. Don't miss this opportunity to get in early

Join $DLANCE presale now!⬇️https://t.co/XHnTqVzMLN#crypto #Metaverse pic.twitter.com/ogZJvXGKzf

— DeeLance (@deelance_com) April 12, 2023
Regarding payments, DeeLance uses smart contract-powered escrow to offer trust and smooth transparency to freelancers and employers.
Payments are locked in escrow and are released to freelancers when recruiters approve their services.
Both parties can also interact in the metaverse via NFT avatars.
Employers can create offices and interviews in the virtual world, while freelancers can advertise their portfolios and collaborate with recruiters to access more tasks.
Like Love Hate Inu, DeeLance native token is yet to list on exchanges. However, its presale is fast selling, with over $101,000 raised in just over two weeks from early investors. '
Trading at $0.025 per token, investors can leverage on the low price of $DLANCE and invest in the future of metaverse employment.
Stacks (STX)
Stacks is a layer-1 open-source chain that facilitates the execution of smart contracts.
The project distinguishes itself from predominant smart contract-based blockchains like Ethereum, Avalanche, Cardano, or Solana. The layer-1 protocol enhances the capabilities of the Bitcoin chain through self-executing contracts without leveraging the Bitcoin fork.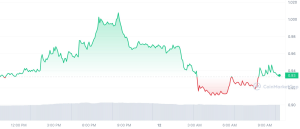 This means that the Stacks ecosystem can integrate new functionality into the Bitcoin platform, such as decentralized applications (dApps) and smart contracts, without changing any of its existing features.
Its native token, $STX, powers all transitions, governance, and staking operations in its ecosystem.
At press time, the digital token trades at $0.93 and records a $202 million trading volume in 24 hours.
$STX has a circulating supply of 1.3 billion coins and is ranked as the 44th biggest crypto asset with a market cap of $1.2 billion.
The Bitcoin-like token trades above the 200-day and 50-day simple moving averages (SMAs) of $0.42 and $0.87, respectively.
The asset's relative strength index (RSI) hovers around 56.65, which indicates that the Stacks market sits in a neutral position.
Nevertheless, based on the SMA indicators, $STX is estimated to hit $1 by May 2023, a nominal percentage of profits for early investors.
Ecoterra ($ECOTERRA)
As Love Hate Inu and DeeLance projects steered towards revolutionalizing the survey and recruitment industry, the ecoterra platform is geared towards disrupting the recycling industry.
Ecoterra is a blockchain-powered project that integrates an impressive recycle-to-earn (R2E) model that motivates members to partake in waste products such as plastic and bottle recycling.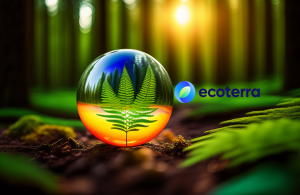 Members participating in this movement are incentivized with the platform's native token, $ECOTERRA.
The project aims to use its R2E mechanism to mitigate the use of fossil fuel triggered during the burning of waste products.
Instead of using medieval means that degrade the environment and cause major problems that affect climate habitability, ecoterra asserts recycling as the most eco-friendly solution.
Already on presale, the R2E token trades at $0.004 and has raised a milestone of $482,000 from early investors.
Ecoterra is a worthy investment option for traders keen to solve a global problem and earn huge gains for their impact.
Injective ($INJ)
Rounding up our list of the top crypto gainer for today is the Injective market.
The innovative protocol is a decentralized exchange (DEX) that provides seamless trading margins such as derivatives, forex futures, and cross-chain.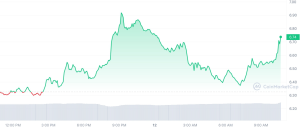 The platform utilizes cross-chain bridges to enable traders to access a wide range of cryptocurrencies from popular platforms like Ethereum and Polkadot.
Injective distinguishes itself from DEXs like Bancor and Uniswap, which leverages automated market makers (AMM) to propel liquidity.
Instead, Injective uses an order book model to match the optimal efficiency of traditional finance with decentralized exchanges.
Its native token, $INJ, powers all transactions on its DEX ecosystem and trades at $6.74 per token.
The innovative DEX token records up to a 6.74% price increase with an astounding $111 million trading volume in 24-hour hours.
The Injective market ranks as the 84th biggest crypto asset, with a market cap of $539 million and a circulating supply of 80 million $INJ coins.
The technical analysis indicates the DEX token is on a bullish trajectory. The $INJ token is above the 200-day and 50-day simple moving averages (SMAs), valued at $2.58 and $4.24, respectively.
The relative strength index (RSI) sits at 73.38, signaling that the $INJ token is well above the overbought zone, hence why there's been a 6.74 price increase in 24 hours.
Set to continue its bullish run, traders can invest $INJ today.
Conclusion
In this article, we've listed the best crypto gainers today, as well as respective technical and fundamental analyses, concepts, use cases, and huge gain potentials.
However, the crypto market remains volatile and can easily be influenced by unpredicted events in the financial and technology sector. We implore trades to commit to in-depth research on tokens before investing.
Related News
Love Hate Inu – Newest Meme Coin
Decentralized Polling – Vote to Earn
Early Access Presale Live Now
Ethereum Chain
Featured in Yahoo Finance
Mint Memes of Survey Results as NFTs
Staking Rewards
Viral Potential, Growing Community