The global crypto market cap is $1.23 trillion today, up by 0.24% in the last 24 hours. Several factors influence the market's outlook daily.
BTC shows slight gains today, trading at $29,455 at 9:05 am EST, with an 87% spike in its trading volume forcing a more positive outlook in the general market. 
However, other crypto projects have shown even more gains than Bitcoin in the last 24 hours. The top gainers today benefit mainly from developments within their ecosystem. Also, trader sentiment remains vital to their price actions. 
Bitcoin Gold (BTG)
Bitcoin Gold is an alternative to Bitcoin, aiming to leverage Bitcoin's security and characteristics while creating opportunities for development and experimentation.
BTG is trading at $19.09 at 9:43 am EST, with a 7.8% increase in the last 24 hours. Also, its 7-day gains are 30.6% showing an increase in buy pressure for the crypto
token. 
BTG Moves To Upper region Of Donchian Channel As Bulls Return

BTG is trading in an uptrend today, confirmed by forming a second prominent green candle on the daily chart. 
It is in the upper region of the Donchian Channel, exhibiting a robust bullish sentiment implying that the buyers are in control of the asset's price today. 
Also, its Relative Strength Index (RSI) value is 86.85, firmly in the overbought region above 70 and rising. The RSI confirms the strong buy signal as more traders enter long positions. 
The MACD is above the signal line and shows divergence, reflecting the bullish pressure. The sentiment is echoed by the Histogram bars with large green bars showing that the bulls are not relenting. 
BTG will likely continue on its bullish price trajectory before a short-term retracement for consolidation. Since it is now in the overbought region, traders should note the possibility of a trend reversal soon. 
Bitcoin SV (BSV)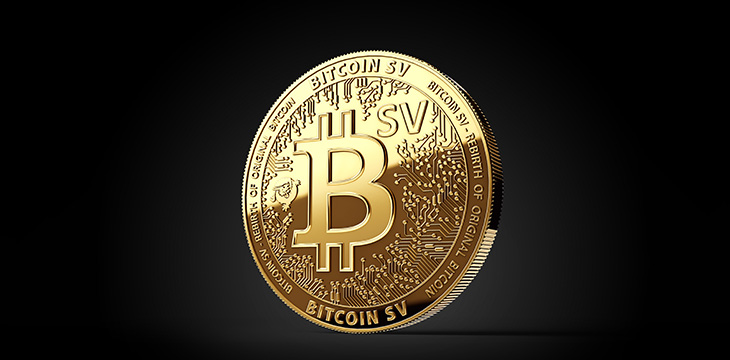 Bitcoin SV is a hard fork from the Bitcoin Cash blockchain that aims to fulfill the original goal of Bitcoin as a peer-to-peer electronic cash system. On July 31, Bitcoin SV's team announced the launch of their Bounty Bug Hunter program on BSV to make the blockchain more secure.
 It implies that users can earn rewards up to $100,000 for exposing potential loopholes in the blockchain. Such events help to attract more traffic to a network and increase investor interest. 
Also, in a July 22 announcement, users were advised to upgrade the Bitcoin SV Node software to version 1.0.15.1. 
This version comes with ecosystem improvement proposals, additional functional tests, and a refactor to remove possible exploits in the p2p layer. Additionally, memory usage with other technical improvements. BSV is up by 11.9% in the last 24 hours and 10.6% in the last 7 days. It is trading at $39.56 at 9:45 am EST. 
BSV in a Sideways Trend as Bears Attempt To Force Price Correction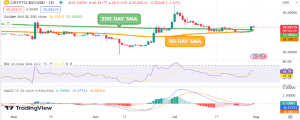 BSV is in a sideways trend on the daily chart. It formed four consecutive green candles from July 27 to July 30, showing that the bulls controlled its price. BSV is trading above its 50-daus and 200-day Simple Moving Averages (SMA), expressing a bullish sentiment for the coming weeks. 
The Moving Average Convergence/Divergence (MACD) indicator confirms that the bulls are still in control as it has crossed above its signal line expressing a bullish sentiment. 
Also, the Histogram bars have changed to green, showing buyers dominate the market and will force BSV back to the upside. 
Given that Relative Strength Index (RSI) is at 55.87 in the neutral zone descending from the buy zone, RSI will likely retrace to the upside once the bulls resume their rally. Based on these indicators, BSV will likely continue on its rally until it returns to the overbought zone. 
Evil Pepe ($EVILPEPE)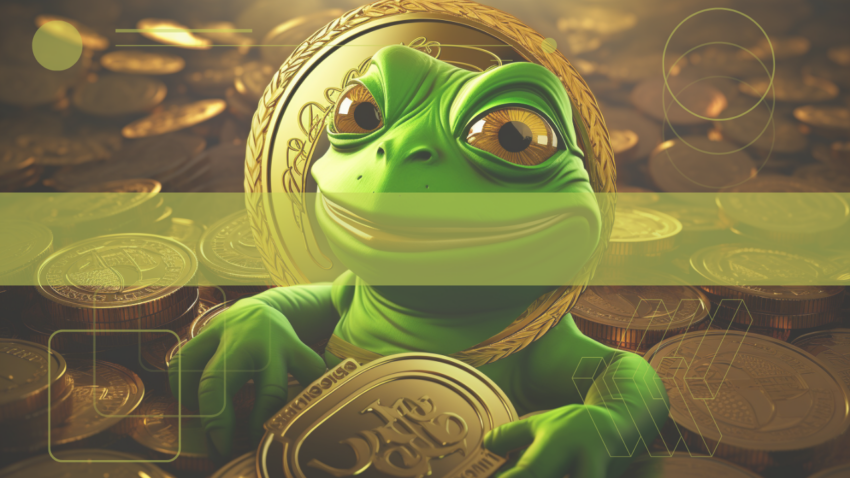 Evil Pepe ($PEPE) is a meme coin project inspired by the frog-themed success of $PEPE in the crypto market.
It is $PEPE all over again with a sinister twist prompting users to rise from the ashes of failed investments and try again. Its distinctive Pepe the Frog avatar in a cloak sums up the storyline behind the project.
90% of the crypto token supply goes to the presales, and it relies on its growing community to drive its success. The leftover 10% serves as DEX liquidity for 1 month till the eventual launch on Ethereum's blockchain.
Evil Pepe maintained a uniform presale price of $0.000033 throughout its presale phase, making it one of the unique crypto events of 2023.
Also, it runs a decentralized network on Binance Smart Chain (BSC) for maximum security. Its ultimate goal is to form a community driven to succeed and empower crypto token holders to profit from their investments. 
Evil Pepe uses a redistribution mechanism to reward its token holders with extra tokens for holding $EVILPEPE in their wallets. This encourages investors to retain their tokens and preserve the ecosystem's growth and stability from inflation.
Key Features
Evil Pepe offers its investors access to top features such as:
Evil Pepe relies on a token redistribution framework to reward $EVILPEPE holders with more tokens based on their initial stakes.
It ensures that there will be no massive sellouts, thereby protecting investors against a sudden price drop and devaluation of tokens.
Binance Smart Chain Reliance:
Evil Pepe relies on BSC smart chain integration for quick and secure transactions. Also, it solves scalability problems providing users with access to high–speed transactions and maximum security.
Evil Pepe believes in the strength of its growing community to achieve lasting success. Investors can interact with each other and come up with productive ideas in a democratized system. Also, their social media presence and activity show regular engagement with their growing community.
Evil Pepe draws inspiration from Pepe the Frog, presenting a tougher and darker fun twist to the idea. This popular meme is the image of the ecosystem and is primed for success judging from the recent meme coin rally.
Memecoins have been largely successful in 2023. $EVILPEPE is also moving into the third quarter of the year primed for success.
Evil Pepe Presale Is Over!
This is the week where the most sinister #Pepe of all time hits a DEX near you 🐸

Unless you see it here or our official Telegram, it isn't a legit $EvilPepe launch. We will announce the official DEX launch time here and on Telegram 😈

Presale tokens can be claimed at launch! pic.twitter.com/cYGJGPIvrk

— Evil Pepe (@evilpepe_token) July 31, 2023
$EVILPEPE tokens presales sold out on July 29, with the developers congratulating those who joined the presale. It is expected to list on Decentralized exchanges this week. However, there is no official listing date yet. 
The rapid progress of the presales shows investors rising faith in its potential and its likelihood of repeating the success of $PEPE. All investors should stay tuned to the official website and social media channels to know when the token lists for trading. 
eCash (XEC)
XEC was trading at $0.000002959 on July 26, but after the Bitcoin ABC 0.27.10 launched, the coin faced more rallies. 
eCash (XEC) market value has reached $0.00003156 as of 8:50 am EST today. The coin has gained 5.08% in the last 24 hours compared to its price on July 26.
According to eCash's Twitter announcement, the Bitcoin ABC 0.27.10 release comes with an RPC bug fix, performance improvements, and other minor fixes.
The Bitcoin ABC 0.27.10 is a complete node implementation for the eCash protocol, focusing on delivering robust and reliable software and setup for eCash.
 Its primary goal is to take the lead in protocol development, working towards creating a widespread system for electronic cash across the globe. While eCash (XEC) is surging today, its price analysis with technical indicators may hint at what to expect in the coming days.
XEC is Facing Market Stability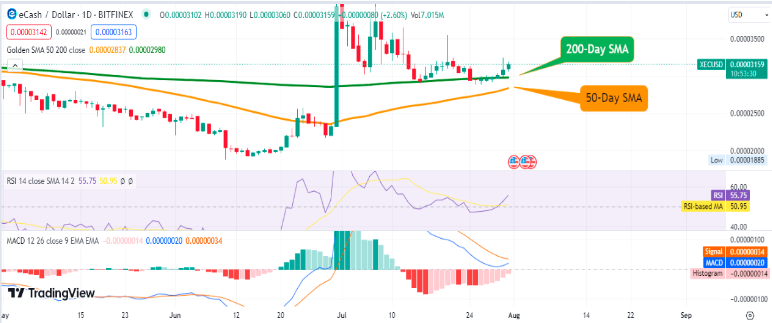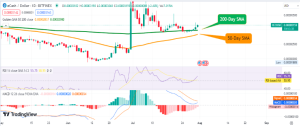 According to the chart above, the asset's market value will likely stabilize today's bullish trend. XEC trades above the 50-Day and 200-Day Simple Moving Average (SMA). This shows that the coin's bullish trend will prevail this week and in the coming weeks.
XEC's Moving Average Convergence Divergence (MACD) indicator is below the signal line and has a faded red histogram bar. This shows that the coin has been bearish, but the bears are losing momentum.
In the chart above, the green candle stick formation after the last 5 consecutive candles indicates increased buying pressure. Also, XEC's Relative Strength Index (RSI) is at 55.75, moving upward. This suggests more price rallies for the coin toward the overbought region (above 70).
With these conflicting signals occurring together, it can create a mixed market outlook, and traders need to interpret the situation carefully.
Traders may consider several factors, such as the overall trend's strength, the bearish divergence's significance, and other technical and fundamental indicators, to make informed trading decisions. Additionally, market conditions can change rapidly, so traders should remain vigilant and implement proper risk management strategies.
Meanwhile, considering the positive market sentiment on the indicators, investors and traders should closely monitor XEC as its price is prone to surge further in the coming weeks.
Wall Street Memes (WSM)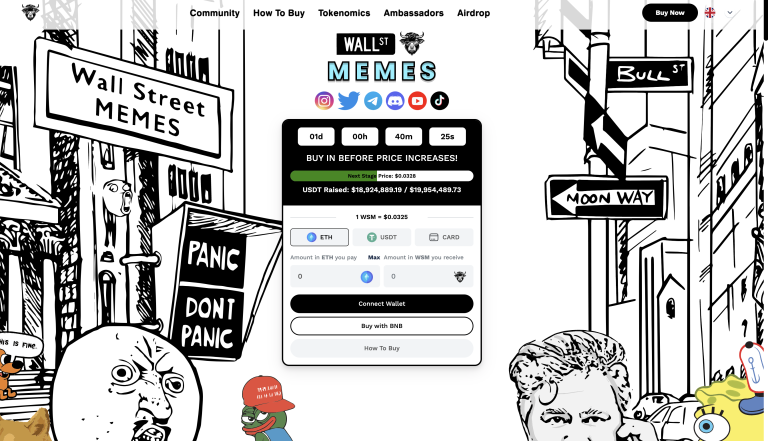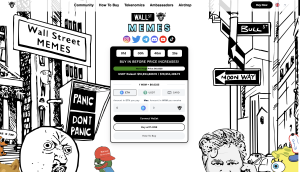 Wall Street Memes (WSM) presale has hit the $18.8 million milestone since its launch, posing as the hottest token presale in 2023. 
This project leverages the widespread popularity of memes, providing investors with a unique user experience that effortlessly blends entertainment and profiting investment opportunities.
Wall Street Memes has been attracting a wide number of investors ranging from meme lovers to crypto enthusiasts thanks to its humor, narrative, and community engagement across its social media handle, Twitter.
One of Wall Street's posts on Twitter portrayed the behavior of those that will see the liquidation notification after missing out on the presale and grieving over it.
When you see the liquidation email pop up mid zoom meeting pic.twitter.com/9SmJBAQtNp

— Wall Street Memes (@wallstmemes) July 28, 2023
Wall Street Memes has over 6,800 thousand tweets on Twitter. This outstanding community engagement could drive the presale's impressive success in a short period.
Also, the interaction of Elon Musk with the project's content has raised excitement and speculation considering the performance of his favorite coin, Dogecoin, spiked massively.
If more influential figures engage with Wall Street Memes, its token, $WSM, is expected to increase value by 100X after listing.
$WSM Presale Price to Increase and 100X After Listing
Wall Street Memes' presale is approaching the $19.9 million benchmark, with its current presale price at $0.0325. In the next few days, the token's price is set to increase to $0.0328.
While the price is still live, interested investors should buy in at this discount price with USDT, BNB, ETH, or their card before it increases.  Given the coin's 100X potential, interested investors should act swiftly.
Ethereum Classic (ETC)
Ethereum Classic is down by 0.61% in the last 24 hours as of 10:24 am EST. Meanwhile, its 24-hour trading volume is up 182%, recording over $211 million today. 
This dramatic performance of ETC could be attributed to its whales identified on the product of Etherscan, BscScan. Two prominent whales have been identified on BscScan, holding 24.6% and 26% of ETC, worth $3.6 and $3.8 million, respectively. 
Today's increased selling pressure depicted on ETC price could be due to negative speculations concerning the whales' future actions. In proof-of-stake (PoS) crypto assets like ETC, large stakeholders (whales) may have more influence over network governance and decision-making processes due to their significant holdings.
ETC Uphold Short-Term Bullish Amid Plunging RSI


The chart above shows the interrupted bullish uptrend in ETC's market movement. A red candle stick formation indicates increased selling pressure today, a chart reversal to a bearish trend in six days.
ETC's Relative Strength Index (RSI) is plummeting from the neutral zone at 51.13 and is pointing to the oversold region (below 30). This confirms the bearish takeover in the coin's market. 
Also, the asset's Moving Average Convergence Divergence (MACD) indicator is below the signal line and has faded red histogram bars showing a bearish momentum on ETC's price.
ETC trades between critical moving averages (50-Day and 200-Day Simple Moving Average, SMA), indicating a short-term bullish and long-term bearish.
Combining these signals indicates that Ethereum Classic is experiencing a sideways trend with bearish momentum and may soon be in an oversold condition. In such situations, traders may anticipate potential buying opportunities if a bullish reversal signal follows the oversold condition. 
However, caution is essential, as market conditions change rapidly, and technical indicators may not always accurately predict future price movements.
While the 50-Day SMA acts as a support level during this market condition, the 200-Day SMA provides resistance that could affect the ETC's price behavior before the weekends.
PancakeSwap (CAKE)
PancakeSwap (CAKE) was one of the exchanges affected by the FTX bankruptcy and SEC lawsuit against leading exchanges. Its token price plunged deeply to the $1.3 level during June 2023. 
The automated market maker (AMM) exchange announced publicly that all fixed-term $CAKE shareholders would earn 5% of the trading fee revenues on a periodic and weekly based.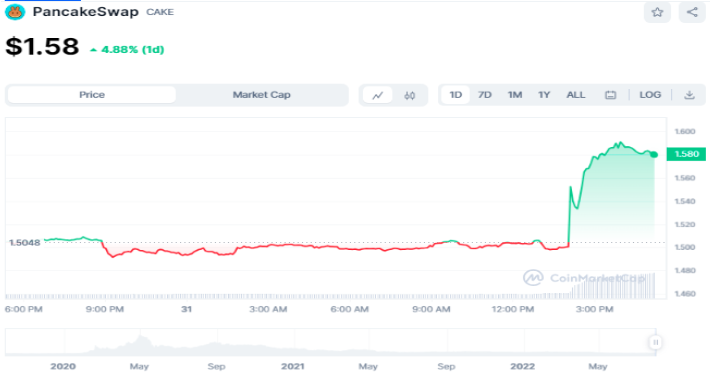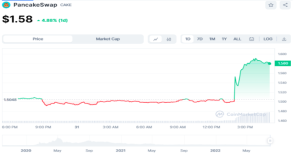 This applies to all PancakeSwap v3 pairs and will come with 0.01% and 0.05% fee tiers. As stated, these two fee tiers are accountable for 80% to 90% of PancakeSwap v3 trading volumes. According to the announcement, this update will begin on August 9, 2023.
After this announcement, CAKE's price has shot up by 5.29%, with its price at $1.59. Experts are already tipping at more price growth once this trading fee sharing becomes active.
CAKE Projects Movement To The Overbought Region


The asset's market price is a few pips above the upper Bollinger Band in the chart above. This indicates the increased buying pressure in CAKE's market. Also, the asset's Relative Strength Index (RSI), at 59.84, is moving upward, suggesting movements to the overbought region (above 70).
CAKE's Moving Average Convergence Divergence (MACD) is above the signal line and has a bold green histogram bar after red faded bars. This shows that the coin has been bearish in the last six days, but the bulls 
These signals indicate that the crypto asset is experiencing strong bullish momentum. Still, it may be at risk of a short-term correction due to the overbought condition.
Traders and investors must exercise caution in such scenarios as the price may undergo a pullback or consolidation phase after a strong uptrend.
Conclusion
Today's top crypto gainers have shown remarkable performance, with significant price surges.
Investors and traders have witnessed impressive gains in these assets, reflecting the dynamic and ever-changing nature of the crypto market. 
As the market continues to evolve, it remains essential for participants to exercise caution, conduct thorough research, and employ prudent risk management strategies while navigating the exciting world of crypto assets.
Note that technical indicators provide valuable insights but are not foolproof and should be used with other analysis methods and risk management strategies. 
Additionally, the crypto market is highly volatile and can be influenced by various external factors, including news, regulations, and market sentiment.
Related Articles
Wall Street Memes – Next Big Crypto
Early Access Presale Live Now
Established Community of Stocks & Crypto Traders
Featured on BeInCrypto, Bitcoinist, Yahoo Finance
Rated Best Crypto to Buy Now In Meme Coin Sector
Team Behind OpenSea NFT Collection – Wall St Bulls
Tweets Replied to by Elon Musk