Toothless Coin launched yesterday and has been making waves in the market with a massive pump. This intriguing digital asset surged over 200% within a few hours.
A reversal followed, pushing the price back down. But with its recent surge, some speculate that Toothless Coin has the potential to achieve a staggering 100x increase in value.
Toothless Coin's Promise
Toothless coin ($TOOTH) seems promising as its trading volume is currently at $19,000, accompanied by a market cap of $390K. Despite these relatively modest figures, this cryptocurrency has captured the attention of investors due to its potential features highlighted by Dexscreener.
Dexscreener says the tax structure remains fixed, guaranteeing stability and uniformity. The Toothless Coin ($TOOTH), being based on open-source principles, promotes transparency and active participation from the community. 
Dexscreener analysis emphasizes that the coin lacks a honeypot or proxy contract functionality, reducing the potential for malicious traps or unauthorized control.  Moreover, the absence of a blacklist feature ensures equal transaction opportunities for all participants, creating a more inclusive and open ecosystem. 
Furthermore, the coin implements a system where transfers cannot be halted, guaranteeing smooth and effective transactions. Users of this coin can sell their entire token balance at any given time, granting them complete control over their assets. 
The analysis by Dexscreencer brings to light the presence of anti-whale measures within the token, protecting against the disproportionate influence of large-scale investors in the market.
Lastly, the disabling of coin minting prevents the generation of new coins, effectively addressing concerns related to inflation.
Toothless Coin Technical Indicators Analysis
Toothless coin ($TOOTH) oscillates within the middle band of the Bollinger Bands indicator, suggesting a period of consolidation or equilibrium in the market. 
This indicates that the asset's price is neither significantly overbought nor oversold. Traders may see this as a potential signal for a forthcoming price breakout or a continuation of the current trend.
But, the asset's Relative Strength Index (RSI) signals high bullish pressure as the price exceeds the overbought zone 70. This indicates a potential bearish trend retracement if the bulls fail to maintain the current momentum.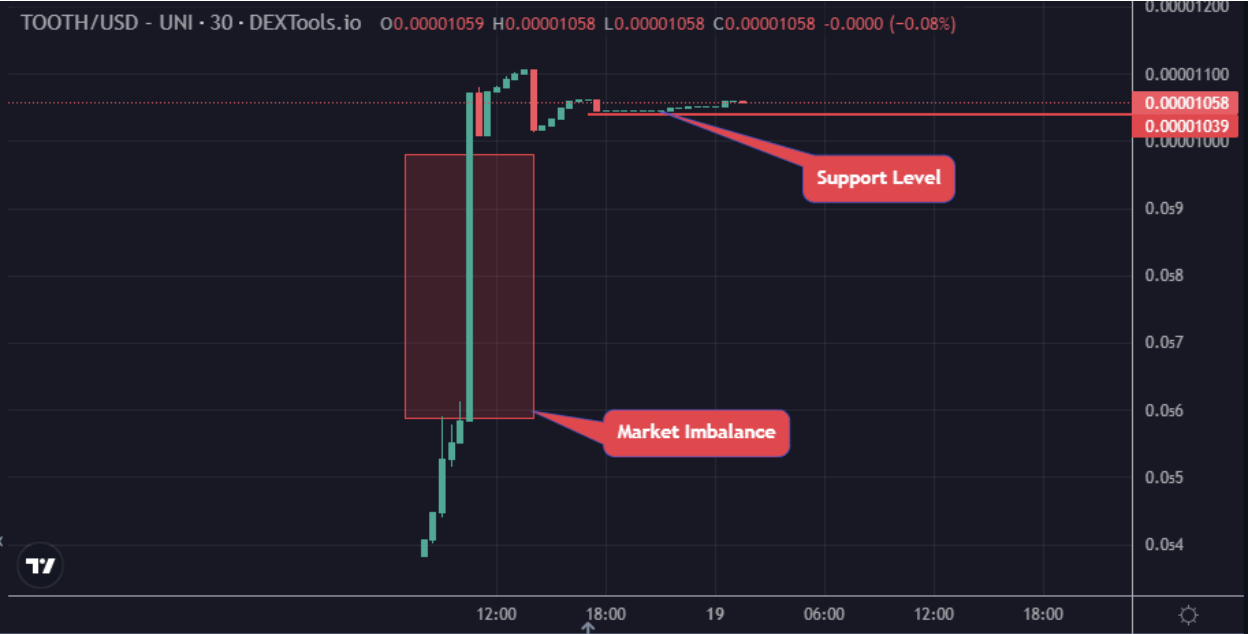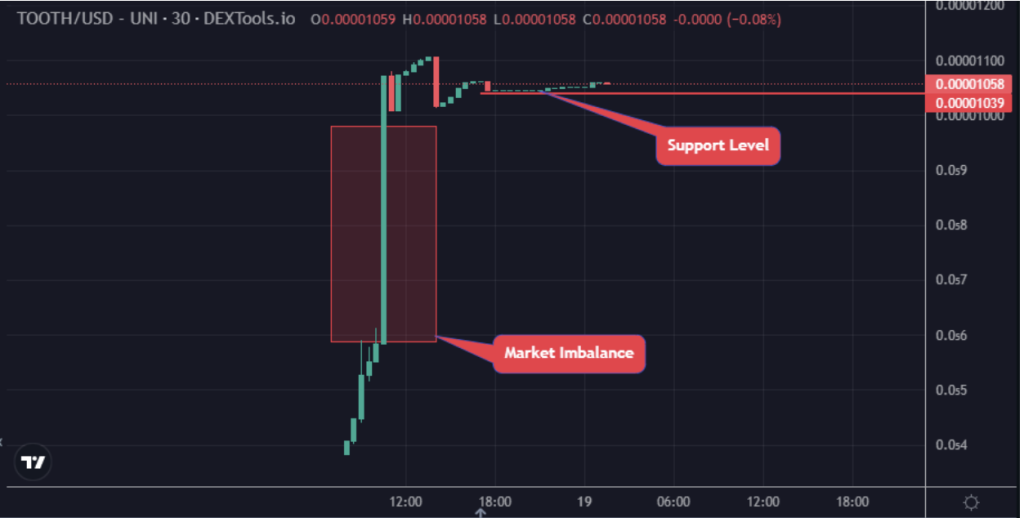 As depicted on the chart, the asset created lots of market inefficiency following the impulsive move to a new price discovery yesterday.
This imbalance can lead to price volatility and rapid asset value fluctuations. In such situations, one side of the market (buyers or sellers) may dominate, causing the price to move in a particular direction with intensity. 
The chart shows the market imbalance below the significant support level, suggesting a potential bearish trend if the price breaks the support zone.
This can result in a sharp price decline as traders and investors may see this as a potential sell opportunity. As the crypto market continues to evolve, Launchpad XYZ is an incoming project set to shake the crypto industry with its advanced technology.
Launchpad XYZ – The Next 100X Ethereum-Based Asset
Launchpad XYZ is an innovative Web3 ecosystem that strives to promote widespread acceptance of emerging technologies such as NFTs, cryptocurrencies, fractionalized assets, and other groundbreaking innovations. 
As a centralized platform for these technologies, Launchpad XYZ will empower novice and seasoned investors to make well-informed choices regarding their participation in this transformative realm.
Below are notable use cases and simple steps on how investors can participate in today's project presale.
Launchpad XYZ Features
Launchpad XYZ is a platform built on the Ethereum blockchain to assist individuals and businesses in transitioning to Web3. 
Its core mission is accomplished by providing a wide range of beneficial functionalities. These functionalities include:
Trading Terminal

Fractionalized assets marketplace

Custom-built DEX

Metaverse experience library

Crypto presale marketplace

Play-to-Earn (P2E) game hub

Web3-compatible wallet

Advance NFT DEX
The "Launchpad Quotient" (LQ) will support the platform's offerings, which serve as the foundation for these features. 
In basic terms, the LQ is a rating mechanism Launchpad XYZ utilizes to assess the quality of assets available on the platform. 
The rankings of assets are determined by considering various factors, including historical performance, market demand, and investor sentiment.
Factors Affecting the Price of Launchpad XYZ
Like other upcoming projects, some factors could determine whether Launchpad XYZ will become the next 100 Ethereum-based project.
However, below are two notable factors that investor needs to watch out for:
Social Media Buzz
Social media hype will play a significant role in driving the growth of Launchpad XYZ. 
Similar to the success observed with the top cryptocurrencies discussed on Reddit, the buzz generated on social media platforms can substantially contribute to price surges and overall market momentum. 
Recognizing the importance of social media hype, Launchpad XYZ leverages its influence to capitalize on this influential factor.
Utilizing this technique could potentially have a substantial impact on the growth of Launchpad XYZ's token. 
Social media platforms such as Twitter and Reddit are typically the most effective channels in this context. However, Instagram and TikTok have also emerged as popular choices for crypto project developers. 
In-Demand Use Cases
Secondly, the project's utilities are among the significant factors that could influence affect demand for Launchpad XYZ tokens.
LPX tokens are crucial in virtually every aspect of Launchpad XYZ, requiring users to purchase and hold them to maximize the platform's benefits. Users will need LPX tokens to pay for exchange fees, meaning increased trading activity will necessitate a larger quantity of LPX tokens. 
Additionally, NFT creators will rely on LPX tokens to cover listing fees, leading to heightened demand for the tokens in this context.
Launchpad XYZ Presale Details
Brief key points to keep in mind:
Launchpad XYZ allocated 25% (250 Million) of the total supply for presale investors.

The Launchpad XYZ team stated that the token will eventually be listed at $0.07/LPX on several exchanges.

The presale has reached a milestone of $1.1 million, heading toward the hard cap of $1.5 million.

LPX is sold at $0.0445, which will increase to $0.046 at the next stage.
How to Buy Launchpad XYZ
Set up your wallet and load it with either ETH or USDT.

Link your wallet to the Launchpad XYZ presale.

Click on Buy and follow to on-screen instructions and validate the transaction.
After the presale ends, investors can claim their tokens by clicking the "Claim button and following the instruction displayed.
Related Articles
DeeLance – New Web3 Coin Presale
First Decentralized Freelancing Network
Find Employers in the Metaverse
NFT Marketplace, $100k Giveaway
Presale Stage One Live Now
SolidProof & Coinsult Audited