Terra Luna Classic price is starting the week on a positive note, with gains exceeding 5% in 24 hours. LUNC has attracted over $100 million in trading volume as investors turn their attention to altcoins such as Solana (SOL), Cardano (ADA) and Lido DAO (LDO). Terra Luna Classic seems poised for a bigger movement on Monday, with bulls looking forward to booking profits at $0.0001931 and $0.00026, respectively.
Terra Luna Classic Price Mulls Breakout to $0.00026
Terra Luna Classic price holds above critical support provided by the 50-day Exponential Moving Average (EMA) (in red) at $0.0001527. Bulls are backing on this support to remain intact in the upcoming sessions as they push through the next hurdle, as highlighted by the upper falling trend line (continuous line).
With the uptrend already in motion, it could be a matter of when and not if for Terra Luna Classic price to break and hold above the resistance at $0.00016. Such a move would encourage more buyers to join the market, especially those waiting for LUNC to confirm the bullish momentum.
A spike in volume would reinforce the token's northbound price action, with bulls aiming for the 100-day EMA (in blue) at $0.0001931 and the seller congestion zone between $0.00026 and $0.0002768.
It is worth mentioning that the directionless movement in the Moving Average Convergence Divergence (MACD) indicator could stifle rapid price movement. In other words, it could take Terra Luna Classic a few days to make its way through the falling trendline, as analyzed above, ahead of the much-awaited breakout to $0.000193 and $0.00026.
Long positions in LUNC could be triggered slightly above the trend line (continuous line). Some traders prefer to wait for a retracement before going all in on a bullish asset. Nevertheless, profit targets will remain in the same spots at $0.000193 and $0.00026, respectively.
The daily time frame chart reflects the same bullish outlook in Terra Luna Classic price, where bulls are on the brink of pushing past the seller congestion at $0.00016. A buy signal from the Super Trend indicator reveals that bulls are very aggressive, and they have the upper hand at the time of writing.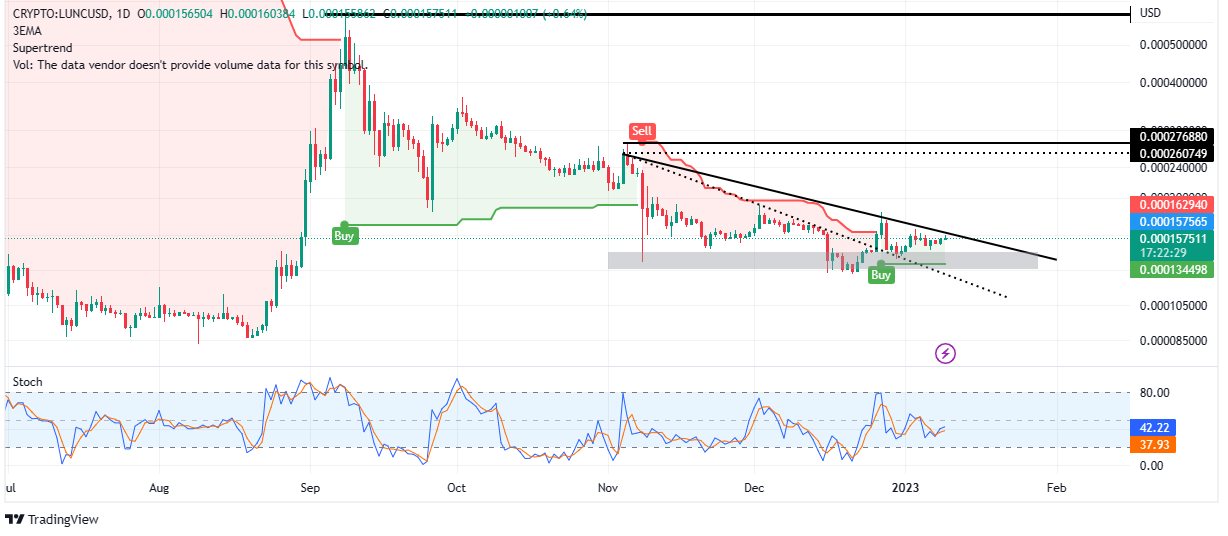 The path with the least resistance will stay to the upside as long as the Super Trend is trailing the price. Remember, this indicator overlays the chart like a moving average but incorporates the average true range (ATR) in its calculations to gauge market volatility.
Investors would be expected to offload when the signal turns to sell, with the color flipping from green to red. The Stochastic oscillator adds credence to the optimistic outlook for Terra Luna Classic price. As the index moves above the mean line and possibly into the oversold region, more pressure will mount below LUNC, paving the way for the gains as expected.
Altcoins to Consider for Quicker Returns
Investors seem prepared to face the New Year after a messy 2022, which made most people reel in pain as their portfolios crashed to the ground. Crypto giants like Celsius Network, Three Arrows Capital and BlockFi did not survive the crypto winter. Therefore, investors must be deliberate on what they choose to constitute their portfolios.
I want to bring your attention to new up-and-coming crypto projects, allowing investors to become early adopters. The tokens listed here are built on sound technologies and with utilities relevant in today's crypto space. They are in their presale stages and are selling fast, hence the need to make haste before they debut on exchanges.
FightOut (FGHT)
The evolution of fitness industry has greatly benefited from blockchain technology in the past few years. Still, there are gaps preventing fitness enthusiasts from achieving their fullest potential, let alone earning from the effort they put into their journeys.
FightOut is a Move-to-Earn fitness app aiming to introduce an ecosystem that gamifies the fitness lifestyle. Unlike projects like STEPN, which require high initial investments in NFT purchases, FightOut removes barriers to entry by making the process affordable to all.
(2) Fight Out on Twitter: "Welcome to the age of fitness in the web3 era! With decentralised technologies, users can track their progress, earn rewards for their workouts, and even share their data with trainers! Get ready to revolutionise your fitness journey with Fight Out! 🔥 https://t.co/z34Nkx3ffi https://t.co/HABgCCpkAh" / Twitter
An M2E fitness app will allow members to earn from the workouts and challenges they complete. FightOut stands from other M2E platforms by tracking user progress, rewarding hard work and ensuring a seamless transition from Web2 to Web3.
FightOut's presale is underway and has raised $2.77 million by selling 1 FGHT for 1 USDT. Investors can take advantage of a 50% bonus to buy FGHT, but only until the presale hits the $5 million mark.
Dash 2 Trade (D2T)
For traders interested in a crypto platform built around the need for investors to have access to data and key information to make informed decisions, Dash 2 Trade is the best crypto to buy. This up-and-coming blockchain protocol demands attention for providing trading signals for investors to take advantage of opportunities in the market.
Dash 2 Trade features include a social sentiment and on-chain analysis dashboard where traders can spot trending coins. A world-class strategy builder will help investors develop tried and tested strategies using accurate price data from top exchanges.
Users on Dash 2 Trade will have access to an exemplary scoring system for crypto presales. The ardent investor in crypto markets knows that selecting the best crypto to buy at the presale stage is not a small feat. Hence, the importance of this dashboard comes equipped with social tools for traders to share ideas.
(2) Dash 2 Trade on Twitter: "⭐ 1 BILLION TOKENS ⭐ ✅The total supply of $D2T is 1 billion tokens. ✅The $D2T token is based on the #ETH blockchain. ✅The $D2T token will be used as a payment method for subscriptions to the dashboard. Visit our website for more ⬇️ https://t.co/ExvBBjKIU6 https://t.co/ahpteQ1wBI" / Twitter
Dash 2 Trade presale has raised $14.5 million out of the expected $15.42 million. In this final presale stage, D2T sells for $0.0533 ahead of its first exchange listing on January 11.
C+Charge (CCHG)
For the longest time, the carbon credit industry has been a preserve of big corporations like Tesla, even though it is projected to be worth $2.4 trillion in 2027. Companies that adhere to set emission standards earn carbon credits which they can trade in an open market.
However, individuals driving electric vehicles (EVs) have yet to benefit from this fast-growing industry despite their contribution toward a better planet.
(2) C+Charge on Twitter: "📈Transport carbon emissions are the top concern of climate change ✅According to @WWF, funding #EV charging stations helps accelerate the transition to electric vehicles At C+Charge, we support this revolution by offering a seamless payment solution ⬇️ https://t.co/ixe18bPqzI" / Twitter
C+Charge is a new on-chain protocol that has changed this narrative. It aims to democratize the carbon credit industry by enabling EV drivers to earn carbon credits every time they pay using CCHG at charging stations.
A mobile app is coming up and will be the core of the ecosystem. In addition to managing payments, the app will manage all the end-to-end activities associated with charging vehicles. Some key elements expected from the app are a carbon credit tracker, payment options, a charging station finder, and real-time charger wait times.
C+Charge presale is underway, with $103k raised. Investors are currently buying 1 CCHG token for 0.013 USDT. Roughly 156 million tokens are left before the price increases to 0.0165 USDT.
Related Articles:
FightOut (FGHT) – Move to Earn in the Metaverse
CertiK audited & CoinSniper KYC Verified
Early Stage Presale Live Now
Earn Free Crypto & Meet Fitness Goals
LBank Labs Project
Partnered with Transak, Block Media
Staking Rewards & Bonuses