Terra Classic (LUNC) is a cryptocurrency that has experienced significant price movements today, showcasing its best performance in months. The token has witnessed a surge in its trading volume, which has risen by an impressive 156% within 24 hours.
The recent price movements and increased trading volume of Terra Classic could be attributed to several factors, one of which could be the favorable outcome of Ripple's lawsuit with the United States SEC.
Price Performance of The LUNC Token
Terra Classic has seen a price increase of 10.8% over the past week and 6.78% in the last 24 hours. At 04:55 EST today, the price of Terra Classic stood at $0.00008944.
Additionally, the trading volume for Terra Classic has risen significantly, reaching over $56 million, representing a remarkable increase of 173.8% in the last 24 hours.
Terra Classic To Contend With 50-Day Moving Average Resistance Level
Today, LUNC has shown significant movement; however, it may encounter challenges in breaking out from the 50-day moving average (MA), as its current price aligns with this indicator and remains significantly below the 200-day MA. This suggests potential resistance and a need for further upward momentum to overcome these levels.
On the positive side, the Moving Average Convergence Divergence (MACD) line has recently crossed slightly above the signal line, which could indicate a bullish signal and support the token's upward movement.
Regarding relative strength, the RSI (Relative Strength Index) currently holds a value of 55.68. This current position reveals a moderate level of strength in the market for Terra Classic, indicating a potential for further upward movement.
Resistance Level On Terra Classic Price Daily Chart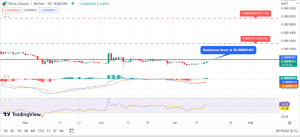 But there is a critical resistance level to note at $0.00009403, slightly above the price of Terra Classic, as shown on the chart. This resistance level could hinder the token's price from increasing and may be a significant barrier to further upward progress.
Traders and investors should be cautious and closely monitor the price action around this resistance level, as it may provide essential insights into the future direction of Terra Classic.
Note that digital asset prices are subject to change, and these predictions do not guarantee 100% success. As such, it's important to remain cautious when approaching this investment or trading option.
Factors That Could Drive Terra Classic Price
Luna Classic HQ recently announced a token burn, in which 68.3 billion tokens were destroyed, equivalent to 0.99% of the total supply.
Out of this amount, 44.7 billion tokens were sent to the burning address. The decision to burn these tokens was made to restore the reputation of the Terra Classic digital currency, which had become disconnected from its linked algorithmic stablecoin USTC.
Binance actively participated in this token burn, contributing 2.65 billion Terra Classic tokens to an inactive wallet as part of the 11th batch of the LUNC burn mechanism.
Generally, token burning is a commonly used strategy to decrease a token's available supply, aiming to increase market demand and potentially raise its value.
DeeLance Offers Alternative Investment Option
DeeLance is a cutting-edge platform that utilizes web3 technology and blockchain to create a revolutionary freelancing ecosystem.
Its primary goal is to connect freelancers directly with clients and customers, eliminating intermediaries and giving freelancers complete control over their work. This empowers freelancers and promotes a more efficient and transparent freelancing economy.
Several transactions within the system occur with the native token of the project, $DLANCE, which comes with multiple features.
Features of DeeLance
The native token of DeeLance, $DLANCE, offers a range of powerful features that enhance the freelancing experience.
Metaverse
One notable feature is the integration of the Metaverse, providing users with an immersive environment to showcase their work. Through interactive exhibitions, freelancers can present their portfolios uniquely and engagingly to potential clients.
NFT Marketplace
Another noteworthy feature is the NFT marketplace within DeeLance. This marketplace enables freelancers to assert full ownership and control over their creative output.
By tokenizing their artwork, freelancers can ensure authenticity and provenance while potentially earning royalties for future purchases.
DeeLance presale progress
The presale of DeeLance is drawing close to the final stages, and it has already raised an impressive amount of over $1.5 million out of the targeted $2,300,000.
Hey DeeLancers! 👨‍💻

Get ready for an explosive opportunity! 🤑

DeeLance presale is here at the lowest price of $0.038 per $DLANCE token!

Offering a ticket to the revolutionary freelance ecosystem 💎

Own your work, connect with top talent, and access exclusive perks.

🌟 Join… pic.twitter.com/gb4s0JQ4cI

— DeeLance (@deelance_com) June 12, 2023
The value of each DLANCE token is currently priced at $0.043, and interested parties can acquire these tokens through the official DeeLance website.
However, it is essential to note that once the tokens are listed on an exchange, anticipated to happen in the third quarter of 2023, individuals can purchase them through both decentralized and centralized exchanges.
How to buy $DLANCE
Follow these few steps to participate in the $DLANCE token project.
Create an account on a trusted digital asset exchange.

Purchase USDT or ETH tokens using your preferred payment method.

Transfer the purchased USDT or ETH tokens to a digital wallet compatible with the Ethereum blockchain.

Connect your wallet to the project through its official website.

Access the presale section and carefully follow the instructions to buy $DLANCE tokens.

Purchase the desired amount of the $DLANCE token with the bought ETH or USDT.

Once the purchase is completed, you'll receive the tokens in your crypto wallet, which you can use after the presale stage.
Related News
DeeLance – New Web3 Coin Presale
First Decentralized Freelancing Network
Find Employers in the Metaverse
NFT Marketplace, $100k Giveaway
Presale Stage One Live Now
SolidProof & Coinsult Audited