Bitcoin has dropped again and is now hovering just above the $29k mark, but recent regulatory developments and whale investments suggest that a surge might be coming soon.
Meanwhile, investors are eyeing Wall Street Memes, a meme coin presale that has raised more than $21 million so far.
BTC Slips a Little While Trading Volume Declines Steeply
The Bitcoin price has declined by 0.7% in the last 24 hours and is getting closer to falling below the $29k mark.
At 6:29 am EST, it's valued at $29k with a 0.72% drop in its market cap (now $564 billion) and a 10.83% decline in its 24-hour trading volume ($10.9 billion).
Despite the bearish price action, most on CoinMarketCap are hoisting bullish flags.
"Bitcoin has completed the formation of the bottom", posted Trader Tradigrade, a popular Bitcoin analyst and investor active on CoinMarketCap.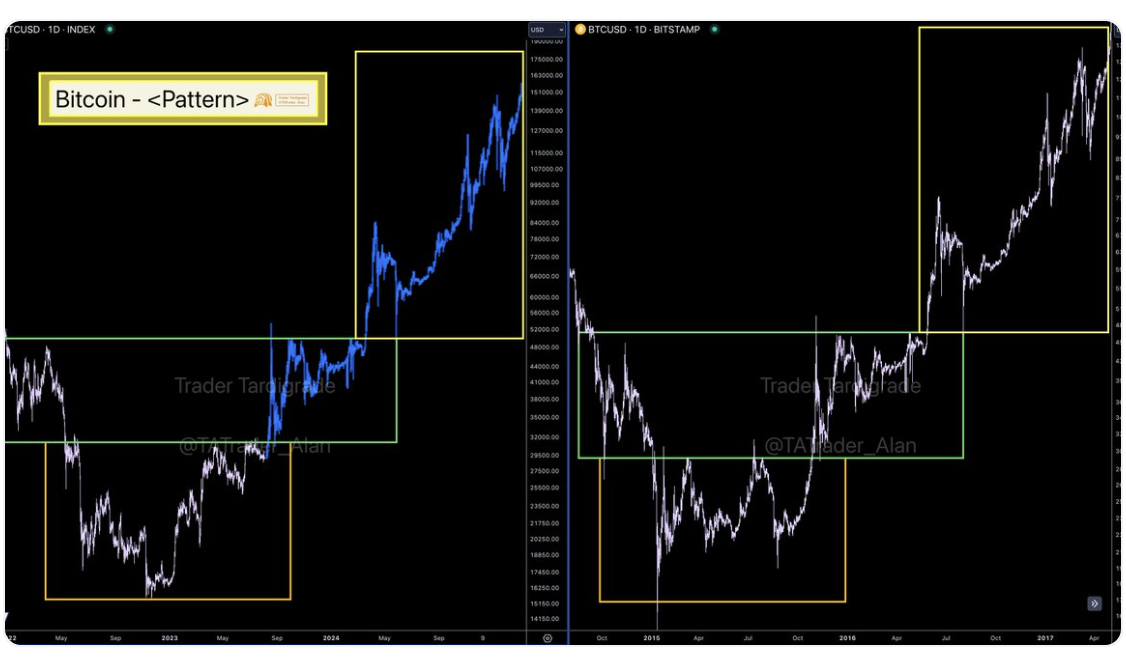 Other investors have expressed similar sentiments. However, famous crypto influencer Pentoshi has said that Bitcoin's surge won't come for at least the next one or two months, citing the bullish and bearish patterns he has drawn since January 2023.
$BTC for this year

Goes up for 3 days, then bleeds for 1-2 months

Goes up for 3 days, then bleeds for 1-2 months

Meanwhile, bias changes every 4 hours while nothing really happens for months at a time lmao

Last pump was off ETF rumos, pump before off Bank runs pic.twitter.com/pv1wdkPYvx

— Pentoshi 🐧 euroPeng 🇪🇺 (@Pentosh1) August 5, 2023
Michael Saylor Buys More Bitcoin And Will Buy Even More
Many investors are making moves behind the scenes which could mobilize the Bitcoin market and draw another long green. On August 2nd, Micheal Saylor tweeted that Microstrategy had bought 467 Bitcoin worth $14 million and now holds 152,800 Bitcoins.
In July, @MicroStrategy acquired an additional 467 BTC for $14.4 million and now holds 152,800 BTC. Please join us at 5pm ET as we discuss our Q2 2023 financial results and answer questions about the outlook for #BusinessIntelligence and #Bitcoin. $MSTR https://t.co/SCHeBJ80TH

— Michael Saylor⚡️ (@saylor) August 1, 2023
"Bitcoin is the most certain thing in an economy full of uncertainty." tweeted Micheal Saylor on the same day he increased Microstrategy's Bitcoin collection.
#Bitcoin is the most certain thing in an economy full of uncertainty. My discussion with @MorganLBrennan & @MichaelSantoli covered $MSTR, and the impact of AI, Regulation, & ETFs on @MicroStrategy and the Crypto industry. pic.twitter.com/UbkjTu7mJ7

— Michael Saylor⚡️ (@saylor) August 2, 2023
Global X ETF Re-files its spot Bitcoin ETF Application
Friday's SEC filing has revealed that Global has joined the list of companies vying for spot Bitcoin ETF approval by refining its own application. Like BlackRock, it has also named Coinbase as its surveillance partner.
BREAKING: $43 billion fund manager Global X ETFs officially re-filed their application for a spot #Bitcoin ETF pic.twitter.com/QIg5Bua0Jl

— Bitcoin Magazine (@BitcoinMagazine) August 4, 2023
"If approved, the fund would grant investors exposure to Bitcoin with important protections that are not always available to investors that directly invest in Bitcoin," Global X's lawyer said in the filing.
Bitcoin can potentially experience massive tailwinds if even one of these applications gets SEC's approval.
Francis Suarez is Official Accepting Campaign Donations in BTC
Bitcoin Magazine has reported that Francis Suarez is also officially accepting campaign donations in Bitcoin.
JUST IN: 🇺🇸 US Presidential candidate Francis Suarez is officially accepting campaign donations in #Bitcoin pic.twitter.com/BUavfvASh1

— Bitcoin Magazine (@BitcoinMagazine) August 4, 2023
Suarez, a Republican presidential candidate and the mayor of Miami, has already shown his support for BTC by receiving salary in terms of Bitcoin and launching the Miamicoin project.
Other US politicians have also come in support of crypto and Bitcoin, which could boost confidence among investors and create a bullish wave for the Bitcoin price.
Bitcoin Price Analysis
Bitcoin's candle chart shows bulls and bears are battling, which is maintaining the BTC price just above the $29k mark.
Yesterday, the token briefly wicked below the $29k level to $28,802 before a slight bounce.
The daily candle chart also shows that a falling wedge pattern is forming for Bitcoin, which is a bullish indicator, supporting the claims that a surge might be incoming.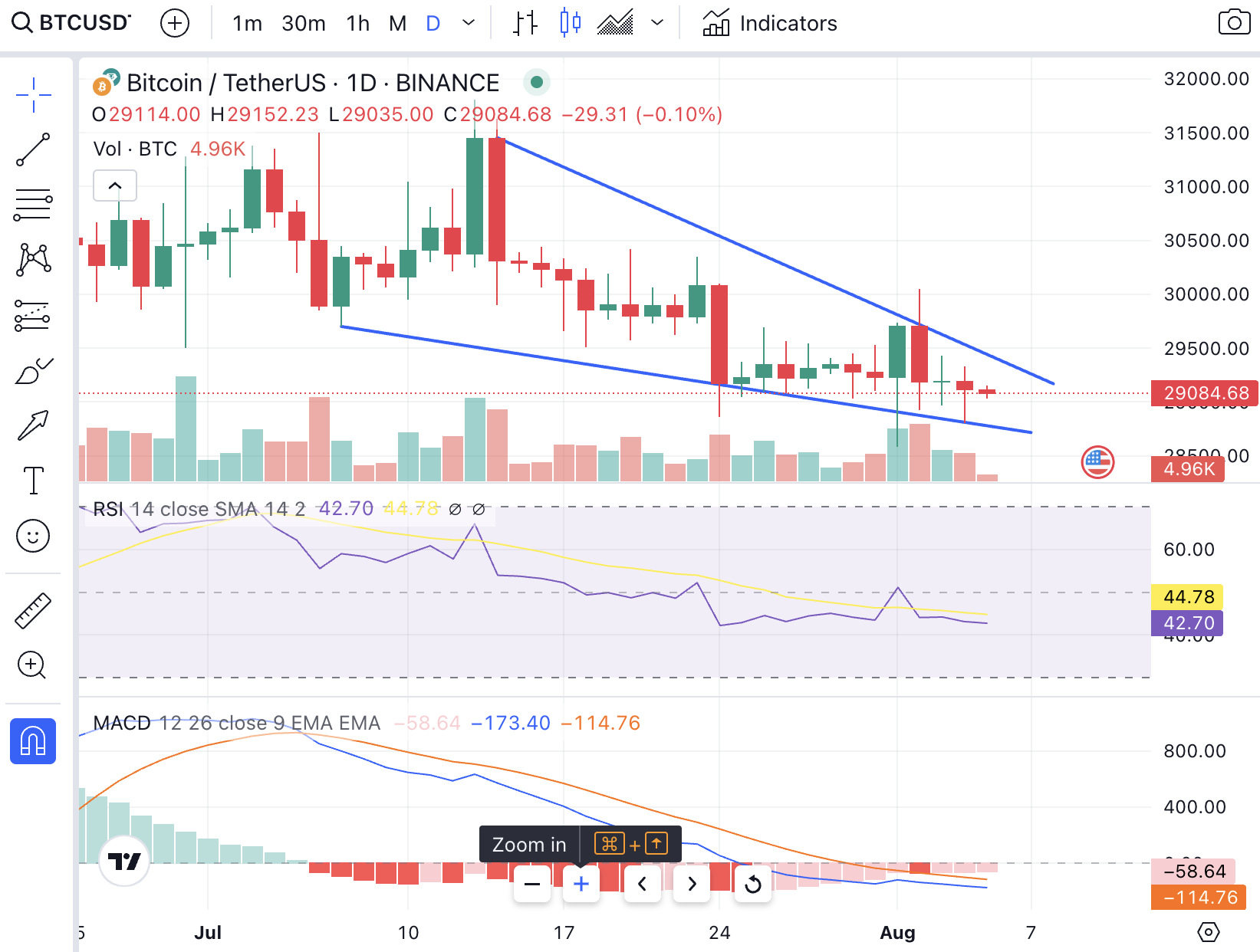 However, the token's middle-level RSI and negative MACD doesn't give us a bullish outlook for Bitcoin. Overall, a better idea would be to wait and see this asset's direction.
BTC Alternative – Wall Street Memes
While regulatory developments and some preliminary price charts tell that Bitcoin could surge, RSI and MACD indicators hint at this token's general disinterest.
This mixed sentiment can create volatility in an otherwise stable zone that Bitcoin trades in after falling off its $30k support.
And even if this volatility pushes the BTC price in a positive direction, it won't create the same parabolic scenario as meme coins, so investing in a meme coin presale like Wall Street Memes is a better alternative.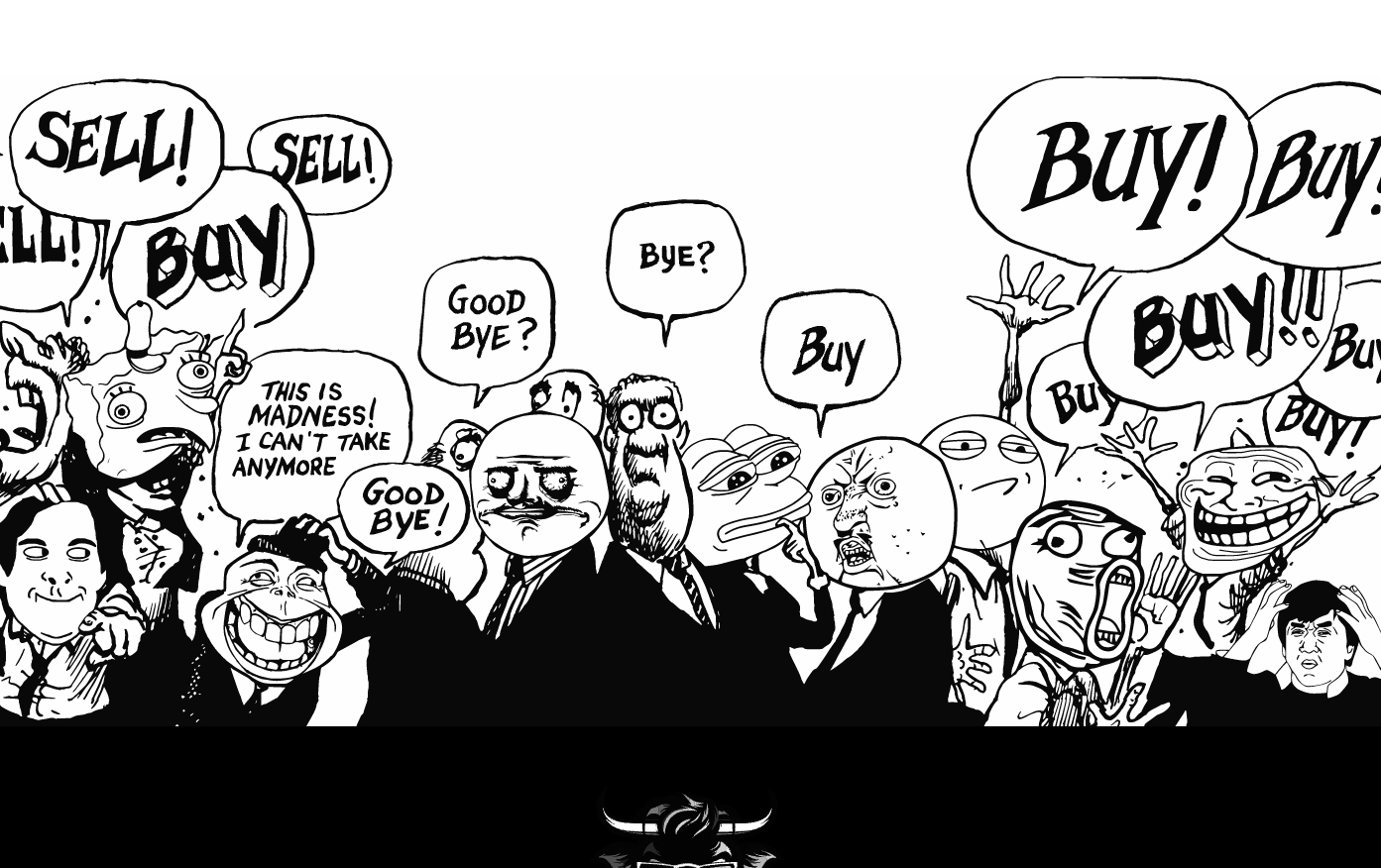 Inspired by Wall Street Bets, Wall Street Memes is a meme coin project that aims to mobilize the community in the same vein as the renowned Reddit group to pump the value of its native token – WSM. With a social media following of more than 1 million across four different platforms, Wall Street Memes has also gotten the attention of Elon Musk on three separate occasions.
The project's primary focus on memes and community is fueling its presale, which has raised more than $21 million within a month. Those interested can visit wallstmemes.com to participate.
Related
Wall Street Memes – Next Big Crypto
Early Access Presale Live Now
Established Community of Stocks & Crypto Traders
Featured on BeInCrypto, Bitcoinist, Yahoo Finance
Rated Best Crypto to Buy Now In Meme Coin Sector
Team Behind OpenSea NFT Collection – Wall St Bulls
Tweets Replied to by Elon Musk