SUI has entered a bearish price trajectory alongside the broader crypto market. The price is down by 3.37% and is trading at $0.5315 at 4:45 EST, with an over 42% decline in the last 24 hours.
SUI recorded a rapid price surge following its initial DEX offering in April and its main net launch in May. The token recorded a remarkable spike of more than 1900%, driving its value to around $2 per token from its initial IDO price of $0.1.
The price, however, has been on a steady decline since its main net launch. In the last seven days, the price of SUI has been down by 12% and dropped by 24% in the previous 30 days.
Technical indicators on the SUI Daily chart
As shown on the chart, the price of SUI is trading below the 50-Day Simple Moving Average, which indicates the price is bearish in the short term. The 50-Day SMA also acts as a resistance to the cost of SUI. A breakout from this level could cement a short-term bullish market scenario for the asset.
The Moving Average Convergence/Divergence trades below the signal line with red histogram bars, suggesting price is bearing, and sellers dominate the market.
Also, the Relative Strength Index of 39 denotes the market is relatively neutral and hasn't reached the oversold zone yet. A breach into the oversold zone could signal a trend reversal for SUI.
Combining the following technical indicators points towards a prolonged bearing market movement. Although, investors and traders should not rely only on technical indicators before making an investment decision, as the crypto market is prone to high price volatility and frequent market fluctuation.
Key levels on the SUI chart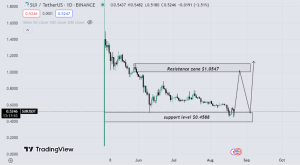 The price of SUI is consolidating on the $0.4588 support level. A bounce off from this zone could propel the price of SUI into the resistance level of $1.0547.
Despite the bearish price momentum of SUI in the past couple of weeks, market observers are optimistic about a positive market outlook for SUI in the long term. 
Factors that could affect the price of SUI 
SUI network announced the launch of the SUI kiosk on its Twitter account.
Sui is purpose built to put creators in the driver's seat.

Learn how Sui Kiosk empowers creators to have more control over the digital assets they create and sell.👇 https://t.co/C6g9rBWexz

— Sui (@SuiNetwork) August 18, 2023
Content creators and intellectual property owners require mechanisms to translate their business strategies onto a blockchain. Sui Kiosk, an essential feature of the Sui platform, fulfills this requirement by providing flexible choices for creators to establish conditions that will be upheld in various trading situations.
Kiosk provides a solution for operating a business model within a decentralized setting. By placing assets within a Sui Kiosk, creators gain authority over the distribution, sale, and management of their created assets by future owners and platforms.
Similar to real-world kiosks, creators will have diverse policies and business approaches. Therefore, Sui Kiosk offers extensibility, facilitating the representation of more intricate situations like auctions and lotteries.
The individuals responsible for creating content have authority over the regulations and guidelines rather than the platforms themselves. This helps address problems witnessed on different platforms and blockchains. As an illustration, a popular platform recently eliminated robust royalty protection for NFTs.
Furthermore, operating on the shared object model within Sui, Kiosks serve as a definitive reference point where all individuals can access listings of assets for sale. They also have the option to design their user interfaces to exhibit and engage with these assets.
If Sui Kiosks provides a competitive advantage over other platforms, it could attract more creators and buyers, influencing its native token SUI demand and pricing. In summary, Sui Kiosks' introduction could result in SUI's more diverse and dynamic pricing landscape, driven by creators' control, innovative trading models, improved user experiences, and the broader impact of decentralized features on the SUI ecosystem.
Chimpzee – The eco-Friendly Token with 30x Potential
Chimpzee Coin is strongly dedicated to environmental causes, addressing vital concerns like wildlife preservation, combating climate change, and countering deforestation. 
By integrating cryptocurrency incentives with an original wildlife conservation framework driven by blockchain technology, the project strives to safeguard wildlife and combat climate change using token-based incentives.
Within Chimpzee Coin's ecosystem, users can generate passive earnings while contributing to environmental initiatives. By allocating a share of its profits towards wildlife preservation and climate change groups, Chimpzee Coin effectively makes a constructive difference in the natural world.
Features
/
tokenomics
Chimpzee presents a shop-to-earn and donates merchandise stores, allowing users to earn passive income by purchasing items.
Every purchase signifies backing for the fight against climate change and animal mistreatment. Moreover, some proceeds are directed towards charity, making purchasers feel optimistic about their acquisitions.
Also, participants in Chimpzee's game "Zero Tolerance" can acquire CHMPZ coins, access exclusive rewards, and utilize their NFT passport or personalized avatar to counter poaching and safeguard forests against devastation.
Users on the platform can receive some of the trading fees from Chimpzee's NFT marketplace. This marketplace proudly claims to be the pioneering platform that shares a segment of its trading fee profits with its user base.
Prominently showcased on the main page, the NFT marketplace will highlight environment-focused NFTs, while stringent evaluation of projects will be undertaken to minimize duplications of collections.
During the presale, 45% of the $CHMPZ supply is accessible to the public. The allocation includes 10% to exchanges and liquidity, 15% to marketing, 10% to development, 5% to community rewards, 5% locked for two years for the team, and the remaining 10% to charity.
Chimpzee aims to significantly reduce its token supply from 200 billion to less than 50 million. This initiative has led to substantial token burning, with 100 billion tokens already eliminated and another 40 billion to be burned post-token launch. 
The project also revealed a fresh initiative to burn an additional 10 billion tokens, with each new $200,000 milestone in the Chimpzee presale resulting in an extra billion tokens.
Also, ($CHMPZ) used for Chimpzee Passport NFT acquisitions will be removed from circulation. Additionally, Chimpzee is systematically burning surplus tokens from every presale phase. Increased token burning directly correlates with improved long-term token value.
The Chimpzee project has successfully raised over $1.2m in its presale round and is in stage 10 of its token sale with just 11 days left before the next stage begins. Interested users can get $CHMPZ at $0.00095 by visiting this website for more information.
Related Articles:
Wall Street Memes – Next Big Crypto
Early Access Presale Live Now
Established Community of Stocks & Crypto Traders
Featured on BeInCrypto, Bitcoinist, Yahoo Finance
Rated Best Crypto to Buy Now In Meme Coin Sector
Team Behind OpenSea NFT Collection – Wall St Bulls
Tweets Replied to by Elon Musk