Stargate Finance, a completely composable liquidity transmission mechanism, is the core of Omnichain DeFi. Users and dApps can use the protocol's unified liquidity pools with instant assured finality and transfer native assets cross-chain.
Transfers through the Stargate have instant guaranteed finality, meaning a transfer submitted on the source chain is guaranteed at the destination. Liquidity providers can also farm their LP tokens to earn STG token rewards. Apart from this, STG token holders can lock them in exchange for veSTG, Stargate's governance token.
Stargate Finance's token, STG, has seen a downtrend of 1.96% in the last 24 hours, along with the crypto market drop of 0.26%. The crypto asset has, however, been on an uptrend for the last 30 days before faltering in the last week. Could this be a good time for investors to invest in the digital asset for gains?
Invest in STG Before It Rallies
The general crypto market is experiencing a downtrend of 0.26% in the last 24 hours. Digital assets, such as STG, have also followed with a slump in the same period. The crypto asset has, however, been on an uptrend for the last 30 days before faltering in the last week, and since the crypto market is still recovering, we could see STG rebound when the broader crypto market rallies again.
At press time, STG's price is trading at $1.08 after a downtrend of 1.96% in the last 24 hours. The drop has continued from last week's 4.5% slump. However, the digital asset had a steady rally of 47.8% in the last seven days and a 70.6% increase in the last 30 days.
STG's technical analysis shows the digital asset is still currently bullish. STG dropped after encountering resistance at the 78.6% Fibonacci retracement level of $1.20. However, it found support at 61.8% of $0.99 and rebounded. Now, the digital asset is surging toward the 78.6% retracement level.
STG trades above the 50-hour simple moving average (SMA) indicator in the short term at $0.67. The 150-day SMA for the long-term prediction is $0.57, which is still below the current STG price.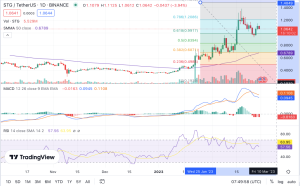 The digital asset's moving average convergence and divergence (MACD) value shows a sell signal, while the current relative strength index (RSI) of 57.56 puts STG in the underbought region.
With a steady market rally, the crypto asset may break through the resistance level and reach the 100% Fibonacci retracement. As a result, investors should keep an eye on STG's performance.
Stargate Integrates With Rage Trade
RageTrade, a protocol enabling perpetual trading for $ETH, has recently announced an integration with Stargate ($STG). With the integration, Rage Trade users will be able to access their vaults directly from any Stargate-compatible chain with the click of a button.
1/ Rage Trade is proud to announce an official integration with @StargateFinance !

What does this integration entail?

A short thread below🧵👇 pic.twitter.com/COpqSpeQaN

— Rage Trade (@rage_trade) January 18, 2023
Rage Trade users can more easily move their assets to a virtual asset vault thanks to this integration of the Stargate protocol, making it simple to transfer native assets to other chains.
Two Value-Driven Coins to Explore Aside STG
The technical analysis above demonstrates that STG has significant investment potential. However, several value-driven altcoins have the potential to be profitable. The good part is that investors can become early adopters since these coins are still in the presale phase.
One of the value-driven coins is CCHG – the digital token of the green environmental initiative C+Charge. The project uses blockchain technology to create a robust peer-to-peer (P2P) payment mechanism for electric vehicle (EV) charging stations.
With C+Charge, EV drivers can now earn carbon credits by charging their vehicles on C+Charge's blockchain-powered network.
🎓Universities worldwide are starting to offer cryptocurrency-related courses due to the rising demand

⛓️The course will cover the most essential areas for #crypto users as well as the basics of #blockchain technologies

Join the $CCHG #presale now🔽https://t.co/ixe18bPqzI

— C+Charge (@C_Charge_Token) February 27, 2023
The $CCHG token runs the C+Charge economy and is currently priced at $0.017. The digital asset is in its fourth of eight scheduled stages, with over $1.8 million raised.
Another value-driven digital asset that investors should consider is FGHT. The altcoin is the native token for the play-to-earn (P2E) platform, Fight Out. This platform enables users to earn incentives and badges for completing fitness tasks and competing in the metaverse.
With Fight Out, users can connect with experts and colleagues and access virtual and physical gym chains.
$4.8M RAISED 🔥

Our #Presale is getting closer to $5M! 💪

Remember, the price of $FGHT is increasing every 12 hours! ⏰⏰

Join the presale NOW before it's too late 👀
👉https://t.co/9pikKGRjSd#Blockchain #Crypto #PlayToEarn #Web3 pic.twitter.com/ULZmHm2V5w

— Fight Out (@FightOut_) February 28, 2023
The platform's native token, FGHT, has raised more than $4.83 million from investors as of this writing. Currently, the token is priced at $0.02541, but this will keep increasing every 12 hours until March 31st, when it will be listed on exchanges for $0.0333.
Fight Out (FGHT) – Move to Earn in the Metaverse
CertiK audited & CoinSniper KYC Verified
Early Stage Presale Live Now
Earn Free Crypto & Meet Fitness Goals
LBank Labs Project
Partnered with Transak, Block Media
Staking Rewards & Bonuses
Related News