New York-headquartered crypto-friendly bank is finding itself in some deep trouble as investigation around the FTX fiasco of 2022 gains momentum. The Bank has been accused of taking part in the FTX fraud that came into the limelight last year and rocked the entire crypto market, whose effects are still being seen all around the crypto space.
A lawsuit is being filed by Statistica Capital, an investment and algorithmic trading firm which believes that the bank was involved in facilitating the FTX collapse. Here's all the news about Signature Bank and its alleged role in the FTX collapse.
Signature Bank Faces Law Suit: What's the Entire Scenario?
Signature Bank has been accused of partaking in the infamous FTX collapse that took place in November last year.
According to the lawsuit filed, it is believed that Signature Bank allowed the linking of customer accounts to its Signet blockchain network. The lawsuit has been filed by a British investment firm called Statistica Capital which made these claims in an 87-page document they presented in the Manhattan federal court on February 6, Monday, submitting it as a proposed class action lawsuit.
According to a Bloomberg report, it is being stated that Signature Bank knew about the wrongdoings taking place at FTX since June 2020, and with the help of the same knowledge the fraud must have been conducted and facilitated further.
The firm even went ahead and promoted the now-bankrupt crypto exchange and failed to flag FTX transactions that seemed shady or violated their terms of service.
Statistica Capital has filed the lawsuit with an aim of recovering the damages for itself and the entities that faced losses in the FTX collapse of 2022. Right after the FTX collapse, Signature Bank started sidelining itself from the entire crypto space. In December 2022, it decided to shrink its crypto deposits by $8 billion to $10 billion.
FTX was Signature's biggest crypto client. However, the Bank clarified that FTX's holdings didn't constitute the Bank's 0.1% of the total deposits.
The FTX Collapse: What Exactly Happened There?
The investigation around FTX and its erstwhile CEO Sam Bankman-Fried is still ongoing and newer revelations are coming into the picture each day.
However, all of it started in the first week of November last year, when the then-world's largest cryptocurrency exchange filed for bankruptcy after Binance exchange pulled out of a deal to save the company.
Post the initial investigation, there were a lot of missteps and wrongdoings that came to the light. Severe financial malpractices were going on inside FTX some of which included concealing the misuse of customer funds.
After running through the internal documents and other paperwork, it was found that a third-party firm called Alameda Research, which was a hedge fund run by Bankman-Fried held a large amount of FTT tokens. Many believed that Sam Bankman-Fried started FTX to fund Alameda's operations.
Soon after the revelations, Binance decided to pull out of FTX by deciding to sell their majority stake in crypto tokens. This led to many other users thinking of pulling out their funds, leading to a liquidity crunch.
The current team which is responsible for FTX's restructuring has repeatedly mentioned that the document and the internal structure of the crypto exchange are "in a mess". It is being led by John J Ray who has been at the helm of several bankruptcies including Enron. Ray, in a statement, mentioned that he has never seen something like this before.
Binance Reconsidering US Dollar Bank Transfers
From February 8th, we will temporarily suspend all USD bank transfers.

Only a small proportion of our users will be impacted by this and we are working hard to restart the service as soon as possible.

All other methods of buying and selling crypto remain unaffected.

— Binance (@binance) February 6, 2023
The largest cryptocurrency exchange in the world by volume, Binance, has decided to suspend U.S. dollar deposits and withdrawals, the company announced on February 6th.
"We are temporarily suspending USD bank transfers as of February 8th,", a Binance spokesperson mentioned in a statement to a platform. They further continued adding, "Affected customers are being notified directly."
The crypto exchange further  added "0.01% of our monthly active users leverage USD bank transfers" and mentioned, "we are working hard to restart service as soon as possible."
While the real reasons aren't clear but there have been speculations that the crypto exchange took this move, after its banking partner, Signature Bank said that it would stop processing crypto SWIFT transactions under $100,000. However, to clarify, a Binance spokesperson did say that the two news aren't related to one another.
Conclusion: What's Next For Crypto Post This?
Many experts are of the notion that the crypto industry might as well be looked at as post-FTX and pre-FTX from now on. While the Mt Gox hack created news back in 2014, the markets weren't as mainstream as they are now.
The latest updates about Signature Bank and the lawsuit against it are believed to impact the crypto markets. However, at the time of writing, there isn't much effect of the same being seen on the overall crypto markets.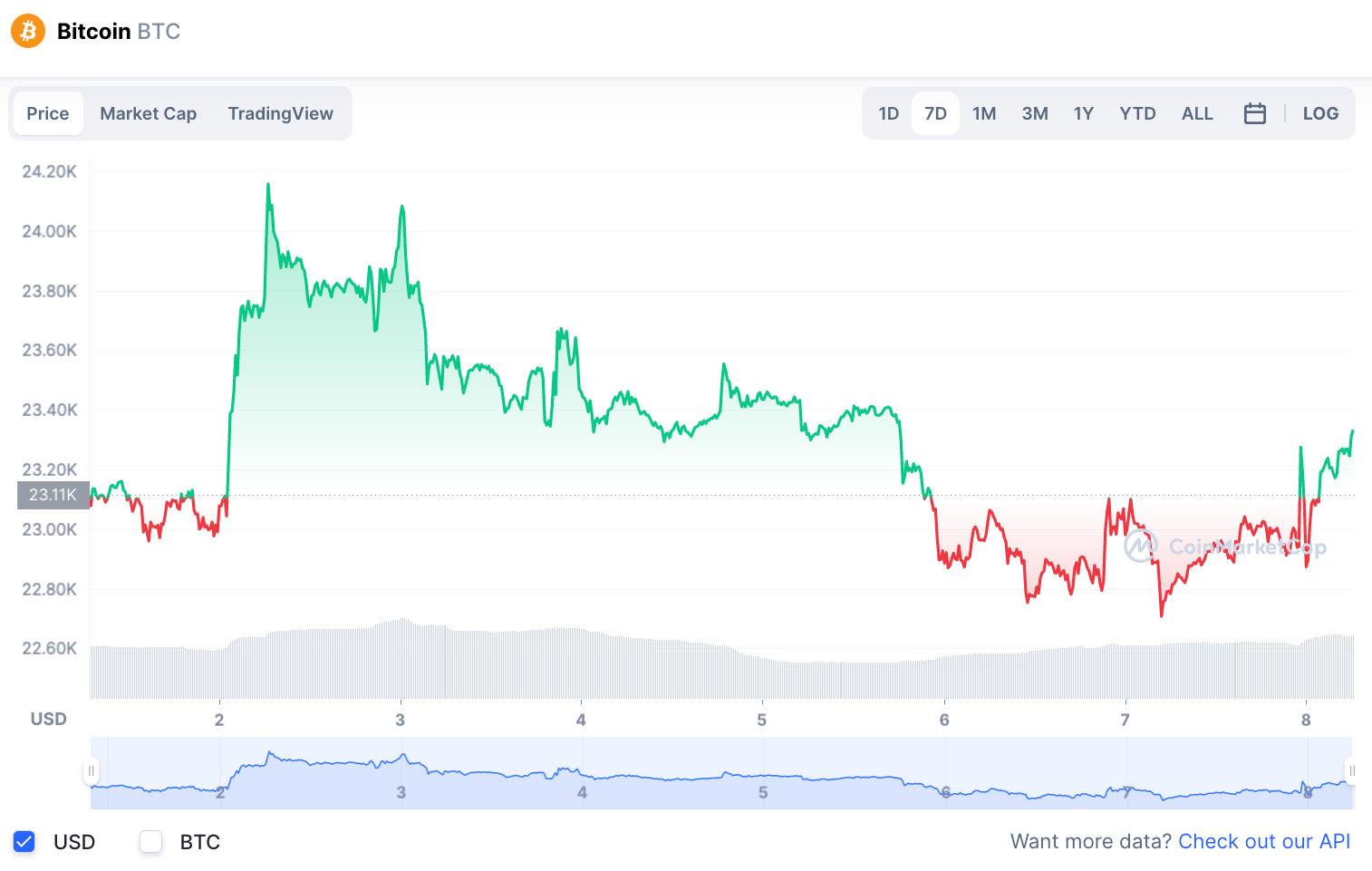 According to Coinmarketcap, Bitcoin is still trading at north of $23,300 levels with a market cap of $449 billion.
It is yet to be seen what effects the news will have on the crypto markets, but the overarching sentiment for the market seems to be bullish. Crypto markets seem to have moved on from 2022's major FTX fraud that led to a widespread bloodbath in the crypto markets. The markets have been able to shed off the effects and go beyond that.
This has led to some of the cryptocurrencies showcasing some of their best performances in the last few months.
Read More:
Fight Out (FGHT) – Newest Move to Earn Project
CertiK audited & CoinSniper KYC Verified
Early Stage Presale Live Now
Earn Free Crypto & Meet Fitness Goals
LBank Labs Project
Partnered with Transak, Block Media
Staking Rewards & Bonuses