XRP faces retracement as bears limit its price, despite recent positive performance and hope of a potential return to its all-time high value.
XRP's rally faces resistance at $0.78, trading at $0.77 with a 3% decline in the last 24 hours and a 35.2% decrease in trading volume, possibly signaling a potential end to its recent rally and a bearish trend.
XRP Retraces from Overbought Region As Bears Re-enter The Market
XRP is currently in a downtrend, forming a second consecutive red candle on the daily chart after a recent rally.
It is trading below the trend line as bearish pressure persists, leading to a retracement below $0.78.
Despite the retracement, it remains above its 50-day and 200-day Simple Moving Averages (SMA), indicating short and long-term bullish sentiment.
However, the Relative Strength Index (RSI) value of 68.87 is close to the overbought region 70, and the buying pressure is dropping, suggesting bearish pressure may limit XRP's price.
The Moving Average/Convergence/Divergence (MACD) is above its signal line, signaling a bullish sentiment, but the fading MACD Histogram bars indicate a possible bearish reversal.
XRP Meets Stiff Resistance At $0.82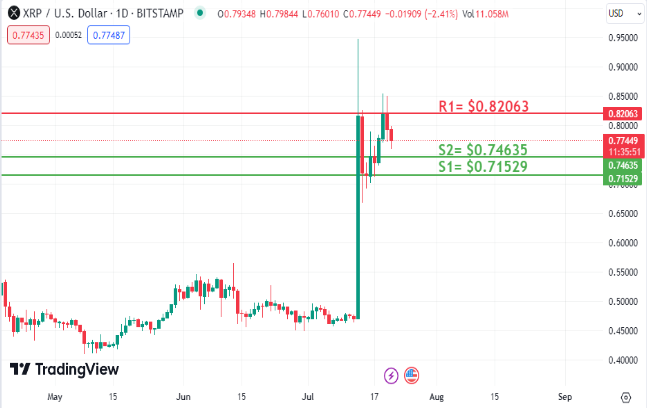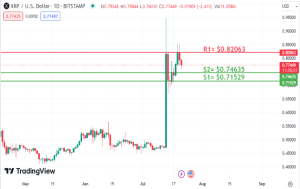 XRP's price remains around $0.77 after facing bearish pressure at $0.82062, causing a downtrend.
The $0.745635 support level will be crucial if bearish pressure persists, but strong support at $0.71529 suggests it will likely stay above $0.74535. The current descending movement indicates a possible short-term retracement before a potential bullish rally.
Although it has seen a 118.3% increase this year, past price behavior suggests a significant market correction might occur in the coming weeks before another rally.
Investors should be cautious and conduct thorough research and risk analysis due to the volatility of cryptocurrencies.
Factors Influencing XRP's Price
Several factors could influence XRP's price. Here are the recent trends surrounding the Network.  
Ben Armstrong Bullish on XRP
$15 is reasonable I believe over 18 months or so.

If they IPO and time it correctly, could be up to $35 imo.

Make no mistake… it may not go that high… but $XRP IS breaking an all time high this cycle save some sort of pointless, vindictive SEC appeal. (Low chance) https://t.co/rrMCuOacrE

— Ben Armstrong (@Bitboy_Crypto) July 19, 2023
Crypto influencer Ben Armstrong predicts XRP will reach $15 in 18 months and could spike to $35 if they conduct an IPO at the right time; however, he added a disclaimer that XRP may not reach that high, but it will likely break its all-time high cycle unless the SEC launches a vindictive appeal.
Ripple Labs References Landmark Victory In SEC Lawsuit
In a July 19 blog post, Ripple Labs referred to their recent victory in the SEC's case. Citing the ruling and the declaration that XRP is not a security, they stated that the case marks a historic landmark in the history of cryptocurrencies.
Consequently, XRP price soared to the $0.9 price level at some point before its current retracement. This victory led to top exchanges such as Coinbase re-listing XRP while others revealed their plans to do the same. 
The attention from top exchanges will likely boost XRP's price in the coming weeks to reclaim the $0.9 price level. 
XRP Alternatives
While XRP retraces, investors can use an ongoing meme coin presale focused on the crypto community. 
Wall Street Meme ($WSM)
Wall Street Meme ($WSM) is a meme coin project driven by an active crypto community, creating value for worthless tokens. It rises against capitalism and the monopoly of control from the large institutions in a capitalist society.
Wall Street Memes promotes the internet's triumph over capitalism built on a belief that Greed is good, a saying popularized by Gordon Gecko in the 80s. It is a fun ecosystem for users to interact using memes and engage in meme-themed contests for exciting rewards. 
Ultimately it aims to be more than a mere meme coin project but add value to its users with features such as $WSM branded merchandized detailed in its roadmap. $WSM is the utility token behind this ecosystem. 
Key Features
Wall Street Meme (WSM) main features include:
Decentralized Finance (DeFi):

Wall Street Meme promotes the decentralized finance culture where users control their digital assets. 

Community-Based Project:

$WSM relies on the power of its growing community to achieve success.

Advanced Technology:

Wall Street Meme operated on a secure blockchain framework, protecting its users from hacks and loss of assets.
Presale Still Ongoing
The Wall Street Memes $WSM presale is still open to traders hoping to get in early on the project and earn massive rewards.
It is above the $16.77 million milestone out of its $18 million target. 1 WSM token is worth $0.0322 at this stage, with a price increase to $0.0325 in 5 days.
How to Buy
You can purchase $WSM with USDT, ETH, BNB, or bank cards.
Go to the presale

website

, and click on Buy Now.

Send ETH or BNB to your wallet to swap with $WSM tokens.

Alternatively, you can purchase the tokens with USDT, ERC-20, or BEP-20. Choose the USDT option and swap for your desired amount.

Lastly, you can select the bank card option to link the $WSM presale page and buy directly using a band card.
Related News
Wall Street Memes – Next Big Crypto
Early Access Presale Live Now
Established Community of Stocks & Crypto Traders
Featured on BeInCrypto, Bitcoinist, Yahoo Finance
Rated Best Crypto to Buy Now In Meme Coin Sector
Team Behind OpenSea NFT Collection – Wall St Bulls
Tweets Replied to by Elon Musk