According to data from CoinGecko, renBTC is trading at $31,868 at 13:20 UTC, claiming significant gains in the past 24 hours. It has moved from $29,359 on July 7 to its current price level.
It represents a significant rally for the token today as it seeks to reclaim previous gains. renBTC is a synthetic asset created by the Ren protocol that represents Bitcoin's value. It facilitates fast Bitcoin transfers on Ethereum's blockchain and other cross-chain transfers.
RENBTC Price Action
RENBTC is up 61.4% compared to its price in 2022, representing an above-average increase. Also, it gained over 18% in the last 30 days, with its price surge today reflecting a positive outlook and increased trading activity. Also, it gained 3.1% in the past 7 days.
RENBTC Bulls Sustain Price Gains
RENBTC is in an uptrend today, forming a fourth consecutive green candle. It implies that the bulls are active in the market and sustaining its price gains. 
It is trading above its 50-day and 200-day Simple Moving Averages (SMA), indicating a short and long-term bullish sentiment. It crossed above the 50-day SMA, confirming the recent gains recorded in the past week.
Also, its Relative Strength Index (RSI) value is 59.67 in the neutral zone between the oversold region of 30 and the overbought region of 70. 
However, the RSI indicator is rising, reflecting increasing buy pressure in the market today. It means that more traders are in long positions gaining the advantage over the shorts (sell). 
RENBTC's Moving Average Convergence/Divergence (MACD) rises above its signal line, confirming the bullish sentiment. Also, the Histogram bars are green, confirming the prevalent trend. It will likely hold unto its gains in the coming days. 
RENBTC Support and Resistance Levels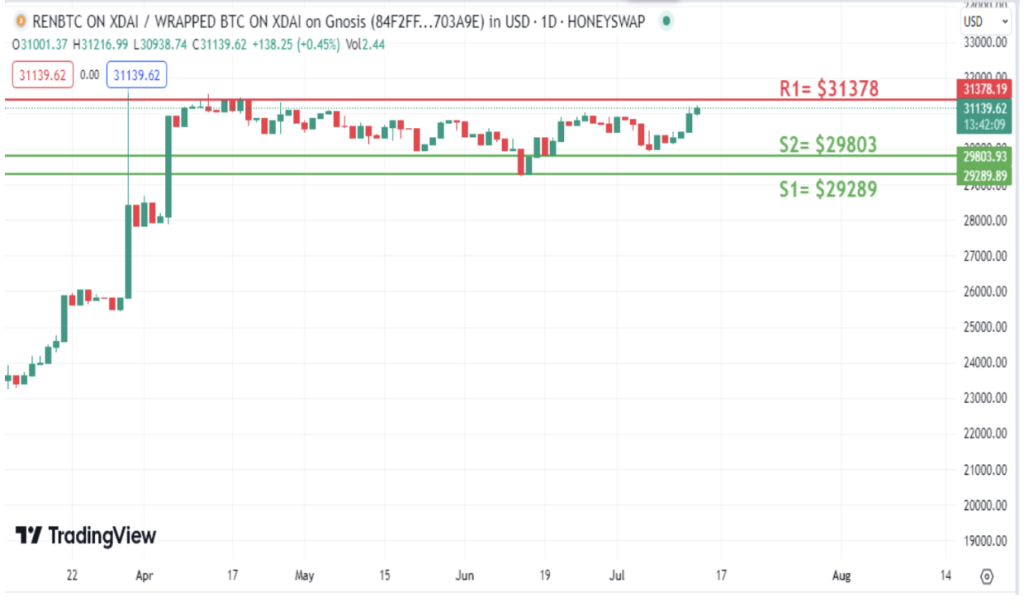 RENBTC is close to the $31,378 resistance level. It found support at $29,289 and $29,803. A break above the $31,378 level will trigger a further price increase for the asset. However, it will likely experience retracement soon for a period of consolidation.
Factors Affecting renBTC's Price
Several Factors could affect RENBTC's price. Most often, Bitcoin's price action determines its price due to its affiliation. BTC is up today, trading at $31,146; its positive outlook correlated with the recent spike in the price of Ripple (XRP). RENBTC also gained massively from market recovery.
XRP won a hard-fought victory over the U.S. Security And Exchange Commission (SEC) that began in 2020 when the SEC labeled XRP as a security. However, the summary judgment by Justice Analisa Torres on July 13 clears XRP of the security tag. 
According to XRP's Legal Counsel Stuart Alderoty, XRP is not a security, and sales on exchanges are not securities.
This victory caused a spike in XRP's price leading to speculation of an altcoin season. RENBTC is also gaining today as the market wears a more positive outlook. Stuart Alderoty believes the victory provides the framework for a rational conversation about crypto regulations in the United States. 
renBTC Alternative
While some investors might have missed out on RENBTC's recent price surge, there is an alternative AI-powered project with massive potential.  
Don't Miss Another Market Rally With yPredict (YPRED)
yPredict is a crypto analytics platform backed by Artificial Intelligence (AI). It equips traders with market insights and analytics for profitable trading. Also, it gives software developers a platform to market their trading software models to other users.
🚀🔮Check out this insightful article on Ethereum price predictions for the next 10 years! It provides a comprehensive analysis of ETH's potential surge, with projected prices from 2023 to 2033. Don't miss out on the forecasted highs and lows! 📈✨

Read more:… pic.twitter.com/suDXFNUjvk

— yPredict.ai (@yPredict_ai) July 14, 2023
yPredict is an effective tool to break the monopoly of institutional traders and whales over the market. The platform's AI simplifies trading making it accessible to users with its innovative interface.
Features
To unlock its features, yPredict users must hold $YPRED, its utility token. 
AI signals and predictive models:

Signals give traders an idea to create the right strategy and make a profit.

Although they are not 100% accurate, the AI-generated data gives users a higher percentage of trading accuracy. yPredict gives developers a platform to market their predictive models. The developers are carefully selected from the top 1% of AI experts worldwide.
Vital Analytics:

Traders also get access to technical and fundamental backed by AI technology. It shows the historical data of a token and its future potential.

Also, yPredict's AI

recommends reliable indicators that work best for each token.

Distinct chart recognition tool:

This tool identifies over 25 trading chart patterns for different tokens.

Staking feature:

Staking gives users the benefit of passive income to earn rewards. Users earn by staking their $YPRED tokens.

Learn-to-Earn (L2E) Model:

YPredict's innovative Learn-to-Earn (L2E) model allows users to learn the basics of the crypto market and advanced knowledge. They earn YPRED tokens as rewards for completing education modules.
YPRED Presale Success
YPRED presale is ongoing and still in stage 6. The presales are above the $2.96 million milestone showing massive investors' interest. Currently, 1 YPRED is worth $0.09. However, it will list on exchanges at. $0.12 rewarding early investors. 
How To Buy
YPRED Operates on the Polygon Network users can purchase these tokens in the following steps:
Connect your MetaMask or Trust Wallet

Choose your preferred payment option between ETH, MATIC, BNB, and USDT.

If you do not have any of these tokens, you can buy from a reputable crypto exchange and transfer them to your wallet.

Select the amount of YPRED tokens you wish to buy and confirm your transaction.
If you do not have cryptocurrencies but still wish to buy, click on the Card option to purchase the tokens directly with your bank card.
Related Articles:
Ecoterra – New Eco Friendly Crypto
CertiK Audited
Doxxed Professional Team
Earn Free Crypto for Recycling
Gamified Environmental Action
Presale Live Now – $2M+ Raised
Yahoo Finance, Cointelegraph Featured Project