Planet coin is trending, ranking second on CoinMarketCap and at Number 2 on DEXTools' HotPairs List currently. It has shown an impressive 75% gain in the past 30 days and is on its way to form new higher highs.
PLANET is a unique ecosystem that utilizes blockchain technology to tackle important social and sustainability issues, somewhat similar to Ecoterra. This is with the aim to create a more transparent and sustainable future.
Originally introduced as a meme coin supported by GOATs, PLANET has revealed its commitment to global well-being. This aligns with the 17 United Nations Sustainable Development Goals. The goals focus on urgent social, economic, and environmental challenges and promote holistic, sustainable development.
Let's unite our efforts and foster collaborations that transcend borders and disciplines to create a more sustainable world. 🌎#JoinThePlanet $PLANET pic.twitter.com/EwSD9TAZWL

— Planet (@JoinOurPlanet) July 4, 2023
With the help of celebrities and their devoted fan bases, PLANET seeks to mobilize people worldwide to confront global challenges. The platform enables renowned personalities to endorse and support sustainability initiatives close to their hearts.
PLANET is Trending Everywhere
The PLANET coin has now garnered considerable traction in the cryptocurrency landscape. Despite some losses, it has secured second place in the daily trending list on Coinmarketcap. This achievement highlights its growing popularity and the attention it receives from market participants. Its number three position on DEXTools' HotPairs List indicates active trading and growing interest for the token.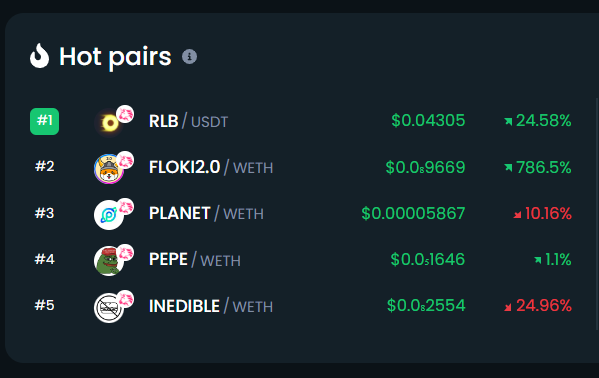 Besides, another reputable news outlet, CoinGape announced PLANET as the second-ranked coin on its Daily Gainers List. These developments signify a rising interest and confidence in the PLANET coin, potentially leading to future growth and success.
😍Breaking Records: Top Gaining Coins of the Day! 🔥

Follow @CoinGapeMedia and never miss any important #CryptoUpdate! 🔔#PEPE #PLANET #XGV #KEKE #PEPE2 #BTC #PENDLE #MAV #LTC #ETH #SHEEL #MATIC #BOBO #cryptocurrency pic.twitter.com/wkccCMemza

— Crypto News (CoinGape) (@CoinGapeMedia) July 6, 2023
IBCIG's Tweet Sparks Curiosity About PLANET's Mysterious Partnership
Not much is known about the reasons behind the growing interest in PLANET among investors. However, IBCIG, a notable cryptocurrency figure, and Binance KOL Feed Creator, has provided some insights.
$PLANET has literally been up for weeks spotted this from 15M mc now it's 70M mc. The @JoinOurPlanet team keeps dropping hints with something big. I'm curious about the mysterious GOAT partnership that will soon be revealed. Could it be #Messi, the goat as what the rumour been… pic.twitter.com/ofXUHWJq9B

— IBCIG (@ibcig) June 27, 2023
IBCIG's curiosity was piqued by a tweet from PLANET, which hinted at significant developments behind the scenes. The tweet created anticipation for the arrival of a prominent individual called the "legendary GOAT."
Prepare to be amazed as we give you an exclusive backstage pass to what's brewing behind the scenes at $PLANET! While we anxiously await the grand entrance of the legendary GOAT (coming soon), we'll treat you to a sneak peek into our future…https://t.co/oUczsqiQud

— Planet (@JoinOurPlanet) July 3, 2023
The tweet does not explicitly mention who the GOAT is. However, IBCIG speculates that it could be the renowned football player, Messi, based on circulating rumors. This speculation from IBCIG has sparked further interest and excitement among cryptocurrency investors and followers of PLANET.
PLANET Transforms from Meme-Coin to Purpose-Driven Platform
On June 23, 2023, the PLANET community successfully transitioned from being a meme coin to establishing a purpose-driven ecosystem. This transformation marks a significant milestone as PLANET becomes the native token of a platform. It is aimed at addressing global sustainability challenges using blockchain technology.
"PLANET unveils transformation to protect the earth's most fragile ecosystems" – @Cointelegraph#Planet $Planet #JoinThePlanet https://t.co/uJVYhY0prP

— Planet (@JoinOurPlanet) June 24, 2023
This strategic move empowers PLANET to spearhead a movement bringing attention and resources to the world's most critical sustainability problems. By leveraging the power of blockchain, PLANET aims to drive meaningful action and foster collaboration. Thereby making a positive impact on the planet's well-being.
🤷🏻#JoinThePlanet $PLANET pic.twitter.com/mGD98oUTkN

— Planet (@JoinOurPlanet) July 5, 2023
PLANET Price Analysis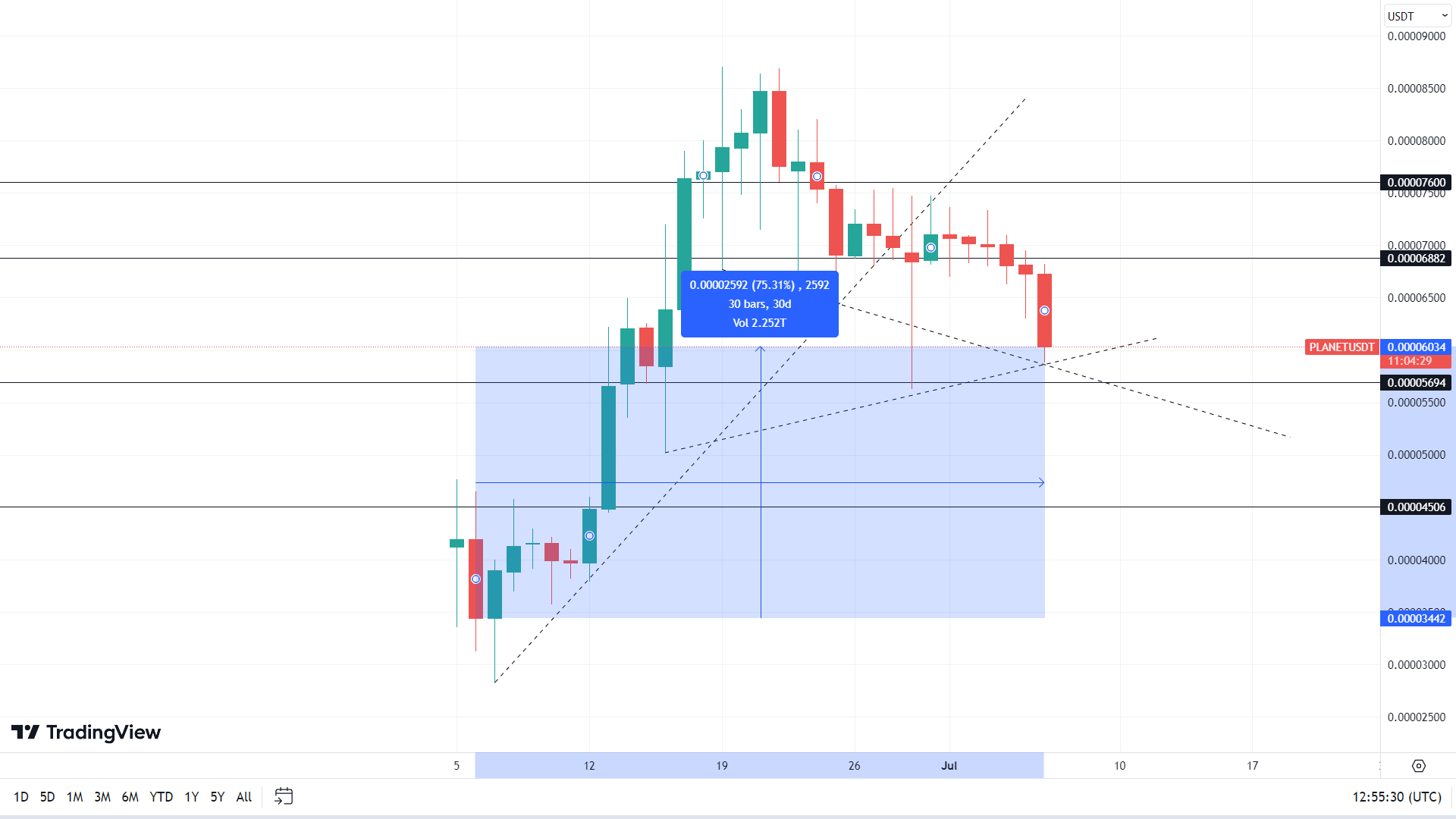 On Thursday, the PLANET coin broke a streak of five down days and was up almost 13% at 13:45 EST. That moved it away from its critical support level at $0.00005694. Should a candle break below this level and close at or below it, the downward trajectory will likely persist. Such a move could lead to further declines toward the subsequent support level at $0.00004506.
It is worth noting that the coin has been following a negative trend since June 22. However, recent developments indicate a potential reversal of this trend, as the price has reached a significant support level.
If this support level manages to sustain the coin and prevent further losses, Planet price could rebound, with an optimistic target set at $0.00007571. In a highly bullish case, it could breach this hurdle, fueling optimism for achieving new higher highs.
Furthermore, despite experiencing losses in recent sessions, it is important to recognize that the price of the PLANET coin has still demonstrated an impressive increase.
On DEXTools, the PLANET coin has a reliability score of 99/99 with 89.3% Community Trust.
While PLANET might be trending today, another coin has similar potential.
Promising Alternative To PLANET
yPredict is an AI-powered project that offers traders predictive trading signals. It operates using its native cryptocurrency called the $YPRED token. Traders can use the token to purchase crypto signals to assist them in making informed trading decisions.
One benefit of holding $YPRED tokens is the ability to stake them. By staking their tokens, holders can earn a portion (10%) of the marketplace fees generated by the project. This creates an opportunity for token holders to passively earn additional rewards.
The main goal of yPredict is to level the playing field for traders by granting them access to data-driven AI and machine learning predictive models. These models are developed by skilled data scientists, aiming to provide accurate predictions and assist traders in maximizing their profits.
yPredict Unleashes Powerful LSTM Algorithm for Cardano's ADA
The team at yPredict has created an advanced Price Prediction Model for Cardano (ADA) cryptocurrency using a powerful algorithm called LSTM. LSTM stands for Long Short-Term Memory, a cutting-edge technology that analyzes time series data and captures long-term patterns. The model utilized historical price data to make predictions with remarkable accuracy.
🔮 Unleashed the power of LSTM! #yPredict Developed a mind-bending Price Prediction Model for Cardano's ADA using the futuristic LSTM algorithm. Witnessed its mastery in capturing long-term dependencies in time series data. 📈

🚀 Our model, fueled by historical price data, made… pic.twitter.com/8BygXEaL1Y

— yPredict.ai (@yPredict_ai) July 6, 2023
Although not flawless, the results show great potential. The Mean Square Error (MSE), a measure of prediction accuracy, initially achieved a value of 0.001357. By implementing a triple-layered LSTM and taking a bold approach to combat overfitting, the MSE dropped even further to 0.0002817, indicating astonishing precision in forecasting ADA's price.
yPredict Presale is About to End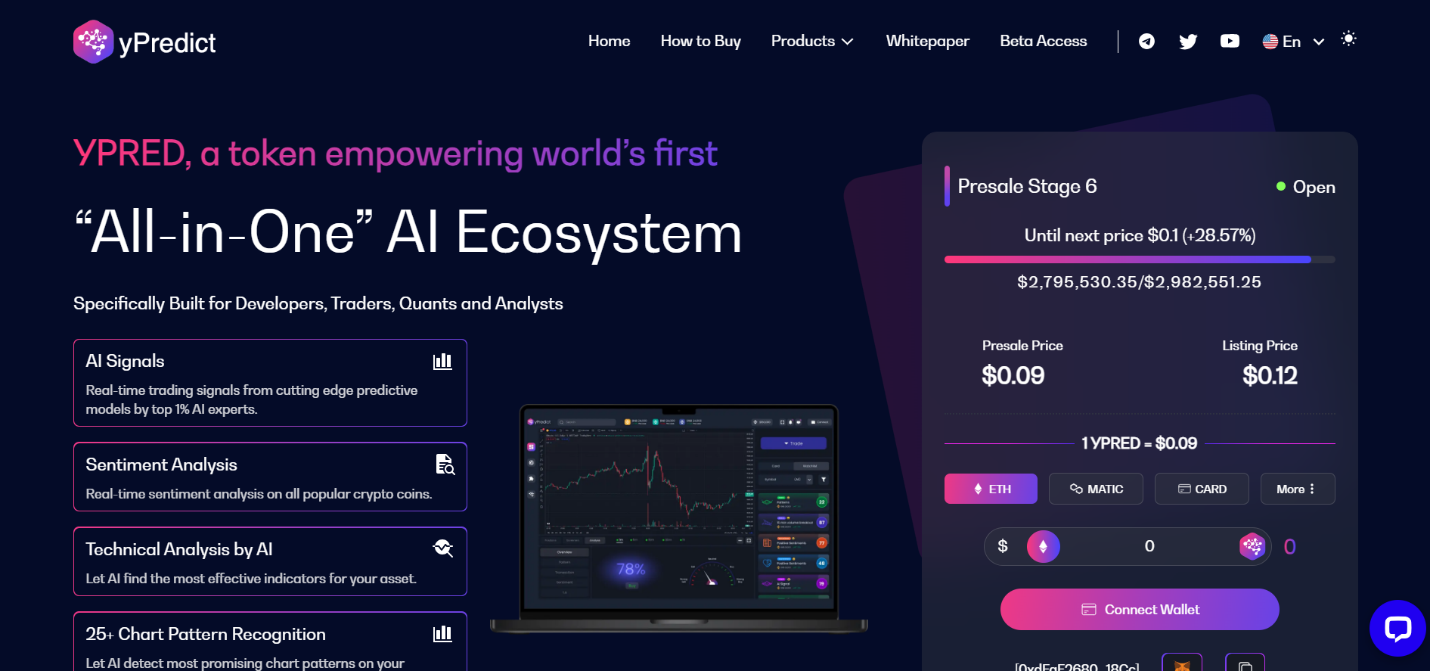 Currently, $YPRED is in its presale phase, which means it is available for purchase at a discounted price compared to its future exchange launch price. The Presale price of the YPRED token is $0.09, down by 28.57% from its next price of $0.1, which will be activated after the completion of Presale Stage 6. The undergoing stage 6 is about to end with the collection of $2.795M out of the target of $2.982M.
In terms of token supply, there is a total of 100 million $YPRED tokens. Of this supply, 28% is allocated for private, pre, and public sales, while the remaining portion is designated for the project's development and future enhancements.
Also Read:
Wall Street Memes – Next Big Crypto
Early Access Presale Live Now
Established Community of Stocks & Crypto Traders
Featured on BeInCrypto, Bitcoinist, Yahoo Finance
Rated Best Crypto to Buy Now In Meme Coin Sector
Team Behind OpenSea NFT Collection – Wall St Bulls
Tweets Replied to by Elon Musk