Pepe coin's price faces another setback, dropping by 10% in the past 24 hours.
$PEPE is experiencing a decline in "whale" holders, as evident from recent large withdrawals.
On July 23, a significant withdrawal of 2 trillion $PEPE tokens ($3 million) occurred on Binance, following previous substantial withdrawals of 3.94 trillion tokens ($6.46 million) on June 27 and July 5.
A whale withdrew 2T $PEPE ($3M) from #Binance 30 mins ago.

The whale withdrew 3.94T $PEPE ($6.46M at that time) from #Binance on Jun 27 and Jul 5.

Then deposited 3.94T $PEPE ($7.06M at that time) to #Binance on Jul 14, the profit is ~$600K.https://t.co/lcyPKweum9 pic.twitter.com/KOYeFhdhHz

— Lookonchain (@lookonchain) July 23, 2023
With a decline in interest and bearish sentiment surrounding $PEPE, investors might question its potential for a comeback. In light of this, exploring alternative coins could be a consideration.
PEPE Breaks Below the Support Level
PEPE's price decline from $0.000001872 stabilized at the support level of $0.0000008246. A brief rebound faced resistance, forming a double-top pattern and lowering the price. The breach below the support level caused a 10% drop in the last 24 hours.
After a month of horizontal trading, the price recently broke out in the past 24 hours. However, traders are awaiting a retest of the support level to determine their buy entry point, as the bearish move has not been fully confirmed yet.
Investors should closely monitor the support level break during the retest, waiting for confirmation through a decisive daily candlestick close above the range's upper or lower boundary for the next move.
Alternatively, if the bearish trend continues, the price could revisit its former support level at $0.0000008246 before any potential further surge.
Pepe Price Indicators Suggest Bearish Momentum
Pepe Coin's price indicators and lack of positive catalysts suggest a possible market decline. As of 7:36 a.m. EST, PEPE Coin is trading at $0.00000133, experiencing a 9.8% decrease in its trading volume over the last 24 hours.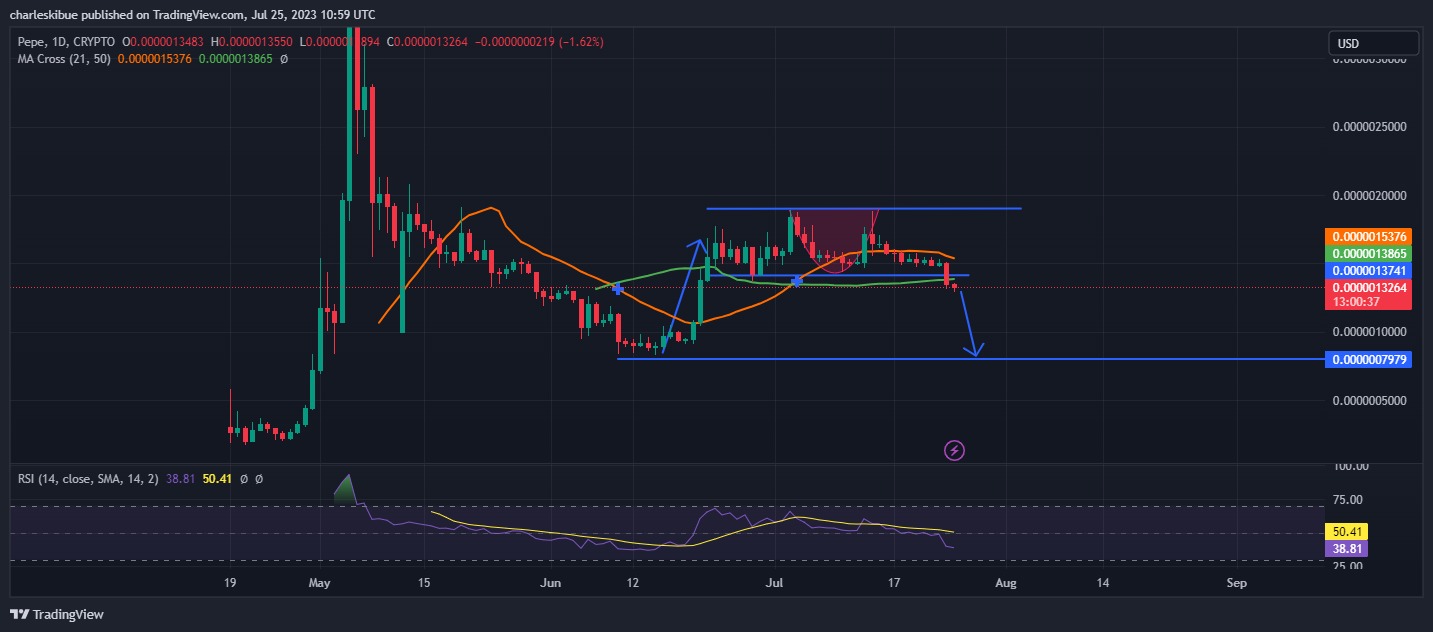 The Relative Strength Index (RSI) at 50 indicates a neutral position, but the flat movement suggests a slight bearish momentum. Both buyers and sellers can influence the price. Additionally, the Awesome Oscillator (AO) is in negative territory, indicating a dominant bearish presence in the market.
PEPE's price is currently below the 50-day and 21-day moving averages, signaling a bearish trend, and the moving average crossover further supports the downward trajectory toward the previous support level.
Pepe's price analysis indicates a bearish trend, with a potential target of $0.0000008246.
While Pepe Coin faces a downward spiral, Evil Pepe Coin is rapidly rising to prominence in the digital currency realm. Despite being a lesser-known player, Evil Pepe Coin has attracted crypto whales to its presale campaign in remarkable numbers.
Evil Pepe Coin Hype Builds as DEX Listing Nears
Evil Pepe Coin ($EVILPEPE) is a revolutionary new project determined to shake up the meme coin space and surpass its predecessor, $PEPE. Early members of the Evil Pepe Coin Telegram community believe that once the coin reaches its DEX listing, it could capture even a fraction of $PEPE's hype, leading to massive gains.
Adding to the growing hype around $EVILPEPE, presale investors have reserved 90% of the total token supply.
Additionally, 10% of the token supply will be allocated to DEX liquidity, and the liquidity pool will be locked for one month after the coin's exchange debut. 
Evil Pepe Coin ($EVILPEPE) Nears Presale End with Over $753,073 Raised
With the public presale phase nearing conclusion, meme coin enthusiasts have a golden opportunity to get in on the ground floor at an enticing price of only $0.000333 per coin. The token has already raised $753,073 in its presale funding.
Peering from the shadows, Evil Pepe 🐸💀 whispers an enticing offer.

Dare to venture into the cryptic depths of the blockchain with the most sinister token project yet?

The presale is a wickedly good opportunity waiting to be seized.

#EvilPepe #Presale #ERC20 #Crypto pic.twitter.com/eixaAdKlog

— Evil Pepe (@evilpepe_token) July 25, 2023
The team behind Evil Pepe Coin proudly describes it as "unapologetic and audacious," utilizing edgy branding and a rebel ethos to set itself apart in the highly competitive crypto market. The launch of $EVILPEPE couldn't be a better time than now, as it targets disillusioned $PEPE holders searching for the next big meme coin.
Evil Pepe Coin is more than just a cryptocurrency; it's a statement. As the world of meme coins grows, $EVILPEPE aims to make its mark, offering a fresh and exciting alternative for investors looking for the next viral sensation.
By investing in $EVILPEPE now, early adopters can be part of a community that embraces change, celebrates originality, and boldly challenges the status quo. As the project gains momentum, it's ready to forge its path and leave a lasting impact on the meme coin space.
Related News
Wall Street Memes – Next Big Crypto
Early Access Presale Live Now
Established Community of Stocks & Crypto Traders
Featured on BeInCrypto, Bitcoinist, Yahoo Finance
Rated Best Crypto to Buy Now In Meme Coin Sector
Team Behind OpenSea NFT Collection – Wall St Bulls
Tweets Replied to by Elon Musk