New cryptocurrency projects often have more upside potential for buyers than established, high market cap coins – the 'big caps.'
When it comes to cryptocurrency, innovation and evolution are constant trends. Several new cryptocurrencies flood the market daily. Hence, keeping track could become a daunting task. 
Generally, it becomes much easier to conduct further research into a market when investors know what's happening at each moment. 
New Cryptocurrency Releases, Listings & Presales Today
Today's entry goes further into the market to identify some of the latest additions to the crypto market. It presents a summarized overview of each project as well as the details of its cryptocurrency. In the end, investors should know what's happening in the market. 
Moreover, the article showcases the yPredict project, an AI-backed crypto project that continues to push toward setting new standards in crypto trading. Read to the end to find out the details. 
1. Tarality (TARAL)
The Tarality platform hopes to provide Next generation crypto banking solutions. The information on its website states that the platform is leveraging blockchain technology to transform how people bank. Its solutions include trading, staking, and other finance-oriented tools. Furthermore, Tarality claims it allows users to earn passive income when they stake their crypto. It also claims that the TARAL token allows users to grow their assets through active interest rates. We've included experts from its CoinMarketCap description below to provide more details about the project. 
Tarality is a next-gen multifunctional crypto-banking platform as well as enabling users to access a wide range of services either in a decentralized or centralized manner. Tarality has the vision to create a democratic system around the blockchain-based financial ecosystem, enabling a regulatory framework. Tarality mainly focuses on the needs of INDIAN investors, thus also providing buy and sell their assets against fiat at one go.
The TERAL is trading at $0.001388 today, and over $215,687 worth of TERAL changed hands in the last 24 hours. The token currently ranks at #2633 CoinMarketCap, but information about its market cap is currently unknown. The new cryptocurrency has a total supply of 959,999,999,999,997, and it is listed on BitMart and MEXC. 
2. 0xS (0XS)
OxS is creating an all-encompassing liquidity check and lock solution on the Shibarium L2. Its website further describes that the platform also features a comprehensive tool suite, which includes tools for social sentiment analysis, liquidity pool, management, gas fee simulator, BuyBot, Portfolio & Wallet Tracking, and bots for developers on the Shibarium blockchain. Its claims emphasized that all revenue from the platform is distributed to OXS holders. Additional information about the platform is available on CoinMarketCap, and the snippet below captures a part of it.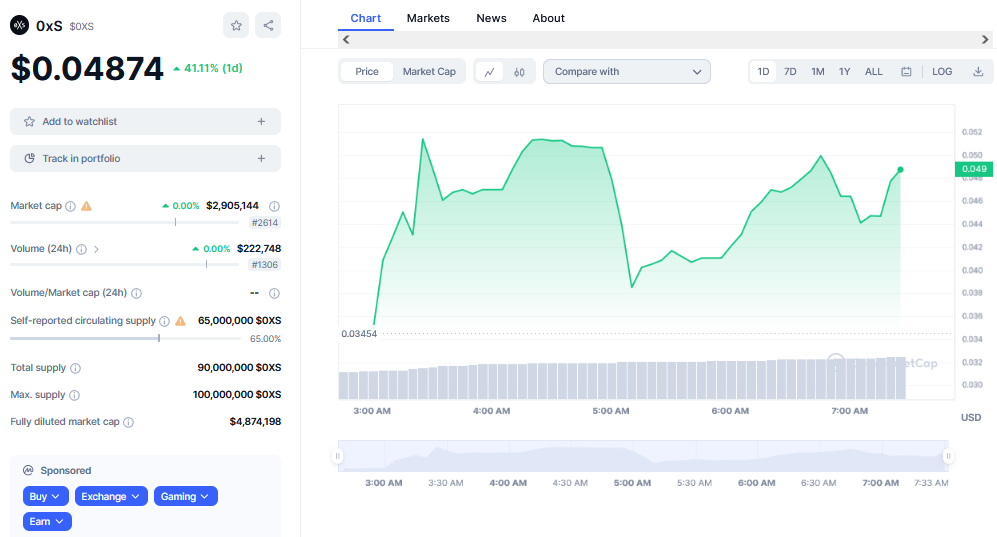 What is the project about? 0xShibarium is an all-encompassing platform designed for Shibarium L2, focusing on liquidity checks and locks. The platform offers a comprehensive suite of dApps, tools, and bots tailored for both users and developers operating on the Shibarium blockchain. Unlike many platforms, 0xShibarium is distinct in its commitment to returning 100% of its revenue to token holders. It presents an expansive set of tools such as a Social Sentiment Bot, Gas Fee Simulator, Cross-Chain Shibarium Bridge, and many more that cater to varied crypto needs, streamlining operations on the Shibarium blockchain. Looking forward, 0xShibarium plans to expand its offerings, continually refining its existing tools while exploring innovative solutions to meet the growing demands of the Shibarium blockchain community. The 0xS token serves as the backbone of the 0xShibarium platform. Besides being a tradable asset, it's central to the platform's unique revenue distribution model, where 100% of its profits are channeled back to 0xS token holders.
OXS's price today is $0.051361, and its trading volume in the last 24 hours is $304,619. The current CoinMarketCap ranking is #2528, with a live market cap of $4.19 million. The circulating supply is currently unknown, but it is the new cryptocurrencies with a max supply of one hundred million tokens. OXS is listed on Uniswap V2.
3. Magnate Finance (MAG)
Magnate Finance is the new arrival in the DeFi sector. The project claims to offer lending/borrowing services to the crypto community, especially in the metaverse. Consequently, MAG holders and stackers enjoy the revenue-sharing tokenomics featured on the platform. The platform is said to leverage the dynamic interest rate model to stabilize and manage risks. Its coin page on CoinMarketcap provides additional information about the token. The snippet below captures parts of the details. 
Magnate Finance, at its core, is the first Metaverse-based Lending Protocol on Base and Arbitrum, adopted a dynamic interest rate model and created more capital-efficient risk management pools, as such a broad selection of collateral types, crypto tokens, stablecoins, synthetic assets, NFTs, and other kinds of assets (account receivables, invoices, mortgages, etc.) can be fully utilized safely. Furthermore, the reward system based on a delicately designed token economy enables continuous incentive allocation to boost demands. In Magnate's plan, the Magnate protocol can accept all valuable assets for lending.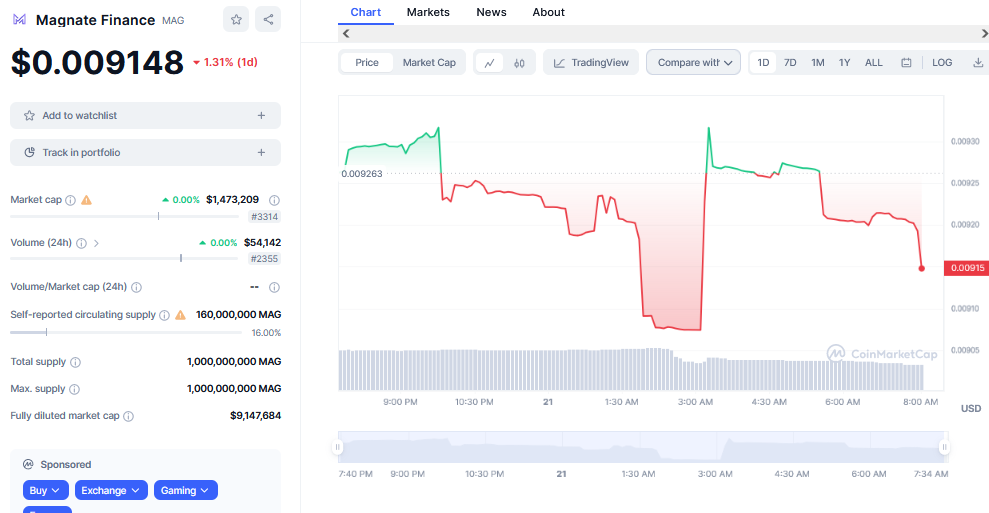 Today's MAG price is $0.009433, and its trading volume in the last 24 hours is $68,448.83. The current CoinMarketCap ranking is #3203. The circulating supply is unavailable, and a max supply of 1,000,000,000 MAG coins. MAG is featured on CoinMarketCap and listed on BaseSwap and SwapBased. 
4. Dexsniffer (DS) 
The name Dexsniffer identifies the function it performs. According to the information in its whitepaper, the Dexsniffer is a customizable ETH pair finder bot designed to identify cryptocurrencies that users are looking for. Its description states that the platform uses the search and filter function to perform the search. However, only DS holders are eligible to use the platform, and it further states that users must have at least 0.2% of the total supply of the DS to use the platform.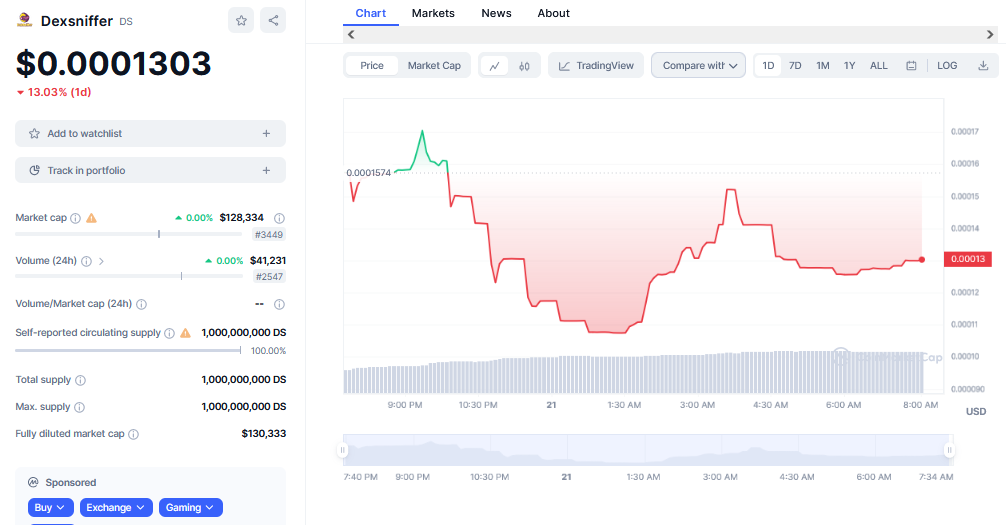 Dex Sniffer is providing a new ETH pair finder Bot with a built-in contract scanner and customized filters to let you find the tokens you're looking for, whether you're a degen, a moderate trader, or a long-term holder.
The DS token is priced at $0.000103, and its trading volume in the last 24 hours amounts to $41,308.60. According to CoinMarketCap, the new token has a market cap of $93,553.59 and ranks at #3456 based on its market cap. Furthermore, the circulating supply and total supply of DS is pegged at 1 billion tokens. DS is listed on Uniswap v2.
5. yPredict (YPRED)
The yPredict project is gradually approaching its launch, with several milestones already conquered. The project has raised over $3.54 million towards its target of $4.958 million.
While most crypto projects often hurry to hit the market, yPredict has taken its time to ensure the platform is well-tested and its values perfected before it goes live. 
Unlike degen and meme projects, yPredict is a utility-based project with a real value proposition. The project aims to enhance investors' decision-making through its predictive artificial intelligence model. 
Excited to share our latest article delving into Ethereum price prediction using the ARIMA model! 📊🚀 Discover how we harness the power of ARIMA's statistical insights to navigate the dynamic world of cryptocurrency forecasting. Uncover the patterns, analyze the trends, and gain… pic.twitter.com/c02q3DVw21

— yPredict.ai (@yPredict_ai) August 18, 2023
Interestingly, the project concept is beyond a vague idea or promise. There've been a few instances where the platform was tested with proven results to back the claims. 
More tests are ongoing to perfect the functions of the project. Hence, investors are invited to participate as the project heads toward perfection. One of the ways to do this is by first acquiring the YPRED token, which is offered at $0.1 at press time. 
Also, investors may participate in the community and offer feedback when needed, especially when some tools are being tested. Finally, the platform also provides a cryptocurrency trading guide on Telegram. It's also an avenue to participate and keep the community running. 
Overall, the yPredict project has the backing of a strong team and accounts for the progress it has enjoyed so far. While the funding target is a few milestones away, investors can maximize the waiting period to engage across its social media platforms in anticipation. 
Read More
Wall Street Memes – Next Big Crypto
Early Access Presale Live Now
Established Community of Stocks & Crypto Traders
Featured on BeInCrypto, Bitcoinist, Yahoo Finance
Rated Best Crypto to Buy Now In Meme Coin Sector
Team Behind OpenSea NFT Collection – Wall St Bulls
Tweets Replied to by Elon Musk