The cryptocurrency market caters to different communities. Crypto enthusiasts and players look to the market to find tokens with suitable projects to solve their problems. The various platforms capitalize on this need to create platforms to proffer solutions to the financial hurdles plaguing the cryptocurrency industry. Community-driven projects always have the potential to succeed because of an established demand for their services. Meme coins, gaming tokens and other tokens are featured on today's list of new cryptocurrency releases, listings, and presales. This article provides investors with concise information about the different coins and the communities they serve so investors can stay on trend. Some tokens in this article appeared on CoinMarketCap in the last 24 hours, even though some other exchanges may have listed them prior. 
New Cryptocurrency Releases, Listings & Presales Today
If you found our previous lists of New Cryptocurrency Releases, Listings & Presales Today helpful, we bring you a different set of digital assets on today's list. We have highlighted new cryptos with a support base from other classes of cryptocurrency investors and traders. Read on to learn about the new Salad token. 
1. Hamsters (HAMS)
Hamsters project operates on the Ethereum blockchain. Hamsters is a platform for gamers. Gamers can use the Hamsters platform to place bets on the hamster races. Players worldwide are invited and permitted to play against each other while earning rewards. The financial infrastructure allows gamers to exchange bets, bonuses and have fun with decentralised finance. 
Hamsters is a unique gaming platform that integrates real-time gaming excitement with the financial opportunities offered by decentralized finance (DeFi). The platform provides live-streamed hamster races, inviting players from around the world to bet on their favorite hamsters and engage in player-versus-player (PvP) competitions.
The central component of the Hamsters ecosystem is the HAMS token, with a capped supply of 10 million. This token is utilized for transactions within the platform, serving as the primary medium for placing bets and earning rewards. In this way, the HAMS token introduces the advantages of DeFi to the gaming universe.
Hamsters employs a community-centric tokenomics model, actively rewarding participation. An impressive 80% of the platform's revenues are designated to a rewards pool for token holders, with the remaining 20% used to support ongoing platform operation and development.
In essence, Hamsters is redefining the gaming industry by merging live-streamed gaming, blockchain technology, and DeFi, delivering a highly engaging, interactive, and rewarding gaming experience.
As of today, Hamsters sells for $0.785283, and it has a 24-hour trading volume of $11,398,050. Currently, CoinMarketCap ranks Hamsters at #2147. Hamsters is up by 59.09% in the last 24 hours. The max supply of Hamsters summits at 10,000,000 HAMS coins. At press time, there is no information about the live market cap and the circulating supply of Hamsters. Besides being listed on CoinMarketCap, Hamsters is featured on Uniswap v2 and Uniswap v3 (Ethereum). 
2. Salad (SALD)
The Salad project seeks to create fair opportunities that make life better for everyone. Salad's platform is a pioneer in the decentralised web3 space. They claim to foster the possibility of financial security through the equitable distribution of job security. They predict the future of work in web3 and hope to build the infrastructure that gives everyone a fighting chance. 
What is the project about? Salad is an organization dedicated to creating economic opportunities that can improve people's lives. The project has been a trailblazer in the field of decentralized web3 labor. Their objective is to promote a more equitable world where individuals can participate in the future of work.
What makes your project unique? Salad is dedicated to creating earning opportunities on the blockchain by empowering their community through various platforms such as Play2Earn, Learn2Earn and Decentralized Labor Exchange. The project also aims to support the growth and market penetration of other web3 projects while remaining committed to building a more sustainable and equitable future of work for all.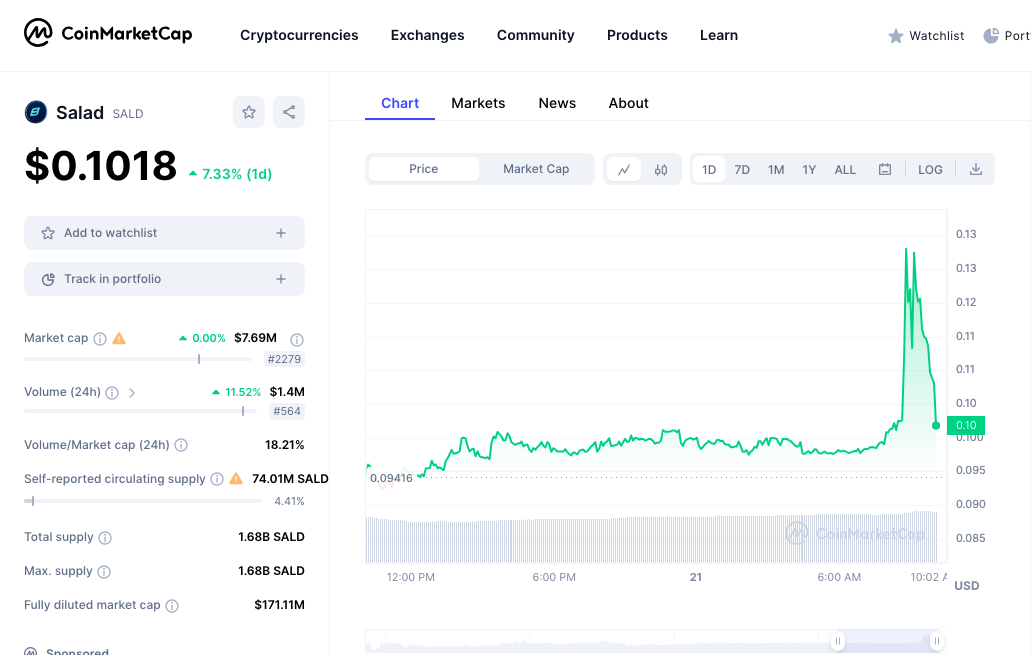 History of your project. Salad raised a seed round led by Multicoin Capital and subsequently a private round with a stellar roster of investors, including C Squared Ventures, Brevan Howard funds, Gemini Frontier Fund, Winklevoss Capital and Polygon Studios. These rounds also saw notable angels such as Santiago Roel and Anthony Pompliano added to the cap table. The project began their journey in early 2021 as a modest P2E guild, uniting over 1,000 skilled players and providing them with the necessary resources to thrive and generate income within the P2E domain.
What's next for your project? Salad has since levelled up their internal capabilities, moving towards an ecosystem play. They have a Learn2Earn Platform known as Apollo Academy, a Play2Earn Platform known as Arcaden, and are working on a Decentralised Labour Exchange (DLX) known as Maslow.
What can your token be used for? $SALD will serve as the key to unlocking Salad's products and innovations and will be integral to the ecosystem's growth and sustainability. It can be used as a medium of exchange within our ecosystem, a reward mechanism and a governance token.
As of today, Salad sells for $0.099102, with a 24-hour trading volume of $1,401,640. Currently, CoinMarketCap ranks Salad at #2281. Hamsters is up by 6.24% in the last 24 hours. The max supply of Salad summits at 1,680,000,000 SALD coins. At press time, there is no information about the live market cap and the circulating supply of Salad. Besides being listed on CoinMarketCap, Salad is featured on Bybit and Bitget. 
3. Landwolf (WOLF)
It won't be a complete day if a new meme coin does not join the market. Landwolf is a meme coin that brings fun to its users. It does not just offer humour, but it also operates a solid infrastructure to navigate decentralised finance. Landwolf is a digital asset for investors seeking good time and financial development. CoinMarketCap captures its word in the description below. 
Landwolf is the friend of the most memeable memecoin in existence. The dogs have had their day; it's time for Pepe's friends to take reign.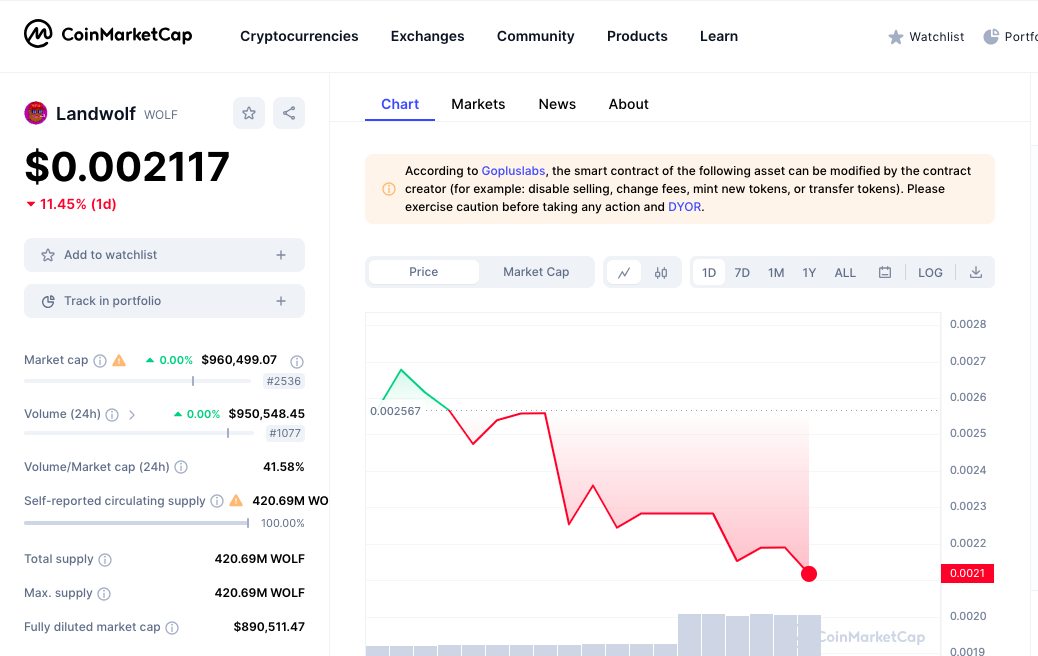 The grooviest meme token to hit the space, bro. Landwolf is Pepe the Frog's ultimate bud, sparking a joint venture into the crypto cosmos. Together, they're spreading good vibes and embracing decentralized finance's hazy wonders. Get ready to ride the high wave with Landwolf, blazing a trail of innovation and harmony.
It's like a smoking friendship, man, bridging Pepe enthusiasts and crypto enthusiasts, passing the token of peace and prosperity. So grab your stash, light it up, and let Landwolf take you on a mind-bending journey to the dankest realms of financial freedom.
Landwolf sells for $0.002283, with a 24-hour trading volume of $339,442. Currently, CoinMarketCap ranks Landwolf at #2536. Landwolf is up by 4.49% in the last 24 hours. The max supply of Landwolf summits at 420,690,000 WOLF coins. At press time, there is no information about the live market cap and the circulating supply of Landwolf. Besides being listed on CoinMarketCap, Landwolf is featured on Lbank. 
4. TRUSTxGAMING (TXG)
TRUSTxGAMING is another gaming platform for online players interested in cryptocurrency. TRUSTxGAMING features simple card games like ludo, poker and solitaire. The project launched its token for players to play with each other and participate in other gaming activities on the platform. 
The project launched on 14 May 2023. TRUSTxGAMING is an online gaming platform with games like ludo, colour prediction and many skilled games like rummy and poker. TrustxGaming has its gaming application launched on its Website trustxgaming.io. TrustxGaming has its own native token named TXG, which can be used to participate in and play games. TXG serves as a utility token in its Gaming ecosystem. The platforms have NFT development in Roadmap, where NFT can be used for real-time gaming. Gamers can play games and can earn rewards in the form of TXG tokens. Gaming Assets can be purchased and traded in games.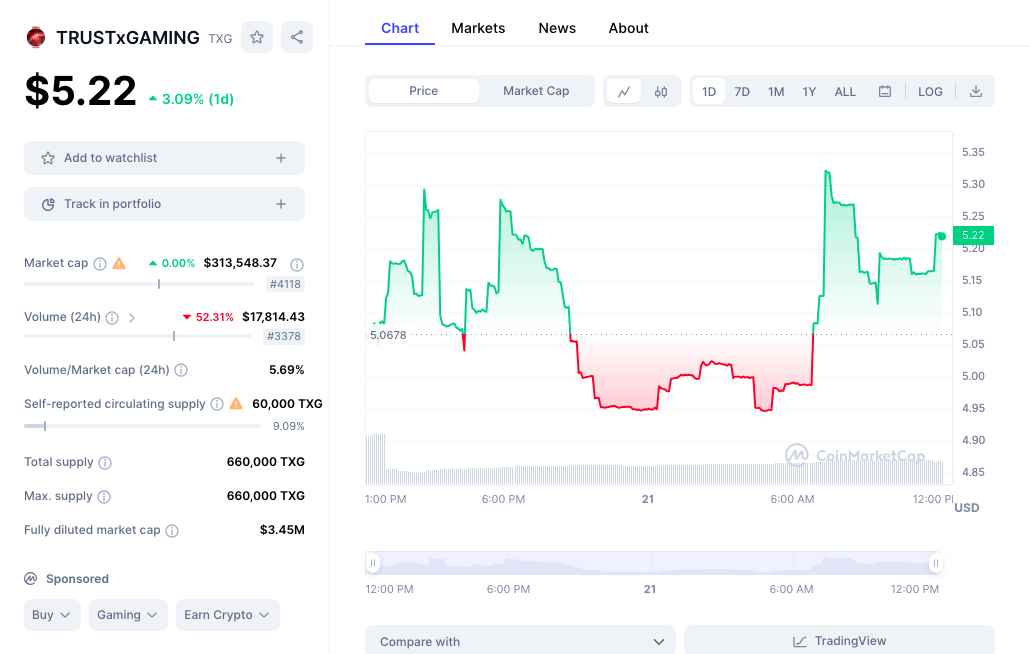 TRUSTxGAMING sells for $5.16, with a 24-hour trading volume of $17,830.39. Currently, CoinMarketCap ranks TRUSTxGAMING at #4124. TRUSTxGAMING is up by 1.84% in the last 24 hours. The max supply of TRUSTxGAMING peaks at 660,000 TXG coins. At press time, there is no information about the live market cap and the circulating supply of TRUSTxGAMING. Besides being listed on CoinMarketCap, TRUSTxGAMING is featured on PancakeSwap v3 (BSC) and PancakeSwap v2 (BSC).
Read More
Wall Street Memes – Next Big Crypto
Early Access Presale Live Now
Established Community of Stocks & Crypto Traders
Featured on BeInCrypto, Bitcoinist, Yahoo Finance
Rated Best Crypto to Buy Now In Meme Coin Sector
Team Behind OpenSea NFT Collection – Wall St Bulls
Tweets Replied to by Elon Musk