Welcome to a fresh list of new cryptocurrency releases, listings & presales. Today's list brings another round of updates on new tokens that went live on the market in the last 24 hours. Not only that, but it also features one of the most eco-friendly crypto projects in the industry. As always, the aim is to help investors stay up to date, especially with the presales poised to do well upon arrival on the market. Furthermore, the daily list aims at reducing investors' stress by bringing the update in bit-size info rather than bloating it with tokenomics and excessive technical details.
New Cryptocurrency Releases, Listings & Presales Today
Today's list prioritizes an eco-friendly presale, Chimpzee. The project is out to improve the sustainability of the environment through decisive climate action. Chimpzee is currently putting efforts into raising more armies of investors who are ready to change the world. Further details of Chimpzee's activities are captured in the article. 
1. Gay Pepe (GAYPEPE) 
Gay Pepe, according to its website, describes itself as a multipurpose memecoin that's out to entertain and empower its community financially. It claims to feature a wide range of offers, which include play-2-earn, NFTs, And the GAYPEPE token which serves as the currency of the platform. According to its website, the platform leverages the power of blockchain technology and a vibrant community to promote fun, engagement, involvement, and exploration of the crypto sector. The bulk of the rewards earned by community members come from their involvement in the play-to-earn games and the exchange of the native coin of the platform according to its website. However, it's best to note that GAYPEPE does not have a specific utility outside the platform at the moment. Its value is determined by the community. The CoinMarketCap description featured below provides further context. 
$GayPepe Join GayPepe and embark on an immersive journey where entertainment meets financial empowerment. Together, let's redefine the gaming landscape and celebrate diversity in the blockchain world. GayPepe is an exciting and innovative project. It combines the power of blockchain technology with the vibrant gay community. Our mission is to create a safe and inclusive space where members can engage, express themselves, and explore the world of crypto. Play 2 Earn At GayPepe, we believe in the power of play-to-earn gaming. Our platform offers thrilling gaming experiences where players can have fun while earning real rewards. Engage in exciting challenges, and unlock valuable in-game assets that can be traded or redeemed for tangible benefits.
Currently, the price of GAYPEPE is $0.001097, and a 24-hour trading volume of $2,098,567. The new token is featured on CoinMarketCap with a ranking of #2741 and is currently listed on  BitMart and MEXC. For now, nothing is known about its Market cap and circulating supply. However, its max supply is pegged at 1 trillion coins.
2. Dogelon 2.0 (DOGELON2.0)
Dogelon 2.0 is a new cryptocurrency that presents itself as a sequel to the popular DOGELON token. According to its website, the token is out to raise a community of people who missed out on the Dogelon movement. It claims it is the second version of the DogelonMars and it's planning to follow the steps of its predecessor. However, it clearly states that the new coin has no intrinsic value and doesn't present a guarantee of financial returns to anyone. According to the information posted on its website. The DOGELON2.0 is meant to portray the bond between all the members of the community.  Find out more information in its CoinMarketCap description below.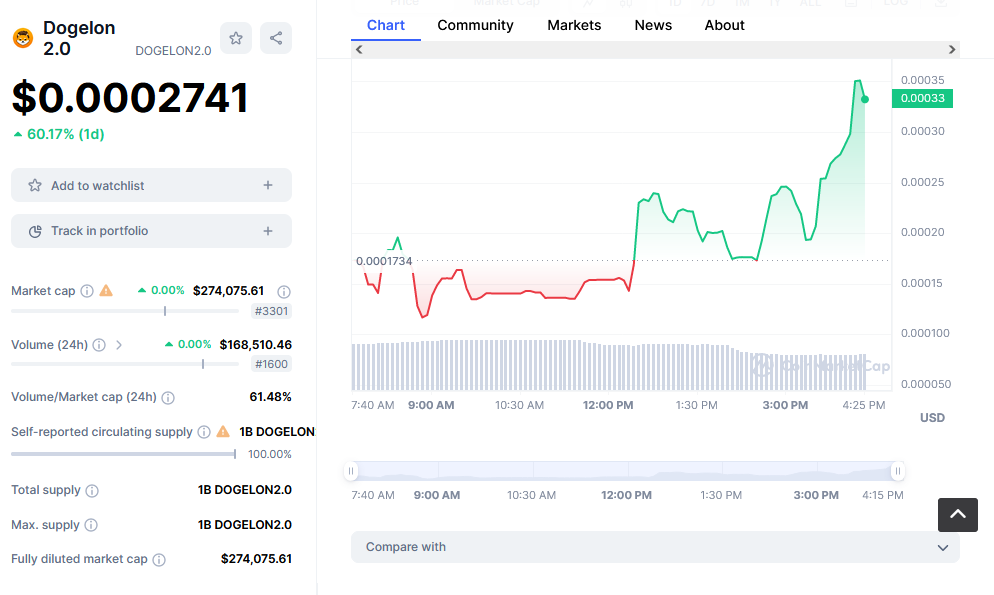 Dogelon2.0 is the second version of DogelonMars. As we know, history repeats itself, and we are planning to follow in the same footsteps as DogelonMars. With 2.0, we want to share a message that explains that every token deserves a second chance. Missed out on $DOGELON? Here's your second opportunity. By joining $DOGELON Coin, you become part of a like-minded group of individuals who share a passion for the DogelonMars. Together, we'll create a supportive and engaging space to celebrate this timeless symbol. Limited Supply: Just like the $DOGELON, the $DOGELON Coin is unique and rare. There will only ever be a fixed supply, making it a sought-after digital collectible. Don't miss your chance to own a piece of internet history.
DOGELON2.0 is priced at $0.000157. In the last 24 hours, the new coin has a trading volume of $235,381 Furthermore, the Dogelon token is said to have a max supply of 1 billion tokens and an unknown value of circulating supply. Similarly, the market cap of the new cryptocurrency is unknown at press time. It is featured on CoinMarketCap, ranking at #3174, and listed on Uniswap v2. 
3. MixToEarn (MTE) 
Mix To Earn describes itself as a novel blockchain project that prioritizes users' privacy. According to the description posted on its website, it claims to be a platform that offers advanced transaction solutions to users. It claims to utilize the zkSNARKs, which is an advanced cryptographic protocol to preserve the privacy of users. In its explanation of how it works, it claims that users deposit their cryptocurrencies into a mixer, which randomizes the links of the parties involved, making it difficult to retrace. Find out more from its CoinMarketCap description below.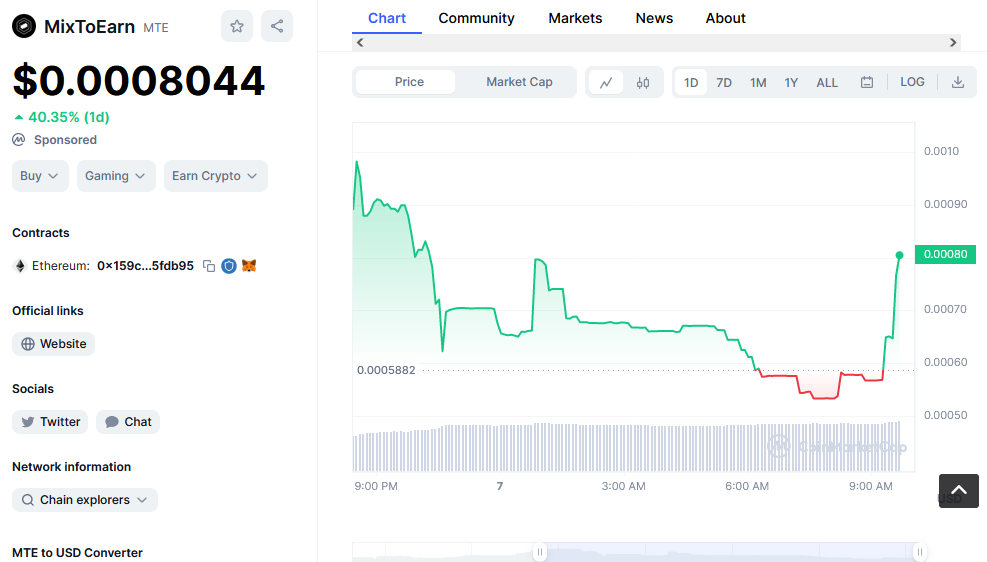 What is the project about? An innovative blockchain project that prioritizes user privacy and offers advanced transaction solutions. What makes your project unique? MixToEarn employs an advanced privacy mixer that utilizes zkSNARKs, a cryptographic protocol enabling privacy without compromising transaction verifiability. Users deposit their cryptocurrency into the privacy mixer, breaking the link between sender and receiver addresses using zkSNARKs and Merkle trees. This ensures transactional privacy through compact proofs of element inclusion. 
The price of MTE today is $0.000580, with a trading volume of $210,040 in the last 24 hours. At the moment, nothing is said of its Market cap and circulating supply. However, the max supply of MTE is pegged at 1 billion tokens. Furthermore, the coin is featured on CoinMarketCap with a ranking of #3220 and it is listed on Uniswap. 
4. Biokript (BKPT)
Biokript describes itself as the world's first crypto trading platform that meets the requirements of the Middle East. It claims the project is focused on providing crypto buying and selling services.  Going further in its claims, the project promises to bring back the crypto revolution that put the power to control crypto assets in the hands of the users. It also claims it boasts of a low-latency hybrid platform with the tools to succeed in a competitive crypto market. More details of its technicalities are provided in the CoinMarketCap featured below.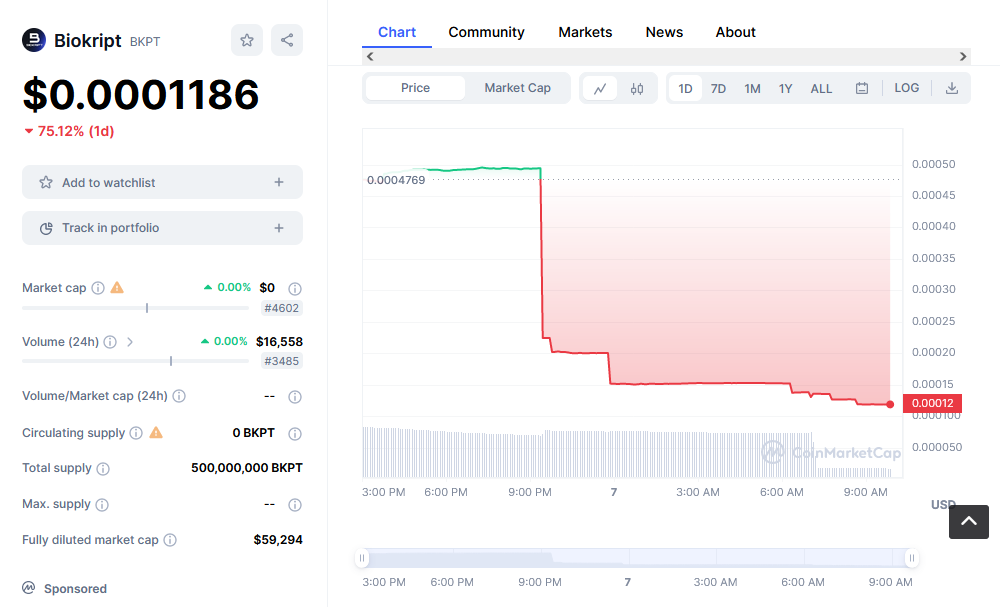 Biokript is the first hybrid Shariah-compliant crypto exchange. Biokript is unique because it offers its users a trading option free from interest, or anything against Shariah standards. It also employs a Mudharabah profit-sharing model where the exchange splits its profit 50/50 with the users. The idea for Biokript was conceived in 2017 after the growing inefficiencies of fully centralized crypto-trading platforms. The whole cryptocurrency movement started with a desire for decentralization where institutions that are the middlemen are eliminated and users are in full control of their funds.
At the moment, BKPT is selling for $0.000118, and it has a 24-hour trading volume of $16,769.78. CoinMarketCap ranking places the coin in #4602 and it's also listed on PancakeSwap v2 (BSC). However, nothing is known about its max supply or circulating supply. Likewise, there is no information about its Market Cap. 
5. Chimpzee (CHMPZ) 
 Chimpzee presale is still on with $744,966 raised so far. As of press time, the current presale stage is only 13 hours to its end. CHMPZ would no longer be available at its current price of $0.00067, investors would now buy CHMPZ at $0.0007. The invitation is still open to everyone interested in saving the planet and saving the world to become a part of this movement.
Here is what investors need to know about Chimpzee. CHMPZ is stepping away from the narrative of crypto investors increasing their wealth at the expense of the planet. While wealth increases, the environment where it would be enjoyed is gradually becoming inhabitable as a result of negligence and human activities. What the Chimpzee project seeks to do is to raise an army of climate and environment-conscious investors who are committed to putting a stop to the deforestation going on in the world. It also seeks to protect the vulnerable creatures in the environment where there is a severe threat to the survival and continuity of wildlife. 
🙊Help us save animals & Benefit!
🚀Receive 300% Bonus!
⏱️Ends very soon!
➡️$75+ 167,912+ bonus incl
➡️$150+ 447,762+ bonus incl
➡️$250+ 932,838+ bonus incl
➡️$500+ 2,238,807+ bonus incl
➡️$1000+ 5,223,883+ bonus incl
🔥All unsold tokens burned!
✅https://t.co/7vVuuZipKW pic.twitter.com/ZhBBVtJ61U

— Official Chimpzee Project (@RealChimpzee) July 7, 2023
While this may look like a grossly ambitious goal, the visionaries behind the project are convinced that with the right team of investors on board, the mission is achievable. For these reasons, the presale offer and the call to join the CHIMParmy are still on. And, it's equally a call to save the planet. 
Read More
Wall Street Memes – Next Big Crypto
Early Access Presale Live Now
Established Community of Stocks & Crypto Traders
Featured on BeInCrypto, Bitcoinist, Yahoo Finance
Rated Best Crypto to Buy Now In Meme Coin Sector
Team Behind OpenSea NFT Collection – Wall St Bulls
Tweets Replied to by Elon Musk