The token 2.0 trend among new cryptocurrencies as several tokens listed in the past 24 hours near the 2.0 attachment to their names. The trend seems to draw inspiration from Pepe 2.0, which we covered in past updates New Cryptocurrency Releases, Listings & Presales Today. The success of Pepe 2.0 may have created a new wave of other 2.0s which now include the ETH 2.0. This article reviews some of the new tokens that went live in the last 24 hours. Priority is given to coins that are featured on CoinMarketCap. However, some of these coins are also featured on platforms like Dextools.io and major exchanges. 
New Cryptocurrency Releases, Listings & Presales Today
In addition, we also report on investment-worthy presales that are poised to become 10x makers. It's quite challenging to spot the next big winner in the crypto industry. However,  the performance of an asset in the presale round is a great indicator of how it will perform in the makers and Ecoterra might be showing trends that tends toward success. Find more details in the article. 
1. Tanox (LTX)
Tenox, in the information provided on its website, describes itself as a blockchain-based platform that's designed for entertaining and fun. However, it's a slight deviation from the regular fun path followed by memecoins as the platform comes with inbuilt utility. It claims to be built on the Solana network and provides a multiplatform solution to token holders. The native currency of the platform is the LTX. find out more in the CoinMarketCap description featured below. 
LTX is a multiplatform project aiming to leverage Solanas technology to develop an educational platform. Since we aim at providing a 360-degree experience for our users and creators we also will develop a live-streaming platform powered by LTX tokens which will enable users to unlock content, vote, tip, and donate to their favorite creators.
TANOX price as of today is valued at $0.000051 and over $8,191.27 of the new token exchanged hands in the last 24 hours. According to CoinMakretCap, Tonox has a market cap of $4.06M  and CoinMarketCap ranks the token at #4876. Furthermore, TANOX is listed on Raydium and it has a max supply of 79,999,971,724 LTX coins but information about its circulating supply is currently unavailable.
2. ETH 2.0 (ETH 2.0) 
According to the information available on its website, while the name ETH may sound like the popular Ethereum network, it has nothing to do with it. The platform is described as a text-to-image project that uses an AI application to deliver craft graphics output from the details supplied by users. It claims to use the generative GPT and a deep learning model to create exceptional images based on users' demands. Also, information shared on ETH 2.0 website makes it clear that the platform is designed to work with the Telegram platform. For more information about the project, read the CoinMarketCap description below.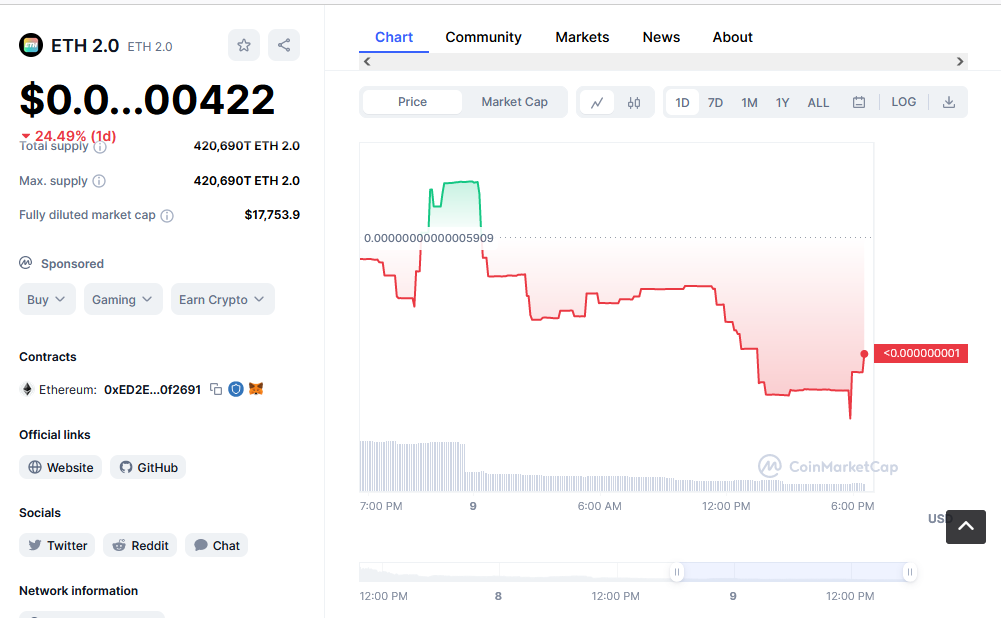 ETH 2.0 is a ground-breaking cryptocurrency that embodies the essence of technological innovation. It represents a significant leap forward in the world of digital assets, promising to reshape the future of finance and beyond. Building upon the success of Ethereum, ETH 2.0 introduces a revolutionary approach to blockchain technology. By implementing a novel consensus mechanism called Proof of Stake (PoS), it brings forth unparalleled scalability, security, and energy efficiency. Our vision is to create a decentralized economy that transcends traditional boundaries, fostering a new era of global financial inclusion and empowerment. Join us in embracing the future of digital finance with ETH 2.0. Together, let's redefine the possibilities and unlock the full potential of blockchain technology for the world to benefit from.
ETH 2.0 is worth $0.00000000000006789 in market price as of today and it boasts a 24-hour trading volume of  $8,235.27. Also, its max supply is pegged at 420,690,000,000,000,000, with an unknown circulating supply. Similarly, there is no information about the exchanges where ETH 2.0 is listed. 
3. Whale Bitcoin (WHALEBC)
The whale is a new memecoin that describes itself as the largest memecoin in the world according to its website. However, how it arrived at those metrics is unknown. It claims to be out to dominate the memecoin see and hence the name Whale. The project aims at raising a community of users who have the goal of being a part of something big. However, it does not offer any utility or provide a solution. Its main focus is on creating a platform where community members can interact and have fun. More information about WHALEBC is contained in its CoinMarketCap description featured below.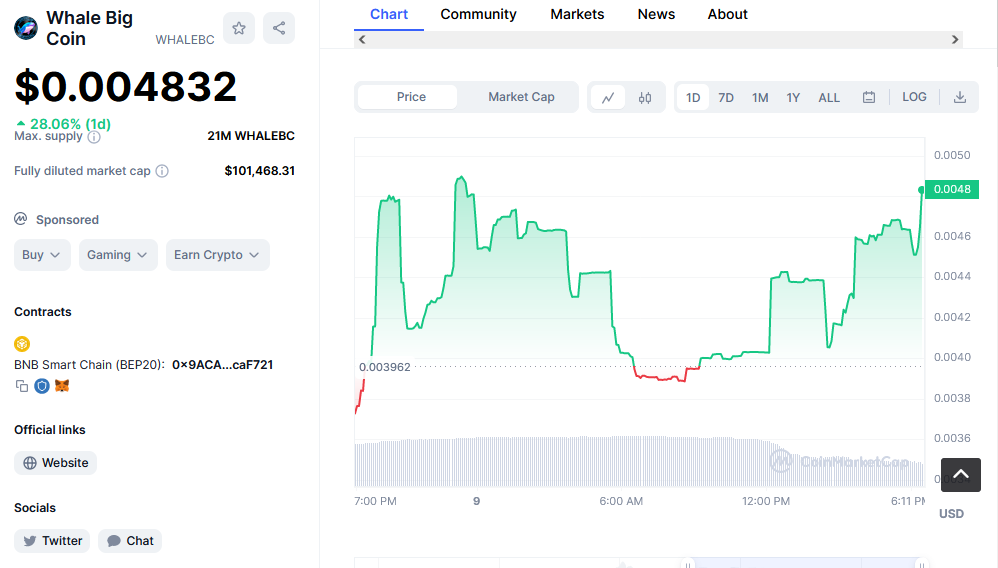 WHALEBC is The largest memecoin in the world! Our cryptocurrency is represented by the majestic image of a whale, inspired by the grandeur of the largest animal on Earth. Just like the whale dominates the ocean, Whale Bitcoin aims to dominate the world of memecoins.
With a total token supply of 21,000,000 units, Whale Bitcoin offers a unique investment opportunity for crypto enthusiasts and meme lovers alike. Our token symbol, WHALEBC, represents the strength and size of our community as we ride the waves of the crypto market. When it comes to transaction fees, we have a competitive edge. A 1.9% fee applies to purchases, while a 7.9% fee is incurred upon selling. We believe in transparency and want to ensure that our community understands where these fees are allocated.
WHALEBC token has a price of $0.004638 as of today. In the last 24 hours, $15,395.56 changed hands in the crypto market. According to the information obtained from the project website, WHALEBC has a total supply of 21 million coins, but information about its circulating supply is unknown. CoinMarketCap ranks the new token at #4465 with a market cap of $97,407.06. Besides being featured on CoinMarketCap, Whale Bitcoin is listed on PancakeSwap v2 (BSC). 
4. BOBO 2.0 (BOBO 2.0)
The BOBO 2.0 project is described as the upgraded version of the BOBO token. It claims that its mission is to provide a rewarding investment experience to its community of users. According to its website, BOBO 2.0 will build on the success recorded by the BOBO token and ensure that investors have a seamless path to profit. However, CoinMarketCap stamps a warning note on the BOBO 2.0 coin page, warning users of the mutability of the project contract. Therefore, users are advised to conduct their research and approach the platform with caution. Find more details below.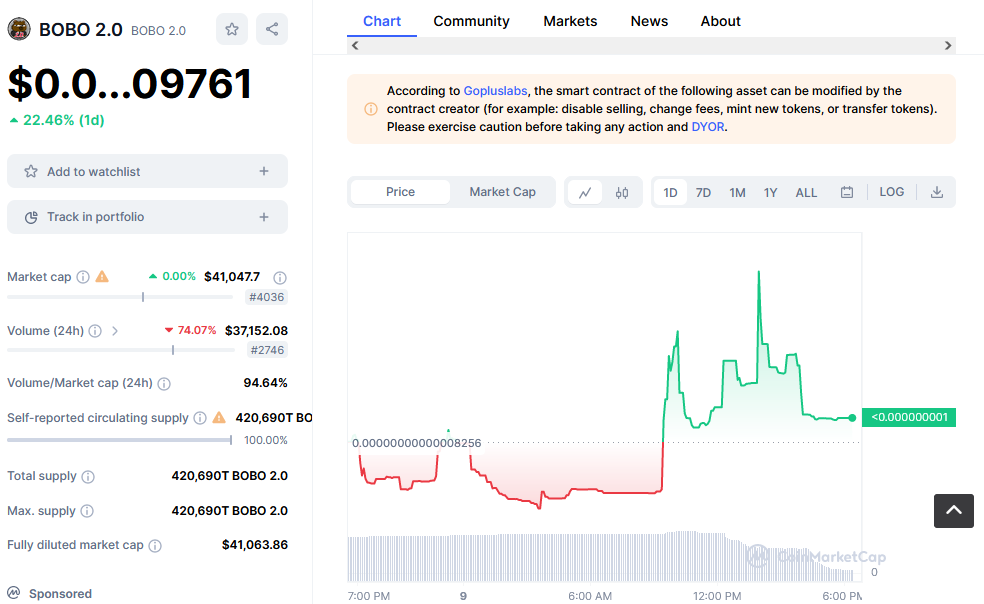 Bobo 2.0 – The Ultimate Meme Coin Revolution! Are you tired of missing out on the next big thing in the crypto world? Well, fear no more, because Bobo 2.0 is here to take you to the moon! Brace yourself for a wild ride filled with laughter, memes, and incredible opportunities. Bobo 2.0 is not just another meme coin. It's a cultural phenomenon, a symbol of rebellion against the mundane. We've harnessed the power of memes to create a digital currency that defies expectations and breaks through barriers. Get ready for a coin that will make you smile and, more importantly, bring you unimaginable gains. With our catchy slogan, "Missed $BOBO – $BOBO 2.0 is here and will go to the moon!", we are setting the stage for an epic journey. We believe in the transformative power of community, and together, we will rise to new heights.

BOBO 2.0 is currently priced at $0.00000000000007853 with a 24-hour trading volume of  $41,441.38. Currently, its total supply is pegged at 420,690,000,000,000,000 tokens, with the unknown value of circulating supply. According to CoinMarketCap, BOBO 2.0 has a market cap of $41,047.7. At the moment, BOBO 2.0 is listed on Uniswap v2 and ranked #4036 on CoinMarketCap. 
5. Ecoterra (ECOTERRA)
Ecoterra presale just got better. Investors who join the platform now stand a chance to earn 10% extra on the amount invested. The project launched its presale a few months back and has since raised over $5.99 million Currently, the target is set for $6.7 and there is no doubt it will surpass it any moment from now. 
However, there is something that makes this project truly revolutionary. The government of nations are currently battling with the monthly challenge of waste management. Similarly, the whole world is faced with bedeviling climate change. In all this, a group of experts went out of their way to figure out solutions that might effectively combat the problems. 
🚀🌿 Incredible milestone alert!

We are thrilled to announce that we have raised $5.9 MILLION 🎊

Together, we are making a difference! 💪💚

Join the #Presale now to receive 110% of the token you purchase 👇🏼https://t.co/1fYkPOsPYG pic.twitter.com/lAGn2eXnDS

— ecoterra (@ecoterraio) July 7, 2023
Leveraging emerging technologies, they crafted the blockchain-based solution named Ecoterra and came up with the Recycle-to-earn initiative, which rewards users for participating in climate and environmental action. What's left now is to raise an army that would push the project to fruition. To achieve this goal, the team launched the presale program that's now one of the most successful. However, there is still a long way to go, and he calls for more investors to join the movement. Currently, the ECOTERRA, the native token of the platform, sells for $0.01, and the presale is already in its last stage before it goes on exchanges. Investors should take advantage of the offer while it lasts. 
Read More
Wall Street Memes – Next Big Crypto
Early Access Presale Live Now
Established Community of Stocks & Crypto Traders
Featured on BeInCrypto, Bitcoinist, Yahoo Finance
Rated Best Crypto to Buy Now In Meme Coin Sector
Team Behind OpenSea NFT Collection – Wall St Bulls
Tweets Replied to by Elon Musk