Nakamoto Games recently announced a showdown that would see technology moguls Elon Musk and Mark Zuckerberg battle in the NAKA universe. The showdown is a virtual brawl between representations of the Twitter and Tesla CEO and the Meta CEO. The news ignited a surge in the value of the $NAKA coin, which reached its highest value YTD.
Get ready for the ultimate showdown on Nakamoto Games! We're thrilled to bring Elon Musk and Mark Zuckerberg to the $NAKA universe. Train your chosen titan with #AI, voice command their moves, and control the fight of the century! Ready to join the ring and make gaming history? pic.twitter.com/tKRmOEEx3Z

— Nakamoto.Games (@NakamotoGames) July 2, 2023
This showdown announcement has pushed cryptocurrency NAKA to #5 in the Trending Tokens list on CoinMarketCap and #3 on the HotPairs List of DEXTools.
Nakamoto Games Introduces $NAKA Coin, Expanding the Scope of Crypto Games
Gaming platform Nakamoto Games has recently launched its own cryptocurrency, $NAKA coin. With a focus on entertaining and addictive crypto games, Nakamoto Games wants to attract players and game designers.
Nakamoto Games offers a diverse library of over 200 games, complemented by an NFT collection and its metaverse. In addition, the platform boasts a Web3 Mobile App, setting new standards in the gaming sector.
Current Market Performance of $NAKA Coin
As of July 5, the price of $NAKA coin stands at $0.5122 with +0.84% gains. The 24-hour trading volume is  $3.01M with $37.06M market capitalization. Leading cryptocurrency exchanges, including MEXC, which recently listed AiDoge, KuCoin, CoinEx, and OpenOcean, offer Nakamoto Games coin trading.
Over the past week, the $NAKA coin has seen a 38.16% increase in value.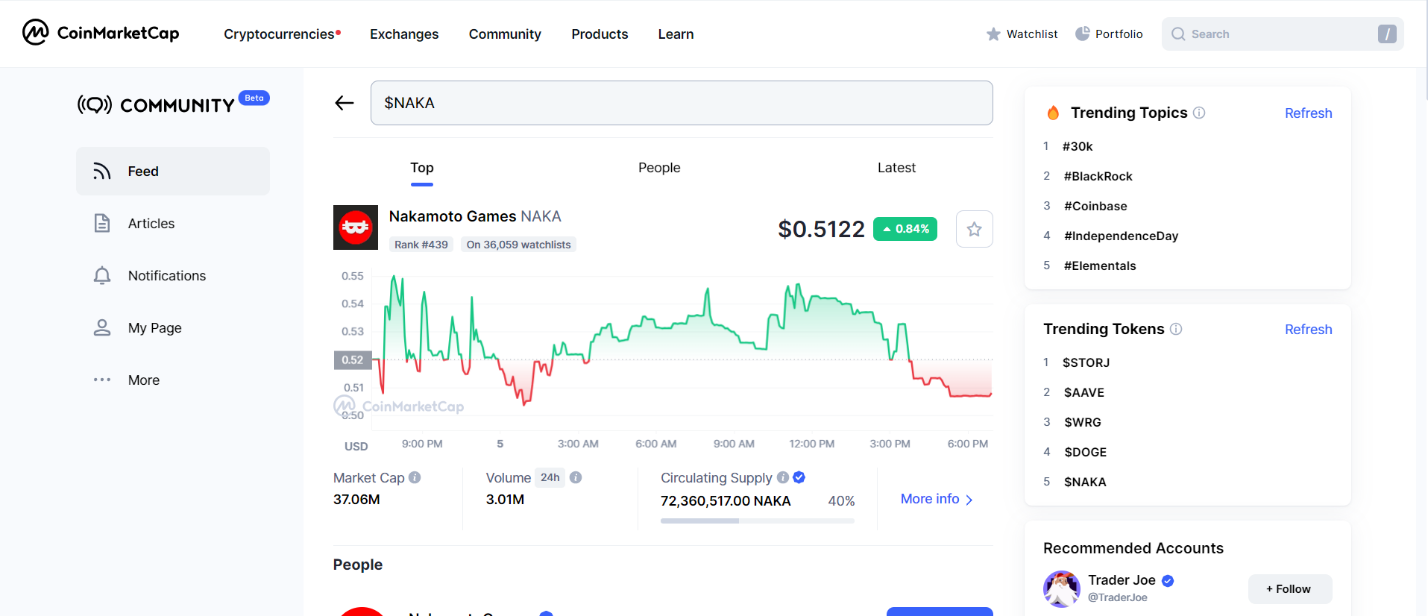 Nakamoto Games wants to become the most widely used Play2Earn (P2E) platform in the world.
At $NAKA, every day counts! We're relentlessly pushing limits, laying bricks for the world's most widely adopted #Play2Earn empire. No rest, no slow, just pure hyper-focus on realizing our vision. Onward, to gaming supremacy! #Web3 #Games #GameFi #BTC pic.twitter.com/KN5giNJ1nO

— Nakamoto.Games (@NakamotoGames) June 29, 2023
Integration with Binance Smart Chain and User-Friendly Mobile App
Nakamoto Games has strengthened its connections with the Binance smart chain (BSC). The company aims to enhance the overall user experience by integrating a payment structure based on BSC.
Fasten your seatbelts, #NAKAFAM! We're refining our Mobile App payment system on #BSC for seamless in-game transactions. Discover the integrated $NAKA Marketplace 2.0 & jump into our new #Game Merge Mania! Plus, major PWA UI/UX upgrades alongside our internal #eSports tournament. pic.twitter.com/ULoqy9dNsq

— Nakamoto.Games (@NakamotoGames) July 3, 2023
Additionally, Nakamoto Games' $NAKA mobile app complies with the policies of the Apple App Store and Google Play. This enables easy fiat currency conversion into in-app coins and $NAKA. The approach enables a broad range of gamers to explore the blockchain world without requiring prior knowledge of cryptocurrencies.
Marketplace 2.0 and New Game Releases
Nakamoto Games has recently introduced Marketplace 2.0, a large update to its platform. This new version fully integrates the marketplace with the primary platform, replacing the existing subdomain microservice. Additionally, the company has launched "Merge Mania," a new title in its expanding library of video games.
🔑 #ThursdayWisdom: A #NAKAPUNK is more than a digital asset; it's your passport to the future. Enjoy exclusive access to #NAKAVERSE 2.0, special events, valuable airdrops, and influencer potential. Join us in the #Web3 revolution, shape your digital identity with $NAKA! #GameFi https://t.co/O3BEgBhWkh

— Nakamoto.Games (@NakamotoGames) June 15, 2023
Furthermore, Nakamoto Games has substantially improved the fundamental architecture of its Progressive Web App (PWA). This has resulted in an expanded offline storage module and cache capacity for universal use.
An action-packed week at $NAKA, propelling us closer to our vision of becoming the world's best #P2E #Platform. We launched #CYBERPOKER2099, our #PWA went LIVE, welcomed Mark and Elon, extended the #NAKAVERSE 2.0, been featured on @business and made major moves on the mobile app. pic.twitter.com/BphSeblU7h

— Nakamoto.Games (@NakamotoGames) July 2, 2023
These updates enhance performance and reduce loading times for users worldwide.
Nakamoto Games Epic Showdown Elon Musk vs. Mark Zuckerberg in $NAKA Universe
Nakamoto Games has made a groundbreaking announcement that is set to redefine the gaming industry. Users anticipate an exhilarating showdown featuring two iconic figures, Elon Musk, and Mark Zuckerberg, within the immersive $NAKA universe.
This highly anticipated event will enable players to train their selected titan using state-of-the-art AI technology and take full control of their every move through voice commands. The battle between these titans promises to be a spectacle of epic proportions, allowing gamers to make their mark in gaming history.
NAKA Price Analysis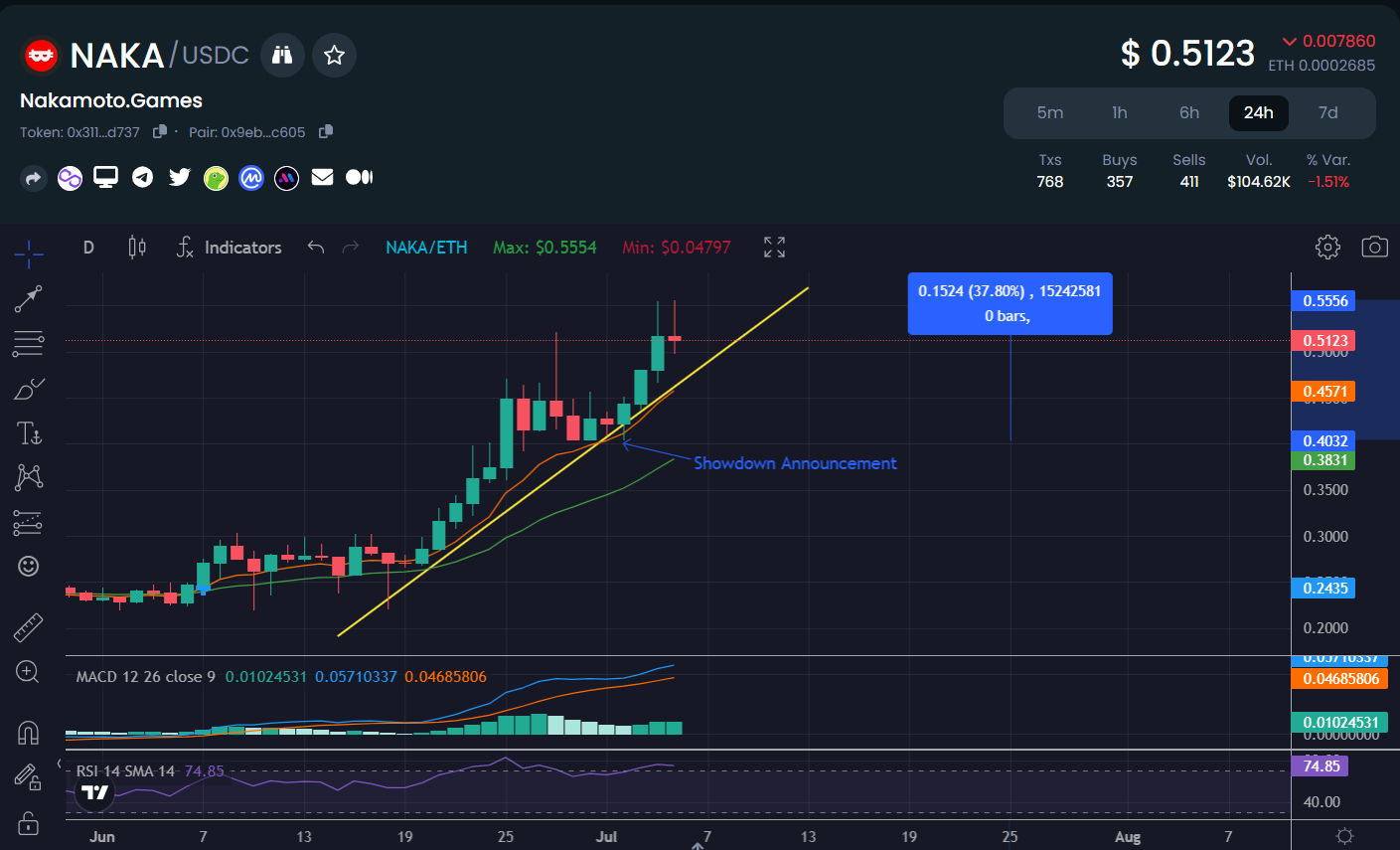 The daily price chart of NAKA/USDC reveals consistent adherence to the trendline, indicating a prevailing bullish trend in the market. Technical indicators further support this analysis, with the MACD histograms positioned above the zero line and the RSI indicating overbought conditions.
Additionally, the 9 Exponential Moving Average (EMA) has maintained a substantial gap above the 20EMA. This reinforces the presence of strong bullish pressure.
Following the announcement of the highly anticipated showdown between Mark Zuckerberg and Elon Musk, the coin experienced an impressive surge of approximately 38%, reaching an all-time high. The current decline in value can be seen as a correction, serving as a testament to the robustness of the ongoing bullish trend.
While the NAKA price is giving a promising outlook, there is another coin making its name in the memecoin market.
NAKA Alternative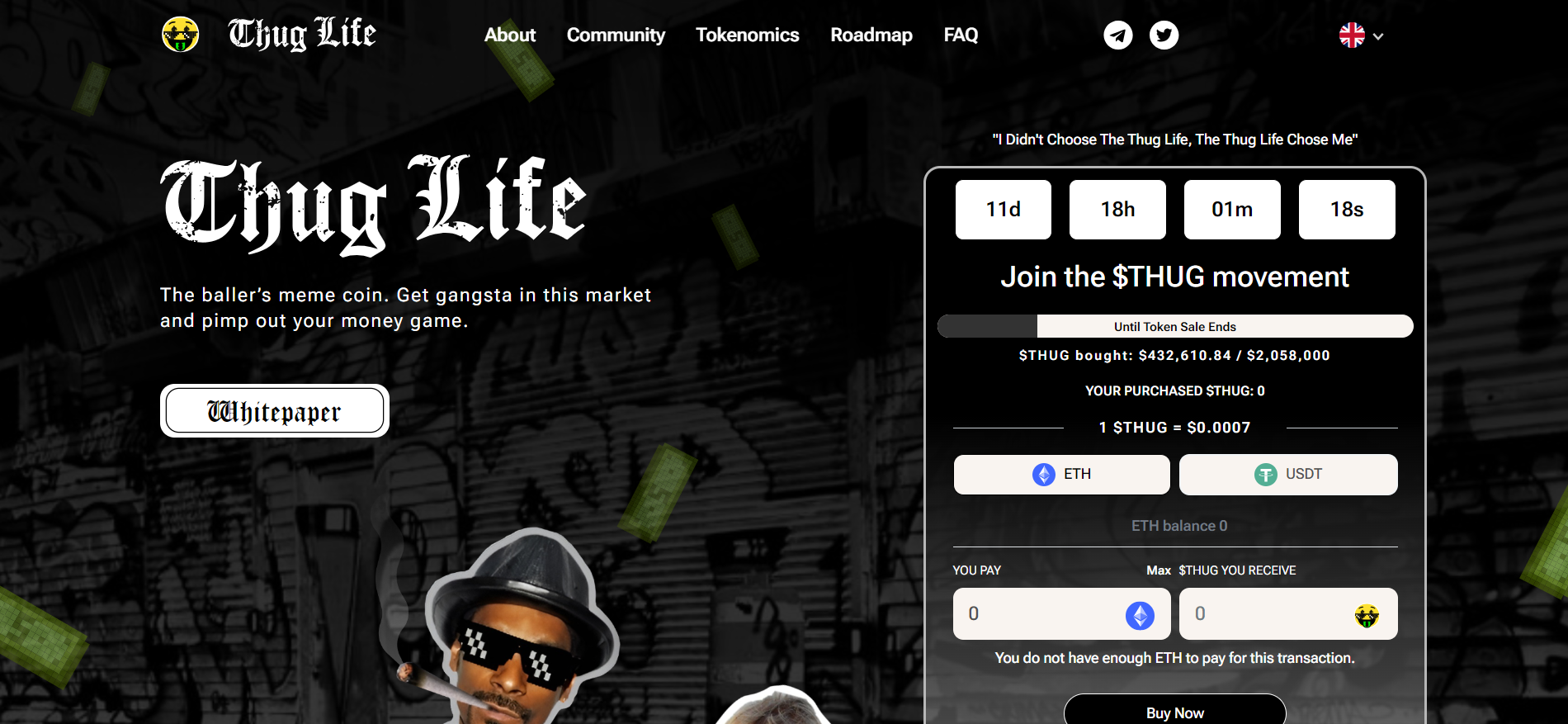 Thug Life Coin has emerged as the latest meme coin to capture the attention of cryptocurrency enthusiasts. During its highly anticipated presale, the project has raised an impressive $432,610 so far, and continues to gather momentum.
The presale will conclude once it reaches its target of $2.058 million or after the 11-day countdown expires, whichever comes first. Following the presale, the availability of Thug Life tokens will be limited to airdrops, community rewards, or purchasing them on major decentralized exchanges (DEXs).
Investor-Friendly Tokenomics and Devoted Developers
Thug Life stands out with its investor-friendly tokenomics, offering 70% of the total supply of 4.2 billion tokens during the presale. This distribution scheme has resonated with the rapidly expanding Thug Life community. It has allowed early investors to secure a significant portion of the token supply.
The 15% token allocation to community rewards will be split between giveaways and an engagement airdrop campaign. The Airdrop campaign will launch after the $THUG token is launched on DEX.

— Dimitri (@DimitriDotEth) June 29, 2023
The developers have shown their dedication to the project by implementing a liquidity lock, highlighting their long-term focus on success. Furthermore, 15% of the token supply is allocated for advertising, while 15% is reserved for community rewards, fostering investor participation.
Empowering Users and Building a Strong Community
Thug Life aims to empower meme coin enthusiasts by turning losses into wins. The project playfully acknowledges the disappointment experienced when missing out on opportunities with other meme coins, such as the notable Pepe Coin (PEPE) surge in May. By fostering a strong and united community, Thug Life aims to support the token and propel it forward.
This community-driven approach has proven successful for meme coins in the past, and Thug Life seeks to replicate that success. Anticipation for the project within web3 communities is high, prompting investors to join the movement before news of the coin spreads. With an emphasis on protecting against future rug pulls and creating an improved trading environment, Thug Life's popularity suggests potential price increases for $THUG in the future.
Also Read:
Wall Street Memes – Next Big Crypto
Early Access Presale Live Now
Established Community of Stocks & Crypto Traders
Featured on BeInCrypto, Bitcoinist, Yahoo Finance
Rated Best Crypto to Buy Now In Meme Coin Sector
Team Behind OpenSea NFT Collection – Wall St Bulls
Tweets Replied to by Elon Musk