A dramatic increase is being seen again in the number of cryptocurrency projects being introduced recently. Naturally, the ongoing crypto winter is proof that any project that attempts to be successful without a fundamentally strong project and a dedicated community may eventually end up failing. Hundreds of projects that seemed to have 20x-50x during the bull run now either don't exist or have been trading at dire price levels without any hope of recovery.
However, amidst all these projects, a handful seems to be getting announced which show massive potential, in terms of price, adoption and community. One such initiative that shouldn't be missed out on is Meta Masters Guild. As a project with one of the most innovative concepts and a plethora of features that would get any investor excited, the masses seem to be flocking to the website to stock up on the project's native token MEMAG from the ongoing presale.
Over $300k Raised Within Days
Since the past few days itself, Meta Masters Guild has successfully managed to raise a whopping $300k in presale funding. This is extremely commendable since a majority of investors generally choose to stay away from presales during the bear market unless it is a truly promising project. Despite being a new entrant at such a point in time, raising such an amount within a short period of time has gotten the project trending on several social media platforms as well.
The presale for MEMAG is set to be carried out in three stages. Each stage will feature a decrease in tokens available for purchase. The price of MEMAG will increase after each stage too by $0.003. Since the Meta Masters presale is still in its first stage, the current price (0.007) is the lowest amount for which buyers would be able to acquire MEMAG. By the end of the presale, the price of one MEMAG token will be $0.023.
Meta Masters Guild has a total supply of 1 billion tokens, of which 35% is allocated to the presale. So, 350k tokens will be available for purchase during this period where users will be able to get their hands on the token for a discounted rate.
What is Meta Masters Guild?
There are infinite choices today for anyone looking to try out a P2E game. But somehow, the interest in actually playing them has decreased, despite the surging popularity of the blockchain gaming sector. While people globally are starting to recognize the potential of blockchain technology and how it could completely revolutionize gaming, the growth of P2E as a segment has stunted. This is mainly due to the heavy focus developers put on the Defi part of these games while ignoring the creative and interesting elements.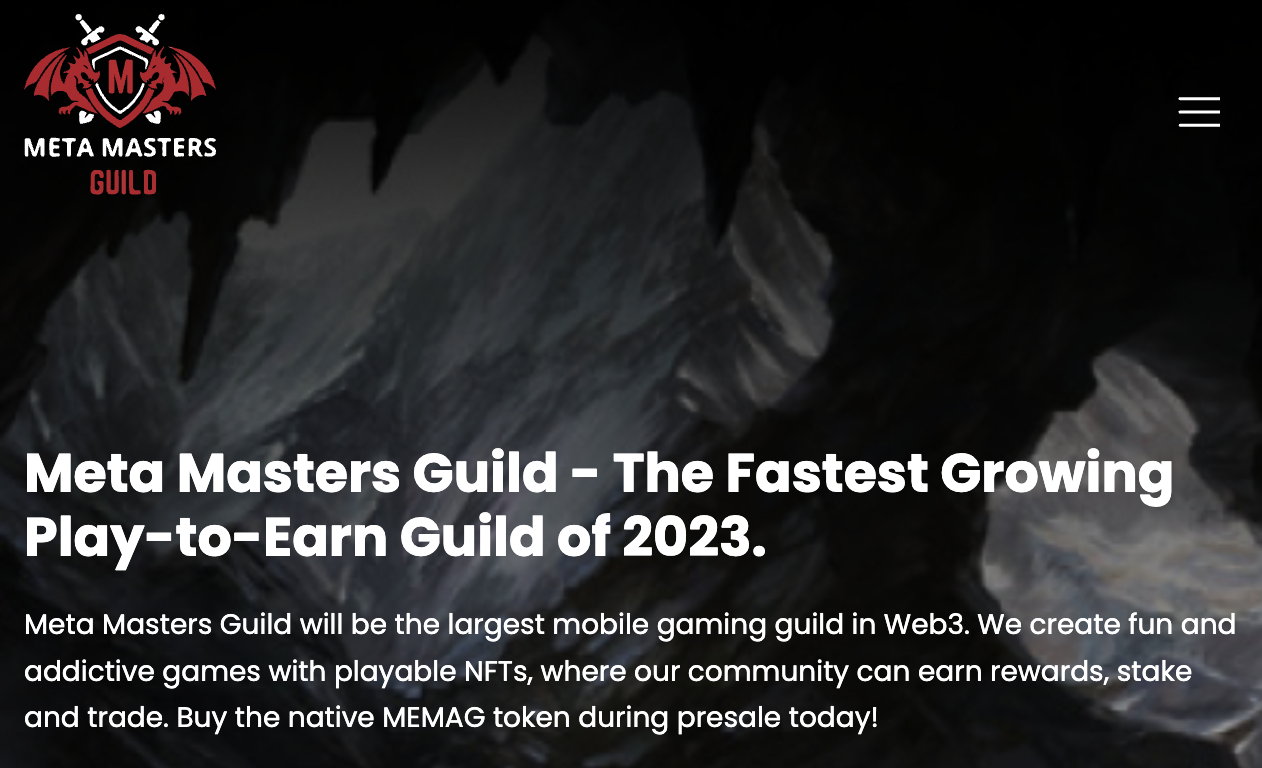 Meta Masters Guild was very recently announced by the team with an aim to change the way P2E games are looked at. They intend to create an ecosystem where Play-2-Earn would change to Play-&-Earn, essentially emphasizing the importance of making a game interesting to the players rather than simply adding a crypto-as-a-reward component.
Ideally, Meta Masters is set to be a P2E platform where several games will be introduced and made available for players to enjoy. All these games will have the same reward which will be in the form of gems. These gems can be exchanged with MEMAG, which has monetary value.
A Strong Team and Partnerships
The main team as mentioned on the project website consists of some highly experienced individuals within the gaming, business and blockchain domain, and have been constantly keeping their community updated via several social media platforms like discord or Twitter. To help garner trust from the wider community and potential investors, the project has gotten its contract code fully audited by SolidProof and its team verified by Coinsniper.

Meta Masters has been featured on some of the top crypto websites such as Cryptonaute, Crypto News, The Economic Times, Business 2 Community, Bitcoinist, Coincierge etc. which also helped fuel its presale fundraising. It has managed to collaborate with some reputed organizations within the industry too, which include the likes of RWaltz, Gamearound, Ruskin Felix, Pushed etc.
Why is Participating in the Meta Masters Presale a Good Idea
It is clear that the Meta Masters project is fundamentally strong, and has the potential to be a market leader within its category. Naturally, it is always a good idea to invest in such projects since they hold massive potential and could also grow in several other ways in the future. However, the presale is the only time when tokens are available at truly discounted rates than what they would be after their official launch.
At the time of writing, Meta Masters has raised more than $335k and is on its way to ending the first stage of its presale in less than 4 days. Naturally, such speed only indicates that it may surge in demand in the upcoming days as well. So, getting into the Meta Masters presale could be an excellent idea for anyone looking to potentially gain profits from a solid P2E project.
Recent Developments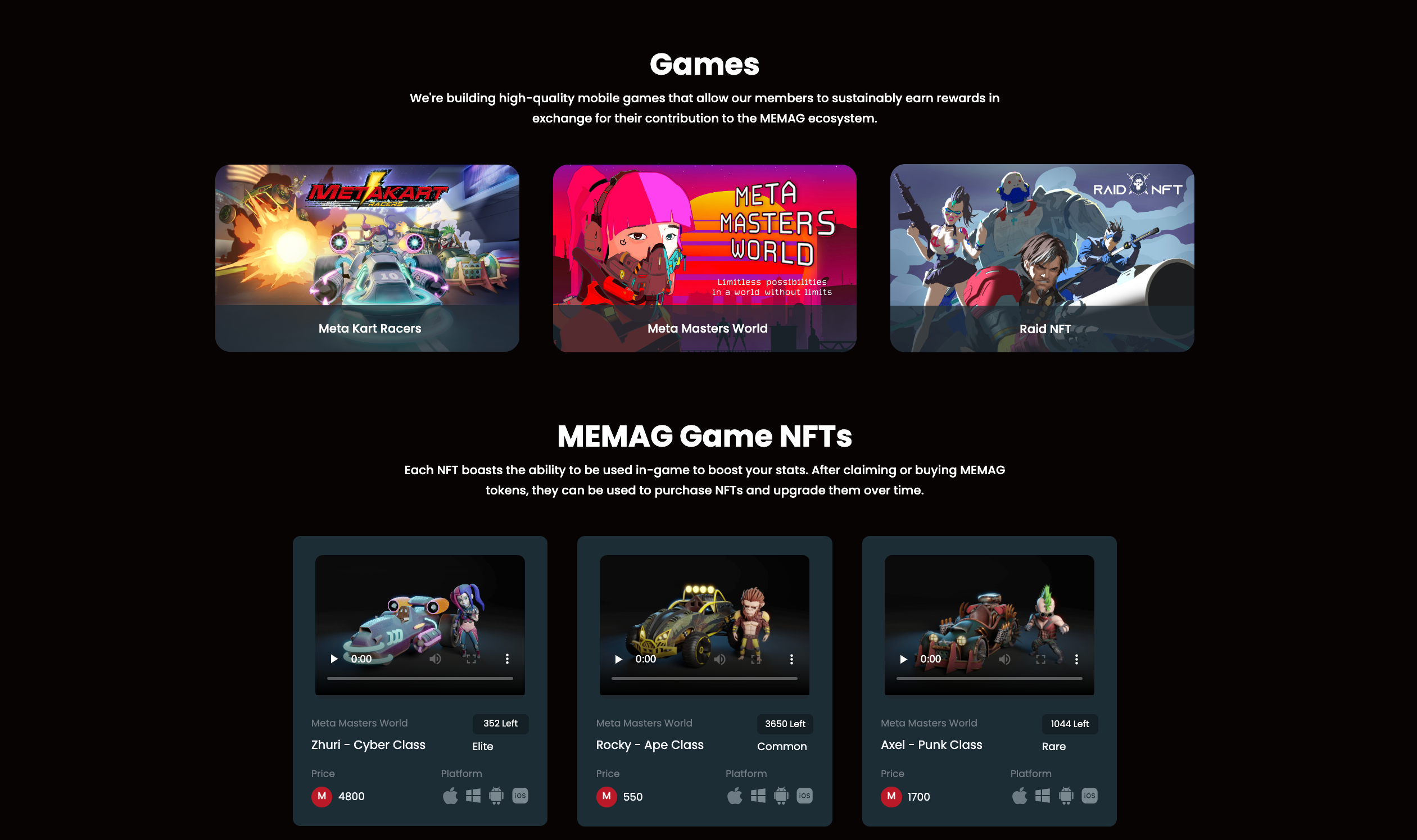 As of now, Meta Masters has released three game titles and have given a teaser of what to expect from the first game. The three names that have been released already are Meta Kart Racers, Meta Masters World and Raid NFT. The NFT characters for Meta Card Racers have already been made available for players on the website itself. These NFTs are divided into three types based on rarity.
As of now, the marketing for Meta Masters is heavy and has been successful too, since a huge number of crypto enthusiasts have been keeping a lookout for the MEMAG token.
Conclusion
The presale can be the best possible time to invest in strong cryptocurrencies such as Meta Masters Guild. With a surging demand and a product built on an innovative concept, it is very likely that MEMAG could become a top gainer post-launch. With further developments and announcements regarding exchange listings, game launches and more, the token could gain further momentum, which makes it an asset that shouldn't be overlooked by investors at the moment.
Read More:
FightOut (FGHT) – Newest Move to Earn Project
CertiK audited & CoinSniper KYC Verified
Early Stage Presale Live Now
Earn Free Crypto & Meet Fitness Goals
LBank Labs Project
Partnered with Transak, Block Media
Staking Rewards & Bonuses