MATIC price is the biggest gainer among the top ten cryptos while Bitcoin and Ethereum lead the rest in giving up some of the gains accrued in January. Nevertheless, the two most popular cryptocurrencies are still trading significantly higher compared to levels traded in December.
Polygon (MATIC) price is up 8.5% ahead of the weekend and trading at $1.080. Immense trading volume continues to come with, with CoinMarketCap showing a 148% increase in 24 hours to $1.1 billion.
MATIC's capitalization has also moved an inch higher to $9.4 billion and now the token holds in the 10th position. Polygon's rally can be attributed to partnership news touching on nonfungible tokens (NFTs) and blockchain development.
Mastercard, one of the leading payments providers globally, has announced plans to launch a spotlight program that will feature up-and-coming musical artists following collaboration with Polygon, a renowned Ethereum layer 2 solutions protocol. The program will give new creators the rare opportunity of tapping the power of Web3 and blockchain technologies in general.
The Mastercard Artist Accelerator program, as it is referred to, is expected to debut in spring 2023, catering to five emerging artists ranging from musicians, DJs, and producers – equipped with tools and skills. They will all be handed an opportunity to craft their futures in the fast-growing digital economy.
Interestingly, fans will also have a seat at the table, where they will engage their tools and knowledge of the space. A live-streamed artist showcase will crown the program later in the year.
"Music is a universal passion, inspiring us, moving us, and bringing us together; however, it can feel impossible for budding artists to break in. With the Mastercard Artist Accelerator we are expanding access and driving connections further with cutting-edge Web3 technology," Raja Rajamannar, the Mastercard Chief Marketing and Communications Officer said amid excitement.
In other news, blockchain analytics platform, Arkham Intelligence has announced plans to add support for MATIC in Q1 2023. This development will allow market participants to track, monitor, and identify wallets on the Polygon blockchain. MATIC becomes the second crypto to join the platform after Ethereum, the largest smart contracts protocol.
(2) Arkham on Twitter: "Arkham is excited to announce a collaboration with @0xPolygon! Polygon will be added to the Arkham platform, representing a significant step toward building our vision for 'Total Crypto Intelligence' across all blockchains. Please read the blog post below for more. https://t.co/yVjfkSt4Zj" / Twitter
Arkham Intelligence hopes to tap Polygon's massive user base and its strategic partnerships with leading brands like Disney, Stripe, and Starbucks.
Still on partnerships, Fractal, a fast-growing web3 gaming platform, will be expanding to Polygon. The ecosystem is known for minting NFTs, gaming tournaments, a marketplace, and a studio.
(2) Polygon Gaming on Twitter: "❄️ FRACTAL IS EXPANDING TO POLYGON 🕹️ @fractalwagmi mints, tournaments, marketplace, and studio are now available #onPolygon Excited to announce the launch with Fractal's 30 Polygon partners. Watch the video reveal👇 https://t.co/VuIRThkof5" / Twitter
The significant uptick in MATIC price reflects momentum created by the strategic partnership news above. The layer 2 solutions provider built on Ethereum has seen tremendous growth over the past few years. It focuses on helping Ethereum achieve efficiency, security, size, and practicability. Therefore, it is not an "Ethereum-killer," contrary to what many would think.
Will The Crypto Market Retracement Stifle MATIC Price Rally?
Polygon is trading at $1.080 after reaching a new 2023 high of $1.131. Investors could be wondering if MATIC price has the potential to knock its November highs of $1.157 as it steadies the uptrend, but that would be determined possibly in the European and American sessions later.
For now, MATIC price must find short-term support, which will allow bulls to gain confidence in the uptrend and back the rally not only to $1.157 but to highs at $1.20 and $1.30, respectively.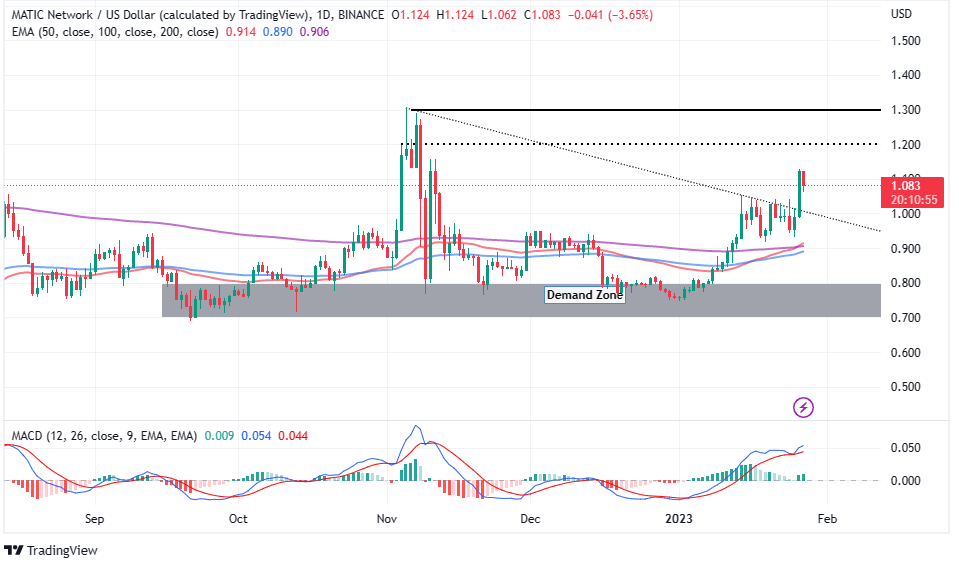 Since tentative support at $1.10 has been lost, MATIC price may be forced to seek refuge toward $1.00 – an area reinforced by the falling trend line (dotted). The resumption of the uptrend could be the most likely outcome, especially if the Moving Average Convergence Divergence (MACD) indicator upholds the bullish outlook.
The 50-day Exponential Moving Average (EMA) (in red) has just confirmed a golden cross pattern as it flipped above the longer-term 200-day EMA (in purple). Traders interpret this pattern to mean the market is generally trending north, with MATIC price expected to keep the uptrend intact in the coming sessions, days, and possibly weeks.
The last time Polygon saw a golden cross pattern was in February 2021, at the beginning of the bull market – propelling the price to new record highs slightly above $3.00. Therefore, MATIC is likely to have bottomed and is ready to break boundaries for another rewarding upswing.
Traders looking forward to new long positions on Polygon may do so after MATIC price exhausts the pullback and forms a green candle. Entries above $1.1 could be cashed out at $1.157, $1.2, and $1.3, respectively.
Should You Buy MATIC Today?
Before investors put more money in MATIC following a partnerships-driven rally, they may want to consider the best crypto presales, offering a fair risk-reward ratio.
Meta Masters Guild (MEMAG)
Meta Masters Guild (MMG) is tapping the power of Web3 to create exciting mobile-focused blockchain games which people enjoy spending time playing. The ecosystem's new approach relies on play-and-earn, as opposed to play-to-earn – seen with many other gaming platforms such as The Sandbox and Axie Infinity. Meta Masters Guild is ready to launch with three games, but currently rolling out MEMAG tokens in a presale that has raised $1.45 million so far.
Calvaria is releasing two versions of a card game that will see it become a "crypto magnet." In other words, the team aims to be a frontrunner in expanding crypto adoption across the world. The basic free-to-play version of 'Calvaria: Duels of Eternity' will be accessible via the Google Play Store and the Apple Store. Once players are comfortable with this basic version, they may choose to move to the play-to-earn (P2E) blockchain version of the game. Calvaria's presale is 97% sold out with $2.99 million raised, thus investors must hurry.
Also selling out fast is FightOut, which has raised $3.47 million via a presale launched in Q4 2022. The platform is gamifying the fitness industry while giving users a chance to earn from the efforts they put into their well-being. Fight Out's Web3 solutions will enable mass audiences to transition to new technologies while taking advantage of a chain of gyms operated under the same brand.
Related Articles:
Meta Masters Guild – Play and Earn Crypto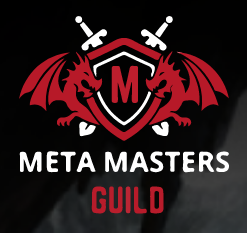 Innovative P2E NFT Games Library Launching in 2023
Free to Play – No Barrier to Entry
Putting the Fun Back Into Blockchain Games
Rewards, Staking, In-Game NFTs
Real-World Community of Gamers & Traders
Round One of Token Sale Live Now – memag.io