PEPE coin gains attention with its third rank on DEXTools' Hot Pairs List. This testifies that despite losses, investor interest persists in PEPE. However, PEPE's future remains uncertain—will it rise again as a favored asset or cause market turbulence with further decline?
Confirmation of Fading PEPE Mania: Decline in Twitter Followers
PEPE achieved remarkable growth within just three months, amassing a community of approximately 135K holders and a market capitalization of $510M with $9.51M in liquidity, according to DEXTools. However, its popularity declined in recent weeks due to the rising popularity of Dog-themed coins like SHIB, DOGE, and FLOKI INU. This shift is evident in PEPE's official Twitter account, which lost around 7K followers in the past 13 days. This confirms that PEPE mania has faded in the market.
🚨 breaking! $PEPE down 5000 followers on #xtwitter in 12 days! https://t.co/ZTnmnqHVoU pic.twitter.com/lr3ki8gQWx

— UselessEater (@UselessEater420) August 1, 2023
PEPE Community Denies Faded Sentiment
On the other hand, some followers are denying the fading PEPE mania. Based on data collected from Dune.com, $PEPE demonstrates positive fundamentals.
Notably, whale holdings' continuous growth reflects confidence from significant investors. Additionally, key influencers are increasing their holdings, indicating growing support within the crypto community. Moreover, users are withdrawing $PEPE from centralized exchanges to personal wallets, suggesting a preference for long-term holding.
Never fade the powerful meme! I will use data to tell everyone about the good fundamentals of $PEPE.

🚩Positive:
– Whales' holdings are continuously growing,
– Influencer's holdings are increasing,
– People are withdrawing $PEPE from CEXs to their own wallets.… pic.twitter.com/5omfcdp7ai

— 0x69 🐸 (@mfer7166) July 26, 2023
However, the analysis also points out negative aspects. Holder growth has experienced a brief stagnation, raising concerns about diminishing interest. Furthermore, trading volumes for $PEPE have declined, signaling reduced market activity and potential implications for price volatility.
Despite previous indications of a fading PEPE mania, a new post highlights the coin's robust metrics and growth potential, challenging the notion of waning popularity.
People think $PEPE is just a #memecoin. But actually, we run a big and successful enterprise with good metrics and strong growth. Our industry has great potential and we see a big 20 to 100x potential in the next 12 to 16 months.

– Peter P. Pepe, CEO of PEPE Corp pic.twitter.com/kw4cMUrZ7y

— Captain Pepe 🐸 (@crypto_chainer) August 2, 2023
PEPE Price Analysis
The 12-hour chart analysis of PEPE/USD indicates that the meme coin has exhibited a descending channel pattern since 14th July. Notably, the price has already dipped below the initial support level of $0.000001273. It is now approaching the critical support level at $0.000001109, representing a decline of approximately 9% from the current price level.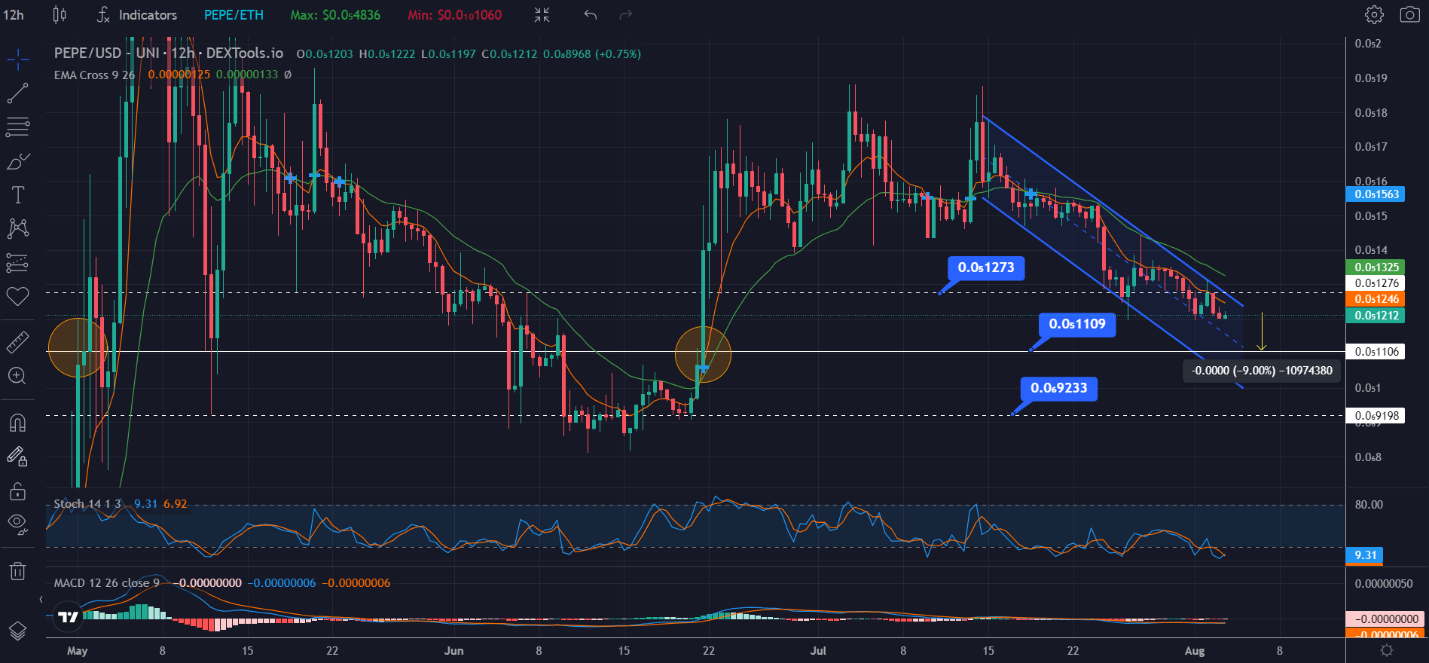 Historically, this level has proven to be a significant resistance, as breaching above it has led to substantial bullish movements in the coin's value. Traders will closely examine this level as prices might bounce from here. However, a breach below this level is anticipated to initiate substantial downward pressure, potentially driving prices toward the level of $0.0000009233.
Observing the technical indicators, the Stochastic Oscillator is presently in the oversold region and indicates bearish momentum. Moreover, the EMA crossover with the higher EMA positioned above, the lower EMA, and negative MACD histograms below the zero line further reinforce the likelihood of continued downside potential.
Considering these factors, the prevailing market signals favor a bearish trend for PEPE/USD. Traders and investors should exercise caution and closely monitor the price before trading.
Although PEPE's signals are ambiguous, another coin is displaying unmistakable signs of upward potential.
Promising Alternative to PEPE
The world of cryptocurrency is dynamic and fast-paced, with innovations constantly reshaping the landscape. XRP20, a new ERC-20 token, offers promising returns reminiscent of early Ripple's XRP days.
XRP20's Presale Opens New Doors for Bull Run
XRP20's launch marks a deliberate step towards offering a distinctive prospect in the low-cap crypto realm. However, it's essential to clarify that XRP20 is a distinct project unaffiliated with $XRP or Ripple Labs. Leveraging Ethereum's functionalities, XRP20 ensures accessibility and ease of use for potential buyers.
What sets XRP20 apart is its vision to reignite the passion seen during $XRP's meteoric rise through an appealing presale phase. The ongoing presale allows early investors to acquire $XRP20 tokens at a mere $0.000092, 30 times cheaper than $XRP's all-time low. With a soft cap set at just $1.85 million, the presale is attracting significant attention, as it has collected about $239,531 in just two days of its launch.
Good morning #XRP20Army!🌞

We've raised over $200,000!🎉🙌

Thank you to the entire #CryptoCommunity for the incredible support!🤝🌐

Don't miss out! Join the #XRP20 #Presale today!🔥💎
https://t.co/lNFEKmMpBs pic.twitter.com/kyNhFKrxxv

— XRP20 (@XRP20_coin) August 3, 2023
XRP20's Tokenomics: Scarcity and Stability in Focus
XRP20 stands out as an XRP successor and a project with unique features that promote longevity and incentivize participation. The token's total supply of 100 billion is distributed strategically to foster stability.
The ongoing presale secures 40% of the total supply, underlining the significance of early investments. Another 40% is dedicated to the project's staking pool, allowing token holders to earn passive income by locking up their tokens.
Moreover, XRP20 adopts a deflationary structure, implementing a 0.1% burning rate on all buying and selling transactions.
Embrace the power of deflationary burning with #XRP20!🚀💎

0.1% of every buy and sell is sent to a burn address, along with 10% of the total supply allocated to be burned. Scarcity increases over time!⌛🔥

Join the $XRP20 #Presale now!🌐💪https://t.co/lNFEKmMpBs#Blockchain pic.twitter.com/abhTkSxZJ0

— XRP20 (@XRP20_coin) August 3, 2023
XRP20's Promising Roadmap for Price Growth
XRP20's roadmap outlines plans to drive value growth and engage the community. Following the presale, XRP20's team will focus on pre-launch marketing and burn activation to enhance the token's scarcity.
Subsequently, XRP20 will be launched on a decentralized exchange (DEX), increasing accessibility and market presence. Post-launch, the project will introduce community staking to reward further and involve participants.
This compelling roadmap has already captured the interest of crypto investors, with the XRP20 Telegram channel experiencing significant early growth.
Also Read:
Wall Street Memes – Next Big Crypto
Early Access Presale Live Now
Established Community of Stocks & Crypto Traders
Featured on BeInCrypto, Bitcoinist, Yahoo Finance
Rated Best Crypto to Buy Now In Meme Coin Sector
Team Behind OpenSea NFT Collection – Wall St Bulls
Tweets Replied to by Elon Musk