Despite a bullish recovery across the crypto market, the Terra LUNA price appears to be continuing its decline ahead of the Shanghai and Capella upgrades scheduled for Wednesday. 
LUNA and other tokens native to the Terra blockchain have been on a persistent decline for a few weeks, which started after reports of the Terraform Lab's founder, Do Kwon, being arrested. According to initial findings by the United States Securities and Exchange Commission, it was discovered that Kwon had diverted almost $100 million worth of Bitcoin from Terra after its collapse. 
Terra (LUNA) Sees Increased Market Activity With Potential for Growth Despite a Recent Price Decline
At the time of writing Terra (LUNA) trades at $1.29, with a 24-hour trading volume of $50,588,323. This reflects a decrease of 2.27% in price over the past 24 hours, while the price has increased by 1.77% in the past 7 days. The market capitalization of Terra stands at $324,093,139, considering the circulating supply of 250 million LUNA.
The trading volume of Terra (LUNA) in the past 24 hours is $50,576,530, indicating a recent rise in market activity as it represents a 74.20% increase from the previous day.
On May 28, 2022 (11 months ago), Terra (LUNA) recorded its highest price of $18.87. The current price has decreased by 93.17% compared to the all-time high price. The fully diluted valuation (FDV) of Terra (LUNA) is $1,389,155,641, representing the theoretical maximum market capitalization based on the assumption that all 1.1 billion ETH tokens are in circulation today.
LUNA Price Prediction- LUNAUSDT Chart Analysis
Luna's price is still down after trying to get out of the consolidation box. However, the 50-day moving average acts as a moving average, pushing the price back down. The daily chart shows a bearish candle, moving the price down to the bottom support level.
Furthermore, the 200-day moving average is above the LUNA market price, which shows that the price is in a bearish trend. Additionally, the price has formed a shoulder-head-shoulder pattern. Traders use this type of pattern to trade sell positions. This likely means a further downward move inversely proportional to the head. The relative strength index is also trading southwards below the 50-level mark. 
Based on the analysis above, we can predict that the price of LUNA will go below $1 in the coming days. However, for the investors holding their coins tightly in their wallets for the bull run, a small rebound can be experienced at the bottom support level.
Alternative For LUNA – Love Hate Inu for LUNA, LHINU Presale Raises $3.5M
The presale for Love Hate Inu (LHINU) has been highly successful, raising over $3.5 million in less than four weeks. This impressive achievement, with nearly $3 million raised, demonstrates the significant level of investor enthusiasm for the first meme coin that employs a vote-to-earn (V2E) model. This unique system allows users to vote on a variety of topics while simultaneously earning cryptocurrency.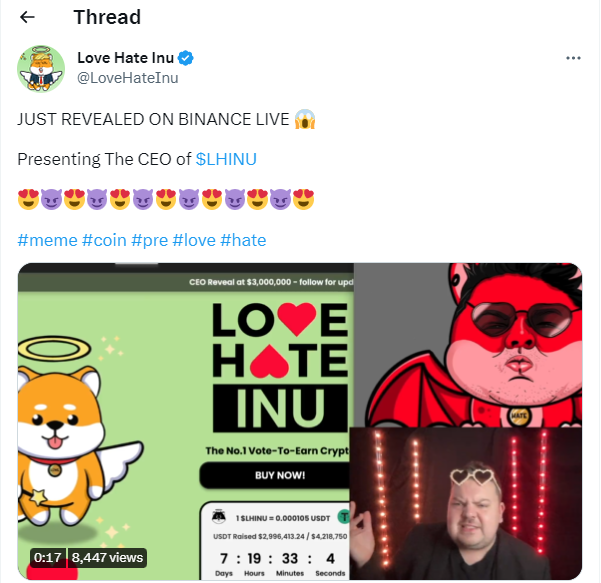 Love Hate Inu's platform has a disruptive goal of revolutionizing the $3 billion survey industry by introducing security, transparency, and fairness into the voting system.
Just three days ago, Love Hate Inu made a major announcement, revealing Carl Dawkins as their CEO. Dawkins is well-known for his success with Tamadoge, a top 10 ranked meme coin, and brings extensive experience to the role, including serving as an advisor to the UK All Party Parliamentary Group on Crypto and Digital Assets. This announcement comes after Love Hate Inu successfully raised $3 million in just over three weeks.
Related
Solana Price Prediction for Today, April 11: SOL/USD Approaches $25 Level
Bitcoin Price Up $30,200 – Is $31,300 Next?
Next Shiba Inu Love Hate Inu Raises $3.5M, Reveals Carl Dawkins As CEO – And More
Love Hate Inu – Newest Meme Coin
Decentralized Polling – Vote to Earn
Early Access Presale Live Now
Ethereum Chain
Mint Memes of Survey Results as NFTs
Staking Rewards
Viral Potential, Growing Community