LUNA price is on the verge of confirming another breakout that could quickly propel it to $5.00. However, traders must be wary of possible profiteering ahead of the next bullish move. For now, the biggest task for Terra is to hold support above $2.00 because this would give buyers time for more accumulation ahead of the anticipated breakout.
It is worth mentioning that Terra is facing declining volumes, which according to CoinMarketCap, has dipped -49% to $152 million in 24 hours. Low volume is a concern because it denies the asset the momentum to push to higher levels.
Assessing The Bullish Outlook In LUNA Price
LUNA price is exchanging hands at $2.08 at the time of writing, while bulls push closer to the next resistance at $2.30. The 100-day Exponential Moving Average (EMA) reinforces the seller congestion in this area in confluence with the twice-tested falling trend channel's upper boundary.
Terra needs to close the day above this level to confirm to investors that the path with the least resistance is to the upside. The position of the Stochastic oscillator in the overbought region shows that buyers hold the reins. However, it could also mean that the uptrend is nearing its elastic limit ahead of a pullback, accentuated by profit booking.
Therefore, traders should approach LUNA price cautiously and with an open mind and realize that failure to break above the hurdle at $2.30 could ignite a sell-off. More investors will settle for early profits to protect the gains accrued for almost three weeks.
Until LUNA price blasts through the seller congestion at the 100-day EMA, a pullback will be another likely outcome. Overhead pressure mount on Terra if another attempt to breakout to $5.00 fails. Bets on short positions on LUNA price would turn profitable toward the 50-day EMA (in red) at $1.61.
If the sell-off intensifies, bulls would be looking for refuge downstream at the channel's lower boundary and the major support at $1.20.
LUNA Price In a Catch-22 Situation
LUNA price is moving between a rock and a hard place as observed from a short time frame chart. To the immediate upside is a hurdle presented by a falling multi-month trendline around $2.2, while the immediate support is grounded at $2.00.
Terra's position above all the three applied major moving averages, including the 200-day EMA (in purple) at $1.57, the 100-day (EMA) (in blue) at $1.66, and the 50-day EMA (in red) at $1.84 supports a possible bullish outcome aiming for $5.00.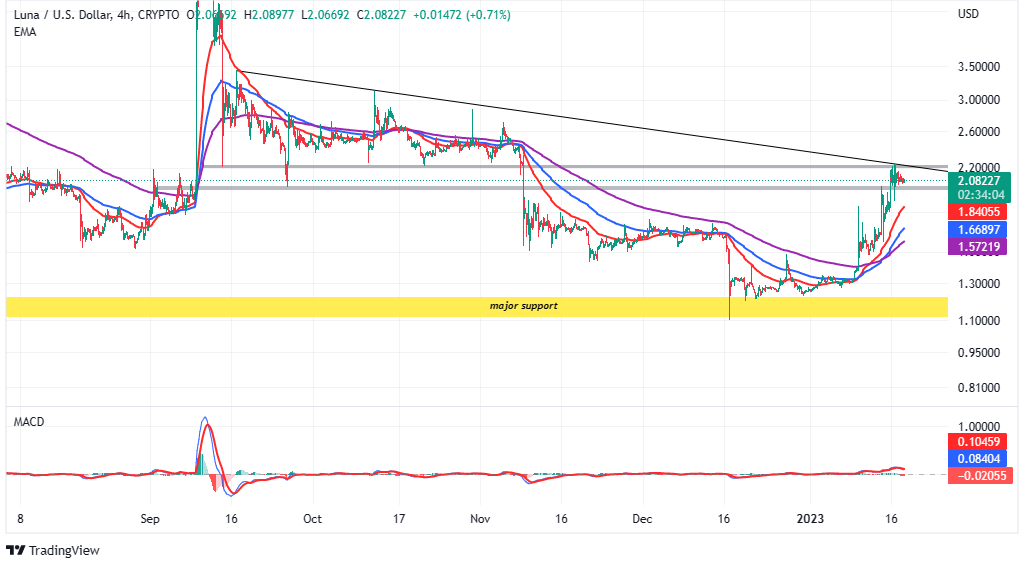 Traders looking forward to selling LUNA may want to wait until the price slides below $2.00. The pessimistic forecast in LUNA price is accentuated by a recent sell signal from the Moving Average Convergence Divergence (MACD) indicator. As the MACD retraces to the mean line (0.00) and possibly into the negative region, overhead pressure would double down on LUNA price.
Altcoins To Consider For Bigger Returns
LUNA price is currently facing a dilemma with support at $2.00 and resistance at $2.2, which means investors may consider other altcoins ahead of a possibly bullish 2023. The altcoins listed here are performing well in their presales and are selling out fast. Moreover, these tokens offer a once-in-a-lifetime chance to early adopters of technologies likely to shape the industry's future.
Meta Masters Guild (MEMAG)
The team behind this ambitious play-to-earn (P2E) is banking on a simple yet critical approach to curve its way into the fast-growing crypto sector. Meta Masters Guild wants to offer blockchain-based games for free, unlike existing platforms like Axie Infinity, The Sandbox, and Decentraland, which require users to invest money in expensive NFTs before getting started.
In other words, Meta Masters Guild is promoting play-and-earn as an alternative to play-to-earn, where players can access the games without having to buy pricey NFTs or pay with many tokens. In this gaming ecosystem, users can make money while enjoying their favorite games.
Gems, an in-game currency that may be redeemed by converting to MEMAG, will be used to reward players. Additionally, when Meta Master Guild launches, users will stake MEMAG tokens to earn additional revenue. In-game NFTs can also be purchased with gems, and users can cash out by exchanging their gems for other crypto tokens like ETH.
Users are urged to develop games, provide in-game assets, produce pertinent material, and participate in events to receive rewards for all their contributions to the ecosystem. Three games—Meta Kart Races, NFT Raid, and Meta Masters World—will be available when Meta Masters launches.
🚨Over $500K Raised #MEMAGFAM 🚨

🤯 Stage 1 – Sold Out in less than a week ⁉️ #MMG community members have definitely turned up! ⚔️

💪 Stage 2 is now live, so buy your $MEMAG tokens now, before the price increases! ⏰https://t.co/SBqVjX5mWn#mmg #memag #memagpresale pic.twitter.com/GTSFN1mzRx

— Meta Masters Guild (@MEMAGgames) January 17, 2023
Investors can buy MEMAG in an ongoing presale that has already raised $539k, selling one token for 0.01 USDT.
FightOut (FGHT)
Blockchain technology has considerably aided the development of the fitness industry in recent years. However, there are still gaps that keep fitness enthusiasts from reaching their full potential or making money from the hard work they put into their endeavors.
Introducing an environment that gamifies the fitness lifestyle is the goal of the Move-to-Earn fitness app FightOut.
FightOut lowers access barriers by making the process affordable for everyone, in contrast to other M2E projects such as STEPN that demand large initial investments in NFT purchases.
Users on FightOut's M2E fitness app will be able to receive rewards for the exercises and tasks they accomplish. By monitoring user progress, rewarding effort, and assuring a smooth transition from Web2 to Web3, FightOut differentiates itself from other M2E platforms.
Users will be encouraged to design and follow comprehensive fitness regimens through incentive systems, but they will also have plenty of opportunities to customize their workouts and go above and beyond to become experts in their chosen specialties.
(2) Fight Out on Twitter: "Unlock your full potential and achieve more with #FightOut! Connect your fitness journey with blockchain technology to earn rewards as you overcome difficult challenges and hit your goals. Secure your spot and join the presale now! 👊⬇️ https://t.co/z34Nkx3ffi https://t.co/u1XsGk6Ny6" / Twitter
FightOut's presale is underway and has raised $3 million by selling 1 FGHT for 1 USDT. Investors can take advantage of a 50% bonus to buy FGHT, but only until the presale hits the $5 million mark.
Related Articles:
Meta Masters Guild – Play and Earn Crypto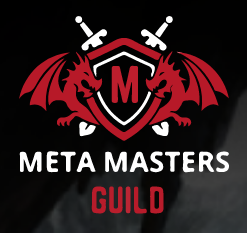 Innovative P2E NFT Games Library Launching in 2023
Free to Play – No Barrier to Entry
Putting the Fun Back Into Blockchain Games
Rewards, Staking, In-Game NFTs
Real-World Community of Gamers & Traders
Round One of Token Sale Live Now – memag.io