In today's markets, Optimism's price is $2.96. Its 24-hour trading volume is $1.17B, with a market cap of $619.01M and a market dominance of 0.06%. Fear & greed index currently shows 51 (Neutral), and the Optimism price prediction sentiment is bullish.
Out of a maximum supply of 4.29B OP, 214.75M OP are circulating. Optimism ranks #3 in the Layer 2 sector by market cap. A current ranking of the entire crypto ecosystem places OP at No. 76. Here is what our cryptocurrency experts are saying.
Optimism (OP) Price Prediction Analysis
As February 2023 closes, crypto experts expect an average OP price of $2.99 based on the price fluctuations of Optimism at the beginning of 2023. Its maximum and minimum prices can be estimated at $3.08 and $2.74, respectively. 
Trading costs may be as low as $2.94 during March 2023, while they could reach a maximum of $3.20. Optimism should be worth $3.08 on average in the same month.
By March 3, 2023, we predict the value of Optimism to rise by 3.20% and reach $2.97. Our technical indicators show a bullish sentiment. Optimism registered 16/30 (53%) green days over the past 30 days, with an average price volatility of 11.21%. 
How Does Optimism (OP) Work?
Tokens OP governs the Optimism L2 blockchain, which the Optimism Collective manages. With its focus on driving rapid and sustainable growth of a decentralized ecosystem, Optimism Collective is a large-scale, digital democratic governance experiment overseen by the newly established Optimism Foundation.
OP governs protocol upgrades, parameters, and incentives as part of the Optimism ecosystem. Over the next six months, Optimism will distribute 5.4% of the total token supply via governance. This grant may interest you if you build something in the Ethereum ecosystem.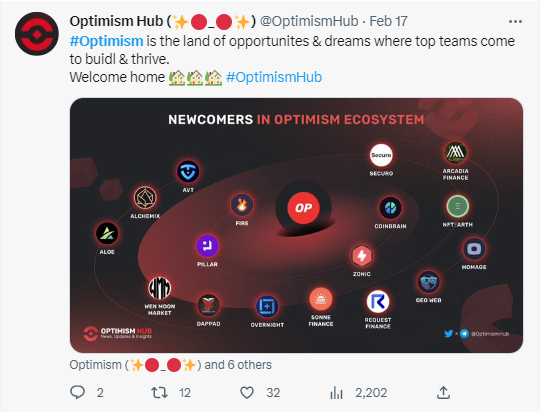 In its Layer-2 scaling solution for Ethereum, Optimism created OP as a governance token. 
Token House and Citizens' House are the two parts of Optimism's governance structure. Both groups play an important role in project governance and determine how the revenue generated by the Optimism platform will be distributed to drive growth. 
Token holders vote on issues like incentive distribution, protocol upgrades, and treasury funds within the Token House.
How Does Optimism (OP) Benefit You as an Investor?
In terms of Layer-2 scaling solutions, Optimism is one of the most promising projects. The platform uses "optimistic rollups," reducing fees and speeding up transactions. All transactions occur on Ethereum's mainnet, which guarantees security.
In return for OP tokens, holders can participate in Optimism platform governance. The "power" granted to token holders could be precious if the Optimism platform grows in popularity. But market forces such as supply and demand determine the price of OP, as with all other crypto assets.
Where Can I Get Optimism (OP)?
Binance, Coinbase, and OKX are all leading cryptocurrency exchanges where you can buy the OP token. Besides centralized exchanges, Optimism-based decentralized exchanges offer the token.
What is the Return on Investment for OP?
Optimism (OP) is one of many crypto assets that exhibit high levels of price volatility. Prices can change rapidly within a short amount of time, leading to gains and losses. Research Optimism (OP) thoroughly and consider your financial situation before investing. Devote only what you can afford to lose.
In an unpredictable market like cryptocurrency, it's hard to pinpoint the best time to buy Optimism (OP). OP market is currently bullish, and given its name, you can only be optimistic about your investment.
More News
Where to Buy Binance Coin (BNB)
Fight Out (FGHT) – Newest Move to Earn Project
CertiK audited & CoinSniper KYC Verified
Early Stage Presale Live Now
Earn Free Crypto & Meet Fitness Goals
LBank Labs Project
Partnered with Transak, Block Media
Staking Rewards & Bonuses