FUN Token has experienced a remarkable surge in trading volume, surpassing $63 million in a single day. With such a significant increase in market activity, many may wonder if it is too late to enter the market and invest in FUN Token.
In this article, we will explore the implications of the high trading volume and discuss whether it is still a favorable time to buy FUN Token.
FUN Token: Revolutionizing Gaming with Transparency and Utility
FUN Token is revolutionizing the gaming community as the top cryptocurrency gaming platform. It offers a transparent, fair, and versatile funding mechanism for various gaming opportunities.
The utility and versatility of the FUN Token and the XFUN Wallet attract gaming operators, developers, and individuals worldwide.
With a decentralized and transparent platform protected by cryptography, FUN Token provides secure and gas-free transactions.
🚀 Elevate your gaming with $FUN! Enjoy seamless transactions, enhanced rewards, and #decentralized platforms. Embrace gaming innovation! #FUNToken #gaming https://t.co/c3v6pxNNyW pic.twitter.com/z1K6J2HIys

— FUNToken (@FUNtoken_io) June 13, 2023
The XFUN Wallet facilitates fast and secure registration, KYC, and seamless deposits and withdrawals. Holding FUN Token provides players with benefits. These include cashback, free rewards, interest on savings, and a secure and non-custodial wallet.
By using XFUN tokens and the XFUN Wallet, players have control over their funds. They can also enjoy a fair and seamless gaming experience. FUN Token's ecosystem empowers users, offers fast and secure transactions, and operates with transparency.
💼 Manage your #crypto on the go with #XFUNWallet!
Its intuitive interface and robust security features make it the perfect companion for all your digital asset needs.

Don't miss out—download XFUN Wallet today and take control of your $FUN Tokens!https://t.co/IVfsxjpRki pic.twitter.com/wPQjsUq8Hu

— FUNToken (@FUNtoken_io) June 7, 2023
It aims to build an inclusive, transparent, and provably fair iGaming economy with a global reach across 100+ countries, helping businesses access new markets and crypto-related revenue streams.
Increasing Trading Volume Positively Impacts FUN Token Value
The trading volume for the FUN/USDT pair has been on the rise, which is playing a crucial role in boosting the value of the FUN token. On Gate.io, the 24-hour trading volume for FUN/USDT has reached an impressive 76M, indicating a notable increase in market activity.
Furthermore, the FUN token ranks top on the Hottest Search list and #4 on the Daily Gainers list on Gate.io.
✨ https://t.co/8kWqgEeplL Top 5 Daily Gainers ✨

Date: July 4th

Price Gains
🥇 $GMMT +585.64%
🥈 $TROY +82.92%
🥉 $SUTER +68.08%
4️⃣ $FUN +51.72%
5️⃣ $WNCG +48.67%

Which #cryptocoins do you think will be on the Top Gainers list next? 🚀 pic.twitter.com/XLCWjsQMgB

— Gate.io (@gate_io) July 4, 2023
Meanwhile, the trading volume of the FUN/USDT token within the 24-hour timeframe on CoinMarketCap has witnessed significant gains, showing a remarkable increase of 9990% to over 63M. The pair is gaining traction in different crypto exchanges with significant gains, as it has secured rank 3 on the daily gainers' list on IXFI, a generation 3.0 Exchange.
📈 Top 10 gainers in the last 24 hours on #IXFI$TROY | $OOKI | $FUN | $QI | $OXT | $DGB | $SCRT | $MBL | $EPX | $PERL

👉 https://t.co/liZwfeSzMR pic.twitter.com/iS26AFliax

— IXFI | Gen 3.0 Exchange (@ixfiexchange) July 4, 2023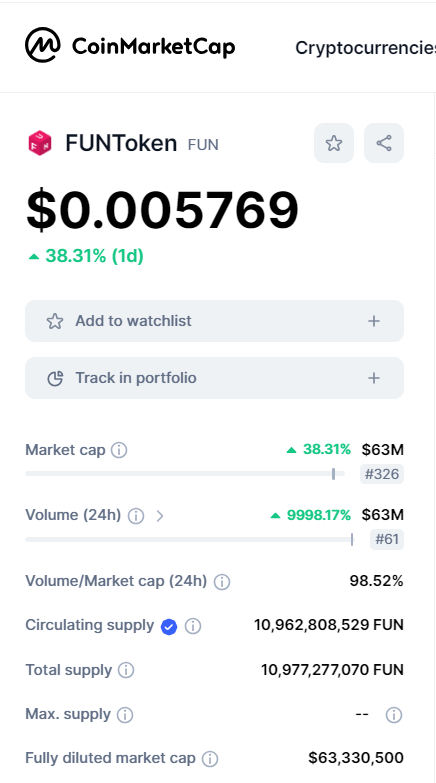 A rising FUN token trading volume indicates a heightened market demand, suggesting that more investors are actively buying and selling FUN. This increased interest can result in greater price volatility, so traders must remain cautious while investing.
FUN Price Analysis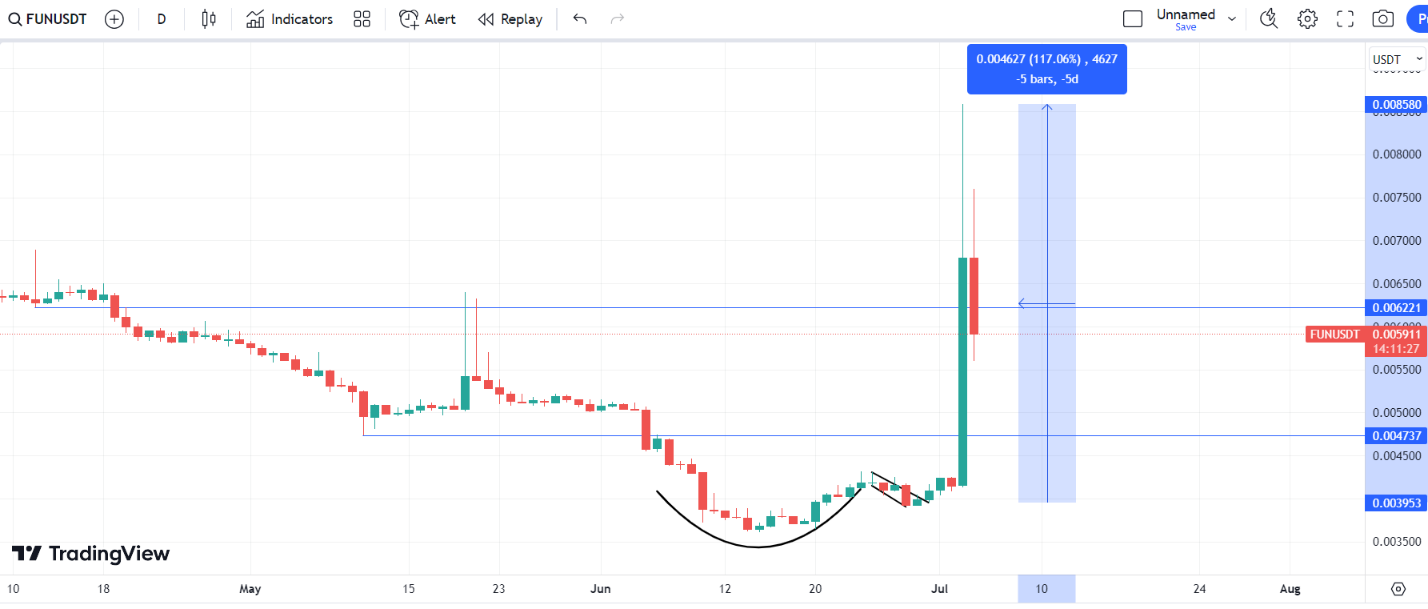 The daily chat of FUN/USDT has recently demonstrated a significant bullish rally after a cup and handle pattern breakout. This popular technical analysis pattern typically indicates a bullish trend continuation after a consolidation phase. Upon completing the cup and handle pattern, the FUN cryptocurrency experienced substantial gains of over +117%.
However, it is important to note that the token has retraced some of its recent gains, with a decrease of approximately 34% from its peak. Despite this pullback, FUN is still trading at a remarkable 83% above yesterday's lowest value. This indicates a robust upward movement in the market, suggesting that the bullish momentum remains intact.
Presently, the FUN token is encountering initial resistance at the level of 0.006221. A break above this resistance level and a closing price above it would reinforce the ongoing bullish momentum.
Such a breakthrough would signal further upward potential for the cryptocurrency, potentially leading to additional price appreciation.
On the other hand, the support level for FUN can be found at 0.004737. This support level represents a price point at which buying pressure has historically outweighed selling pressure, preventing the price from declining further.
In the event of a downturn, this support level is expected to provide a cushion for the cryptocurrency, potentially leading to a rebound in prices.
Some traders might think it is too late to buy FUN token now as a significant rally has passed. For such traders, there is another coin that has similar growth potential.
Promising Alternative To FUN
DeeLance is at the forefront of the evolving freelance industry, connecting freelancers and recruiters like never before. By harnessing the power of blockchain technology, DeeLance offers a decentralized hiring platform that revolutionizes the way employers and talent collaborate.
With blockchain integration, DeeLance ensures transparency, security, reduced costs, and increased efficiency. It provides a unique and immersive experience for users in the Metaverse, where virtual meetings, interactive exhibitions, and networking events take place.
This breaks down geographical barriers, enabling global collaboration and shaping the future of remote work and global business.
DeeLance empowers freelancers by providing a new level of control and ownership over their creative output. Through the use of Non-Fungible Tokens (NFTs), freelancers can tokenize their unique work, proving ownership and enabling royalties for future use or sale.
NFTs also verify credentials and reputation, establishing trust and transparency for all parties involved. This adds value and security to freelancers and clients alike.
Hey DeeLancers!

Get ready to be part of the DeeLance revolution! 🔥

Our presale offers you a gateway to an innovative ecosystem, where the Metaverse, NFT marketplace, freelancing, and job hiring seamlessly come together.

⚡️Grab your $DLANCE tokens now and step into a world of… pic.twitter.com/AjxOJMf6FE

— DeeLance (@deelance_com) June 30, 2023
Investing in DeeLance's utility token, $DLANCE unlocks the platform's full potential. The token powers the ecosystem, enabling transactions in the NFT marketplace and the Metaverse. $DLANCE holders also enjoy incentives such as discounts, NFT whitelists, and early access to new features. As the DeeLance ecosystem grows, the demand for $DLANCE is expected to increase, potentially leading to price appreciation.
The $DLANCE Presale: Early Investors Eyeing Lucrative Profits
The platform has secured funding of about $1,472 295 in its Stage 5 of Presale. As the $DLANCE presale progresses, the token's value is currently trading at $0.043, set to increase to $0.048 in the next stage. This presents an enticing opportunity for early investors to potentially earn significant profits, as the token's value is projected to reach $0.057 upon its exchange listing.
Hello there, DeeLancers! 👨‍💻

Our project has been recognized by Crypto News! Check out the video! 🙌✨🚀

Raised already $1.44 Million in Presale!

Join the presale stage 5 now!! ⬇️💰https://t.co/j7255wuxy3#Crypto #Presale #Metaverse pic.twitter.com/nZqFKtKVh3

— DeeLance (@deelance_comAMA) June 26, 2023
Adding to the excitement, DeeLance hosted the DeeLance Leadership Competition, offering a generous prize pool of $500,000 DLANCE tokens. The competition, which began on June 27 and runs until July 14, rewards the top five wallets with the highest $DLANCE token holdings.
Hello DeeLancers!👋👨‍💻

DeeLance Presale Stage 3 Leaderboard Competition winner list is here

Top 5 Buyer's wallets:

Reward will be distributed after the launch

Buy $DLANCE Today⬇️https://t.co/XHnTqVzeWf#Crypto #NFT pic.twitter.com/nGkx68IUC9

— DeeLance (@deelance_com) May 31, 2023
To participate in the DeeLance presale, interested individuals can visit the official presale website, connect their crypto wallet, and exchange $DLANCE tokens for ETH, BNB, or fiat currency using their bank card. Don't miss out on this opportunity to join the presale and potentially benefit from the anticipated growth of $DLANCE.
Also Read:
Wall Street Memes – Next Big Crypto
Early Access Presale Live Now
Established Community of Stocks & Crypto Traders
Featured on BeInCrypto, Bitcoinist, Yahoo Finance
Rated Best Crypto to Buy Now In Meme Coin Sector
Team Behind OpenSea NFT Collection – Wall St Bulls
Tweets Replied to by Elon Musk