FET, the native token to Fetch.ai's open, permissionless, decentralized machine learning network, has been surging in the last few days since the release of an upgrade to its mainnet wallet. Price predictions have subsequently been getting more bullish. According to an update on Twitter, Fetch.ai's network is showing promising signs of early growth. The wallet has now been downloaded more than 10,000 times, has more than 5,000 weekly users and hundreds of users have already started using an in-wallet messaging feature.
It's been 5 days since we released the latest upgrade to the https://t.co/kJ9URVpOul wallet. Now let us share some user stats to paint the picture where we are 🦾

Check them out here 👇 pic.twitter.com/JrxNp1SrK7

— Fetch.ai (@Fetch_ai) December 7, 2022
FET was last changing hands in the $0.0920 area, up over 11% on Thursday and extending its gains in the last four days to around 45%. FET/USD is now changing hands around 74% higher versus the fresh annual lows it printed in November just above the $0.05 level. The cryptocurrency's latest push higher has seen it eclipse its 200-Day Moving Average at $0.089 for the first time since the very start of 2022.
Price Prediction – Further Gains Instore for Fetch?
FET's latest rally has also seen the cryptocurrency burst back to the north of its 50 and 100DMAs – this is the first time that FET has been above its 50, 100 and 200DMAs in over a year. Could this mean an end to the FET bear market that has seen the cryptocurrency shed more than 80% of its value since the start of the year?
Not so fast. FET has on Thursday found resistance at a downtrend that had been capping the price action going all the way back to May. A failure to muster a sustained push above this resistance, as well as a failure to hold above the 200DMA could be taken by the market as confirmation that FET isn't yet ready to bust out of its more than year-long bear market. Even if Fetch.ai usage fundamentals are heading in the right direction, the current bear market might well have more surprises in store.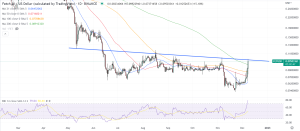 FET Could See 50X Gains, Says One Crypto Analyst
According to cryptocurrency educator Rafaelo Rigo, FET could see 5000% (or 50x) gains during the next cryptocurrency bull market.
.
THE NEXT BULL RUN$CRO 20X$ROSE 20X$NEAR 24X$MATIC 26X$DOGE 33X$SYS 35X$RSR 41X$FET 50X$NWC 60X$VRA 85X$TRIAS 96X$BLOK 160X$TEL 220X

I will post more tokens. Keep tuned! 👌🏽

— ⭐RᗩᖴᗩEᒪᗩ 𝗥𝗜𝗚𝗢 ⭐ (@RAFAELA_RIGO_) December 7, 2022
Regarding the time of when the next bull market will happen, Rafaelo agreed with a tweet that predicted the bull market will come next year, as opposed to this year.
Absolutely

— ⭐RᗩᖴᗩEᒪᗩ 𝗥𝗜𝗚𝗢 ⭐ (@RAFAELA_RIGO_) November 14, 2022
That echoes the tone of high-profile Bloomberg macro/commodity strategist Mike McGlone. McGlone stated that he favors cryptocurrency markets returning to their historic propensity to outperform other major asset classes as global macroeconomic conditions return to something more closely approximating normal in 2023.
Dash 2 Trade (D2T)
Those interested in investing in a promising crypto trading platform start-up should look no further than Dash 2 Trade. The up-and-coming analytics and social trading platform hopes to take the crypto trading space by storm with its host of unique features.
These include trading signals, social sentiment and on-chain indicators, a pre-sale token scoring system, a token listing alert system and a strategy back-testing tool. Dash 2 Trade's ecosystem will be powered by the D2T token, which users will need to buy and hold in order to access the platform's features.
Dash 2 Trade is currently conducting a token pre-sale at highly discounted rates. D2T token sales recently surpassed $9.055 million. The sale has now entered its fourth and final phase and sales are still going strong, with $400K coming in in the last 24 hours. The pre-sale dashboard is going to be released soon, with the development team currently running ahead of schedule. Token are currently selling for $0.0533 each, which observers are calling highly discounted.
Dash 2 Trade was recently listed as the third-best presale token of 2022 by CoinCodex.
Find the next crypto 💎 before the end of 2022!

1️⃣ @IMPT_token
2️⃣ @Sportinfinityy
3️⃣ @dash2_trade

Find out more about these presales 👇https://t.co/DVbVswGOIc

— CoinCodex (@CoinCodex) December 8, 2022
IMPT
Amid the growth in popularity in recent years of environmentally and socially friendly investments, investors looking for a green cryptocurrency should consider the IMPT token. IMPT.io has partnered with thousands of the world's largest retailers to help offset their carbon footprints and allows users to trade carbon credits on the blockchain.
IMPT tokens are currently in their second stage of the presale with IMPT having raised over $15.6 million. That amounts to $1 million in token sales in just the last 24 hours. Investors only have another three days to purchase tokens at the current discounted price of $0.023. IMPT token exchange listings begin in a few days.
IMPT was recently listed as the best presale token of 2022 by CoinCodex.
Find the next crypto 💎 before the end of 2022!

1️⃣ @IMPT_token
2️⃣ @Sportinfinityy
3️⃣ @dash2_trade

Find out more about these presales 👇https://t.co/DVbVswGOIc

— CoinCodex (@CoinCodex) December 8, 2022
Calvaria (RIA)
Major blockchain-based games like Axie Infinity lost significant traction in 2022. As a result, many investors interested in the crypto gaming space are looking for alternative avenues. Calvaria, an up-and-coming play-to-earn battle card crypto game, could be a good alternative. Calvaria seeks to boost crypto adoption by creating a bridge between the real world and crypto, a fun and accessible crypto game.
Investors should consider Calvaria's RIA token pre-sale. Calvaria has now raised $2.36 million, with a crypto whale scooping up $97.5K in one purchase on Thursday. The presale is in the final stage, with only 24% of tokens left.