Ethereum Classic (ETC) has shown resilience by finding support at $20, suggesting a bullish outlook for July. ETC's ability to hold this support level could indicate a potential upward trend for traders and investors. In the coming month, watch Ethereum Classic as it aims to defy expectations.
Ethereum Classic (ETC) Price Analysis: Fluctuations, Recovery, and Current Status
Ethereum Classic's (ETC) price has fluctuated significantly over the years. Starting at $2.08 in 2016, it peaked at $176 in 2021. 
Although it had its challenges, it ended the year at $34.12. Overall, ETC outperformed the crypto market by about 55% in 2022. It dropped to $12.65 during that time and then briefly topped $40. 
Due to FTX's collapse, its price ended up at $15.60. The price of ETC fluctuated between $23.13 and $19.87 in 2023. Its market cap is around $2.8 billion, making it the 27th biggest cryptocurrency.
The price of Ethereum Classic (ETC) has fluctuated lately. ETC was valued at $18.23 on June 5 but lost over 25% five days after the SEC sued Binance.
Despite its current price being lower than June 1, it's still nearly 50% higher than its lowest point. Also, ETC is almost 9% higher than before the crash, which is encouraging.
Ethereum Classic's price has risen by 0.40% to $18.94 in the last 24 hours. Ethereum Classic has a market cap of $2,685 billion on CoinMarketCap. Currently, there are 141,756,089 ETC coins in circulation out of a maximum supply of 210,700,000.
Can ETC Surpass the $20 Level?
Let's look at the daily chart for Ethereum Classic (ETC) and uncover an interesting situation. ETC is aiming for higher levels on the chart, and we are examining its details. ETC is on the verge of overcoming a major obstacle represented by a robust and resistant level of around $20.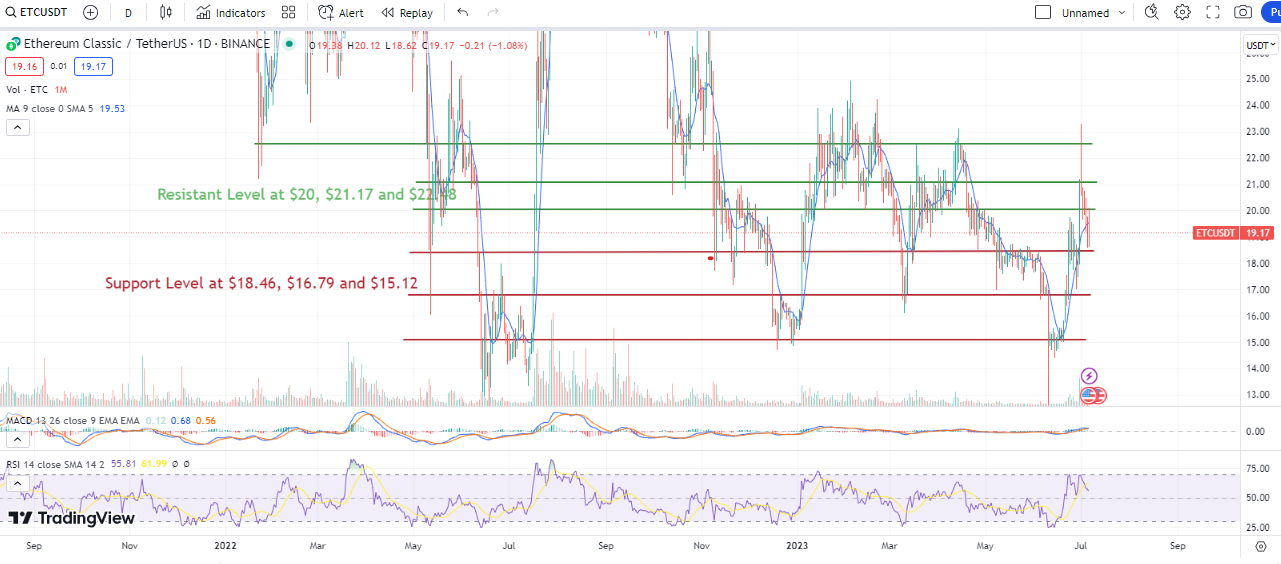 Traders are eagerly watching this exciting development, and as buyers take action and show their strong support, ETC's price gathers momentum in an upward direction. This favorable combination of factors sets the stage for Ethereum Classic to achieve additional gains and experience positive outcomes.
Ethereum Classic (ETC) navigates a precarious path, presenting an intriguing alternative. If circumstances lead it towards $21.10, a quick sell-off or decline is possible, introducing a cloud of uncertainty. 
However, if the critical support level holds, a captivating scenario unfolds, propelling ETC to break free from its trading range and accelerate upwards without obstruction.
As ETC follows the market's fluctuations, it encounters various resistant levels along the way. The bullish trajectory may challenge formidable barriers at $20, $21.17, and $22.48, testing its resilience against upward momentum. 
Conversely, a shift below the trading range unveils a new narrative. Support levels at $18.46, $16.79, and $15.12 offer stability and serve as a cushion if the market experiences a drop. ETC's journey embodies the ever-evolving dynamics of the market, reflecting its dual nature.
Technical analysis relies on the Relative Strength Index (RSI) as a critical determinant. With the index nearing 50, an enticing opportunity arises. If ETC surpasses this symbolic threshold, it sets the stage for an intriguing spectacle of potential gains.
ETC Medium-term 4H Chart Analysis
Traders on the 4-hour chart are hopeful for a comeback as the coin aims to regain its previous momentum. Breaking through the current trading range would bring back the success it once experienced.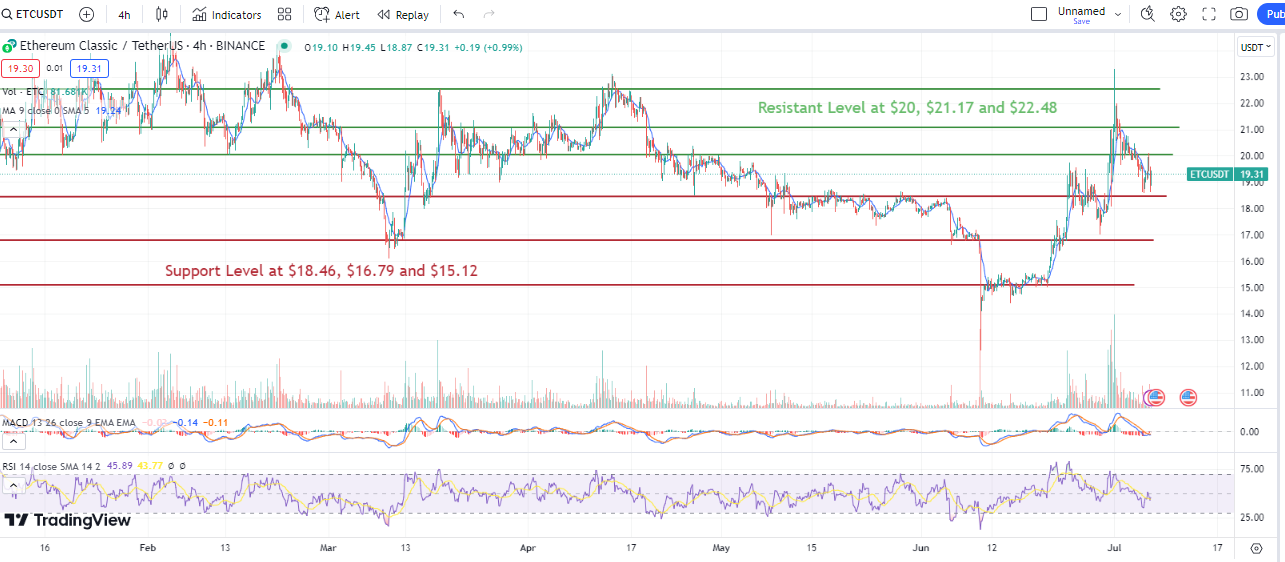 However, the situation may become uncertain if there is a wave of selling. This could lead to a sharp decline in price, potentially dropping to $18.46 or even lower due to strong selling pressure.
Traders eagerly await an exciting market spectacle as the price shows upward momentum. The delicate balance between buyers and sellers will determine the outcome. 
A substantial surge is expected if buyers keep prices above the 7-day and 14-day moving averages. This surge will bring life to the charts and create a vibrant pattern of upward movement.
Let's explore an exciting scenario unfolding in the market. The price might climb to impressive heights with strong momentum and overcome a tough resistant level, potentially surpassing $20. See our guide to the best altcoins to buy now here.
The Relative Strength Index (RSI) is above 50, indicating that the market price could soon rise. These signals create an optimistic picture, suggesting the potential for remarkable gains ahead.
Ethereum Classic vs. ETH: Consensus Mechanisms and Smart Contract Capabilities
The price of Ethereum Classic (ETC) has fluctuated lately. It was worth $18.23 on June 5 when the SEC sued Binance, but it lost over 25% within five days.
Despite its current price being lower than June 1, it's still nearly 50% higher than its lowest point. Also, ETC is almost 9% higher than before the crash, which is encouraging. 
Following a hack in 2016, Ethereum Classic emerged as a separate blockchain from Ethereum (ETH). Since Ethereum Classic's founders wanted to preserve the original version of Ethereum, they didn't see the need for extensive measures after the hack.
Users can develop decentralized applications (DApps) on Ethereum Classic. ETC is its own native token, represented by the ticker handle ETC. 
Ethereum Classic and Ethereum differ in their consensus mechanisms. A Proof-of-Work (PoW) approach lets people verify transactions and contribute to the blockchain.
In September 2022, Ethereum switched from Proof-of-Work to Proof-of-Stake (PoS). In PoS, block additions are based on how much ETH people own, altering the dynamics.
The two platforms use smart contracts, which are self-executing computer programs that kick in when certain conditions are met. Developers can create decentralized applications (DApps) with these smart contracts.
On various exchanges, ETC can be bought, sold, and traded as a reward for miners contributing to the network's security.
Alternative to ETC
Experience the future of trading with XYZ Launchpad, an innovative platform powered by artificial intelligence and blockchain technology. 
Web3 gives you the power to launch projects and raise money decentralized. Explore the limitless possibilities of AI-driven success and unlock a new trading era.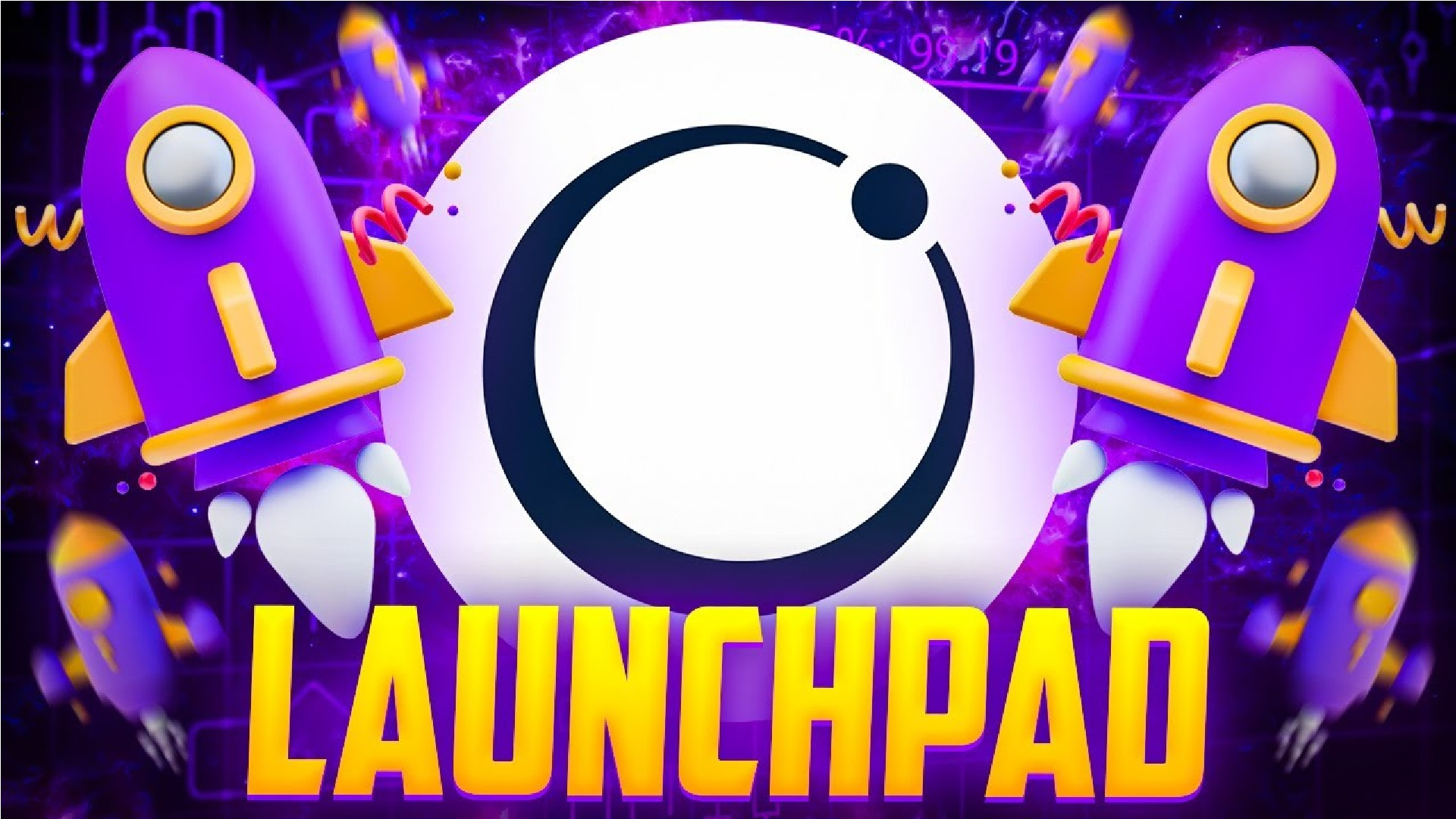 Join the Growing Trend: Pre-sales at Launchpad Offer Promising Opportunities
Launchpad's pre-sales are increasingly attractive to investors due to their practicality and future relevance. Early investors will benefit from these pre-sales by receiving a guaranteed price increase upon the tokens' availability on exchanges.
Pre-sales have exceeded $1.115 million, close to the target of around $1.60 million. The next stage will see each LPX token valued at $0.046, an increase of $0.0445 from the current price.
Early investors who invest in this token when it is listed on exchanges can expect their investment to grow as its value rises to $0.0565. Investors are increasing because of this.
Launchpad aims to help crypto projects, and entrepreneurs get funded and make connections. As an investor in Launchpad, you not only support innovative projects, but you also stand to benefit from your investment.
Launchpad XYZ: Empowering DeFi and Promising Crypto Projects
A rapidly growing investment avenue, Decentralized Finance (DeFi), is particularly interesting to Launchpad XYZ. This platform allows investors to participate in promising cryptocurrencies such as $PEPE through decentralized and trustworthy fundraising campaigns.
Buying Launchpad XYZ tokens with ETH, USDT, or direct bank deposits is possible. A sentiment analysis tool developed by the project will give traders a competitive advantage in a market that institutional traders heavily influence.
Web3 news, trends, and trading opportunities are all available on Launchpad XYZ. According to the whitepaper, the project presents a comprehensive roadmap and framework, making it one of the most promising crypto projects in 2023.
Its decentralized architecture allows users to access multiple exchanges from a single platform, making trading seamless and secure. This project will involve a team of experts in blockchain technology, finance, and technology.
Wall Street Memes – Next Big Crypto
Early Access Presale Live Now
Established Community of Stocks & Crypto Traders
Featured on BeInCrypto, Bitcoinist, Yahoo Finance
Rated Best Crypto to Buy Now In Meme Coin Sector
Team Behind OpenSea NFT Collection – Wall St Bulls
Tweets Replied to by Elon Musk