Ethereum (ETH) struggled most of 2022 after nearing the $5,000 price peg in 2021. The foremost smart contract network's stunted growth was largely due to yead transition from proof-of-work (PoW) to proof-of-stake (PoS) due to technical difficulties. Despite this, Ethereum maintained a strong presence in non-fungible tokens (NFTs), decentralized finance (DeFi), and even the metaverse ecosystems.
With this year just beginning, Ethereum seems set for a phenomenal 2023. Below, we consider some of the major fundamental strengths of the ETH token, its technical performance, and alternative projects value-facing investors can key into this year.
Shanghai Upgrade Scheduled For 2023
2022 was a tough year for the emerging crypto industry, and the Ethereum development team's forestalled PoS migration compounded an already poor situation for the ETH token. After making a record rally to the north of $5,000, the Ether price slipped alongside Bitcoin following an industry-wide incident and the pressures of global economic issues.
ETH slipped to a 52-week low of $1,148, losing over 57% of its previous record value. This year, the Ether token is starting on a strong footing as the digital asset has already clocked a week's increase of 10% with a 30-day breakout of 4.5% so far. This change in fortune has largely been due to recent developments in the Ethereum ecosystem.
According to recent reports, the Ethereum network is expected to launch another upgrade to its PoS protocol called Shanghai. This will allow users who have staked their Ether in the last two years to withdraw their funds come March 2023. With staked ETH now unlocked, users can participate in liquidity-providing platforms, thereby increasing their expected turnouts on investment.
The rapid pace of these new upgrades will also significantly increase investor confidence in the project. Given its previous slow pace in executing network upgrades, the Shanghai launch could speed things up as the foremost smart contract network looks to boost its transaction speed and cut down on exorbitant high gas fees in the coming months.
Ether Posts Decent Gain
At press time, the ETH network token is trading at $1,321, an uptrend of 4.6% in the last 24 hours. Its weekly growth of 10% and a monthly increase of 4.5% show a possible breakout on the horizon. This is further emphasized by a six-month increase of 27.32% and a year-to-date (YTD) of 10.5%.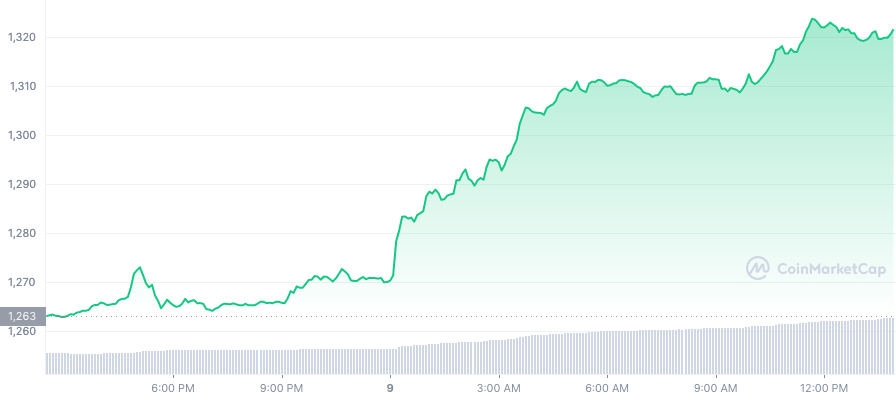 These positive results have positively impacted the technicals of the cryptocurrency, which has so far flipped to a "Buy" signal. Its 50-day simple moving average (SMA) price of $1,247 is significantly below its current price action, and the crypto asset's moving average convergence and divergence (MACD) is trailing on the green trend line, emphasizing a positive market sentiment.
Regarding its relative strength index (RSI), Ether currently holds a 77 figure, putting it in the overbought region. So far, Ethereum is likely on a trail back to the $2,000 price peg but is it the best investment for value-driven investors? Not entirely.
D2T and FGHT Taking the Industry by Storm
The crypto space has experienced explosive growth despite a significant drop in value. Some of the new entrants have been the D2T and FGHT tokens. Both are currently in their presale stages and are vastly different crypto projects.
D2T is the network token for the Dash 2 Trade blockchain, a data and social analytics project that gives investors detailed information about crypto projects for better investment decisions.
💲HEY D2T COMMUNITY💲

Don't forget – for the next 2 days you can still buy $D2T tokens in the over-funding round🔥🔥

✅Currently 1 $D2T = 0.0556 USDT.

This is the last chance to buy before the listing!https://t.co/ExvBBjKIU6 pic.twitter.com/izAz0ZIYoi

— Dash 2 Trade (@dash2_trade) January 9, 2023
It provides exchange liquidity levels for all its users to monitor the trading volume of each crypto asset. Besides this, it also incorporates a crypto trading signal, automation, and backtesting functionalities.
Dash 2 Trade also affords users the privilege to access newly launched projects in their presale stage before they get listed on crypto exchanges. This way, they can get in on promising projects early enough before they make a market debut.
Another impressive token is the FGHT, which powers the revolutionary fitness protocol, Fight Out. The project leans towards the Solana-based move-to-earn (M2E) fitness protocol, Stepn but with a twist. It enables users to also take care of their health by participating in challenges in the metaverse space.
Get fit, have fun, and earn rewards with #FightOut! 👏

Our #MoveToEarn fitness platform not only gamifies your workout routine but also introduces you to the exciting world of the metaverse!

Learn more at https://t.co/z34Nkx3ffi! pic.twitter.com/OQQKwEzZJB

— Fight Out (@FightOut_) January 9, 2023
The platform also offers a physical gym chain in different locations; users can easily meet up with their health resolutions from the comfort of their homes by plugging into the metaverse space simultaneously.
Both projects are currently in their presales stages and have raised significant sums. The D2T token has raised over $14.74 million, while the FGHT token has raised $2.79 million. D2T is about rounding up its presale stage, while FGHT is on its way to its second presale stage.
Related News
Dash 2 Trade – Presale Ends Soon
Active Presale Live Now – dash2trade.com
Featured in Cointelegraph – $13M Raised
KYC Verified & Audited
Native Token of Crypto Signals Ecosystem
Upcoming Listings Jan 11 – Gate.io, Bitmart, LBank, Changelly