Espresso (ESPR) jumped more than 900% in the day after launch to record a market capitalization of about $8 million. The performance propelled the coin to the Top 4 on DEXTools' Hot Pairs List.
Can this impressive surge be sustained?
EspressoBot: An Instant Telegram Token Deployer
EspressoBot is a user-friendly Telegram bot that simplifies the process of creating custom tokens on the Ethereum blockchain. It allows users to launch their own ERC-20 tokens quickly and easily, without requiring advanced coding skills. The bot's intuitive interface enables users to choose token symbols, set total supplies, and customize tax allocations effortlessly. Additionally, EspressoBot ensures token safety with a default contract structure that protects against malicious attacks and ensures fair play.
The platform also introduces its native token, $ESPR, which enables users to share in EspressoBot's success. By holding $ESPR tokens, users can partake in a fun and engaging journey of token creation and innovation. EspressoBot puts the power of creating tokens in the hands of everyone, offering an accessible and efficient solution for aspiring creators.
Espresso Token Listed On Bitget As Exchange Doubles Down On Innovation & BOT
Bitget successfully listed the $ESPR token on its platform yesterday in the Innovation & BOT Zone. With this listing, traders have access to the $ESPR/USDT trading pair and can engage with the token's offerings. The listing on Bitget's platform increased $ESPR's exposure and liquidity, positively influencing its price.
#Bitget New Initial Listing #ESPRXBitget @espressoTG#Bitget will list $ESPR /USDT on July 25 in #Innovation & BOT Zone.

✅ Deposit is open.

$100 #giveaway for 10 members!
Just simply RT + TAG 3 friends.

More details – https://t.co/f8Mtoc7Ubn pic.twitter.com/lzhWE7JEWl

— Bitget (@bitgetglobal) July 25, 2023
Espresso Records Impressive Day 1 Growth
EspressoBot's official Twitter shared a Day 1 Summary for Espresso ($ESPR) token. It noted an ATH market cap of approximately $8 million, trading volume surged from 0 to over $10 million, and holders increased from 0 to 2,112. This highlights its substantial growth, making it an attractive investment for early adopters.
☕Day 1 Summary

Espresso – $ESPR
ATH Market Cap: ~$8,000,000
Volume: 0 ➡️$10,000,000 +
Holders: 0 ➡️2,112 pic.twitter.com/11Wfe72rel

— EspressoBot (@EspressoTG) July 26, 2023
Espresso Ecosystem Partners with Unibot
Espresso made an exciting announcement of an exclusive partnership with Teamunibot after a successful launch. The collaboration involves a special benefit for Unibot holders. This enables users with 100 $Unibot tokens to deploy tokens for free on Espresso's platform, along with 0% LP Fee and 0/0 Tax. This news triggered a surge in ESPR prices as it increased the utility and demand for the token.
$ESPR just partnered with $UNIBOT

8M ATH & Insane volume in less than 24 hours. Bot season is not over, the good ones will remain ☕ https://t.co/yVUQFA6iXc pic.twitter.com/ruAcmvTM32

— bulla (@BullaOF) July 25, 2023
ESPR Price Analysis
The 2-hour chart for the ESPR/USD trading pair indicates a robust bullish trend, with signs of correction suggesting further upside potential. A key support level lies at $0.0035, and a rebound from this level may drive prices toward a new all-time high.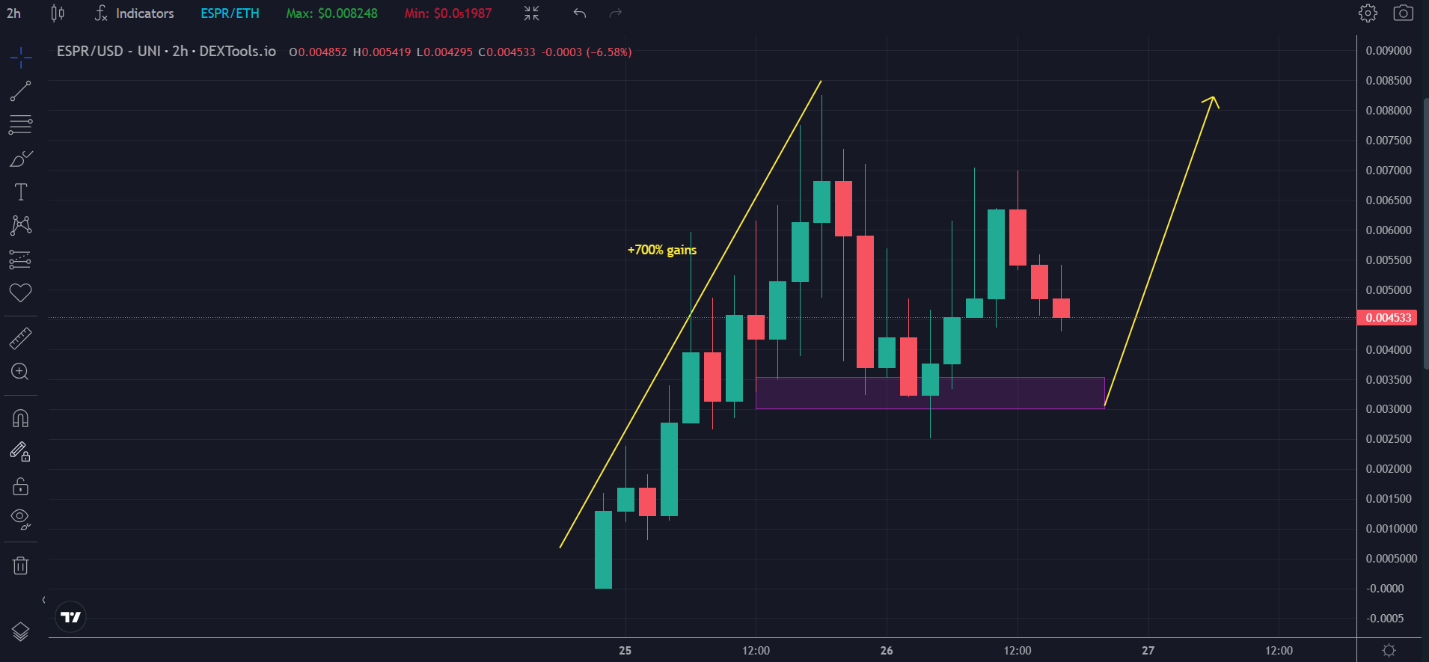 Within just 24 hours, ESPR has already achieved a market cap of $5 million with a trading volume of $4.2 million. This reflects significant demand and interest. DEXTools rates the coin with an 86/99 reliability score and 95.8% community trust.  This highlights positive sentiment within the community.
It might be early to assess the coin's technical aspects due to its recent launch. However, the strong fundamentals, including listing and partnerships, combined with the overall concept, indicate promising potential for further upside.
While ESPR shows signs of further upside, there is another coin making its name in the meme coin market: WSM.
Alternative to ESPR
WSM is the ticker for the Wall Street Memes ecosystem. The cryptocurrency project was born after the GameStop saga, when individual investors challenged Wall Street investment giants. With a mission to disrupt traditional finance, WSM empowers everyday investors using the power of memes and decentralization.
It employs a unique tokenomics structure, allocating percentages to marketing, community rewards, and exchange liquidity. Its roadmap consists of three phases focused on transparency, partnerships, and community benefits.
It stands out by encouraging meme sharing that reflects the crypto market. Its successful NFT collection, Wall St Bulls, generated over $2.5M within 32 minutes of launch.
WSM Presale Momentum and Future Potential
WSM's presale has reached $17.8M, attracting interest from meme coin owners. The coin is currently available at $0.322 after the competition of this stage of presale ends after 21 hours, or collection of $18M, the price will increase to $0.0325.
📢 Exciting news, peeps! 🎉📈 The Wall Street Memes ($WSM) presale has almost hit a staggering $17 million! 💰 Big-time investors and crypto influencers are hopping on the bandwagon, recognizing the explosive potential of this meme coin! 🚀 Comment, like, and retweet to join … pic.twitter.com/y3H6zN3QJK

— Take Meme Coin (@TakeMemeCoin) July 23, 2023
Community Control and Airdrop Reward
Furthermore, WSM ensures community control with limited token supply and an airdrop rewarding five recipients with $50,000 worth of WSM each.
‼️Attention $WSM GANG‼️
You can now join the Pre-Claim Distribution Airdrop for $WSM To ensure you don't miss out on the early distribution of tokens and an opportunity to participate in the initial stages Simply JOIN the https://t.co/ewLt19DTwk$wsm#Wallstmemes#Wallstreetmemes pic.twitter.com/MDwl0U6GQh

— Wall Street Memes (@walstreetmemes) July 24, 2023
Potential Tier-1 Listings
Moreover, WSM prepares for potential tier-1 exchange listings, aiming to increase awareness and attract more investors. Its early success cements its position in the crypto industry, promising a bright future.
Also Read:
Wall Street Memes – Next Big Crypto
Early Access Presale Live Now
Established Community of Stocks & Crypto Traders
Featured on BeInCrypto, Bitcoinist, Yahoo Finance
Rated Best Crypto to Buy Now In Meme Coin Sector
Team Behind OpenSea NFT Collection – Wall St Bulls
Tweets Replied to by Elon Musk