Enjin Coin price, like the rest of the crypto market, slowed down its 2023 rally amidst a forced adjustment to glaring global macro factors. A decision by the United States Federal Reserve (Fed) to raise interest rates by 0.25% last week matched investors' expectations.
However, the US jobs report contradicted the Fed's disinflationary remarks, implying inflation may stick around longer than expected. Remember, when the Fed engages stricter monetary measures to combat inflation, assets in riskier markets like crypto are affected the most. Investors tend to shun asset classes with a higher risk-reward ratio, thus limiting the influx of funds into the market.
Enjin Coin Price Uptrend Stalls – What's Next?
Enjin Coin price is up a colossal 100% since January 1 when it traded at around $0.23. As ENJ started breaking barriers to the upside, the fear of missing out (FOMO) attracted more investors who planned to capitalize on a seemingly sustainable uptrend.
The initial break above the lower falling trendline, as illustrated on the daily timeframe chart marked the beginning of what would become a remarkable rally, tagging new 2023 highs of $0.50.
Stepping above two key moving averages, starting with the 50-day Exponential Moving Average (EMA) (in red) and the 100-day EMA (in blue) improved investor confidence in the market.
Enjin Coin price seemed poised for highs at $0.7 and $1.0 however, buyers started losing their control at the beginning of February, giving bears a chance on the reins. The critical seller congestion at $0.5 is a confluence level created by the 200-day EMA and the upper falling trend line, as seen on the chart.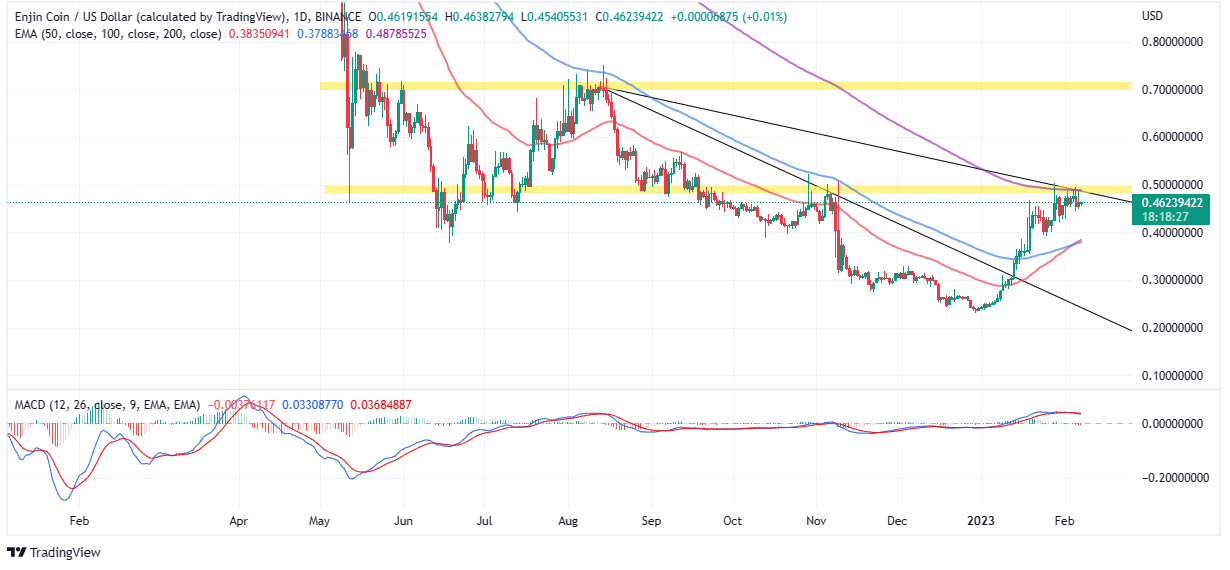 The path with the least resistance has a high affinity for downstream levels, with Enjin Coin likely to rebound from support confirmed at $0.4 in the last week of January. Investors should consider shorting ENJ in the short term to capitalize on an expected move south of the prevailing market value—of $0.46.
Odds may continue to favor a downtrend in Enjin Coin price, considering the Moving Average Convergence Divergence (MACD) indicator dons a sell signal. The call to traders to short ENJ manifests as the MACD line in blue slides below the signal line in red. Furthermore, the general downtrend of the momentum indicator toward the mean line at 0.00 adds credence to the pessimistic outlook – not to mention the red histograms.
As for a bullish outcome, Enjin Coin price must respect the immediate support, presented at $0.46. Such a move would repair investor confidence in the anticipated rally to $0.70 and $1.00, respectively.
ENJ needs a strong push to overcome the confluence resistance at $0.50, as elucidated in the lower yellow band. A break and hold above this critical level could be Enjin Coin price's ticket to highs above $1.00.
A recently confirmed golden cross could be encouraging bullish traders to keep their positions. The golden cross pattern was formed with the 50-day EMA (in red) crossing above the 100-day EMA (in blue).
Although traders mainly look for the pattern formed by the 50-day EMA and the 200-day, which often validates a sustainable uptrend, the current pattern shows odds favor a bullish outcome. In other words, Enjin Coin price has a higher chance of breaking out to the upside, as opposed to sliding toward $0.40 and $0.30, respectively.
Enjin Partners With Subsquid to Support NFT Builders
Enjin has started working with Subsquid, a platform providing a better standard for Web3 indexing and ETL to provide indexing and infrastructure to support the builders of non-fungible tokens and game developers across the fast-growing space.
Subsquid revealed in a Medium post that accompanied the announcement that they have been working with Enjin for several months. They have also made great progress in the endeavor to build a squid indexer "that extracts and transforms Efinity blockchain data into a GraphQL API readily available for game and dApp developers," Subsquid wrote on Medium.
(2) Subsquid on Twitter: "Thrilled to announce that we are partnering up with @Enjin to provide #indexing and infrastructure support to #NFT builders and game developers across #Web3. Extensive tooling is already available on @Efinityio, and much more is to come. Learn more: https://t.co/sL8yD8GOdA https://t.co/KwMSXj3BXz" / Twitter
Both crypto projects hope this collaboration would allow for the expansion of their growing ecosystem of tools, provide NFT builders with the support they need while increasing the mainstream adoption of blockchain games on Efinity and across Web3.
Subsquid is a platform behind the development of squid SDK, which is an open-source framework enabling "Web3 builders to create scalable and performant custom indexers which extract, transform, and present blockchain data as GraphQL APIs or in virtually any other format." Squids are useful in the lives of NFT builders and can be used to retrieve data from more than 70 Ethereum Virtual Machines (EVMs), Substrate, and WASM-based networks.
Enjin Coin Alternatives to Buy Today
Investors interested in buying ENJ may want to check out our carefully selected best altcoins to buy now for 2023. Our team of experts reviews the list of the best crypto presales to buy every week. Some of these projects are built on sound technologies and can return long-term gains.
A dedicated team reviews cryptocurrencies for this list weekly to ensure you have access to crypto projects with a better risk-reward ratio.
Meta Masters Guild, a new play-to-earn environment built on the innovative Web-3 technology, is one such crypto currently in presale. The team behind believes it is well-positioned to chart the future for the best gaming crypto coin on the market.
Meta Masters Guild will debut with three beautifully crafted games: Meta Kart Racers, NFT Raid, and Meta Masters World. Users on this platform will be able to generate revenue in Gems, an in-game currency.
Gems can be exchanged for MEMAG, the Meta Masters Guild ecosystem's native coin, and staked for additional benefits. Some players may prefer to utilize Gems to purchase NFTs and other in-game things.
Earning money in the Meta Masters Guild network is not restricted to gaming; members may also make money through content creation, in-game item supply, game development, and community giveaways.
🎮The Meta Masters Guild is at the forefront of the web3 gaming revolution, developing top-notch, blockchain-integrated mobile games📱.

Be a part of the future of gaming and join the presale now by clicking the link below!💥 https://t.co/SBqVjX5mWn#Presale #P2E #Play2Earn

— Meta Masters Guild (@MEMAGgames) February 6, 2023
Investors are currently booking positions in one of the best Web3 coins in a presale that has raised $3.25 million in a matter of weeks. The presale is, however, in stage 5, with 1 MEMAG selling for $0.019. Interested investors should act quickly before the price increases to $0.021 in the next round.
Related Articles:
Meta Masters Guild – Play and Earn Crypto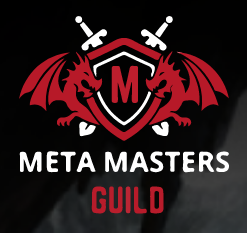 Innovative P2E NFT Games Library Launching in 2023
Free to Play – No Barrier to Entry
Putting the Fun Back Into Blockchain Games
Rewards, Staking, In-Game NFTs
Real-World Community of Gamers & Traders
Round One of Token Sale Live Now – memag.io